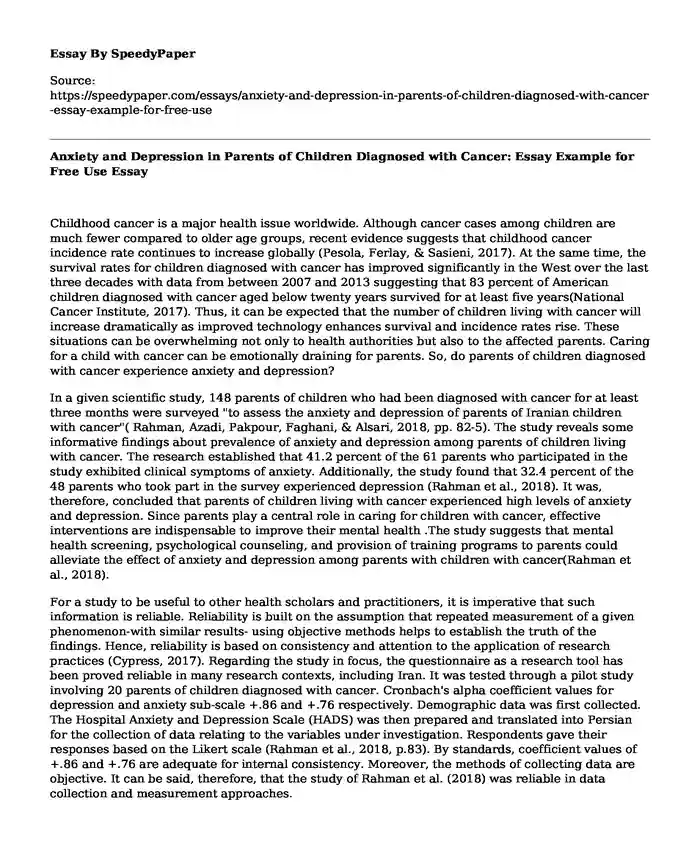 Childhood cancer is a major health issue worldwide. Although cancer cases among children are much fewer compared to older age groups, recent evidence suggests that childhood cancer incidence rate continues to increase globally (Pesola, Ferlay, & Sasieni, 2017). At the same time, the survival rates for children diagnosed with cancer has improved significantly in the West over the last three decades with data from between 2007 and 2013 suggesting that 83 percent of American children diagnosed with cancer aged below twenty years survived for at least five years(National Cancer Institute, 2017). Thus, it can be expected that the number of children living with cancer will increase dramatically as improved technology enhances survival and incidence rates rise. These situations can be overwhelming not only to health authorities but also to the affected parents. Caring for a child with cancer can be emotionally draining for parents. So, do parents of children diagnosed with cancer experience anxiety and depression?
In a given scientific study, 148 parents of children who had been diagnosed with cancer for at least three months were surveyed "to assess the anxiety and depression of parents of Iranian children with cancer"( Rahman, Azadi, Pakpour, Faghani, & Alsari, 2018, pp. 82-5). The study reveals some informative findings about prevalence of anxiety and depression among parents of children living with cancer. The research established that 41.2 percent of the 61 parents who participated in the study exhibited clinical symptoms of anxiety. Additionally, the study found that 32.4 percent of the 48 parents who took part in the survey experienced depression (Rahman et al., 2018). It was, therefore, concluded that parents of children living with cancer experienced high levels of anxiety and depression. Since parents play a central role in caring for children with cancer, effective interventions are indispensable to improve their mental health .The study suggests that mental health screening, psychological counseling, and provision of training programs to parents could alleviate the effect of anxiety and depression among parents with children with cancer(Rahman et al., 2018).
For a study to be useful to other health scholars and practitioners, it is imperative that such information is reliable. Reliability is built on the assumption that repeated measurement of a given phenomenon-with similar results- using objective methods helps to establish the truth of the findings. Hence, reliability is based on consistency and attention to the application of research practices (Cypress, 2017). Regarding the study in focus, the questionnaire as a research tool has been proved reliable in many research contexts, including Iran. It was tested through a pilot study involving 20 parents of children diagnosed with cancer. Cronbach's alpha coefficient values for depression and anxiety sub-scale +.86 and +.76 respectively. Demographic data was first collected. The Hospital Anxiety and Depression Scale (HADS) was then prepared and translated into Persian for the collection of data relating to the variables under investigation. Respondents gave their responses based on the Likert scale (Rahman et al., 2018, p.83). By standards, coefficient values of +.86 and +.76 are adequate for internal consistency. Moreover, the methods of collecting data are objective. It can be said, therefore, that the study of Rahman et al. (2018) was reliable in data collection and measurement approaches.
Validity means the characteristic of being justifiable, well grounded, meaningful and logical or quality of conforming to accepted principles regarding measurement of a given construct (Cypress, 2017, p.256). In the Rahman et al. (2018) article, a cross-sectional survey, descriptive-correlational design was used to carry out the study. The study sought to examine the levels of anxiety and depression among parents with children with cancer with a view of proposing strategies of addressing extreme stress among these parents as it relates to care and treatment of the disease. The authors prepared the survey design and endorsed by an organization with authority in the field. Additionally, experts were involved in translating the HADS scale from English to Persian (Rahman et al.83). The mentioned approaches not only enhanced objectivity but also enabled the researchers to be accurate and truthful in their measurements. Therefore, Rahman et al. (2018) study exhibits reliability in their data collection and construct measurement methods.
An examination of the entire study reveals weaknesses and strengths. One weakness of the study is in the use of convenient sampling where 155 parents were invited to participate out of which 148 took part in the study (Rahman et al., 2018). Convenient sampling selects subjects based on their convenient accessibility to the researcher. This exposes the study to bias and high sampling error as the sample may not be representative of the target population (Bornstein, Jager, & Putnick, 2013) as evidenced in the higher number of women in the sample of the study. Such vulnerability diminishes the reliability of the study.
The strength of the study lies in its ability to raise new questions for future research in the context of the study. The authors note that a majority of the participants were mothers and this may have had an influence on the emotional responses of the participants (Rahman et al., 2018, p. 85). The disparity in gender representation in the sample raises a gap for further research on the possible results that can be obtained if the participants were equally represented in gender. Future studies in this area would give a clear picture of how parents of children with cancer cope with the disease as well as determine whether men and women parents experience anxiety and depression differently. The study also leaves a room for research on the recommended interventions in the context of Iranian parents. As emphasized by Coughlan, Cronin, and Ryan (2007), quality research must create new questions in the field and a research gap for future studies to investigate. The researcher may expressly state this, or it can be implied from the study.
Provision of psychosocial support services such as mental health counseling, education on how to cope with the presence a loved who is suffering from cancer, and offering group support can play a vital role in alleviating stress and anxiety in families (American Cancer Society, 2018). Caring for a child with cancer can be depressing to parents, and such an effect is likely to be transferred to the child and other siblings. Hence, alleviating the stress experienced by the parents may improve overall survivorship experiences for the affected families (Rosenberg et al., 2013). According to Rosenberg et al. (2013), offering financial support, physiological counseling, and training of parents significantly increases their ability to cope with living with a child suffering from cancer.
The article also concludes that mental health screening can be helpful for parents of children with cancer. According to studies, screening of parents of children with cancer for psychosocial risks is critical as it helps in designing early clinical interventions. Early intervention reduces the impact not only on the parents as well as the chance of transfer of the trauma to the sick child or other children (Kearney, Salley, & Muriel, 2015). Overall, early detection of mental distress among parents reduces the impact of the disease on the household.
In conclusion, parents of children with cancer experience elevated levels of anxiety and depression. With the number of children diagnosed with cancer continually rising, it becomes imperative for parents to receive physiological counseling, undergo mental health screening, and training to prepare them adequately to deal with the stress associated with living and caring for a child who has been diagnosed with cancer.
References
American Cancer Society. (2018). Understanding psychosocial support services. Retrieved from https://www.cancer.org/treatment/treatments-and-side-effects/emotional-side-effects/understanding-psychosocial-support-services.html
Bornstein, M. H., Jager, J., & Putnick, D. L. (2013). Sampling in developmental science: Situations, shortcomings, solutions, and standards. Developmental Review, 33(4), 357-370. doi:10.1016/j.dr.2013.08.003
Coughlan, M., Cronin, P., & Ryan, F. (2007). Step-by-step guide to critiquing research. Part 1: quantitative research. British Journal of Nursing, 16(11), 658-663. doi:10.12968/bjon.2007.16.11.23681
Cypress, B. S. (2017). Rigor or reliability and validity in qualitative research. Dimensions of Critical Care Nursing, 36(4), 253-263. doi:10.1097/dcc.0000000000000253
Kearney, J. A., Salley, C. G., & Muriel, A. C. (2015). Standards of psychosocial care for parents of children with cancer. Pediatric Blood & Cancer, 62(S5), S632-S683. doi:10.1002/pbc.25761
National Cancer Institute. (2017). Cancer in children and adolescents. Retrieved from https://www.cancer.gov/types/childhood-cancers/child-adolescent-cancers-fact-sheet
Pesola, F., Ferlay, J., & Sasieni, P. (2017). Cancer incidence in English children, adolescents and young people: past trends and projections to 2030. British Journal of Cancer, 117(12), 1865-1873. doi:10.1038/bjc.2017.341
Rosenberg, A. R., Dussel, V., Kang, T., Geyer, J. R., Gerhardt, C. A., Feudtner, C., & Wolfe, J. (2013). Psychological distress in parents of children with advanced cancer. JAMA Pediatrics, 167(6), 537-543. doi:10.1001/jamapediatrics.2013.628
Cite this page
Anxiety and Depression in Parents of Children Diagnosed with Cancer: Essay Example for Free Use. (2022, Sep 05). Retrieved from https://speedypaper.com/essays/anxiety-and-depression-in-parents-of-children-diagnosed-with-cancer-essay-example-for-free-use
Request Removal
If you are the original author of this essay and no longer wish to have it published on the SpeedyPaper website, please click below to request its removal: