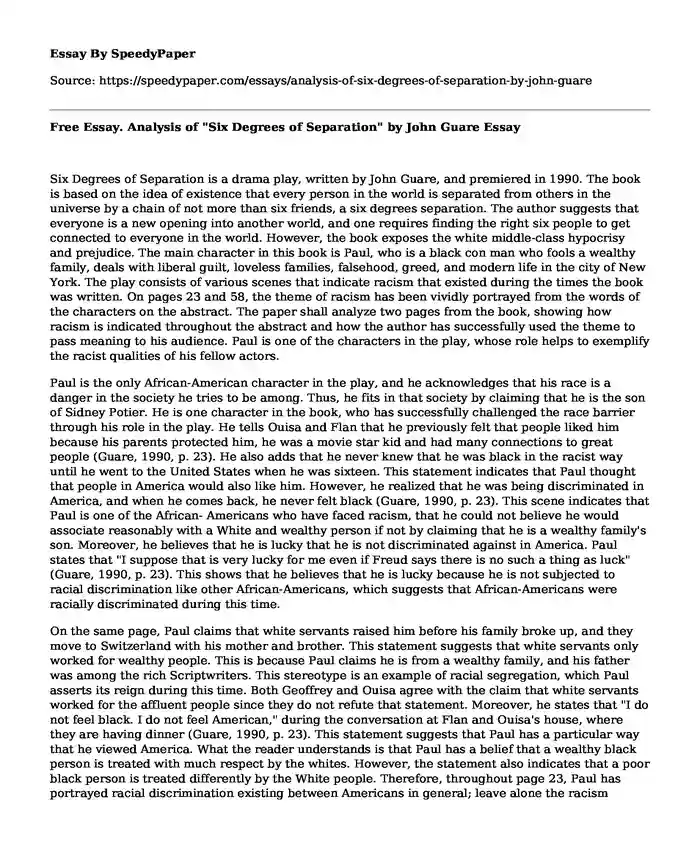 Six Degrees of Separation is a drama play, written by John Guare, and premiered in 1990. The book is based on the idea of existence that every person in the world is separated from others in the universe by a chain of not more than six friends, a six degrees separation. The author suggests that everyone is a new opening into another world, and one requires finding the right six people to get connected to everyone in the world. However, the book exposes the white middle-class hypocrisy and prejudice. The main character in this book is Paul, who is a black con man who fools a wealthy family, deals with liberal guilt, loveless families, falsehood, greed, and modern life in the city of New York. The play consists of various scenes that indicate racism that existed during the times the book was written. On pages 23 and 58, the theme of racism has been vividly portrayed from the words of the characters on the abstract. The paper shall analyze two pages from the book, showing how racism is indicated throughout the abstract and how the author has successfully used the theme to pass meaning to his audience. Paul is one of the characters in the play, whose role helps to exemplify the racist qualities of his fellow actors.
Paul is the only African-American character in the play, and he acknowledges that his race is a danger in the society he tries to be among. Thus, he fits in that society by claiming that he is the son of Sidney Potier. He is one character in the book, who has successfully challenged the race barrier through his role in the play. He tells Ouisa and Flan that he previously felt that people liked him because his parents protected him, he was a movie star kid and had many connections to great people (Guare, 1990, p. 23). He also adds that he never knew that he was black in the racist way until he went to the United States when he was sixteen. This statement indicates that Paul thought that people in America would also like him. However, he realized that he was being discriminated in America, and when he comes back, he never felt black (Guare, 1990, p. 23). This scene indicates that Paul is one of the African- Americans who have faced racism, that he could not believe he would associate reasonably with a White and wealthy person if not by claiming that he is a wealthy family's son. Moreover, he believes that he is lucky that he is not discriminated against in America. Paul states that "I suppose that is very lucky for me even if Freud says there is no such a thing as luck" (Guare, 1990, p. 23). This shows that he believes that he is lucky because he is not subjected to racial discrimination like other African-Americans, which suggests that African-Americans were racially discriminated during this time.
On the same page, Paul claims that white servants raised him before his family broke up, and they move to Switzerland with his mother and brother. This statement suggests that white servants only worked for wealthy people. This is because Paul claims he is from a wealthy family, and his father was among the rich Scriptwriters. This stereotype is an example of racial segregation, which Paul asserts its reign during this time. Both Geoffrey and Ouisa agree with the claim that white servants worked for the affluent people since they do not refute that statement. Moreover, he states that "I do not feel black. I do not feel American," during the conversation at Flan and Ouisa's house, where they are having dinner (Guare, 1990, p. 23). This statement suggests that Paul has a particular way that he viewed America. What the reader understands is that Paul has a belief that a wealthy black person is treated with much respect by the whites. However, the statement also indicates that a poor black person is treated differently by the White people. Therefore, throughout page 23, Paul has portrayed racial discrimination existing between Americans in general; leave alone the racism among the African-Americans, or the White Americans.
Page 58 of the book Six Degrees of Separation, Paul says that he shall be treated with kindness if Ouisa would hand him to the police. When Mrs. Kittredge asks him the reason, he states that he believed that the police would beat him or kill him if he faced them by himself. He uses the statement, "If they do not know you are special, they will kill you" (Guare, 1990, p. 58). This statement indicates that there is a favor from the police that is associated with the White people, which would make Paul look special. The use of the term "special" indicates that Paul is racist, too, as he thinks that the police are only fair to the white people. Moreover, it shows that the police are discriminative and they treat people according to their race or economic status. However, Paul's offensive idea that being taken to the police would prevent him from being killed helps the readers to understand the racism among the authorities and gives them a crew about how African-Americans felt about the police. It also shows the negative relationship between the police and the black people during this time. He uses what was formerly referred to as the "White Privilege" when he asks Louisa to take him to the police, which together with the social class of Flan's family, makes him believe that he would be unlike all the other black people getting arrested using an extreme force, the condition that makes him look special (Germain, 2019).
Although on page 58, Paul is yet to be arrested and taken to the court or jail, his acceptance to be turned to the police indicates that he believes that Ouisa will be listened by the police (Guare, 1990, p. 58). Although this passage does not clarify the reason behind this belief, one is led to think that the detective whom Ouisa wants to refer Paul to, is white. This is because Paul cuts her off by saying that they would kill him because he was black. This shows that the police are also racists as they would kill a black man when arresting him, which is why Paul agrees to turn himself to the police since he has a white person that is speaking for him. Both pages 23 and 58 shows that Guare used Paul to portray racism among black Americans. He shows that the police and the White Americans discriminated had racially charged ideas about black people.
In conclusion, the analysis on pages 23 and 58 of the play Six Degrees Separation indicates that Paul has played an essential role in exemplifying racism among other characters in the play. In the first incident, he states that he never knew he was black until he went back to America. This shows that he believes that all White Americans are racists, which is also racism from his side. Secondly, he suggests that he was raised in a movie star's family, where white servants protected him. The use of white servants shows that most wealthy people in America trusted white servants with their children and protected them. Additionally, Paul believes that the police would kill him if he turned himself in, which suggests that he believes that the police are also racists. However, Paul plays an essential role in showing racism among most characters in the play, which could also be reflected in the past misunderstandings among the Native and the African-Americans.
References
Germain, T. (2019). A Racist Little Hat: The MSG Debate and American Culture. Columbia Undergraduate Research Journal, 2(1). https://curj.columbia.edu/article/a-racist-little-hat-the-msg-debate-and-american-culture/
Guare, J. (1990). Six Degrees Separation. New York, NY: Vintage.
Cite this page
Free Essay. Analysis of "Six Degrees of Separation" by John Guare. (2023, Mar 15). Retrieved from https://speedypaper.com/essays/analysis-of-six-degrees-of-separation-by-john-guare
Request Removal
If you are the original author of this essay and no longer wish to have it published on the SpeedyPaper website, please click below to request its removal: