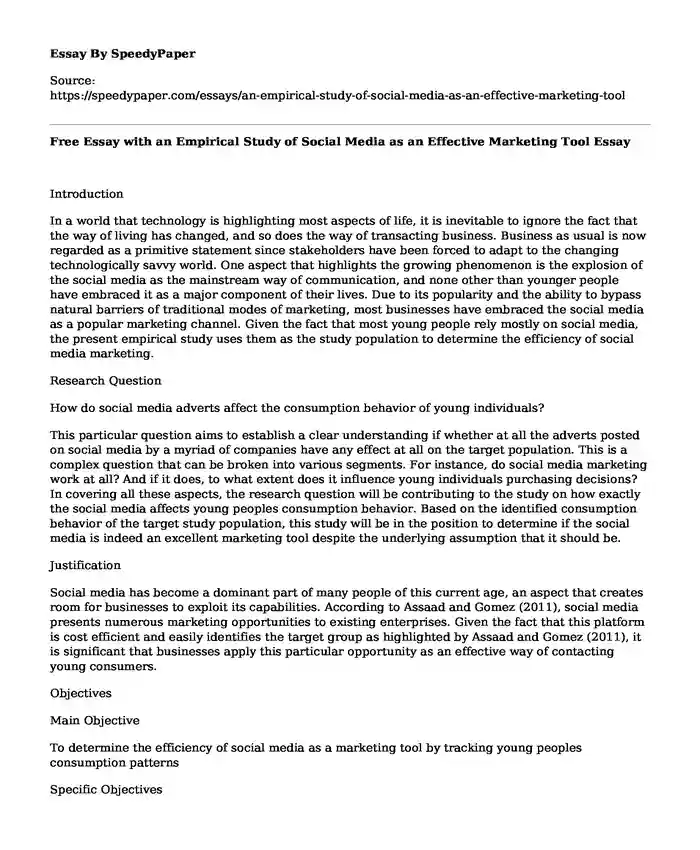 Introduction
In a world that technology is highlighting most aspects of life, it is inevitable to ignore the fact that the way of living has changed, and so does the way of transacting business. Business as usual is now regarded as a primitive statement since stakeholders have been forced to adapt to the changing technologically savvy world. One aspect that highlights the growing phenomenon is the explosion of the social media as the mainstream way of communication, and none other than younger people have embraced it as a major component of their lives. Due to its popularity and the ability to bypass natural barriers of traditional modes of marketing, most businesses have embraced the social media as a popular marketing channel. Given the fact that most young people rely mostly on social media, the present empirical study uses them as the study population to determine the efficiency of social media marketing.
Research Question
How do social media adverts affect the consumption behavior of young individuals?
This particular question aims to establish a clear understanding if whether at all the adverts posted on social media by a myriad of companies have any effect at all on the target population. This is a complex question that can be broken into various segments. For instance, do social media marketing work at all? And if it does, to what extent does it influence young individuals purchasing decisions? In covering all these aspects, the research question will be contributing to the study on how exactly the social media affects young peoples consumption behavior. Based on the identified consumption behavior of the target study population, this study will be in the position to determine if the social media is indeed an excellent marketing tool despite the underlying assumption that it should be.
Justification
Social media has become a dominant part of many people of this current age, an aspect that creates room for businesses to exploit its capabilities. According to Assaad and Gomez (2011), social media presents numerous marketing opportunities to existing enterprises. Given the fact that this platform is cost efficient and easily identifies the target group as highlighted by Assaad and Gomez (2011), it is significant that businesses apply this particular opportunity as an effective way of contacting young consumers.
Objectives
Main Objective
To determine the efficiency of social media as a marketing tool by tracking young peoples consumption patterns
Specific Objectives
I. To determine the consumption patterns of youth and how they are affected by various forms of marketing
II. To learn effective social media sites populated by young people that can be used for advertisement
Hypothesis
Null Hypothesis
Social media marketing has no direct effect on the consumption patterns of young people
Alternative Hypothesis
Social media marketing platform plays a huge role in influencing the consumption patterns of young individuals
Literature Review
A research study by Pradiptarini (2011) was carried out to determine the effectiveness of social media marketing. The results of the survey indicated that while young people are the primary users of social media, they are not the main target audience of social media marketing (Pradiptarini, 2011). By generalizing the target audience, it becomes hard to determine the real potential of social media marketing. According to Babak (2014) who uses a case study of Azerbaijan travel agencies, social media marketing is still underutilized. However, according to Rodriguez (2011), social media is an effective marketing tool. The present study seeks to explore an issue that has not been discussed thoroughly by researchers. Most organizations use social media to target potential clients collectively, but as Assaad and Gomez (2011) point out, most users of social media are young people. By eliminating all other target groups and remaining with the young people, the present study intends to seek how social media marketing influences their consumption behavior.
Research Methodology and Data Analysis Techniques
Study Design
This is a quantitative study. According to Harwell (2011) description of numerous study designs, the present work is directly underpinned by the core principles of a quantitative study. It intends to maximize its objectivity of analyzing the efficiency of social media by generalizing the study subjects to predict the future.
Data Collection Techniques
This particular study will make efficient use of survey technique which will be administered through questionnaires on the online platform. Due to the quantity of the study population, direct interviews which are deemed to be an effective alternative but time-consuming will be avoided. Given the nature of the subject matter at hand that only requires an opinion on the effects of social media marketing, survey techniques using questionnaires confer the best working option since less working resources are needed. Through surveys, a large population authenticating the implications of the study can be used to reach valid conclusions that are not easily sidestepped by critics.
Sample Population
The target study population is of young people aged from 18 to 25. This is most preferably the college-age individuals who are grown up and can make their economical consumption choices. This study will use feedbacks from 700 young people who will be selected from some university colleges in different cities in the country. The selection criterion is that participants should be economically independent, meaning that their consumption is limited by the power of their wallets and accesses social media sites on daily basis. The ratio of men to women participation will be 2 to 1 due to the convenience conferred by the easy location of men.
The Research process
Surveys using online research questionnaire will be the underlying process. The selected study population will be contacted through their emails and notified the directions of the study. The online questionnaires will be then sent to the participants via a designated research email. As per the guidelines of the study, each participant will be required to send a confirmation mail back stating that he or she has received the questionnaire and is working on it. Every participant will be given a duration of seven days to finish the inquiry study questions and give back a feedback to the designated research email. Questions used will be simple and straight forward requiring Yes/No answers or in some instances minor opinions to justify the selection. The feedback received will be stored on a separate flash drive for further analysis.
Data Analysis
This process will begin by data tabulation where a frequency distribution analysis will be carried out to determine the preferences and attitudes of the study population towards the influence of social media. The percentage distribution will be displayed through visual aids, most preferable pie charts. The tabulation process will also be comparatively linked to the demographics aspects given the fact that the study population consists of people from various city localities. Descriptive data analysis will be carried out where the average values will be calculated in relation to the phenomenon being surveyed. This will be followed by correlation analysis and analysis of variance (ANOVA) to the calculated means as the final step of data analysis. The analysis process will then be followed by a discussion of the analyzed data outcomes.
Expected Research Outcomes
Given the familiarity and frequency of social media use by young people, the expected results are that most young people make their consumption choices based on social media adverts the access. Of the 700 participants used in this quantitative study, three-quarters of them are expected to make their consumption choices based on the social media adverts they access on their accounts. This will, therefore, implicate that social media is an effective marketing tool that can target each consumer segment and deliver.
References
Assaad, W., & Gomez, J. M. (2011). Social Network in marketing (Social Media Marketing) Opportunities and Risks. International Journal of Managing Public Sector Information and Communication Technologies, 2(1), 13-22.
Babak, A. (2014). A study on the utilization, perception and potential of social media as a marketing tool: the case of travel agencies in Azerbaijan.
Harwell, M. R. (2011). Research design in qualitative/quantitative/mixed methods. CONRAD, Clifton F.; SERLIN, Ronald C. The SAGE Handbook for Research in Education: Pursuing ideas as the keystone of exemplary inquiry. 2 Edition. Thousand Oaks, CA: SAGE Publications, 147-163.
Pradiptarini, C. (2011). Social Media Marketing: measuring its effectiveness and identifying the target market. UW-L Journal of Undergraduate Research XIV.
Rodriguez, M. (2011). Making Social Media Effective In Real Estate. Keller Center Research Report. Baylor University, Waco, Texas.
Cite this page
Free Essay with an Empirical Study of Social Media as an Effective Marketing Tool. (2019, Oct 01). Retrieved from https://speedypaper.com/essays/an-empirical-study-of-social-media-as-an-effective-marketing-tool
Request Removal
If you are the original author of this essay and no longer wish to have it published on the SpeedyPaper website, please click below to request its removal: