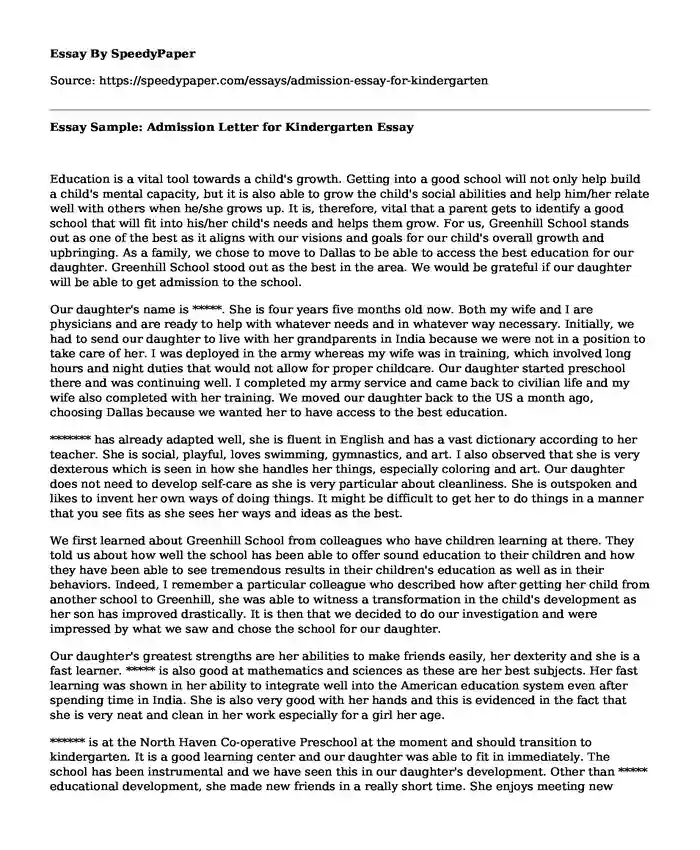 Education is a vital tool towards a child's growth. Getting into a good school will not only help build a child's mental capacity, but it is also able to grow the child's social abilities and help him/her relate well with others when he/she grows up. It is, therefore, vital that a parent gets to identify a good school that will fit into his/her child's needs and helps them grow. For us, Greenhill School stands out as one of the best as it aligns with our visions and goals for our child's overall growth and upbringing. As a family, we chose to move to Dallas to be able to access the best education for our daughter. Greenhill School stood out as the best in the area. We would be grateful if our daughter will be able to get admission to the school.
Our daughter's name is *****. She is four years five months old now. Both my wife and I are physicians and are ready to help with whatever needs and in whatever way necessary. Initially, we had to send our daughter to live with her grandparents in India because we were not in a position to take care of her. I was deployed in the army whereas my wife was in training, which involved long hours and night duties that would not allow for proper childcare. Our daughter started preschool there and was continuing well. I completed my army service and came back to civilian life and my wife also completed with her training. We moved our daughter back to the US a month ago, choosing Dallas because we wanted her to have access to the best education.
******* has already adapted well, she is fluent in English and has a vast dictionary according to her teacher. She is social, playful, loves swimming, gymnastics, and art. I also observed that she is very dexterous which is seen in how she handles her things, especially coloring and art. Our daughter does not need to develop self-care as she is very particular about cleanliness. She is outspoken and likes to invent her own ways of doing things. It might be difficult to get her to do things in a manner that you see fits as she sees her ways and ideas as the best.
We first learned about Greenhill School from colleagues who have children learning at there. They told us about how well the school has been able to offer sound education to their children and how they have been able to see tremendous results in their children's education as well as in their behaviors. Indeed, I remember a particular colleague who described how after getting her child from another school to Greenhill, she was able to witness a transformation in the child's development as her son has improved drastically. It is then that we decided to do our investigation and were impressed by what we saw and chose the school for our daughter.
Our daughter's greatest strengths are her abilities to make friends easily, her dexterity and she is a fast learner. ***** is also good at mathematics and sciences as these are her best subjects. Her fast learning was shown in her ability to integrate well into the American education system even after spending time in India. She is also very good with her hands and this is evidenced in the fact that she is very neat and clean in her work especially for a girl her age.
****** is at the North Haven Co-operative Preschool at the moment and should transition to kindergarten. It is a good learning center and our daughter was able to fit in immediately. The school has been instrumental and we have seen this in our daughter's development. Other than ***** educational development, she made new friends in a really short time. She enjoys meeting new people and making new friends which is one of her best traits.
***** is a social girl who relates well with all the family including the extended family. While she was in India, she included her grandparents, cousins and other relatives in plays and conversations. She was also regularly face-timing us and most of the time she was not alone as she engaged other family members in the conversations. Indeed, the whole family in India was sad to see her go as she had really impacted their lives and according to her grandfather (my father), had forced my Indian relatives to have better relationships because they saw each other more often.
***** is receiving academic enrichment at Kumon because of the transitioning from different countries to help her have an easier time at the school. This was important because curriculums as well as environments in India are different and it requires some enrichment to effectively fit into the new society here. She is doing well and most of her teachers are unaware that she had been in India because of how she has effortlessly blended in her new environment.
We are involved in volunteer activities in the community we live in. In an instance where we are required to offer assistance, we will be willing to do so. Every month, I assist as a teacher assistant to impact the community. Furthermore, I am in the auction committee where we prepare bed sheets, audit auction items, and assist donation collector. We are also available to help out in whatever area that the school sees fit as we want to be very much involved in our daughter's education in whatever way possible. We hope that our daughter will be admitted to the school and are looking forward to having more engagements in the future.
The Lamplighter School is another school that offers what we as a family aspire for our daughter. We as a family have read about the school's seven-year program, and we feel that it is a program that will enrich our daughter and make her the best she can be. Not only does the school offer growth to children in matters education, the program offers out of class activities that also grow a daughter's social life and coping abilities. The school aims at looking at facts with the aim of ensuring that the children ask themselves questions and think critically to see that these facts make sense to them.
As a lamplighter parent, we are ready to offer the desired help that will see our daughter's growth recognized while at Lamplighter School. We are ready to be involved in the activities that will offer us memorable experiences. We are ready to be called to participate in whatever way the school sees fit towards the contribution of our daughter's education.
Cite this page
Essay Sample: Admission Letter for Kindergarten. (2022, Nov 04). Retrieved from https://speedypaper.com/essays/admission-essay-for-kindergarten
Request Removal
If you are the original author of this essay and no longer wish to have it published on the SpeedyPaper website, please click below to request its removal: