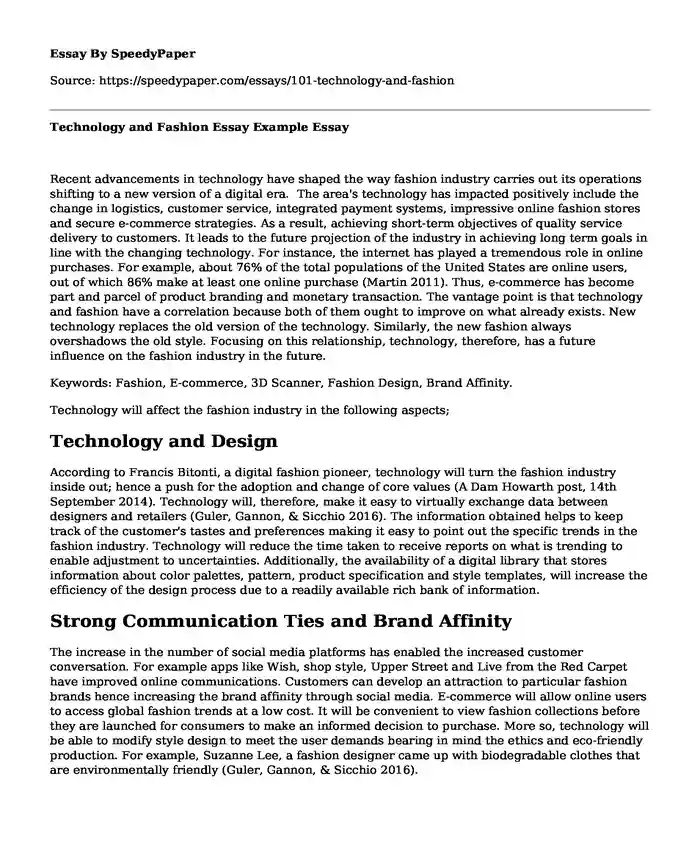 Recent advancements in technology have shaped the way fashion industry carries out its operations shifting to a new version of a digital era. The area's technology has impacted positively include the change in logistics, customer service, integrated payment systems, impressive online fashion stores and secure e-commerce strategies. As a result, achieving short-term objectives of quality service delivery to customers. It leads to the future projection of the industry in achieving long term goals in line with the changing technology. For instance, the internet has played a tremendous role in online purchases. For example, about 76% of the total populations of the United States are online users, out of which 86% make at least one online purchase (Martin 2011). Thus, e-commerce has become part and parcel of product branding and monetary transaction. The vantage point is that technology and fashion have a correlation because both of them ought to improve on what already exists. New technology replaces the old version of the technology. Similarly, the new fashion always overshadows the old style. Focusing on this relationship, technology, therefore, has a future influence on the fashion industry in the future.
Keywords: Fashion, E-commerce, 3D Scanner, Fashion Design, Brand Affinity.
Technology will affect the fashion industry in the following aspects;
Technology and Design
According to Francis Bitonti, a digital fashion pioneer, technology will turn the fashion industry inside out; hence a push for the adoption and change of core values (A Dam Howarth post, 14th September 2014). Technology will, therefore, make it easy to virtually exchange data between designers and retailers (Guler, Gannon, & Sicchio 2016). The information obtained helps to keep track of the customer's tastes and preferences making it easy to point out the specific trends in the fashion industry. Technology will reduce the time taken to receive reports on what is trending to enable adjustment to uncertainties. Additionally, the availability of a digital library that stores information about color palettes, pattern, product specification and style templates, will increase the efficiency of the design process due to a readily available rich bank of information.
Strong Communication Ties and Brand Affinity
The increase in the number of social media platforms has enabled the increased customer conversation. For example apps like Wish, shop style, Upper Street and Live from the Red Carpet have improved online communications. Customers can develop an attraction to particular fashion brands hence increasing the brand affinity through social media. E-commerce will allow online users to access global fashion trends at a low cost. It will be convenient to view fashion collections before they are launched for consumers to make an informed decision to purchase. More so, technology will be able to modify style design to meet the user demands bearing in mind the ethics and eco-friendly production. For example, Suzanne Lee, a fashion designer came up with biodegradable clothes that are environmentally friendly (Guler, Gannon, & Sicchio 2016).
Digital Stylist and Wearable Technology
It will be amazing to use a digital stylist to manage one's closet without stress. It will suggest on what to wear and select the best fashion store. However, wearable technology can make the future life luxurious, if the smart devices are in place to help in making intelligent fashion decisions. For example, Apple Smart Watch enables users to access fashion accessories (Ugur 2013). Moreover, companies are moving from analysis of historical data to Artificial Intelligence, which allows computers to predict what customers are looking for in the search engines such as Google. The use of unique machine learning technique helps to profile particular customer fashion habits in the future to meet their demand.
Virtual Fitting Rooms
Retailers in the fashion industry face a problem of sales returns. However, with the innovation of virtual fitting rooms, it will enable the designers' to find the perfect fashion brand sizes such as, the 3D body scanners that help to compare brand sizes and avatars. The visual search will also assist the players in the fashion industry to identify suitable color and shape to describe a fashion item.
Conclusion
Technology indeed will have a greater impact on the fashion industry in the future space as discussed above. Therefore, as a pioneer of fashion design, the fashion industry should not hesitate in taking appropriate measures to adapt to new technology. It is a necessity and not an option to embrace technology in brand processing, design, and marketing to cope up with high competition and emerging trends in the industry.
References
Guler, S. D., Gannon, M., & Sicchio, K. (2016). Crafting wearables: Blending technology with fashion.
Martin, M. S. (2011). Future Fashion: Innovative Materials. Promopress.
Ugur, S. (2013). Wearing embodied emotions: A practice based design research on wearable technology. Milan, Italy: Springer.
Cite this page
Technology and Fashion Essay Example. (2018, Mar 11). Retrieved from https://speedypaper.com/essays/101-technology-and-fashion
Request Removal
If you are the original author of this essay and no longer wish to have it published on the SpeedyPaper website, please click below to request its removal: