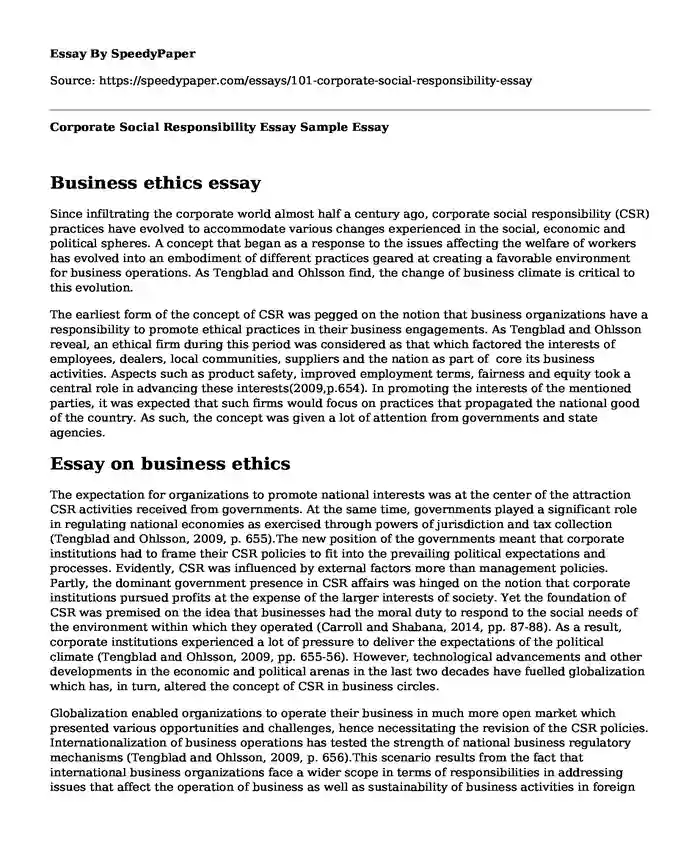 Business ethics essay
Since infiltrating the corporate world almost half a century ago, corporate social responsibility (CSR) practices have evolved to accommodate various changes experienced in the social, economic and political spheres. A concept that began as a response to the issues affecting the welfare of workers has evolved into an embodiment of different practices geared at creating a favorable environment for business operations. As Tengblad and Ohlsson find, the change of business climate is critical to this evolution.
The earliest form of the concept of CSR was pegged on the notion that business organizations have a responsibility to promote ethical practices in their business engagements. As Tengblad and Ohlsson reveal, an ethical firm during this period was considered as that which factored the interests of employees, dealers, local communities, suppliers and the nation as part of core its business activities. Aspects such as product safety, improved employment terms, fairness and equity took a central role in advancing these interests(2009,p.654). In promoting the interests of the mentioned parties, it was expected that such firms would focus on practices that propagated the national good of the country. As such, the concept was given a lot of attention from governments and state agencies.
Essay on business ethics
The expectation for organizations to promote national interests was at the center of the attraction CSR activities received from governments. At the same time, governments played a significant role in regulating national economies as exercised through powers of jurisdiction and tax collection (Tengblad and Ohlsson, 2009, p. 655).The new position of the governments meant that corporate institutions had to frame their CSR policies to fit into the prevailing political expectations and processes. Evidently, CSR was influenced by external factors more than management policies. Partly, the dominant government presence in CSR affairs was hinged on the notion that corporate institutions pursued profits at the expense of the larger interests of society. Yet the foundation of CSR was premised on the idea that businesses had the moral duty to respond to the social needs of the environment within which they operated (Carroll and Shabana, 2014, pp. 87-88). As a result, corporate institutions experienced a lot of pressure to deliver the expectations of the political climate (Tengblad and Ohlsson, 2009, pp. 655-56). However, technological advancements and other developments in the economic and political arenas in the last two decades have fuelled globalization which has, in turn, altered the concept of CSR in business circles.
Globalization enabled organizations to operate their business in much more open market which presented various opportunities and challenges, hence necessitating the revision of the CSR policies. Internationalization of business operations has tested the strength of national business regulatory mechanisms (Tengblad and Ohlsson, 2009, p. 656).This scenario results from the fact that international business organizations face a wider scope in terms of responsibilities in addressing issues that affect the operation of business as well as sustainability of business activities in foreign countries. In the same breadth, markets have become more liberalized and a reduction in state ownership of corporate institutions has hastened the process (Tengblad and Ohlsson, 2009, p. 657). In effect, there is enhanced space for economic actors to take a more significant role in responding to social needs in their areas of operation. This has seen an increase in initiatives that aim at boosting corporate image, organizational brand, and profitability of the business both in the domestic and international markets.
Corporate social responsibility paper
Current CSR trends depict a unique feature that focuses on the long-terms goals of organizations and the factors that may hinder the attainment of such goals.CSR activities have become more proactive and target those segments that may affect the future operations of businesses in domestic and international markets (Tengblad and Ohlsson, 2009, p. 657). To this end, Carroll and Shabana explain that engaging in proactive CSR activities relating to the environment reduces the risk and cost of doing business. The cost and risk are mitigated in the sense that addressing environmental issues today would save the companies from stringent future regulations that may aim to conserve the environment (2014, p .97).This trend has been seen in the increased focus on climate change by international businesses.
Recent financial reporting trends show that a majority of corporate entities consider CSR as an important element in their performance statements. The adoption of CSR in financial statements can increase the amount of relevant information that is available to stakeholders both in the domestic and foreign markets (Lemus, 2016, p.25). Today, people have become more aware of business practices and their social, economic and environmental consequences. As the level of awareness relating to the effects of global trade increases among stakeholders, the expectation for more information rises, hence the need for businesses to disclose their CSR engagements. Although there is no legal requirement to make such disclosures, the inclusion of CSR fosters effective and transparent communication to stakeholders (Singh and Sater, Forbes.com). By so doing, companies improve their investment returns due to improved brands. However, companies have the liberty choose on how to disclose information relating to charitable works, environmental stewardship, and community involvement among other initiatives (Singh and Sater, Forbes.com).
Corporate social responsibility research paper
Auditing of accounts is another area that has received considerable attention in regards to CSR. The audit function ensures that reporting practices conform to governance practices. Evidence suggests that companies that include CSR in their financial reports receive high-quality standards as opposed to those that disregard CSR in their financial statements. Since high-quality standards have a relationship with financial improvement, less financial risk, the company reputation and higher earnings (Lemus, 2016, p.28), some businesses enjoy better operational climate than others. Such favorable projection of corporate institutions is essential for sustainable business operations. For this reason, companies can be expected to continue with the inclusion of CSR in their annual performance reports.
Ethical standards for treasury professionals have a pervasive effect on the ability of organizations to manage their financial resources in an efficient manner. They are responsible for the management of cost and risk relating to business investments (Bragg, 2013, pp.1-3).As noted earlier, involvement in environmental conservation seeks to reduce the costs and risks of future regulations. These CSR initiatives require higher ethical standards of investment decisions that place the long-term interests of the organization in front of all other considerations.
In conclusion, technological advancements and globalization of business have changed business systems. These developments have confined CSR decisions to business organizations which are founded on every institution's corporate culture. Organizations have realized that it is in the best interest of their businesses to carry out activities such as empowerment of communities, conservation of the environment, and making donations to charitable organizations. In the coming years, CSR can be anticipated to evolve further and areas such as climate change are likely to receive more attention from business leaders.
Works Cited
Bragg, Steven M. Treasury Management: The Practitioner's Guide. Wiley, 2013.
Carroll, Archie B., and Kareem M. Shabana. "The Business Case for Corporate Social Responsibility: A Review of Concepts, Research and Practice." International Journal of Management Reviews, vol. 12, no. 1, 2010, pp. 85-105.
Lemus, Edel. "The Importance of CSR in Financial Reporting Standards." Global Journal of Management and Business Research , vol. 16, no. 2, 2016, pp. 24-32, doi:2249-4588.
Singh, Aman. "CSR in Annual Reports: 7 Conflicting Trends." Forbes, 20 July 2011.
Tengblad, Stefan, and Claes Ohlsson. "The Framing of Corporate Social Responsibility and the Globalization of National Business Systems: A Longitudinal Case Study." Journal of Business Ethics, vol. 93, no. 4, 2009, pp. 653-669.
Cite this page
Corporate Social Responsibility Essay Sample. (2018, Mar 08). Retrieved from https://speedypaper.com/essays/101-corporate-social-responsibility-essay
Request Removal
If you are the original author of this essay and no longer wish to have it published on the SpeedyPaper website, please click below to request its removal: