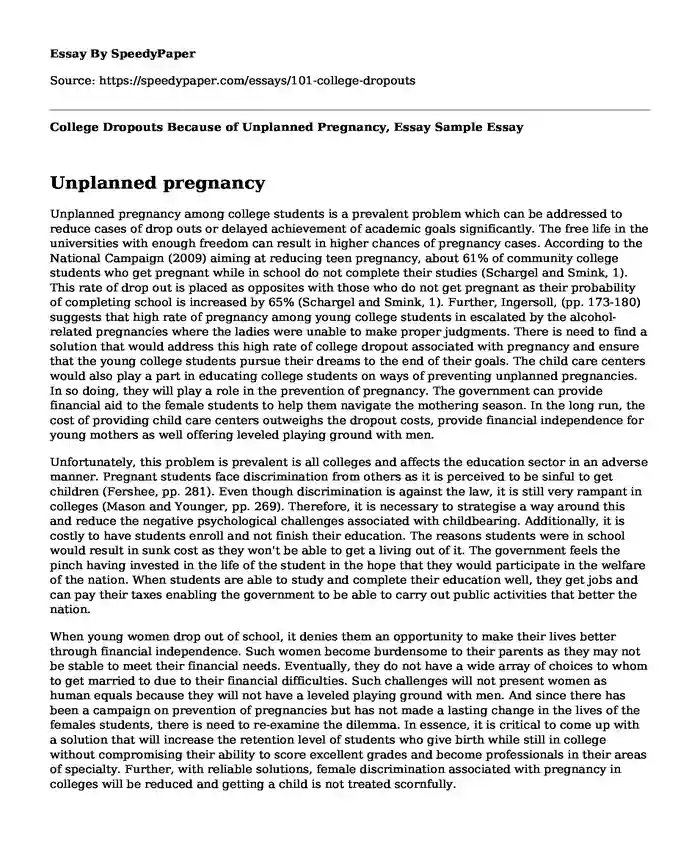 Unplanned pregnancy
Unplanned pregnancy among college students is a prevalent problem which can be addressed to reduce cases of drop outs or delayed achievement of academic goals significantly. The free life in the universities with enough freedom can result in higher chances of pregnancy cases. According to the National Campaign (2009) aiming at reducing teen pregnancy, about 61% of community college students who get pregnant while in school do not complete their studies (Schargel and Smink, 1). This rate of drop out is placed as opposites with those who do not get pregnant as their probability of completing school is increased by 65% (Schargel and Smink, 1). Further, Ingersoll, (pp. 173-180) suggests that high rate of pregnancy among young college students in escalated by the alcohol-related pregnancies where the ladies were unable to make proper judgments. There is need to find a solution that would address this high rate of college dropout associated with pregnancy and ensure that the young college students pursue their dreams to the end of their goals. The child care centers would also play a part in educating college students on ways of preventing unplanned pregnancies. In so doing, they will play a role in the prevention of pregnancy. The government can provide financial aid to the female students to help them navigate the mothering season. In the long run, the cost of providing child care centers outweighs the dropout costs, provide financial independence for young mothers as well offering leveled playing ground with men.
Unfortunately, this problem is prevalent is all colleges and affects the education sector in an adverse manner. Pregnant students face discrimination from others as it is perceived to be sinful to get children (Fershee, pp. 281). Even though discrimination is against the law, it is still very rampant in colleges (Mason and Younger, pp. 269). Therefore, it is necessary to strategise a way around this and reduce the negative psychological challenges associated with childbearing. Additionally, it is costly to have students enroll and not finish their education. The reasons students were in school would result in sunk cost as they won't be able to get a living out of it. The government feels the pinch having invested in the life of the student in the hope that they would participate in the welfare of the nation. When students are able to study and complete their education well, they get jobs and can pay their taxes enabling the government to be able to carry out public activities that better the nation.
When young women drop out of school, it denies them an opportunity to make their lives better through financial independence. Such women become burdensome to their parents as they may not be stable to meet their financial needs. Eventually, they do not have a wide array of choices to whom to get married to due to their financial difficulties. Such challenges will not present women as human equals because they will not have a leveled playing ground with men. And since there has been a campaign on prevention of pregnancies but has not made a lasting change in the lives of the females students, there is need to re-examine the dilemma. In essence, it is critical to come up with a solution that will increase the retention level of students who give birth while still in college without compromising their ability to score excellent grades and become professionals in their areas of specialty. Further, with reliable solutions, female discrimination associated with pregnancy in colleges will be reduced and getting a child is not treated scornfully.
Shild care centers
There is a need to have a solution that will help students cope with the pregnancies and babies that are delivered and childcare centers would be a perfect solution. These facilities would be an incredible statement by the colleges as they offer their support to college mothers and they are committed to helping them address their difficulties. For example, in the University of Minnesota, child care centers have been essential. Further, the universities and colleges allowing childcare center facilities in their institutions will be making a strong statement that pregnancy cannot and should not be a hindrance in attaining the academic goals. Through such a service, the dropouts to take care of babies will be minimized. The child care center will be an initiative of the colleges to ensure that the mothers can be able to give their education full concentration without the many motherly responsibilities (Goldrick-Rab, pp.179-203). The child care centers can also be resource centers for young mothers on how to balance life and bounce back after delivery. The peace of mind on the new parents may help them score highly enough to allow them to realize their dreams. Moreover, child care centers will also improve the child development minimizing the wasted time required to seek medical attention of a poorly developed child (Korjenevitch, and Dunifon, pp. 1). Child care centers would address help students remain in class as their babies are taken care. Additionally, the center would act as a facility to give essential information for new mothers to help them address challenges associated with parenting.
The cost of dropping out of school and the resultant financial dependence would, in the long run, outweigh the cost of the centers. The childcare centers are well aligned with the global goals and objectives of reducing gender inequalities in workplaces and marriages (Goldrick-Rab, pp.179-203). Therefore, these child care centers should be encouraged more. Alarmingly, some suggest that child care centers would encourage reckless sexual behaviors as the weight of child responsibility would be minimizing (Idemudia and Sekano, pp.6678) However, these care centers will be organized in such a way that the young mothers also pay the price for the growth of the child. Further, the government may offer the financial aid loan to provide resources in taking care of the child in the care centers, such that upon conclusion of their schooling and securing a job, they would be required to pay back. Such an arrangement would help deal with financial constraints that may face college child care centers, as suggested by Cooper (pp.22-29).
In conclusion, child care centers would be very instrumental in addressing unplanned pregnancies among college students. Such a facility would serve as a resource center to help students remain in school in the event of pregnancy. These centers can also help in pregnancy prevention by educating and creating awareness on the importance of responsible sexual behaviors. It is by such centers that the dignity of females who get pregnant in colleges would be restored and gender discrimination occurrences minimized in the long run.
Works Cited
Cooper, Michelle. "Student support services at community colleges: A strategy for increasing student persistence and attainment." Institute for Higher Education Policy (2010): 22-29.
Fershee, Kendra. "An Act for All Contexts: Incorporating the Pregnancy Discrimination Act into Title IX to Help Pregnant Students Gain and Retain Access to Education." Hofstra L. Rev. 39 (2010): 281.
Goldrick-Rab, Sara, and Kia Sorensen. "Unmarried parents in college." The Future of Children 20.2 (2010): 179-203.
Idemudia, Erhabor S., and Nkele E. Sekano. "Gender, grade level, PEN scores and risk-taking behaviour of adolescent learners in South Africa." Gender and Behaviour 13.2 (2015): 6675-6684.
Ingersoll, Karen S., et al. "Reducing alcohol-exposed pregnancy risk in college women: Initial outcomes of a clinical trial of a motivational intervention." Journal of substance abuse treatment 29.3 (2005): 173-180.
Korjenevitch, Maria, and Rachel Dunifon. "Child care center quality and child development." New York: Cornell University (2010).
Mason, Mary Ann, and Jaclyn Younger. "Title IX and Pregnancy Discrimination in Higher Education: The New Frontier." NYU Rev. L. & Soc. Change 38 (2014): 269.
Schargel, Franklin P., and Jay Smink. Strategies to help solve our school dropout problem. Routledge, 2014.
TheNationalCampaign.org www.TeenPregnancy.org MARCH 2009 Unplanned Pregnancy and Community Colleges
Cite this page
College Dropouts Because of Unplanned Pregnancy, Essay Sample. (2019, Jan 17). Retrieved from https://speedypaper.com/essays/101-college-dropouts
Request Removal
If you are the original author of this essay and no longer wish to have it published on the SpeedyPaper website, please click below to request its removal: