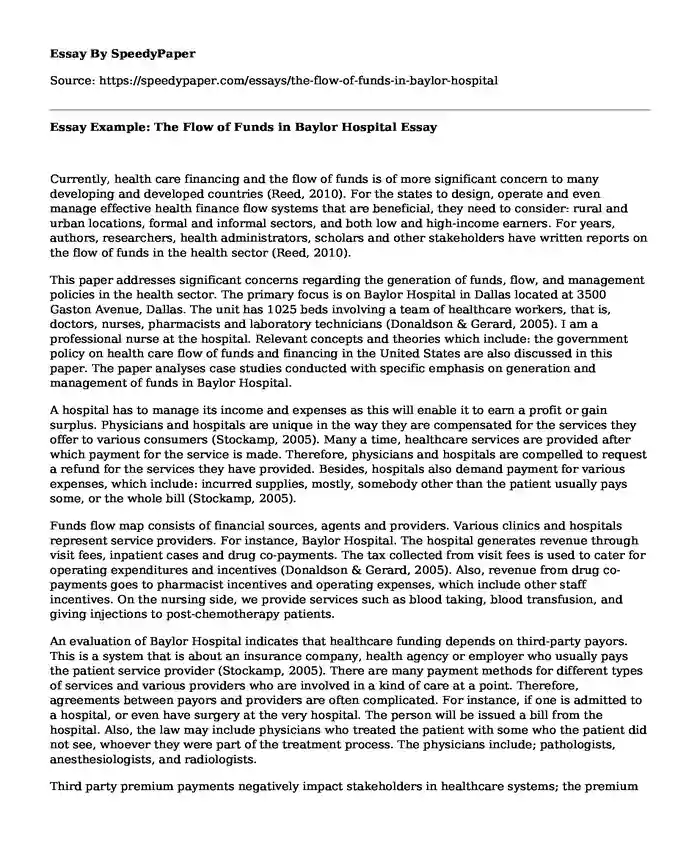 Currently, health care financing and the flow of funds is of more significant concern to many developing and developed countries (Reed, 2010). For the states to design, operate and even manage effective health finance flow systems that are beneficial, they need to consider: rural and urban locations, formal and informal sectors, and both low and high-income earners. For years, authors, researchers, health administrators, scholars and other stakeholders have written reports on the flow of funds in the health sector (Reed, 2010).
This paper addresses significant concerns regarding the generation of funds, flow, and management policies in the health sector. The primary focus is on Baylor Hospital in Dallas located at 3500 Gaston Avenue, Dallas. The unit has 1025 beds involving a team of healthcare workers, that is, doctors, nurses, pharmacists and laboratory technicians (Donaldson & Gerard, 2005). I am a professional nurse at the hospital. Relevant concepts and theories which include: the government policy on health care flow of funds and financing in the United States are also discussed in this paper. The paper analyses case studies conducted with specific emphasis on generation and management of funds in Baylor Hospital.
A hospital has to manage its income and expenses as this will enable it to earn a profit or gain surplus. Physicians and hospitals are unique in the way they are compensated for the services they offer to various consumers (Stockamp, 2005). Many a time, healthcare services are provided after which payment for the service is made. Therefore, physicians and hospitals are compelled to request a refund for the services they have provided. Besides, hospitals also demand payment for various expenses, which include: incurred supplies, mostly, somebody other than the patient usually pays some, or the whole bill (Stockamp, 2005).
Funds flow map consists of financial sources, agents and providers. Various clinics and hospitals represent service providers. For instance, Baylor Hospital. The hospital generates revenue through visit fees, inpatient cases and drug co-payments. The tax collected from visit fees is used to cater for operating expenditures and incentives (Donaldson & Gerard, 2005). Also, revenue from drug co-payments goes to pharmacist incentives and operating expenses, which include other staff incentives. On the nursing side, we provide services such as blood taking, blood transfusion, and giving injections to post-chemotherapy patients.
An evaluation of Baylor Hospital indicates that healthcare funding depends on third-party payors. This is a system that is about an insurance company, health agency or employer who usually pays the patient service provider (Stockamp, 2005). There are many payment methods for different types of services and various providers who are involved in a kind of care at a point. Therefore, agreements between payors and providers are often complicated. For instance, if one is admitted to a hospital, or even have surgery at the very hospital. The person will be issued a bill from the hospital. Also, the law may include physicians who treated the patient with some who the patient did not see, whoever they were part of the treatment process. The physicians include; pathologists, anesthesiologists, and radiologists.
Third party premium payments negatively impact stakeholders in healthcare systems; the premium amounts do not even leave out consumers. For consumers, prescriptions, insurance and cost of care are the most significant barriers to better healthcare. According to (Goldman, 2012), 29% of consumers have a problem with paying medical bills. The lack of finances prompted consumers to pursue financial aid from third parties.
Consumers at Baylor hospital indicates that third-party payments system is foreign to them. They argue that they are introduced to this system through healthcare providers; the providers present the third party payments system as a way to afford premiums necessary for treatment. The service providers usually advise consumers on various options such as Medicaid and private insurance (Goldman 2012). However, the third party payments system has some controversies surrounding it. These include allegations of fraudulent activities accompanied by lawsuits between providers and insurers.
For patients to prevent these abuses and inefficiencies, they should fight back against the practice. Consumers can do this by understanding the full details of all plan options that are available, and this should cut across public and private insurers (Goldman 2012). As a result, insurers will be highly vigilant, because of higher reimbursement fees that will be demanded by the providers. Consumers can also use HHS. HHS can ensure charitable aid irrespective of provider contributions.
In some cases, some of the physicians at the hospital may not be in the network of one's health plan provider even when one was treated at a facility recognized by the health plan provider. This system is called a fee-for-service system, and the system rewards providers for every service they provide as opposed to high-quality care and positive impact. To alter this system, the healthcare reform, which was introduced in the U.S has yielded positive results. For instance, the "Patient Protection and Affordable Care Act (PPACA)" has altered the system of payments by ensuring efficient outcomes are linked with the amount to quality (Stockamp, 2005). From the 1920s, doctors and hospitals started charging levies that most individuals could not afford to pay quickly; this became worse during the period of the Great Depression. This prompted hospitals like Baylor Hospital in Dallas to create a system for paying hospital services. The network later evolved into Blue Cross.
The evolution of Blue Cross led to the development of Blue Cross Blue Shield plans; basically, the organization is a nonprofit health insurer which serves the local community. Its success led to commercial and private insurers enter the market.
In the U.S., most people are insured through their employer. This means that they may lack information on the costs of private insurance plans and by how much the plans have been rising. Reports indicate that health insurance premiums grew at a rate three times the rate of inflation between 1988 and 2006 (Clifton 2009). The extra money goes to people's pockets. Therefore, insurance companies may end up making a lot of profit at the expense of consumers.
For this reason, various reforms have been developed to regulate private insurance companies. According to the Patient Protection and Affordable Care Act, multiple changes have been adopted (Clifton 2009). The changes include a set of consumer protections which ensure that providers don't deny coverage or charge people higher premiums based on various pre-existing conditions.
To empower consumers, insurers need to help consumers take responsibility for their health and care (Overland, 2014). This can be done through policies that make consumers feel more empowered. Also, the providers can provide consumers with relevant resources, tools and incentives to boost their health. Some of the suggestions that can help empower consumers are as discussed.
Consumers should be made to understand the benefits of insurance plans. Few people can access the HR manager to explain plan benefits; this is attributed to the rise of business to the consumer market in the health insurance industry. Thus, insurers have come up with tools to enable consumers to make informed choices based on their health status, preferences, available options and health status. For example, Blue Cross has educated consumers on the Affordable Care Act. The organization also makes consumers aware of health insurance and how to use it (Overland, 2014).
Consumers can be empowered by enhancing price transparency. For consumers to make more informed decisions, they should consider the benefits and quality of healthcare procedures and services, and organizing costs. In the United States, the charges for similar services vary significantly across the 30 most popular cities. The variation prompted Aetna, United Healthcare and Humana to make base prices for various services (Overland, 2014).
Also, managing controllable health factors can be used to empower consumers (Overland, 2014). Health conditions that many consumers pose are either manageable or preventable. Therefore, insurers often enable members to manage the conditions they have aggressively. A good example is the UnitedHealth, which works with an incentive program; the program provides gift cards to consumers complete health assessment forms and those who participate in various online health programs. Besides Humana works to identify their members and engage them with moderate risks. Humana uses approaches such as personal monitoring performance, setting goals and providing social support.
Overall, revenue at Baylor Hospital is generated through various means, such as billable patient services, donations and investments. Also, revenues arise through the provision of services such as blood transfusion and hourly rates for administering chemotherapy. Thus, nurses play a significant role in ensuring that expenses are controlled in relation to patient care (Reed, 2010). Ultimately, these services enable income flow in the hospital.
References
Clifton, L., (2009). Flatlined: Resuscitating American Medicine. Rutgers University Press.
Donaldson, C., Gerard, K., & Mitton, C. (2005). Efficient purchasing in public and private health care systems: Mission impossible. The public-private mix for health. Plus ca change, plus c'est la meme chose, 21-42.
Goldman, T. (2012, July 31). Eliminating Fraud and Abuse. Health affairs. Retrieved from: https://www.healthaffairs.org/do/10.1377/hpb20120731.55945/full/
Overland, D., (2014, June 25). Three Ways to Empower Consumers. FierceHealthcare. Retrieved from: https://www.fiercehealthcare.com/payer/3-ways-to-empower-consumers
Reed, A., (2010, February 26). The Cost of Doing Nothing on Health Care. New York Times. Retrieved from: http://www.nytimes.com/2010/02/28/weekinreview/28abelson.html
Stockamp, D. R., (2005). The strategic benefits of revenue cycle improvement: what distinguishes high-performing healthcare organizations is an ability to learn from their experiences and to apply those lessons in positioning themselves strategically. Healthcare Financial Management, 59(9), 74-79.
Cite this page
Essay Example: The Flow of Funds in Baylor Hospital. (2023, Jan 13). Retrieved from https://speedypaper.com/essays/the-flow-of-funds-in-baylor-hospital
Request Removal
If you are the original author of this essay and no longer wish to have it published on the SpeedyPaper website, please click below to request its removal: