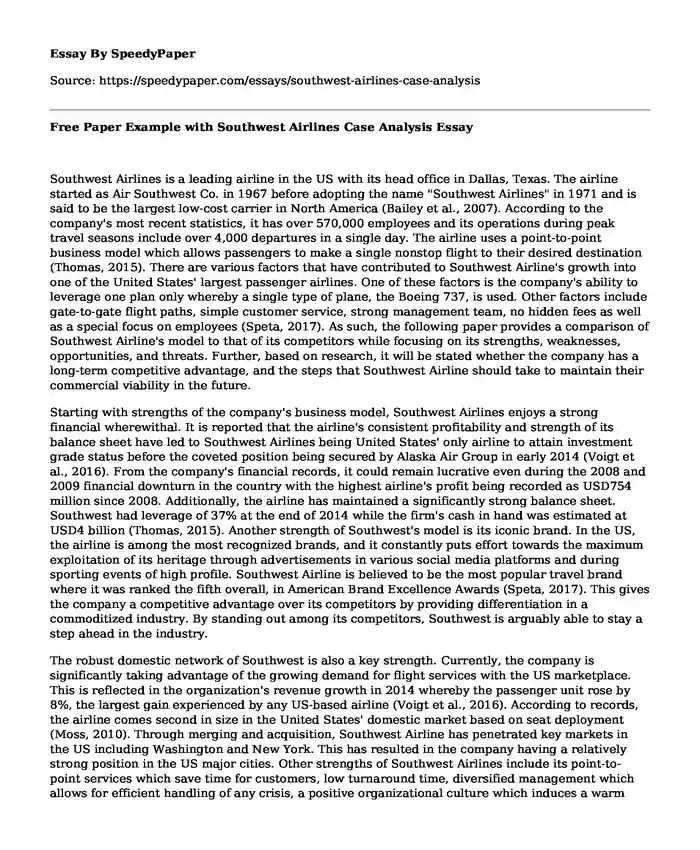 Southwest Airlines is a leading airline in the US with its head office in Dallas, Texas. The airline started as Air Southwest Co. in 1967 before adopting the name "Southwest Airlines" in 1971 and is said to be the largest low-cost carrier in North America (Bailey et al., 2007). According to the company's most recent statistics, it has over 570,000 employees and its operations during peak travel seasons include over 4,000 departures in a single day. The airline uses a point-to-point business model which allows passengers to make a single nonstop flight to their desired destination (Thomas, 2015). There are various factors that have contributed to Southwest Airline's growth into one of the United States' largest passenger airlines. One of these factors is the company's ability to leverage one plan only whereby a single type of plane, the Boeing 737, is used. Other factors include gate-to-gate flight paths, simple customer service, strong management team, no hidden fees as well as a special focus on employees (Speta, 2017). As such, the following paper provides a comparison of Southwest Airline's model to that of its competitors while focusing on its strengths, weaknesses, opportunities, and threats. Further, based on research, it will be stated whether the company has a long-term competitive advantage, and the steps that Southwest Airline should take to maintain their commercial viability in the future.
Starting with strengths of the company's business model, Southwest Airlines enjoys a strong financial wherewithal. It is reported that the airline's consistent profitability and strength of its balance sheet have led to Southwest Airlines being United States' only airline to attain investment grade status before the coveted position being secured by Alaska Air Group in early 2014 (Voigt et al., 2016). From the company's financial records, it could remain lucrative even during the 2008 and 2009 financial downturn in the country with the highest airline's profit being recorded as USD754 million since 2008. Additionally, the airline has maintained a significantly strong balance sheet. Southwest had leverage of 37% at the end of 2014 while the firm's cash in hand was estimated at USD4 billion (Thomas, 2015). Another strength of Southwest's model is its iconic brand. In the US, the airline is among the most recognized brands, and it constantly puts effort towards the maximum exploitation of its heritage through advertisements in various social media platforms and during sporting events of high profile. Southwest Airline is believed to be the most popular travel brand where it was ranked the fifth overall, in American Brand Excellence Awards (Speta, 2017). This gives the company a competitive advantage over its competitors by providing differentiation in a commoditized industry. By standing out among its competitors, Southwest is arguably able to stay a step ahead in the industry.
The robust domestic network of Southwest is also a key strength. Currently, the company is significantly taking advantage of the growing demand for flight services with the US marketplace. This is reflected in the organization's revenue growth in 2014 whereby the passenger unit rose by 8%, the largest gain experienced by any US-based airline (Voigt et al., 2016). According to records, the airline comes second in size in the United States' domestic market based on seat deployment (Moss, 2010). Through merging and acquisition, Southwest Airline has penetrated key markets in the US including Washington and New York. This has resulted in the company having a relatively strong position in the US major cities. Other strengths of Southwest Airlines include its point-to-point services which save time for customers, low turnaround time, diversified management which allows for efficient handling of any crisis, a positive organizational culture which induces a warm employee culture and high capacity usage (Bailey et al., 2007). Additionally, the company is said to have an excellent safety record and uses a single type of aircraft which reduces training times.
Southwest model is also associated with a number of weaknesses. To begin with, the company is said to have minimal revenue opportunities. Unlike most of its competitors whose largest opportunity to grow financially is through ancillary revenue, Southwest Airlines has rejected product unbundling. Consequently, the company's revenues rise by just 3.6% on annual basis since peaking at 29% in 2011 (Thomas, 2015). The airline over-relies on revenues from passengers which make up over 93% of the company's revenues (Speta, 2017). Another weakness linked to Southwest airline is an outdated product. Although the company's balance sheet strength is capable of influencing new products that would be more appealing to its customers and that would generate high medium revenue in the medium future, this is yet to materialize fully. On the contrary, Southwest Airlines has, in fact, densified its aircraft resulting in a decrease in seat pitch (Voigt et al., 2016). Despite offering onboard Wi-Fi, the company still misses an opportunity to leverage the strong brand it has earned for decades to create new avenues of revenue. Other weaknesses associated with the company include lawsuits that may affect its brand image, over-dependence on Boeing which gives the supplier high bargaining power, carries a small amount of freight and cargo, a majority of the employees belong to a union, and the airline does not offer morning flights (Moss, 2010).
Despite the weaknesses, Southwest Airlines still has numerous opportunities that it can take advantage of for further market success. One of the opportunities is the new international operations whereby the company introduced its own branded international service in 2014 after years of planning to expand to neighboring international markets (Thomas, 2015). The acquisition of AirTran and an upgrade of reservations system have accelerated the process enabling Southwest offer services to Los Cabos, San Juan, Aruba, Montego Bay, Cancun and Nassau (Speta, 2017). Network diversification for the airline through international service addition is significant as the airline has arguably infiltrated a majority of domestic destinations in the US. Southwest Airline can provide its large passenger base with access to international leisure destinations a move that can help generate some revenue after maturity is reached in these markets.
Also, potential partnerships between the company and foreign international airlines present opportunities to extend operations to new routes. Various LCCs are establishing partnerships with foreign carriers in efforts to provide feed behind the foreign carriers' initial gateway (Voigt et al., 2016). However, due to various reasons including employee groups' opposition, the airline is yet to consider such possibilities. Nonetheless, such relationships have significant opportunities that can be exploited to enhance traffic flows for the airline. Other opportunities for Southwest Airlines include the growing global tourism, increased freight business as well as the adoption of new technology that would help provide new services and improve cost-effectiveness (Moss, 2010).
Further, Southwest Airline is faced with various threats to its business. One of them is increased competition from ULCCs. According to Speta (2017), contrary to the company's claims, it is no longer the leader in low fare as this historical role has been overtaken by some of its competitors including Frontier Airlines, Allegiant Air and Spirit Airlines who have used low fares as an air travel stimulation strategy. Southwest average fare is said to have increased by 7% in 2013 and 6% in 2014 which has been attributed to the high demand within the marketplace (Voigt et al., 2016). From this, it can be argued that the ULCCs have subjected Southwest Airlines to an identity crisis. This is because the airline no longer falls under low-cost or low-fare and does not provide any additional amenities of full service and hybrid airlines. Thus, it is imperative for the company to embrace innovation for long-term relevance.
Another threat is the rising costs which are predicted to increase even further in the future. The company finds itself immersed in various labor negotiations which make the prediction of the company's unit cost increases difficult (Voigt et al., 2016). Although Southwest Airline's unit costs currently correspond to major airlines, it is inevitable to bear some cost pressure with the introduction of new contracts following tense negotiations. The airline previously admitted that its labor agreements are based on a 10 to 15 years-old operating model and its structure is among the highest paying in the industry (Thomas, 2015). Other threats to the company's business include stringent government regulations, a decrease in demand for air travel as well as terrorist activities.
Based on research, it can be argued that Southwest Airline has a long-term competitive advantage. This is because the company has embraced continuous evolution as one of its strategies to help it respond to the developing industry that is highly competitive. Consequently, the company has made various adjustments to its operations and service features. Southwest Airline has in the recent past extended its fare structure to incorporate three categories of pricing and its sales department has amplified emphasis on business travelers. Additionally, the airline's process of boarding has undergone some modifications along with the frequent enhancement of flyer status to increase customer loyalty and enhance business as well (Speta, 2017). Southwest Airline's investment in partnerships and co-branding has also played a significant role in differentiating the airline from its competitors and hence a long-term competitive advantage.
To maintain their commercial viability in the future, Southwest Airliner should take a number of steps. Firstly, the company is faced with the problem of increasing fuel costs and this can be countered with the improvement and adoption of effective management of non-fuel costs. This should mainly focus on labor and maintenance. Regarding labor, since over 80% of the airline's workers belong to a union (Voigt et al., 2016), the company should ensure that it establishes a strong bargaining position as agreement negotiations between the organization and unions will significantly affect Southwest Airline's future cost structure. Secondly, with increasing costs of fuel, the company should control its fuel use to ensure efficiency which can be achieved through the use of newer airplanes that are better equipped hence eliminating the less-efficient older models. Thirdly, Southwest Airlines should consider entry into new markets while also increasing its available seat miles. Additionally, the company can also shape its commercial viability in the future by looking outside the US for suitable markets
In conclusion, as demonstrated herein, Southwest Airline's has a unique business model, point-to-point, that gives it a competitive edge in the industry. When compared with its competitors, the airline has been found to have various strengths, weaknesses, opportunities, and threats. Some of the identified strengths include a strong financial wherewithal, its iconic brand, robust domestic network among others. Its minimal revenue opportunities and an outdated product have been highlighted as some of the key weaknesses of the airline's business model. Regarding opportunities, the company can take advantage of new international operations, potential partnerships, growing global tourism and new technology.
Cite this page
Free Paper Example with Southwest Airlines Case Analysis. (2022, Jun 10). Retrieved from https://speedypaper.com/essays/southwest-airlines-case-analysis
Request Removal
If you are the original author of this essay and no longer wish to have it published on the SpeedyPaper website, please click below to request its removal: