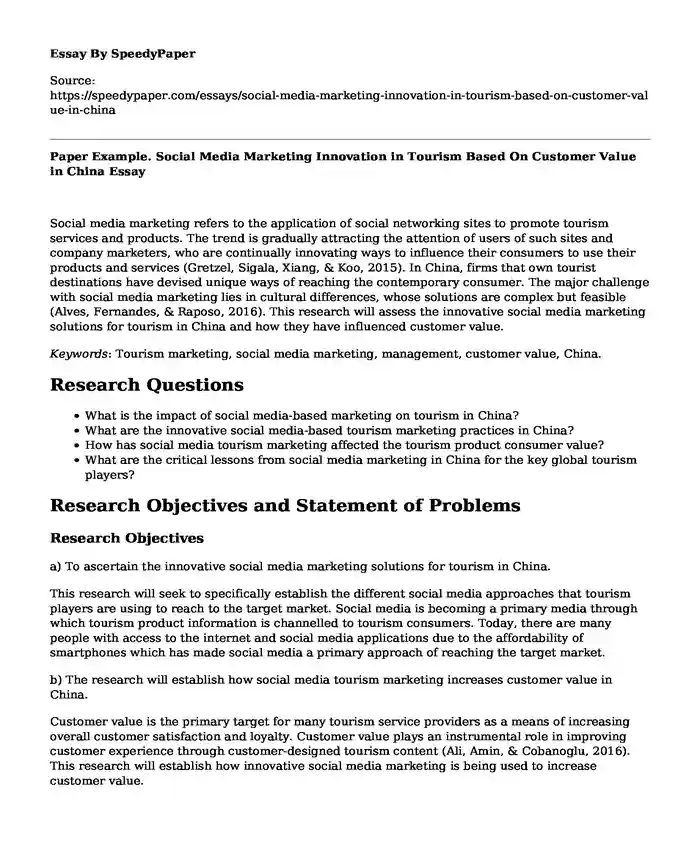 Social media marketing refers to the application of social networking sites to promote tourism services and products. The trend is gradually attracting the attention of users of such sites and company marketers, who are continually innovating ways to influence their consumers to use their products and services (Gretzel, Sigala, Xiang, & Koo, 2015). In China, firms that own tourist destinations have devised unique ways of reaching the contemporary consumer. The major challenge with social media marketing lies in cultural differences, whose solutions are complex but feasible (Alves, Fernandes, & Raposo, 2016). This research will assess the innovative social media marketing solutions for tourism in China and how they have influenced customer value.
Keywords: Tourism marketing, social media marketing, management, customer value, China.
Research Questions
What is the impact of social media-based marketing on tourism in China?
What are the innovative social media-based tourism marketing practices in China?
How has social media tourism marketing affected the tourism product consumer value?
What are the critical lessons from social media marketing in China for the key global tourism players?
Research Objectives and Statement of Problems
Research Objectives
a) To ascertain the innovative social media marketing solutions for tourism in China.
This research will seek to specifically establish the different social media approaches that tourism players are using to reach to the target market. Social media is becoming a primary media through which tourism product information is channelled to tourism consumers. Today, there are many people with access to the internet and social media applications due to the affordability of smartphones which has made social media a primary approach of reaching the target market.
b) The research will establish how social media tourism marketing increases customer value in China.
Customer value is the primary target for many tourism service providers as a means of increasing overall customer satisfaction and loyalty. Customer value plays an instrumental role in improving customer experience through customer-designed tourism content (Ali, Amin, & Cobanoglu, 2016). This research will establish how innovative social media marketing is being used to increase customer value.
Statement of Problems
One of the primary advantages of technology in businesses today is the ease of reaching customers. Social media has been instrumental in tourism services content communication to customers (Kim, Lee, Shin, & Yang, 2017). In China, social media has been explored as an avenue for innovative marketing for tourism products. This research will assess how social media is being used as a tool for tourism marketing and its potential in creating customer value.
Literature Review
Social media is arguably the most influential marketing tool in the contemporary world. The use of tools such as Facebook, Twitter, Instagram, and Pinterest to reach both existing and prospective customers is a critical factor in enhancing their satisfaction. Chen and Lin (2019) pose that customers derive satisfaction from perceived value. The discovery of people online with similar interests, combined with this perceived value, improves the chances of the customer doing return business. Jacobson, Gruzd, and Hernandez-Garcia (2019) argue from the access and availability of social media tools and affordable data rates. The high number of people online has led marketers to re-examine their focus and subsequently directed their energies to social media. The perceived value mentioned above significantly influences the consumer's decision-making, a reality that they have recently acknowledged. Chang, Chou, Wu, and Wu (2018) confirm the essential nature of Facebook as a marketing tool that tourist companies in China are yet to exploit fully. The tool is more important than traditional forms of advertising.
Yang, Dong, and Li (2019) delve into tourism by suggesting a different approach to the concept. They argue that tourism in China is incredibly strained from the supply side. As a result, they propose microclimate tourism, which they term as the most effective method of ensuring environmental sustainability. Microclimate tourism explores issues of the safety of attractions, tourists, and the broader industry of tourism. While this idea is quite revolutionary in its foundation, it suffices to appreciate the necessary input of marketing to ensure many people become aware of it. Herein lies yet another idea of microfilms, which can help push the message to as many people as possible. Shao, Li, Morrison, and Wu (2016) argue that such microfilms can be disseminated through social media to reach prospective consumers, hopefully.
Even with innovative ideas on tourism and marketing ideas, the core of such measures is communication. Wei (2012) underscores the importance of understanding the diversity of cultures. He argues that some Chinese companies have begun to approach the international market. This shift has highlighted the significance of cross-cultural communication across each company's social media platforms. Kozak and Buhalis (2019) pose that cross-border collaboration is a crucial aspect of modern interactions between various countries. They are especially interested in the Turkey-Greece border, which they determine the advantages of cooperation in marketing, which may promote their products conjunctively.
Tan, Lee, Hew, Ooi, and Wong (2018) address the gap in social media marketing that serves as a unique perspective on social media marketing vis-a-vis tourism in China. The researchers investigated the proneness of customers to adapt to social media and established the factors that influence such adoption efficacy in technology and mobile phone use. Social media provides the chance to identify common patterns among social media users. For instance, according to Pikkemaat, Peters, and Bichler (2019), the majority of small tourism businesses are owned by families. These authors examine the most recent literature in tourism and further support the importance of sustainability. In this respect, promoting tourism should occur concurrently with allowing the industry to be guided by the consumer's values and innovations. Guo et al. (2014) examine tourism from the standpoint of smart cities, a concept that China is spearheading. They introduce the concept of smart tourism cities, which incorporate both the Internet of Things (IoT) and the growth of the smart tourism industry. Tan et al. (2018) and Guo et al. (2014) suggest that Chinese consumers that can adopt new technology understand the concept of IoT, and marketing can leverage on this advantage to raise the tourism industry to new heights.
Significance of the Study
This research will be instrumental in creating an understanding of the different avenues that social media is being used in China to create product awareness. The research will assess the success of different innovative marketing solutions that tourism stakeholders in China are using to reach their target markets by leveraging the social media boom. Previously few studies have focused on assessing the ability of social media marketing in creating customer value. This research will be instrumental in establishing how social media marketing has created customer value for tourism customers in China and various lessons that global tourism players can learn from the successes and failures of social media tourism marketing in the South Asian country.
Methodology
Research Design
Research design is the method of data collection and the process of interpreting the data to use it in decision-making. Lewis (2015) defines research design as research tool for answering the research question or testing the research hypothesis. This study will use a qualitative and descriptive research design. Tetnowski (2015) states that a qualitative approach is a systematic approach used to describe experiences and situations to give them meaning.
Sampled Population
The target population for the study included the managers and the marketing team in China. The total target population for the study will be 20 respondents from leading tourism companies in china.
Instruments of Data Collection
This study used both secondary and primary data.
Questionnaires
A questionnaires survey is a form of research whose quality goes by what the respondent says questionnaire can be used for both descriptive and explanatory study (Pozzo, Borgobello, & Pierella, 2019). The questionnaires will contain simple questions systematically compiled in two different parts. Part one will contain demographic information of the respondents. In contrast, part two will consist of simple closed-ended questions that will seek to find out the social media marketing applications in China and customers value created.
Secondary Data
Secondary data was collected through books, journals, newspapers, magazines and any other relevant and available written materials.
References
Ali, F., Amin, M., & Cobanoglu, C. (2016). An integrated model of service experience, emotions, satisfaction, and price acceptance: an empirical analysis in the Chinese hospitality industry. Journal of Hospitality Marketing & Management, 25(4), 449-475. Retrieved from https://www.tandfonline.com/doi/abs/10.1080/19368623.2015.1019172
Alves, H., Fernandes, C., & Raposo, M. (2016). Social media marketing: a literature review and implications. Psychology & Marketing, 33(12), 1029-1038. Retrieved from https://onlinelibrary.wiley.com/doi/abs/10.1002/mar.20936
Chang, H., Chou, Y., Wu, D., & Wu, S. (2018). Will firms' marketing efforts on owned social media payoff? A quasi-experimental analysis of tourism products. Decision Support Systems, 107, 13-25. doi:10.1016/j.dss.2017.12.011
Chen, S., & Lin, C. (2019). Understanding the effect of social media marketing activities: The mediation of social identification, perceived value, and satisfaction. Technological Forecasting and Social Change, 140, 22-32. doi:10.1016/j.techfore.2018.11.025
Gretzel, U., Sigala, M., Xiang, Z., & Koo, C. (2015). Smart tourism: foundations and developments. Electronic Markets, 25(3), 179-188. Retrieved from https://link.springer.com/article/10.1007/s12525-015-0196-8
Jacobson, J., Gruzd, A., & Hernandez-Garcia, A. (2019). Social media marketing: Who is watching the watchers? Journal of Retailing and Consumer Services. doi:10.1016/j.jretconser.2019.03.001
Kim, S. E., Lee, K. Y., Shin, S. I., & Yang, S. B. (2017). Effects of tourism information quality in social media on destination image formation: The case of Sina Weibo. Information & Management, 54(6), 687-702. Retrieved from https://www.sciencedirect.com/science/article/pii/S0378720617301295
Kozak, M., & Buhalis, D. (2019). Cross-border tourism destination marketing: Prerequisites and critical success factors. Journal of Destination Marketing & Management, 14, 100392. doi:10.1016/j.jdmm.2019.100392
Lewis, S. (2015). Qualitative inquiry and research design: Choosing among five approaches. Health promotion practice, 16(4), 473-475. Retrieved from https://journals.sagepub.com/doi/abs/10.1177/1524839915580941
Pikkemaat, B., Peters, M., & Bichler, B. F. (2019). Innovation research in tourism: Research streams and actions for the future. Journal of Hospitality and Tourism Management, 41, 184-196. doi:10.1016/j.jhtm.2019.10.007
Cite this page
Paper Example. Social Media Marketing Innovation in Tourism Based On Customer Value in China. (2023, Mar 22). Retrieved from https://speedypaper.com/essays/social-media-marketing-innovation-in-tourism-based-on-customer-value-in-china
Request Removal
If you are the original author of this essay and no longer wish to have it published on the SpeedyPaper website, please click below to request its removal: