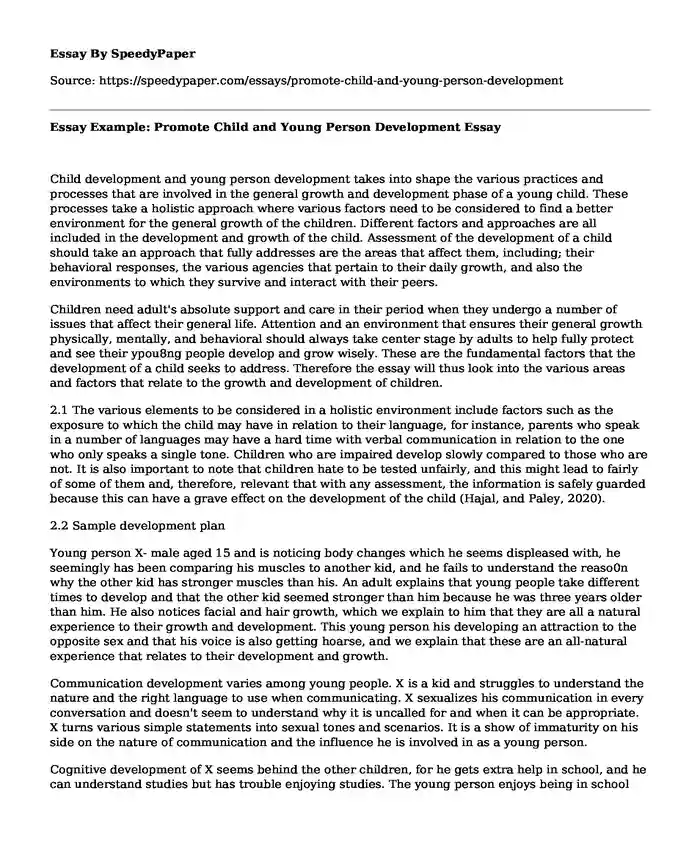 Child development and young person development takes into shape the various practices and processes that are involved in the general growth and development phase of a young child. These processes take a holistic approach where various factors need to be considered to find a better environment for the general growth of the children. Different factors and approaches are all included in the development and growth of the child. Assessment of the development of a child should take an approach that fully addresses are the areas that affect them, including; their behavioral responses, the various agencies that pertain to their daily growth, and also the environments to which they survive and interact with their peers.
Children need adult's absolute support and care in their period when they undergo a number of issues that affect their general life. Attention and an environment that ensures their general growth physically, mentally, and behavioral should always take center stage by adults to help fully protect and see their ypou8ng people develop and grow wisely. These are the fundamental factors that the development of a child seeks to address. Therefore the essay will thus look into the various areas and factors that relate to the growth and development of children.
2.1 The various elements to be considered in a holistic environment include factors such as the exposure to which the child may have in relation to their language, for instance, parents who speak in a number of languages may have a hard time with verbal communication in relation to the one who only speaks a single tone. Children who are impaired develop slowly compared to those who are not. It is also important to note that children hate to be tested unfairly, and this might lead to fairly of some of them and, therefore, relevant that with any assessment, the information is safely guarded because this can have a grave effect on the development of the child (Hajal, and Paley, 2020).
2.2 Sample development plan
Young person X- male aged 15 and is noticing body changes which he seems displeased with, he seemingly has been comparing his muscles to another kid, and he fails to understand the reaso0n why the other kid has stronger muscles than his. An adult explains that young people take different times to develop and that the other kid seemed stronger than him because he was three years older than him. He also notices facial and hair growth, which we explain to him that they are all a natural experience to their growth and development. This young person his developing an attraction to the opposite sex and that his voice is also getting hoarse, and we explain that these are an all-natural experience that relates to their development and growth.
Communication development varies among young people. X is a kid and struggles to understand the nature and the right language to use when communicating. X sexualizes his communication in every conversation and doesn't seem to understand why it is uncalled for and when it can be appropriate. X turns various simple statements into sexual tones and scenarios. It is a show of immaturity on his side on the nature of communication and the influence he is involved in as a young person.
Cognitive development of X seems behind the other children, for he gets extra help in school, and he can understand studies but has trouble enjoying studies. The young person enjoys being in school but struggles to concentrate on homework and school-related work. The kid has little control over how his speech and the way he communicated affect his peers and those around him. One can find it hard to understand what the kid is saying to what he feels. The kid easily gets in fights with their peers, and this can as a result of a bad joke misinterpreted (Mugumya, Asaba, Kamya, and Asingwire, 2017).
Emotionally young person X struggles to understand his feelings towards the opposite sex and will seemingly get angry very fast over petty issues and will instead stay angry than discuss the issues with his friends. Socially young person X struggles to interact with others because of immaturity, although he has some good friends around him. Young person X is the joke of his peers, and emotionally he tends to behave like a younger kid and struggles to find his space within his social group.
2.3 With the person-centered approach, assessment of the young people, takes place within their homes, and these young people are constantly challenged to be their best. It is through observations and a working relationship with the kids that they get to understand and better relate to their needs. Young person X, for instance, a plan can be devised to have young person X build on his various skill sets where he is expected to improve upon. X is presented with a budget from which he is required to file the progress and discuss what he thinks he has done. The young person X finds it difficult, finds it hard to be involved in these practices because he feels not ready to acquire the new skill set. Discussions will again be carried out at the end of the month to help young person X feel thee plan to be relevant to him.
2.4 When communicating with children, it is important to create a setting by which they will be able to develop. It relates to the surroundings of the young person and how they should be able to fully represent the various things that are present in their lives and how these things are geared towards their development. For instance, in children's home setting, there should be a family tree that contains the names of all the children that have ever visited the place, this enables the children to feel secure and also be a means to helping out in their relationship and the community development of the family.
Keeping the children motivated at all times is also a very resourceful means to their communication because this helps in their general drive to fostering a positive interaction by themselves and with other people. It is important to note that when the emotional and physical needs of a kid are adhered to by means of friendly environments, they are more likely to take that advantage with eventually leads to their general development. It is a strategy that enables them to have that confidence and the power to get what they are looking for with ease within their setting (Petersson, Akesson, Huus, Enskar, and Golsater, 2017).
2.5 The best way to ensure that children participate in the various decision s affecting their lives and the services they receive according to their age and ability include setting out independence plans for them, such as keeping diaries which should have schedules of what every kid is supposed to do. With such a scenario, it was discovered that a lot of stuff was ongoing, and most were repeated as there was no record of them. Having a record log, therefore, comes in as the best form of strategy that ensures every young person had a duty and a decision to make on their own in regards to timing and working plans for their schedule. In setting out the plans for their work, it is important that every plan is different in terms of background and ages and that they all represent different capabilities. Young person X can utilize this kind of plan to help in their general decision-making process and in deciding on their own decisions.
3.1 An environment that promotes the general development of a child should be one that addresses all factors that relate to their behavioral response and general behavior. In most cases, adults need to foster a holistic environment for their young people because it would help them acquire values and skills that they did not know before. The home setting, for instance, should incorporate various factors such as setting small parties that are responsible by which young people get to interact with each other. It is a scenario that fosters confidence and the general relation among themselves as young people.
3.2 For instance, my home setting has flowers with every petal representing a certain virtue that is to be observed and practiced by every young person in these homes. It is a practice that will enable young people to behave in the right way and cultivate a culture and virtue that every petal of the flower represents. For instance, one petal reads kindness and therefore encourages that the young people observe service at all and by all means. Incorporating such a setting in the homes allows young people to grow and develop in a positive way and a manner that best benefits their general growth.
4.1 Our working practice as adults can affect the development of the young person because it is to our daily practices and routines that these young people find the space to grow and develop. For instance, in my setting, my working routine requires me to work from home mostly, and therefore I always have time to guide the kids and get involved in their daily activities. Having enough time to spend with young people allows adults to interact with them adequately and have a better approach to experiencing and influencing their growth.
5.1 The various ways through which one can foster positive behavior include, for instance, praising positivity within the kids and also rewarding them for their positive behavior. Adults can also present opportunities to the young men to encourage positive response by presenting them with choices on how they can behave and the various consequences that might fall them if they don't act in a positive way and manner. In most cases, when young people react negatively, they are always looking for a reaction to avoid this as adults, the best approach is to deny them that reaction.
It is important always to present them with chances and then allow them to think about them before getting back to check on what they have decided. It is also essential to explain to them the reason why we desire to have them behave in a certain behavior and present them with a choice. In the event that they misbehave after such a scenario, then afterward, you allow them to reflect on the matter and complete for the direct work involving their behaviors or thee various risks presented (Bethell, Carle, Hudziak, Gombojav, Powers, Wade, and Braveman, 2017).
6.1 Transitions for young people are very devastating moments and worrying times that they face. It is at this time that they require attention and love from all corners to help them endure and survive such trauma. A full transition at this time helps in their general growth and transition because they get to understand that such tough times will always come, and they can be taken addressed. When young people and children undergo various transitions, they must understand that they have the support network and the people they can always turn to whenever they need advice. It is necessary to present them with the information required to help them through the transition.
The idea that they have a support network around them is very comforting and helps them exist in that space effectively. Listening to these young people when they won't need a hearing is very important. For instance, in such a scenario where there is an adolescent who has limited contact with their family and doesn't understand why the parents are not with him or how everything came to be, you must allow them the space to think and reflect. At the same time, you offer them the support that they require.
Cite this page
Essay Example: Promote Child and Young Person Development. (2023, Jul 13). Retrieved from https://speedypaper.com/essays/promote-child-and-young-person-development
Request Removal
If you are the original author of this essay and no longer wish to have it published on the SpeedyPaper website, please click below to request its removal: