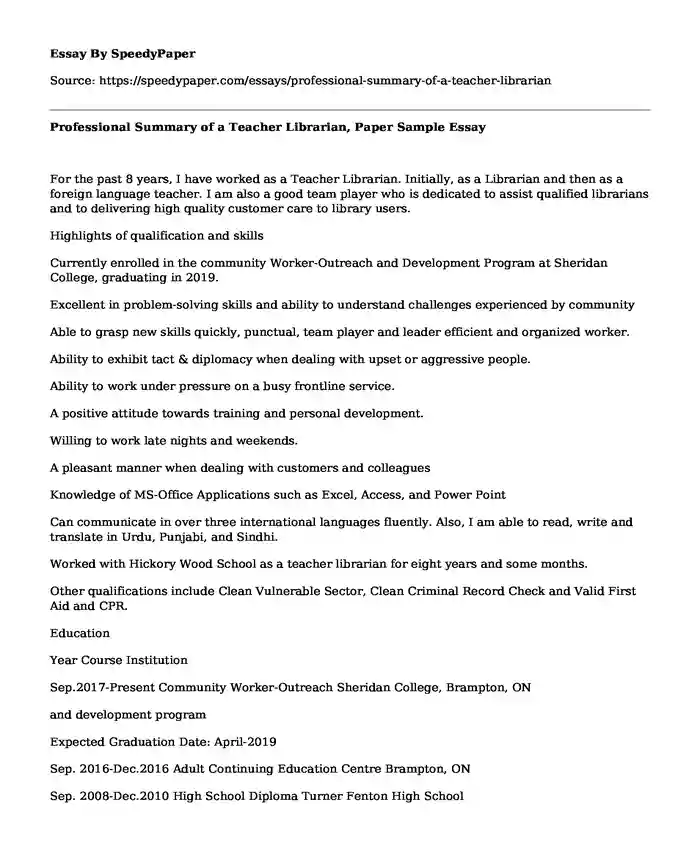 | | |
| --- | --- |
| Type of paper:  | Resume |
| Categories: | Resume |
| Pages: | 2 |
| Wordcount: | 534 words |
For the past 8 years, I have worked as a Teacher Librarian. Initially, as a Librarian and then as a foreign language teacher. I am also a good team player who is dedicated to assist qualified librarians and to delivering high quality customer care to library users.
Highlights of qualification and skills
Currently enrolled in the community Worker-Outreach and Development Program at Sheridan College, graduating in 2019.
Excellent in problem-solving skills and ability to understand challenges experienced by community
Able to grasp new skills quickly, punctual, team player and leader efficient and organized worker.
Ability to exhibit tact & diplomacy when dealing with upset or aggressive people.
Ability to work under pressure on a busy frontline service.
A positive attitude towards training and personal development.
Willing to work late nights and weekends.
A pleasant manner when dealing with customers and colleagues
Knowledge of MS-Office Applications such as Excel, Access, and Power Point
Can communicate in over three international languages fluently. Also, I am able to read, write and translate in Urdu, Punjabi, and Sindhi.
Worked with Hickory Wood School as a teacher librarian for eight years and some months.
Other qualifications include Clean Vulnerable Sector, Clean Criminal Record Check and Valid First Aid and CPR.
Education
Year Course Institution
Sep.2017-Present Community Worker-Outreach Sheridan College, Brampton, ON
and development program
Expected Graduation Date: April-2019
Sep. 2016-Dec.2016 Adult Continuing Education Centre Brampton, ON
Sep. 2008-Dec.2010 High School Diploma Turner Fenton High School
Brampton, ON
Apr. 1999-Mar.2005 Elementary School Cantonment Board
Montessori and Model
School
Karachi, Pakistan
Volunteer/Community Experience
Sep. 2008-Jun. 2016 TEACHER West-End Madressa,
Brampton, ON
Main duties performed:
Teaching foreign languages
Monitored and Taught over ten children Urdu
Facilitated Teacher's Training and other activities
Lesson planning
Sep. 2012-Jul. 2016 VOLUNTEER Masumeen Islamic Centre,
Brampton, ON
Main Duties include: Heena Artists for Fundraising
Professional Experience
Year POSITION INSTITUTION
Jan. 2009-Jun. 2009 Library Assistant (Practicum) Hickory Wood School, Brampton,
ON
Main duties include:
Assisted in Facilitating library services
Helped librarian acquire, prepare, and organize materials
Lend and collect books, periodicals, videotape, and other materials at the circulation desk
Processing of new materials including books
Enforcing policies regarding noise, eating and drinking etc.
Answering enquiries using IT based research tools and the internet.
Engaging with library users face to face and over the telephone.
Involved in delivering children's activities like reading stories etc.
Undertaking clerical and office tasks like filing, photocopying etc.
Referring complex enquiries to other staff as appropriate.
Accomplishments
Sucessfully taught foreign languages such as Urdu, Punjabi and Sindhi for more than 8 years
Integrated Online Catalogue in the Library System as an Library Assistant
Suceesfully enforced libray policies that prevented unwanted behavior within the library. This enhanced smooth day-to-day running of the Library
Successfuly carried out the library orientations for new students and members
Integrated different languages into the library systems to enable dissemination and receipt of information in different languages such as English, Urdu, Punjabi and Sindhi.
Professional Development and Training
A members of the Canadian Library Association
Attended National Meeting for Foreign Language Translation in Brampton, ON
A member of Special Library Association
Attended the Collection Development Training at Brampton, ON
Participated in the development of the Building a Library Collection Plan
Cite this page
Professional Summary of a Teacher Librarian, Paper Sample. (2022, Mar 02). Retrieved from https://speedypaper.com/essays/professional-summary-of-a-teacher-librarian
Request Removal
If you are the original author of this essay and no longer wish to have it published on the SpeedyPaper website, please click below to request its removal: