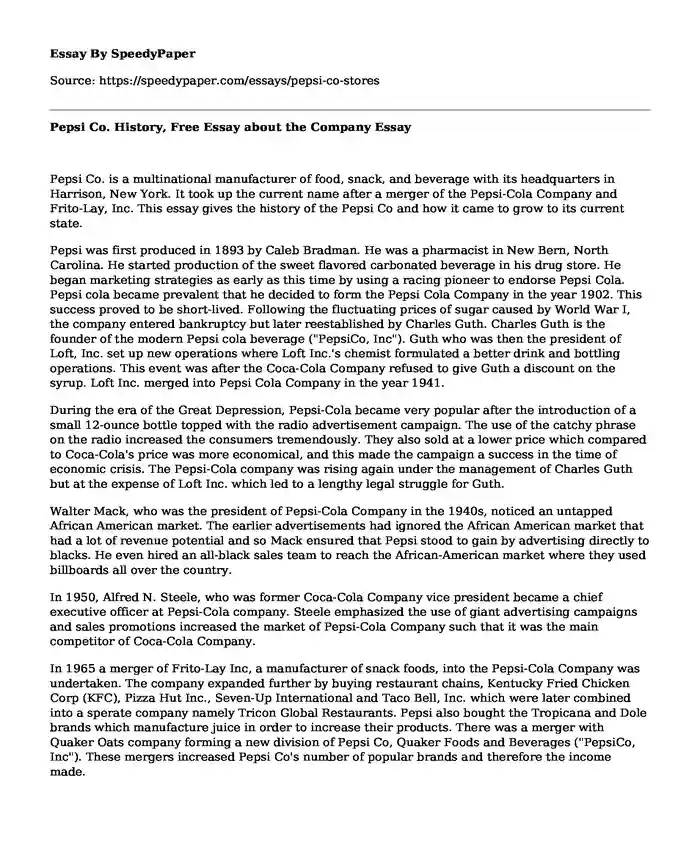 | | |
| --- | --- |
| Type of paper:  | Essay |
| Categories: | Pepsi |
| Pages: | 4 |
| Wordcount: | 859 words |
Pepsi Co. is a multinational manufacturer of food, snack, and beverage with its headquarters in Harrison, New York. It took up the current name after a merger of the Pepsi-Cola Company and Frito-Lay, Inc. This essay gives the history of the Pepsi Co and how it came to grow to its current state.
Pepsi was first produced in 1893 by Caleb Bradman. He was a pharmacist in New Bern, North Carolina. He started production of the sweet flavored carbonated beverage in his drug store. He began marketing strategies as early as this time by using a racing pioneer to endorse Pepsi Cola. Pepsi cola became prevalent that he decided to form the Pepsi Cola Company in the year 1902. This success proved to be short-lived. Following the fluctuating prices of sugar caused by World War I, the company entered bankruptcy but later reestablished by Charles Guth. Charles Guth is the founder of the modern Pepsi cola beverage ("PepsiCo, Inc"). Guth who was then the president of Loft, Inc. set up new operations where Loft Inc.'s chemist formulated a better drink and bottling operations. This event was after the Coca-Cola Company refused to give Guth a discount on the syrup. Loft Inc. merged into Pepsi Cola Company in the year 1941.
During the era of the Great Depression, Pepsi-Cola became very popular after the introduction of a small 12-ounce bottle topped with the radio advertisement campaign. The use of the catchy phrase on the radio increased the consumers tremendously. They also sold at a lower price which compared to Coca-Cola's price was more economical, and this made the campaign a success in the time of economic crisis. The Pepsi-Cola company was rising again under the management of Charles Guth but at the expense of Loft Inc. which led to a lengthy legal struggle for Guth.
Walter Mack, who was the president of Pepsi-Cola Company in the 1940s, noticed an untapped African American market. The earlier advertisements had ignored the African American market that had a lot of revenue potential and so Mack ensured that Pepsi stood to gain by advertising directly to blacks. He even hired an all-black sales team to reach the African-American market where they used billboards all over the country.
In 1950, Alfred N. Steele, who was former Coca-Cola Company vice president became a chief executive officer at Pepsi-Cola company. Steele emphasized the use of giant advertising campaigns and sales promotions increased the market of Pepsi-Cola Company such that it was the main competitor of Coca-Cola Company.
In 1965 a merger of Frito-Lay Inc, a manufacturer of snack foods, into the Pepsi-Cola Company was undertaken. The company expanded further by buying restaurant chains, Kentucky Fried Chicken Corp (KFC), Pizza Hut Inc., Seven-Up International and Taco Bell, Inc. which were later combined into a sperate company namely Tricon Global Restaurants. Pepsi also bought the Tropicana and Dole brands which manufacture juice in order to increase their products. There was a merger with Quaker Oats company forming a new division of Pepsi Co, Quaker Foods and Beverages ("PepsiCo, Inc"). These mergers increased Pepsi Co's number of popular brands and therefore the income made.
Pepsi being a non-alcoholic beverage has all age groups as their target market. In the I930's Pepsi used catchy phrases like, "Pepsi Hits The Spot" on the radio and later in television to reach out to its target audience. The use of celebrities to endorse their product was as well a marketing strategy used by the Pepsi Cola Company. Later the Pepsi company sponsored Sports teams so as to brand their logo on their jerseys. In 1957 the Pepsi Challenge marketing campaign was initiated whereby people blindly tasted Pepsi-Cola and the rival Coca-Cola and most of the participants chose Pepsi-Cola as the sweeter alternative ("Cola Wars Continue: Coke and Pepsi in the Twenty-First Century - Case"). The campaign was used to the maximum advantage in television adverts. Pepsi also decided to market even by featuring in several films. All the strategies undertaken by the Pepsi-Cola company proved a success following its growth up to its current state.
Pepsi Co has a career path based on the production of manufactured food, snack, and beverage. Pepsi Co has ensured that it owns many of the popular food manufacturers by Mergers. This ensures the competition does not drive them out of the market but rather they have control of a large section of the market. There is still a major competitor since the early times that is the Coca-Cola company which up to date poses as a threat as it continues to grow.
Pepsi Co's brands are said to have created retail offers of more than $1 billion in each series of brands. The organization's products were dispersed crosswise over in excess of 200 nations. This brings about yearly net incomes of $43.3 billion. Knowing of the net income of PepsiCo., we find that it is the second biggest food, snack and refreshment beverage manufacturer in the world.

Reference
"PepsiCo, Inc." Encyclopedia Britannica, www.britannica.com/topic/PepsiCo-Inc. Accessed 23 Apr. 2019.
"Cola Wars Continue: Coke and Pepsi in the Twenty-First Century - Case." Harvard Business School, www.hbs.edu/faculty/Pages/item.aspx?num=28760. Accessed 23 Apr. 2019.
Cite this page
Pepsi Co. History, Free Essay about the Company. (2022, Feb 18). Retrieved from https://speedypaper.com/essays/pepsi-co-stores
Request Removal
If you are the original author of this essay and no longer wish to have it published on the SpeedyPaper website, please click below to request its removal: