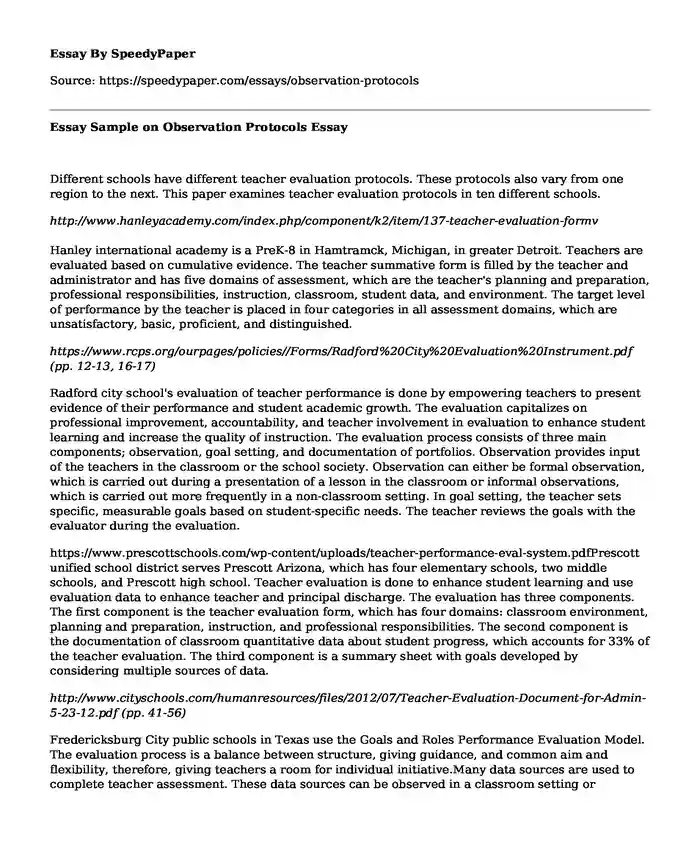 Different schools have different teacher evaluation protocols. These protocols also vary from one region to the next. This paper examines teacher evaluation protocols in ten different schools.
http://www.hanleyacademy.com/index.php/component/k2/item/137-teacher-evaluation-formv

Hanley international academy is a PreK-8 in Hamtramck, Michigan, in greater Detroit. Teachers are evaluated based on cumulative evidence. The teacher summative form is filled by the teacher and administrator and has five domains of assessment, which are the teacher's planning and preparation, professional responsibilities, instruction, classroom, student data, and environment. The target level of performance by the teacher is placed in four categories in all assessment domains, which are unsatisfactory, basic, proficient, and distinguished.
https://www.rcps.org/ourpages/policies//Forms/Radford%20City%20Evaluation%20Instrument.pdf (pp. 12-13, 16-17)
Radford city school's evaluation of teacher performance is done by empowering teachers to present evidence of their performance and student academic growth. The evaluation capitalizes on professional improvement, accountability, and teacher involvement in evaluation to enhance student learning and increase the quality of instruction. The evaluation process consists of three main components; observation, goal setting, and documentation of portfolios. Observation provides input of the teachers in the classroom or the school society. Observation can either be formal observation, which is carried out during a presentation of a lesson in the classroom or informal observations, which is carried out more frequently in a non-classroom setting. In goal setting, the teacher sets specific, measurable goals based on student-specific needs. The teacher reviews the goals with the evaluator during the evaluation.
https://www.prescottschools.com/wp-content/uploads/teacher-performance-eval-system.pdfPrescott unified school district serves Prescott Arizona, which has four elementary schools, two middle schools, and Prescott high school. Teacher evaluation is done to enhance student learning and use evaluation data to enhance teacher and principal discharge. The evaluation has three components. The first component is the teacher evaluation form, which has four domains: classroom environment, planning and preparation, instruction, and professional responsibilities. The second component is the documentation of classroom quantitative data about student progress, which accounts for 33% of the teacher evaluation. The third component is a summary sheet with goals developed by considering multiple sources of data.
http://www.cityschools.com/humanresources/files/2012/07/Teacher-Evaluation-Document-for-Admin-5-23-12.pdf (pp. 41-56)
Fredericksburg City public schools in Texas use the Goals and Roles Performance Evaluation Model. The evaluation process is a balance between structure, giving guidance, and common aim and flexibility, therefore, giving teachers a room for individual initiative.Many data sources are used to complete teacher assessment. These data sources can be observed in a classroom setting or standardized test results used in goal setting for student progress according to their performance. Student performance is evaluated using student percentile growth scores and is used to evaluate teacher performance.
https://www.wps.k12.va.us/site/handlers/filedownload.ashx?moduleinstanceid=15851&dataid=13393&FileName=WPS_teacher_eval_handbook.pdf (pp. 44-77)
Winchester public schools in Winchester Virginia use seven performance standards. Performance indicators are used to provide tangible behaviors for assessing performance standards. Student performance and growth is measured in two or more measures and is used in the teacher assessment. Teacher evaluation is divided into three parts; goal setting, observation, and teacher documentation log; the evaluation also includes teacher self-reflection and student surveys.
https://www.aassa.com/uploaded/Educational_Research/OSAC/Evaluation_Systems/Teacher_Performance_Evaluation_System_Handbook.pdf (pp. 29-50)
The Association of American Schools in South America (AASSA) is an organization of private learning institutions in South America that offer the American curriculum taught in English. They are overseen by the office of oversees schools, the United States department of state. Teachers set student progress goals that are submitted to the evaluator in the first month of a school year. The teacher also submits a mid-year analysis of goals to the evaluator and an end-year analysis of goals set. Observation is made in a classroom setting and in the school community. A teacher documentation folder provides evidence of performance related to specific standards.
http://www.lemars.k12.ia.us/wp-content/uploads/2017/08/Teacher-Performance-Evaluation-Handbook-2014.pdf (pp. 28-35)
The Lemars community schools in Lemars, Iowa, evaluate teacher performance using eight evaluation principles. The first principle is whether a teacher shows skill to improve educational performance and hold up for execution of the school district's student realization of objectives. The second standard is proficiency in content knowledge suitable to the teaching position, ability to plan and prepare for instruction, use of approaches to convey instruction to students with varying needs, ability to monitor student learning, ability to manage a classroom, participating in professional growth and professional duties. These standards are evaluated by providing proof to support the realization of a standard or failure to meet the standard.
https://www.apsva.us/wp-content/uploads/2014/11/APS_teacher_eval_handbook_Sept15.pdf (pp. 48-63)
The teacher evaluation system in Arlington public schools in Virginia aims at supporting teachers to improve student achievement by providing feedback. The teacher sets goals that are specific, measurable, time-limited, and realistic at the start of a school year. Student academic progress forms 40% of the teacher evaluation. The evaluator reviews the goals. The teacher compiles and keeps a documentation log, which includes lesson plans. The evaluator reviews documentation logs compiled by the teacher. Two tools, the performance rubric, and the sample performance indicators are used to rate teacher performance in their summative evaluation.
https://www.greenville.k12.oh.us/Downloads/Teacher%20Evaluation%20Tool.pdf (pp. 6-23)
In the Greenville city schools, Ohio teachers are evaluated according to the Ohio Department of education teaching standard. The administrator supervises teacher evaluation and identifies teacher strengths and possible areas of improvement. The supervisor also ensures the accuracy of the teacher summary evaluation report. The teacher gathers data, artifacts, and evidence to demonstrate performance and develops strategies to improve personal performance.
Conclusion
As seen, different schools and regions vary in the ways they evaluate teacher performance. They evaluate teachers in various performance areas and follow different schedules during the academic years. However, all teacher evaluation protocols are designed to ensure the learners get a quality education.
References
Arlington public schools in Arlington, Virginia. (2020, March 28). Retrieved from: https://www.apsva.us/wpcontent/uploads/2014/11/APS_teacher_eval_handbook_Sept15.pdf

Fredericksburg city schools in Fredericksburg, Texas. (2020, March 28). Retrieved from: http://www.cityschools.com/humanresources/files/2012/07/Teacher-Evaluation-Document-for-Admin-5-23-12.pdf

Greenville city schools in Ohio. (2020, March 28). Retrieved from:https://www.greenville.k12.oh.us/Downloads/Teacher%20Evaluation%20Tool.pdf

Hanley international academy in Hamtramck, Michigan. (2020, March 28). Retrieved from: http://www.hanleyacademy.com/index.php/component/k2/item/137-teacher-evaluation-formv

Jackson Public School in Jackson, Mississippi. (2020, March 28). Retrieved from:https://www.nctq.org/dmsView/81-07

Prescott unified schools in Prescott, Arizona. (2020, March 28). Retrieved from: https://www.prescottschools.com/wp-content/uploads/teacher-performance-eval-system.pdf

Radford city schools in Radford. (2020, March 28). Retrieved from: https://www.rcps.org/ourpages/policies//Forms/Radford%20City%20Evaluation%20

Instrument.pdfWinchester public schools in Winchester, Virginia. (2020, March 28). Retrieved from: https://www.wps.k12.va.us/site/handlers/filedownload.ashx?moduleinstanceid=15851&dataid=13393&FileName=WPS_teacher_eval_handbook.pdf

The Association of American Schools in South America (AASSA). (2020, March 28). Retrieved from: https://www.aassa.com/uploaded/Educational_Research/OSAC/Evaluation_Systems/Teacher_Performance_Evaluation_System_Handbook.pdf

Lemar's community schools in Lemars, Iowa. (2020, March 28). Retrieved from: http://www.lemars.k12.ia.us/wp-content/uploads/2017/08/Teacher-Performance-Evaluation-Handbook-2014.pdf
Cite this page
Essay Sample on Observation Protocols. (2023, May 03). Retrieved from https://speedypaper.com/essays/observation-protocols
Request Removal
If you are the original author of this essay and no longer wish to have it published on the SpeedyPaper website, please click below to request its removal: