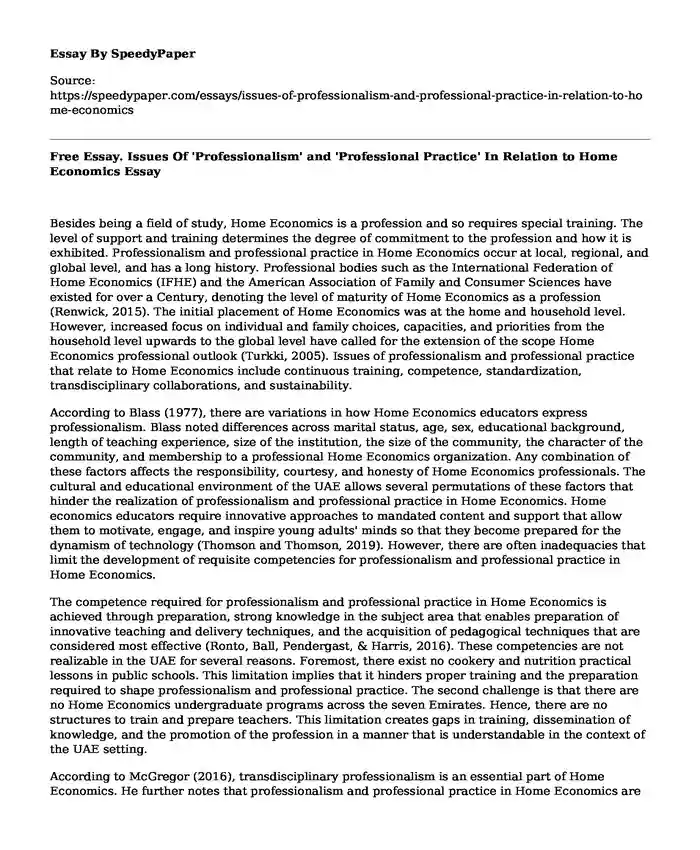 Besides being a field of study, Home Economics is a profession and so requires special training. The level of support and training determines the degree of commitment to the profession and how it is exhibited. Professionalism and professional practice in Home Economics occur at local, regional, and global level, and has a long history. Professional bodies such as the International Federation of Home Economics (IFHE) and the American Association of Family and Consumer Sciences have existed for over a Century, denoting the level of maturity of Home Economics as a profession (Renwick, 2015). The initial placement of Home Economics was at the home and household level. However, increased focus on individual and family choices, capacities, and priorities from the household level upwards to the global level have called for the extension of the scope Home Economics professional outlook (Turkki, 2005). Issues of professionalism and professional practice that relate to Home Economics include continuous training, competence, standardization, transdisciplinary collaborations, and sustainability.
According to Blass (1977), there are variations in how Home Economics educators express professionalism. Blass noted differences across marital status, age, sex, educational background, length of teaching experience, size of the institution, the size of the community, the character of the community, and membership to a professional Home Economics organization. Any combination of these factors affects the responsibility, courtesy, and honesty of Home Economics professionals. The cultural and educational environment of the UAE allows several permutations of these factors that hinder the realization of professionalism and professional practice in Home Economics. Home economics educators require innovative approaches to mandated content and support that allow them to motivate, engage, and inspire young adults' minds so that they become prepared for the dynamism of technology (Thomson and Thomson, 2019). However, there are often inadequacies that limit the development of requisite competencies for professionalism and professional practice in Home Economics.
The competence required for professionalism and professional practice in Home Economics is achieved through preparation, strong knowledge in the subject area that enables preparation of innovative teaching and delivery techniques, and the acquisition of pedagogical techniques that are considered most effective (Ronto, Ball, Pendergast, & Harris, 2016). These competencies are not realizable in the UAE for several reasons. Foremost, there exist no cookery and nutrition practical lessons in public schools. This limitation implies that it hinders proper training and the preparation required to shape professionalism and professional practice. The second challenge is that there are no Home Economics undergraduate programs across the seven Emirates. Hence, there are no structures to train and prepare teachers. This limitation creates gaps in training, dissemination of knowledge, and the promotion of the profession in a manner that is understandable in the context of the UAE setting.
According to McGregor (2016), transdisciplinary professionalism is an essential part of Home Economics. He further notes that professionalism and professional practice in Home Economics are dynamic so that the definition of professionalism depends on the prevailing conditions and constraints. Hence, there must be mutual cross-sector learning of professionalism, shared ethos, accountability, and a focus on issues that impact directly on communities, homes, and individuals. A shared understanding of the need for professionalism should help to establish institutional frameworks for collective regulation, a multi-sector code of ethical conduct, and professional identities. However, within the UAE, this shared understanding and structures are not realizable. The Emirati rely on domestic maids and nannies, most of whom are foreigners, to prepare their food, making them oblivious of basic details such as the ingredients used in their meals.
In addition to the lack of involvement in Home Economics training, the issue of sustainability arises from the fact that the Emirati rely on many fast-food chains that are readily available online. Professionalism and professional practice require a mastery of theoretical knowledge, and an understanding of dynamics in theories that relate to Home Economics (Costley and Fulton, 2018). There is equally the need for the development of a capacity to create knowledge and to possess it, as well as the ability to apply theoretical knowledge in practice. Continued engagements also develop out of enthusiasm and commitment, and continuous learning about the profession. However, the lack of a solid Home Economics foundation in the UAE makes it challenging to develop knowledge of content and skills areas. There is much investment that is needed to establish the requisite community relations and to realize the motivations needed to establish proper Home Economics professionalism.
The Distinction Between 'Professional' and 'Academic' Knowledge as Relates to Home Economics
Home Economics, like most human science practice areas, develops from a combination of professional and academic knowledge. Lived experiences that contribute to professional knowledge are nothing but ordinary, and everyone possesses some level of knowledge of these experiences, even without professional exposure. The professional application of Home Economics knowledge is explicitly focused on the realization of the wellbeing of populations, which also forms the professionalism. The connection between Home Economics educators and students and their families translates to professional practice in the sense that it allows them a platform to offer guidance on how to build a capacity that leads enables them to improve their lives. Professional practice within the realm of Home Economics entails the support of populations with knowledge and skills to make solid decisions that have a positive impact on their lives. On the other hand, professionalism entails a continuous process of reflection upon the purpose, intent, and presence of Home Economics within the constraints of educational objectives.
There exist social contexts, which refers to frameworks that allow engagements, for instance, interactions in the cultural sense and how they define lived experiences. Social contexts are influenced by perceptions, behaviors, traditions, and customs. Academic knowledge draws from the ideal interactions of social circles (Trontz, 2014). Academic knowledge reflects upon and establishes new ways to realize perfection within the context of the prevailing norms, behaviors, and traditions. Different cultures have predefined structures that determine success. Worsley et al. (2015) note that professionalism in the social context is a function of the structures used to define it. Academic knowledge is easy to impart even within an environment like the UAE that has its limitations since the theoretical knowledge can be borrowed from other jurisdictions. However, definitive aspects of Home Economics professionalism, including registration and standardization, the development of a specific knowledge base, and the establishment of a code of ethics are unique to each setting.
The International Federation of Home Economics (IFHE) acknowledges that Home Economics has served as a basis for professionalism. The professional knowledge of Home Economics in the UAE would be defined by shared training, a growing curriculum that is distinct from other occupational groups, and responsibilities, and roles reserved only for the members that belong to the profession (Sandhu & Gupta, 2014). The foundational ingredient to Home Economics professionalism as envisioned is the organization of a team of individuals with some level of know-how, with a minimum standard set for entry to the business, and identified membership qualifications. The establishment of professional frameworks such as the IFHE help to provide the authority to express protocols and promote policies. Professional application of knowledge has an in-depth concentration on the wellbeing of others and henceforth is what makes up the professional practice. For instance, Home Economics assessors engage in professional practice whenever they relate with leaners and their families to formulate a capacity for a life well-lived. There have been critical consideration and discussion concerning the value of educators being reflective practitioners.
Nonetheless, there exists a gap left when it comes to the field or profession within the education profession determined to reflect upon its objectives, intent, and recognition within the broader educational context (Pendergast, 2015). The aspect of engaging in the reflection of prosperity, perceiving them as opportunities and challenges, is a significant aspect of professional practice. It is imperative that when educators have a representation in regards to their professional practice, they need to understand the adequacy of their professional knowledge as it associated with both social desires and challenges. There are distinct ways of perceptions concerning professional expertise: Firstly, as a rational, technical activity.
The professional Home Economics environment focuses on strategies for quality assurance and the development of a curriculum that nurtures students so that they can engage meaningfully and establish professional networks (Barnett, 2000). The element of globalization remains alive in the Home Economics setting since there is continuous borrowing of knowledge from different backgrounds. It is imperative that as an academic in the Home Economics professional field, one motivates their students to develop their learning interests and critical thinking (Miller, 2014). The importance of this approach is two-fold. Foremost, the development of professionalism and professional practice in Home Economics requires knowledge from diverse disciplines, including food science, engineering, nutrition, health, social wellbeing, art and design, and technology (Tull, 2018). Moral education and ethics and non-native social studies also play key roles in developing the global perspectives desired for professional Home Economics.
In this dimension, professionalism is attributed to the individual character of the professional as an individual. It consists of worth or value, individual excellence, and the ability to promote healing through personal intervention. Another dimension is the aspect of understanding and promoting justice. The reason is that professionals have absorbed normative strategies, practices, and disciplines through a prescribed form of training to the profession and have inducted the "culture, and value' of the profession. In that perspective, professional integrity, ethical conduct, and moral responsibility have long been held to be the main characteristics of the professional and code of ethics that define the aspects of the profession. Professions, with a strong fundamental in self-regulations, the occupations are desired to monitor and evaluate the conduct of their members to ensure ethical integrity, discipline, and honesty are maintained and thus regulate professional behaviour.
Cite this page
Free Essay. Issues Of 'Professionalism' and 'Professional Practice' In Relation to Home Economics. (2023, Aug 24). Retrieved from https://speedypaper.com/essays/issues-of-professionalism-and-professional-practice-in-relation-to-home-economics
Request Removal
If you are the original author of this essay and no longer wish to have it published on the SpeedyPaper website, please click below to request its removal: