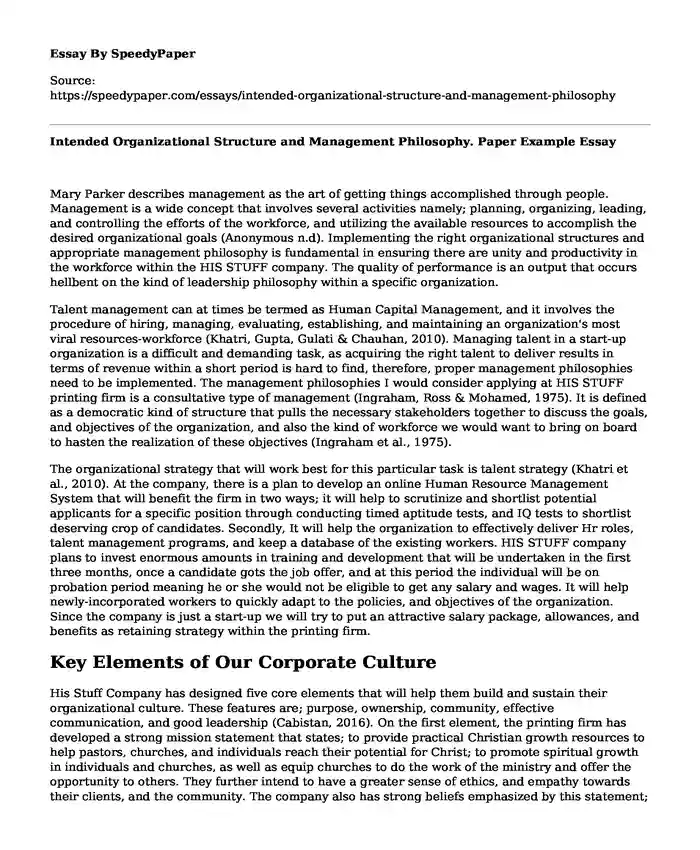 Mary Parker describes management as the art of getting things accomplished through people. Management is a wide concept that involves several activities namely; planning, organizing, leading, and controlling the efforts of the workforce, and utilizing the available resources to accomplish the desired organizational goals (Anonymous n.d). Implementing the right organizational structures and appropriate management philosophy is fundamental in ensuring there are unity and productivity in the workforce within the HIS STUFF company. The quality of performance is an output that occurs hellbent on the kind of leadership philosophy within a specific organization.
Talent management can at times be termed as Human Capital Management, and it involves the procedure of hiring, managing, evaluating, establishing, and maintaining an organization's most viral resources-workforce (Khatri, Gupta, Gulati & Chauhan, 2010). Managing talent in a start-up organization is a difficult and demanding task, as acquiring the right talent to deliver results in terms of revenue within a short period is hard to find, therefore, proper management philosophies need to be implemented. The management philosophies I would consider applying at HIS STUFF printing firm is a consultative type of management (Ingraham, Ross & Mohamed, 1975). It is defined as a democratic kind of structure that pulls the necessary stakeholders together to discuss the goals, and objectives of the organization, and also the kind of workforce we would want to bring on board to hasten the realization of these objectives (Ingraham et al., 1975).
The organizational strategy that will work best for this particular task is talent strategy (Khatri et al., 2010). At the company, there is a plan to develop an online Human Resource Management System that will benefit the firm in two ways; it will help to scrutinize and shortlist potential applicants for a specific position through conducting timed aptitude tests, and IQ tests to shortlist deserving crop of candidates. Secondly, It will help the organization to effectively deliver Hr roles, talent management programs, and keep a database of the existing workers. HIS STUFF company plans to invest enormous amounts in training and development that will be undertaken in the first three months, once a candidate gots the job offer, and at this period the individual will be on probation period meaning he or she would not be eligible to get any salary and wages. It will help newly-incorporated workers to quickly adapt to the policies, and objectives of the organization. Since the company is just a start-up we will try to put an attractive salary package, allowances, and benefits as retaining strategy within the printing firm.
Key Elements of Our Corporate Culture
His Stuff Company has designed five core elements that will help them build and sustain their organizational culture. These features are; purpose, ownership, community, effective communication, and good leadership (Cabistan, 2016). On the first element, the printing firm has developed a strong mission statement that states; to provide practical Christian growth resources to help pastors, churches, and individuals reach their potential for Christ; to promote spiritual growth in individuals and churches, as well as equip churches to do the work of the ministry and offer the opportunity to others. They further intend to have a greater sense of ethics, and empathy towards their clients, and the community. The company also has strong beliefs emphasized by this statement; We believe that because of HIS love, God sent HIS Son Jesus Christ, who inaugurated HIS kingdom, provided an atonement for sin, conquered the principalities and powers.
Ownership is the second feature in His Stuff Company's organizational culture. The start-up has a well-elaborated leadership structure of three people; my mother will be the Director of Ministry, and I and my best friend will head the sales, and marketing departments. The element of ownership provides the structure of where the business is headed, and each person plays his or her role to ensure the company goals, and objectives are achieved within a shorter period (Cabistan, 2016).
The third element in our organizational culture is community. It helps instill the sense of belonging of individuals within the community that shares similar goals, values, and principles (Cabistan, 2016). Based on our mission statement, we intend to initiate campaigns that will involve feasible Christian growth resources to help pastors, churches spread the gospel of Christ in society. Effective communication is a feature that is fundamental to the organization. We intend to create a collaborative environment that makes everyone aware of the directions the firm intends to take (Cabistan, 2016). Finally, good leadership will be the backbone of reinforcing our culture within the organization, and outside the society, since without good leadership, the other four elements will not be possible (Cabistan, 2016).
Key Motivational Strategies for Developing a Proper Working Context
To motivate is to create a desire or willingness to perform in the way in which managers want to get the work done within the organization. One of the basic motivation strategies that I would implement in His Stuff Company is attractive salaries, allowances, and bonuses. As it has been discovered that financial rewards can sustain, and motivate workers towards delivering quality performance (Dobre, 2013). Another motivation strategy will involve employee participation and empowerment. It will help them to feel valued within the company, and they will be aware of the intended goals of the organization which they will work towards achieving. Finally, the creation of informal workgroups and giving them rewards after they achieve targets may help us to convert the projects and sales we plan into great revenues that will help in the growth of the company. Informal work groups will enhance interaction among workers creating a good working environment (Dobre, 2013).
Operational Strategy- Core Aspects of how the Business Processes and Procedures will be Designed to run an Effective and Efficient Organization
Operational strategies can be described as the methods the company will use to accomplish its desired objectives. Through developing operation strategies, His company will be able to analyze, and design effective and efficient systems for using resources, workforce, and the overall work process. Some of the core aspects, I will analyze include; customer-driven strategies, and product & service development. Customer-driven marketing strategies will center on the creation of value for target consumers (Kotler& Armstrong, 2016). The target consumers, in this case, would-be pastors, missionary centers, etc. While designing this core strategy, the first objective would be to implement marketing segmentation, targeting, differentiation, and positioning frameworks. Then, to list, and describe the primary elements for segmenting clients, and business markets (Kotler& Armstrong, 2016). Finally, to explain how this company differentiates and positions its products for maximum competitive advantage (Kotler& Armstrong, 2016).
The company intends to use consumer analytics and feedback regularly to keep on upgrading its products, and services. Several steps will be followed when designing our product and service for the first time; product features, branding, packaging, labeling, and product support amenities (Alnazer, 2003). The aspect of branding may necessitate the firm to partner with established companies like Divine Company to add more value to our product. In the case of product line decisions, three elements will be considered product line length-should be too short if the company intends to augment profit by adding more items (Alnazer, 2003). Line stretching-involves adding products that are higher or lower priced than the current line, and line filling-adding more products within the same pricing scope or index (Alnazer, 2003).
Technological Strategy that Explains the Plan to Maintain a Competitive Advantage over Rival Firms
The successful implementation of new innovative ideas is vital for the His Stuff company to be able to enhance its processes, avail new products, and improve services on the market (Adhikari, 2011). Further, it will help the company to augment its efficiency, and to enhance its performance. Technology is one of the basic processes of strategic management and is generally seen as a way companies can use to strengthen their competitive advantage within the market. Therefore, some of the technological strategies the company will use to increase its competitiveness in the market include; identifying the niches for innovation (Adhikari, 2011). For example, investing in achieving higher volume production with 3D printing by the eleventh month of the incubation year (AFMG, 2020).
The other strategy will involve planning for innovative ideas within the strategic vision of the organization (Adhikari, 2011). For example, planning for future collaborative efforts with other printing firms to improve the production of AM from 1000 units in the first month to 15,000 components by six months (AFMG, 2020). The third strategy is to align creativity and innovation with the business strategy (Adhikari, 2011). It will be evidenced through strong corporate social responsibility campaigns locally to address pertinent issues such as gender equality in the US. It will help us to indirectly spread the good news of Christ, sell the company's products, advertise our printing services, and ultimately grow the company's brand.
References
Adhikari, M. B. (2011). Innovation: Tools to Create Competitive Advantage for Business. Available at SSRN 1874666. Retrieved from file:///C:/Users/User/Downloads/SSRN-id1874666.pdf
AFMG. (2020). The top 10 3D printing trends to expect in 2020. Retrieved from https://amfg.ai/2020/01/07/top-10-3d-printing-trends-in-2020/
Alnazer, K. M. (2003). Products and Services Strategy. Retrieved from http://www.angelfire.com/oz/ahlam/9to13.pdf
Anonymous. Management concepts and organization behavior. MBA-1 Semester. Retrieved from http://www.pondiuni.edu.in/sites/default/files/MANAGEMENT%20CONCEPTS%20%26%20ORGANISATIONAL%20BEHAVIOUR.pdf
Cabistan, A. (2016). The five elements of great organizational cultures. The Hr Tech Weekly. Retrieved from https://hrtechweekly.com/2016/10/25/the-five-elements-of-great-organizational-cultures/
Dobre, O. I. (2013). Employee motivation and organizational performance. Review of applied socio-economic research, 5(1). Retrieved from file:///C:/Users/User/Downloads/R5_5_DobreOvidiuIliuta_p53_60.pdf
Ingraham, C. H., Ross, S., & Mohamed, M. (1975). Management Philosophy. Retrieved from https://kb.osu.edu/bitstream/handle/1811/66825/1/CFAES_ESO_227.pdf
Khatri, P., Gupta, S., Gulati, K., & Chauhan, S. (2010). Talent management in HR. Journal of management and strategy, 1(1), 39. Retrieved from file:///C:/Users/User/Downloads/22%20(1).pdf
Kotler, P. & Armstrong, G. (2016). Customer-driven marketing strategy: Creating value for target consumers. In chapter 7 of Principles of Marketing. Retrieved from https://www.uwcentre.ac.cn/sbcollege/wp-content/uploads/2017/09/kotler_pom16e_inppt_07.pdf
Cite this page
Intended Organizational Structure and Management Philosophy. Paper Example. (2023, Apr 23). Retrieved from https://speedypaper.com/essays/intended-organizational-structure-and-management-philosophy
Request Removal
If you are the original author of this essay and no longer wish to have it published on the SpeedyPaper website, please click below to request its removal: