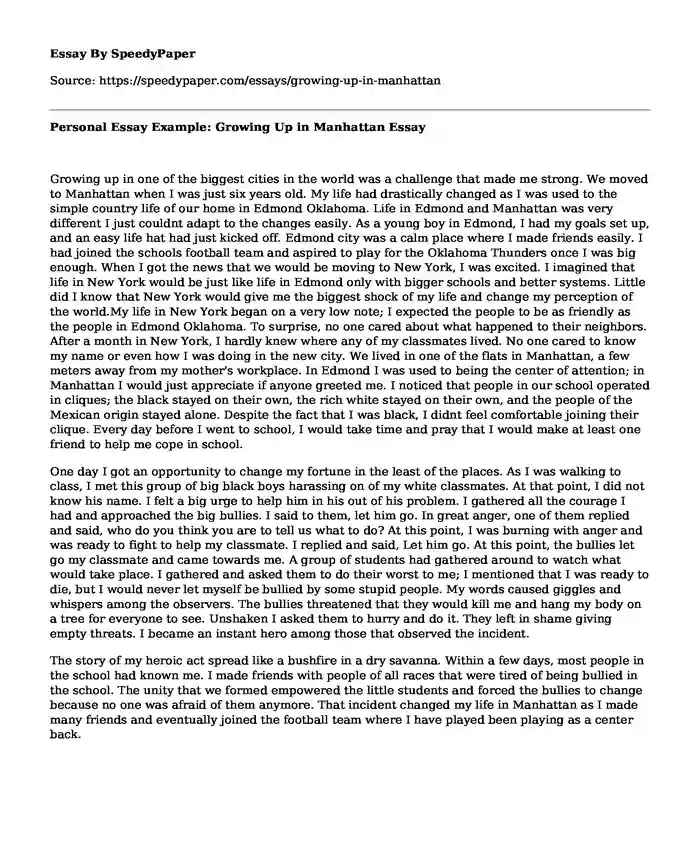 Growing up in one of the biggest cities in the world was a challenge that made me strong. We moved to Manhattan when I was just six years old. My life had drastically changed as I was used to the simple country life of our home in Edmond Oklahoma. Life in Edmond and Manhattan was very different I just couldnt adapt to the changes easily. As a young boy in Edmond, I had my goals set up, and an easy life hat had just kicked off. Edmond city was a calm place where I made friends easily. I had joined the schools football team and aspired to play for the Oklahoma Thunders once I was big enough. When I got the news that we would be moving to New York, I was excited. I imagined that life in New York would be just like life in Edmond only with bigger schools and better systems. Little did I know that New York would give me the biggest shock of my life and change my perception of the world.My life in New York began on a very low note; I expected the people to be as friendly as the people in Edmond Oklahoma. To surprise, no one cared about what happened to their neighbors. After a month in New York, I hardly knew where any of my classmates lived. No one cared to know my name or even how I was doing in the new city. We lived in one of the flats in Manhattan, a few meters away from my mother's workplace. In Edmond I was used to being the center of attention; in Manhattan I would just appreciate if anyone greeted me. I noticed that people in our school operated in cliques; the black stayed on their own, the rich white stayed on their own, and the people of the Mexican origin stayed alone. Despite the fact that I was black, I didnt feel comfortable joining their clique. Every day before I went to school, I would take time and pray that I would make at least one friend to help me cope in school.
One day I got an opportunity to change my fortune in the least of the places. As I was walking to class, I met this group of big black boys harassing on of my white classmates. At that point, I did not know his name. I felt a big urge to help him in his out of his problem. I gathered all the courage I had and approached the big bullies. I said to them, let him go. In great anger, one of them replied and said, who do you think you are to tell us what to do? At this point, I was burning with anger and was ready to fight to help my classmate. I replied and said, Let him go. At this point, the bullies let go my classmate and came towards me. A group of students had gathered around to watch what would take place. I gathered and asked them to do their worst to me; I mentioned that I was ready to die, but I would never let myself be bullied by some stupid people. My words caused giggles and whispers among the observers. The bullies threatened that they would kill me and hang my body on a tree for everyone to see. Unshaken I asked them to hurry and do it. They left in shame giving empty threats. I became an instant hero among those that observed the incident.
The story of my heroic act spread like a bushfire in a dry savanna. Within a few days, most people in the school had known me. I made friends with people of all races that were tired of being bullied in the school. The unity that we formed empowered the little students and forced the bullies to change because no one was afraid of them anymore. That incident changed my life in Manhattan as I made many friends and eventually joined the football team where I have played been playing as a center back.
Cite this page
Personal Essay Example: Growing Up in Manhattan. (2019, May 27). Retrieved from https://speedypaper.com/essays/growing-up-in-manhattan
Request Removal
If you are the original author of this essay and no longer wish to have it published on the SpeedyPaper website, please click below to request its removal: