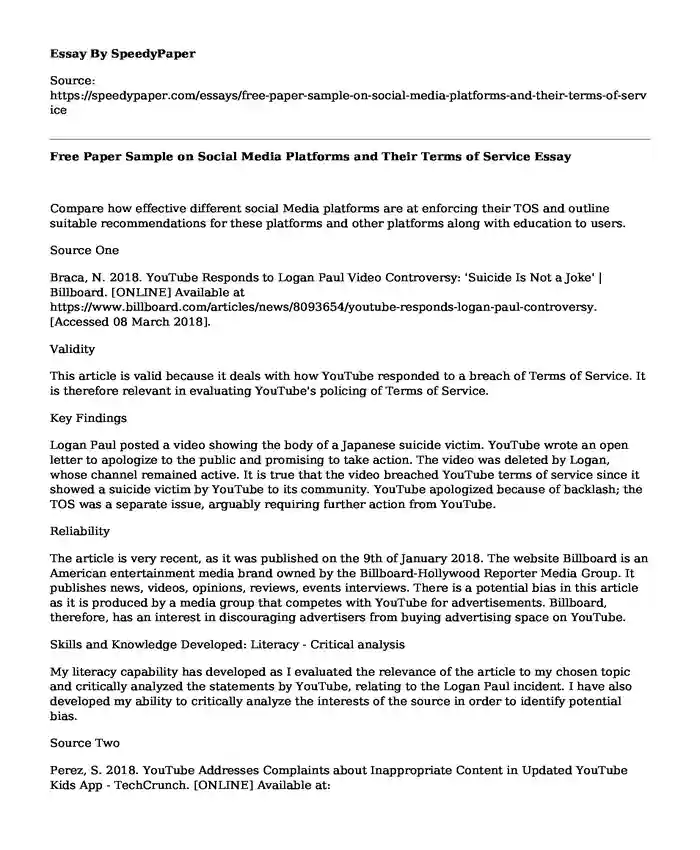 | | |
| --- | --- |
| Type of paper:  | Course work |
| Categories: | Social media |
| Pages: | 7 |
| Wordcount: | 1736 words |
Compare how effective different social Media platforms are at enforcing their TOS and outline suitable recommendations for these platforms and other platforms along with education to users.
Source One
Braca, N. 2018. YouTube Responds to Logan Paul Video Controversy: 'Suicide Is Not a Joke' | Billboard. [ONLINE] Available at https://www.billboard.com/articles/news/8093654/youtube-responds-logan-paul-controversy. [Accessed 08 March 2018].
Validity
This article is valid because it deals with how YouTube responded to a breach of Terms of Service. It is therefore relevant in evaluating YouTube's policing of Terms of Service.
Key Findings
Logan Paul posted a video showing the body of a Japanese suicide victim. YouTube wrote an open letter to apologize to the public and promising to take action. The video was deleted by Logan, whose channel remained active. It is true that the video breached YouTube terms of service since it showed a suicide victim by YouTube to its community. YouTube apologized because of backlash; the TOS was a separate issue, arguably requiring further action from YouTube.
Reliability
The article is very recent, as it was published on the 9th of January 2018. The website Billboard is an American entertainment media brand owned by the Billboard-Hollywood Reporter Media Group. It publishes news, videos, opinions, reviews, events interviews. There is a potential bias in this article as it is produced by a media group that competes with YouTube for advertisements. Billboard, therefore, has an interest in discouraging advertisers from buying advertising space on YouTube.
Skills and Knowledge Developed: Literacy - Critical analysis
My literacy capability has developed as I evaluated the relevance of the article to my chosen topic and critically analyzed the statements by YouTube, relating to the Logan Paul incident. I have also developed my ability to critically analyze the interests of the source in order to identify potential bias.
Source Two
Perez, S. 2018. YouTube Addresses Complaints about Inappropriate Content in Updated YouTube Kids App - TechCrunch. [ONLINE] Available at: https://beta.techcrunch.com/2015/10/01/youtube-addresses-complaints-about-inappropriate-content-in-updated-youtube-kids-app/. [Accessed 08 March 2018].
Validity
This article is useful in answering the question. It demonstrates the role that the Kid App developed by YouTube was intended to play and provides examples of how various parents perceived and complained it failed in achieving these purposes. It also shows how YouTube started addressing these issues by taking various approaches. Therefore, these occurrences will offer an essential framework that can be essential in identifying the response time and measures that YouTube took to address parents' perceptions and grievances to determine its effectiveness in addressing its TOS which among them is protecting children from adult content.
Key Findings
Kid app was initially thought to be safe or have parental protection, but this was later realized not be true after other consumer watchdog groups tagged YouTube for not taking enough care of protecting the kids from inappropriate content. An example of the groups included the Centre for Digital Democracy and Campaign for commercial free childhood. Various measures were then put in place by YouTube with a specific focus on correcting the leak.
Reliability
The article having been published on 1st October 2015, can be considered to be old. This is because websites are regular updates, for instance, weekly or monthly. Therefore, in 2018 the incident which parents perceived that Kid App exposed their kids to adult content may lose significance because YouTube may have and refined their TOS. Additionally, the article only details a few examples of the issues, connected with the app. The article is in the form of a news report and so has a specific view of the issue. Therefore, a bias as readers is encouraged to view YouTube to not being able to manage the children's YouTube channel appropriately. The situation may have changed. It equally encourages the readers to view YouTube as not being able to provide enough protection on the content accessed by the children thus posing some bias.
Skills and Knowledge Developed: Literacy
My literacy capability has improved through identifying the relevant information on the page via skim reading, then assessing how the issue relates back to my question.
Source Three
Vindu Goel. 2018. Facebook Clarifies Rules on What It Bans and Why - The New York Times. [ONLINE] Available at https://bits.blogs.nytimes.com/2015/03/16/facebook-explains-what-it-bans-and-why/. [Accessed 08 March 2018].
Validity
This article highlights how Facebook regulates content on its pages. It explains what it bans and why. This is very relevant to my topic as this is an example of a website I am looking to have a better understanding of how it controls inappropriate content on its pages, and if the content is exposed, how it is dealt with, and how quickly the action is taken.
Key Findings
The article discusses how Facebook can contradict its rules and regulations and how it manages particular content. For example, the company repeatedly flip-flopped on whether to allow beheading videos on the service before recently deciding to ban them. In December, it blocked a page in Russia that was promoting an anti-government protest, then allowed copycat pages to stay up. And in October, it created an exception to its requirement of people's using their real names on the service when it allowed San Francisco's drag queens to use their stage names while continuing to crack down on others using false names. Facebook will still rely on users to report violations of the standards. Ms. Bickert, Facebook's head of global policy management, said that the company had review teams working at all hours of the day around the globe and that every report was examined by one of them before a decision was made. The process can take time - typically 48 hours on matters of safety, she said. That may not be fast enough for some people in an era where graphics content can go viral in minutes. Facebook Company relies on the reports made by the users in reporting those who violate its standards. Some of Facebook decisions can be appealed.
Reliability
The article was published on the 16th February 2015, so the content is quite old. The New York Times is an American newspaper based in New York City with worldwide influence and readership. Even though the New York Times is a trusted source, the article was published in 2015 hence old and less reliable.
Skills and Knowledge Developed: Literacy
My literacy capability has developed through statistical data analysis as this article contains information about the content which violates both, TOS and local laws.
Source Four
Cluley, G. 2018. What happens when you report abuse on Facebook? - Naked Security. [ONLINE] Available at https://nakedsecurity.sophos.com/2012/06/21/what-happens-report-abuse-facebook/. [Accessed 08 March 2018].
Validity
This article highlights what happens when you report s abuse on Facebook. This article is very relevant for my topic, as it explores how the website is managing inappropriate content when it is reported. It also mentions the teams that deal with various concerns. Such include safety team, abusive content team, access and the hate and harassment team.
Key Findings
Facebook has four teams who deal with abusive reports on the social network. The teams are defined as the Safety Team, the Hate and Harassment Team, Abusive Content Team and Access Team. Each is delegated roles specific for the type of the content reported. For example, the Safety Team assists with managing violent and harmful behavior exposed and posted on Facebook. If the posts on Facebook do not comply with the site's community standards, then such posts are removed, and in some serious cases, the content of these posts can even be reported to law enforcement agencies. The reports are handled within 72 hours and are supported in 24 different languages. The Facebook can cover the time zones when reviewing content and has its teams, located worldwide. The reporting guide flowcharts give the audience an insight into how an issue is managed.
Reliability
The article was published on the 21st June 2012, so the content is very old in relation to the website's blogs. Naked Security is a website which discusses Computer Security News, Advice and Research. The article was published six years ago hence old and is less reliable.
Skills and Knowledge Developed: Literacy
My literacy capability is specifically reading, and viewing has developed by accessing and analyzing an infographic explaining the infrastructure the Facebook utilizes in order to police its terms of service and ensure a safer experience for users. After viewing and analyzing the info-graphic that explained how Facebook operates, my literal capability for reading and learning improved immensely.
Source Five
Crimson Hexagon Sara Marie Warson February 2017 Pics for Sale: Social Media Analysis Looks at Volume in the Instagram Terms of Service Conversation [ONLINE] Available at:
https://www.crimsonhexagon.com/blog/social-media-analysis-instagram-terms/ [Accessed 10 March 2018].
Validity
The article is about the new Instagram terms of service, which generated a very large conversation on social media. The article is relevant to my chosen topic, as it is about how the users react to new terms of service, discussing the means for consumer engagement with how these terms govern our relationships to the free services that build their business models around the data and content we share with and through them. The validity of the article may be opined based on its relevance to my topic. It delved on how the users on Instagram generated a large conversation in social media due to the new terms and service.
Key Finding
The consumers start becoming more engaged and concerned about what terms of service actually mean in practical terms. The discussion revolved around two sets of ideas: one focusing on Instagrams' "right to sell" and the other focusing on reactions and strategies for downloading archived photos and deleting accounts in response. Some talk about quitting Instagram altogether while others focused on alternatives picture sharing platforms. Reporting guide flowcharts give the audience an insight into how an issue is managed. The first finding is on two set of ideas noted in the article; one focuses on Instagram right to sell and the next one on the reactions and strategies with specific focus on downloading and deleting archive photographs.
Reliability
The article was issued a year ago, so the information is recent and up to a point. The article is up to date; it is only a year old from the time of issuance.
Skills and Knowledge Developed: Literacy
I developed my literacy skill in analyzing the way in which the chosen social media utilizes information and communication technology in order to create safer social media platforms and comply with the law.
Cite this page
Free Paper Sample on Social Media Platforms and Their Terms of Service. (2022, Jul 06). Retrieved from https://speedypaper.com/essays/free-paper-sample-on-social-media-platforms-and-their-terms-of-service
Request Removal
If you are the original author of this essay and no longer wish to have it published on the SpeedyPaper website, please click below to request its removal: