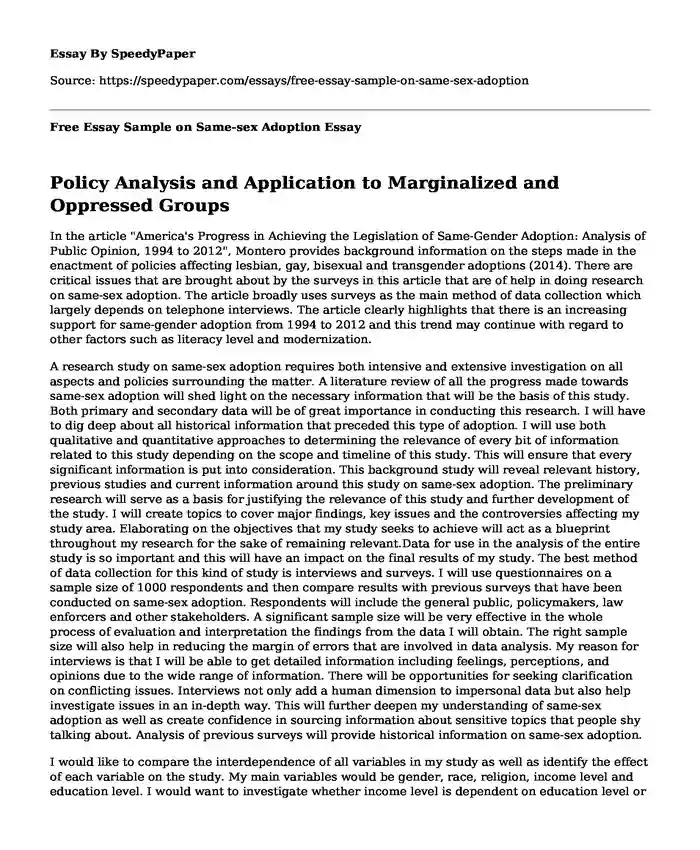 Policy Analysis and Application to Marginalized and Oppressed Groups
In the article "America's Progress in Achieving the Legislation of Same-Gender Adoption: Analysis of Public Opinion, 1994 to 2012", Montero provides background information on the steps made in the enactment of policies affecting lesbian, gay, bisexual and transgender adoptions (2014). There are critical issues that are brought about by the surveys in this article that are of help in doing research on same-sex adoption. The article broadly uses surveys as the main method of data collection which largely depends on telephone interviews. The article clearly highlights that there is an increasing support for same-gender adoption from 1994 to 2012 and this trend may continue with regard to other factors such as literacy level and modernization.
A research study on same-sex adoption requires both intensive and extensive investigation on all aspects and policies surrounding the matter. A literature review of all the progress made towards same-sex adoption will shed light on the necessary information that will be the basis of this study. Both primary and secondary data will be of great importance in conducting this research. I will have to dig deep about all historical information that preceded this type of adoption. I will use both qualitative and quantitative approaches to determining the relevance of every bit of information related to this study depending on the scope and timeline of this study. This will ensure that every significant information is put into consideration. This background study will reveal relevant history, previous studies and current information around this study on same-sex adoption. The preliminary research will serve as a basis for justifying the relevance of this study and further development of the study. I will create topics to cover major findings, key issues and the controversies affecting my study area. Elaborating on the objectives that my study seeks to achieve will act as a blueprint throughout my research for the sake of remaining relevant.Data for use in the analysis of the entire study is so important and this will have an impact on the final results of my study. The best method of data collection for this kind of study is interviews and surveys. I will use questionnaires on a sample size of 1000 respondents and then compare results with previous surveys that have been conducted on same-sex adoption. Respondents will include the general public, policymakers, law enforcers and other stakeholders. A significant sample size will be very effective in the whole process of evaluation and interpretation the findings from the data I will obtain. The right sample size will also help in reducing the margin of errors that are involved in data analysis. My reason for interviews is that I will be able to get detailed information including feelings, perceptions, and opinions due to the wide range of information. There will be opportunities for seeking clarification on conflicting issues. Interviews not only add a human dimension to impersonal data but also help investigate issues in an in-depth way. This will further deepen my understanding of same-sex adoption as well as create confidence in sourcing information about sensitive topics that people shy talking about. Analysis of previous surveys will provide historical information on same-sex adoption.
I would like to compare the interdependence of all variables in my study as well as identify the effect of each variable on the study. My main variables would be gender, race, religion, income level and education level. I would want to investigate whether income level is dependent on education level or rather see the interdependence of religion on gender. I would also love to see the scope of the independent variables on the study. I am sure there will be variations in the variables and this will have an impact on the final results of the study and this will provide shortcomings that should be addressed in same-sex adoption is it has to be made successful. There may be other factors tied to these variables and all will serve to make the result as real as possible by eliminating the infeasibility that comes with data analysis. Evaluation of these variables will also be useful to the policy makers in decision making on all matters surrounding same-sex adoption. There will be the need for careful and in-depth analysis of both the obvious and the hidden information that can be obtained from the set of data collected with reference to the various variables under study. The final results will largely depend on how effectively the various variables will bring about certain changes in the acceptability of same-gender adoption both at the policy-making process as well as at the implementation stage at the grass-root levels.
New South Wales policy regarding same-sex adoption
The Adoption Amendment (Same Sex Couples) Act 2010 No 66 was enacted by the legislature of New South Wales to enable couples of the same sex to adopt children and to make related amendments to the Anti-Discrimination Act 1977 and certain other legislation. This Act amends the Amendment of Adoption Act 2000 No 75 defining "couples" as two persons who are married to each other whether they are of the same sex or of different sex. The Act goes on to explain that background information about prospective adoptive parents to be made available to the biological parents. Background information about the couple includes the couple's social and cultural beliefs, religious beliefs, domestic relationship and living arrangements but does not include any information that identifies the couple. The Anti-Discrimination Act does not prevent the principal officer of the adoption service from identifying prospective adoptive parents who have the best of interests for the child. Prohibition of same-sex adoption is questionable under the federal Equal Protection Clause which would amount to marginalization on the basis of sex.
The American Civil Liberties Union on April 6, 1999, produced an overview of the lesbian and gay parenting, adoption and foster care and there was no evidence to suggest that same-sex individuals are unfit to be parents. Home environments with same-sex parents whether gays or lesbians are as likely to successfully support a child's growth and development as those with heterosexual parents. In addition, good parenting is not influenced by sexual orientation but is dependent on the parent's ability to create a loving, comfortable, peaceful and nurturing home and this is not in any way directly influenced by the fact that one is gay or lesbian. There is also no evidence that gay and lesbian parents bring up less intelligent children or their kids suffer from low self-esteem compared to the children of heterosexual parents. The children will grow up as happy, healthy and well-adjusted as the children of heterosexual parents. I support the idea of openness that is supported by same-sex parents who are adopting children without hiding their sexual orientation. The most important factor in maintaining the welfare of a child depending on the socioeconomic status of the parents (Wainright, Russell, & Patterson, 2004).
Past reports on research allude to the fact that there is essentially no difference in the outcomes of children raised by same-gender or heterosexual parents (Perrin & Ra, 2013). There is a need for much deeper research on the Adoption Act so as to curb the shortcomings of this policy. The research will help legislators in ensuring every person is granted an equal right pertaining to adoption when it comes to decision making in all adoption matters. The research will serve to address the reason as to why some states have legalized adoption for gay and lesbians individuals but forbid same-sex couples from adopting. Denying same-sex couples right to adopt infringes one of their sense of belonging and this will have an impact on the social behavior of the society.
Social workers may wish to advocate and fight for full same-gender rights including marriage and adoption. This will help to minimize social differences that are being created among the states to the variations in the way in which same-gender unions are being handled. Additional assessment can also be done to find the underpinnings behind same-sex adoption. There may be marginalization of same-gender groups though it may not be that evident. Social workers will be on the forefront to protest against such marginalization through the insight that will be acquired from these type of research and development on the current laws governing same-gender adoption (Perrin, 2002).
Studies should be in a position to investigate the outcomes of raising children under gay parents versus lesbian parents compared to children under gay individuals and lesbian individuals. This will help the social workers to better understand their clients as well as help in reducing gaps between heterosexual societies and same-gender societies. A well-informed society will better support cohesiveness amongst themselves compared to a misinformed one. The result of this research will help the social workers who wish to seek justice for their clients who wish to adopt in the future. This is because there is an expected increase in the number of same-gender wishing to adopt in the future due to their opinion influence on social policy (Perrin, 2002).
Reference
Montero, D.M., (2010). America's progress in achieving the legalization of same-gender adoption: analysis of public opinion, 1994 to 2012. Social Work, 59 (4), 321-328.
Beekman, J.C., (2010). Same-sex second-parent adoption and intestacy law: applying the Sharon s, model of "simultaneous" adoption to parent-child provisions of the uniform probate code. Cornell Law Review, 96(139), 139-167
New South Wales, (2010). Adoption Amendment (Same Sex Couples) Act 2010 No 66.
Wainright, J. L., Russell, S. T., & Patterson, C. J. (2004). Psychosocial adjustment, school outcomes, and romantic relationships of adolescents with samesex parents. Child development, 75(6), 1886-1898.
Perrin, E. C., & Committee on Psychosocial Aspects of Child and Family Health. (2002). Technical report: co-parent or second-parent adoption by same-sex parents. Pediatrics, 109(2), 341-344.
Cite this page
Free Essay Sample on Same-sex Adoption. (2022, Jun 14). Retrieved from https://speedypaper.com/essays/free-essay-sample-on-same-sex-adoption
Request Removal
If you are the original author of this essay and no longer wish to have it published on the SpeedyPaper website, please click below to request its removal: