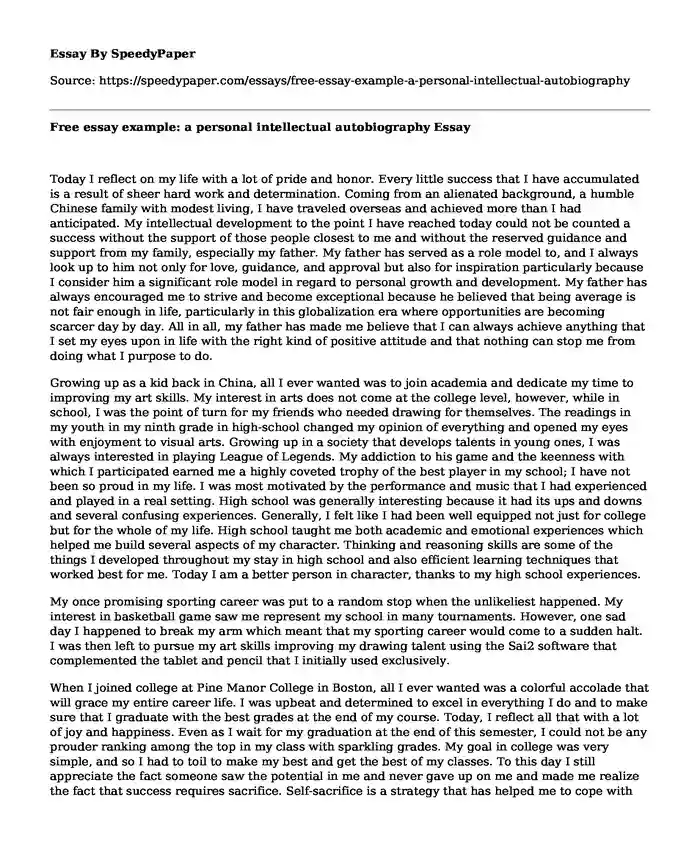 Today I reflect on my life with a lot of pride and honor. Every little success that I have accumulated is a result of sheer hard work and determination. Coming from an alienated background, a humble Chinese family with modest living, I have traveled overseas and achieved more than I had anticipated. My intellectual development to the point I have reached today could not be counted a success without the support of those people closest to me and without the reserved guidance and support from my family, especially my father. My father has served as a role model to, and I always look up to him not only for love, guidance, and approval but also for inspiration particularly because I consider him a significant role model in regard to personal growth and development. My father has always encouraged me to strive and become exceptional because he believed that being average is not fair enough in life, particularly in this globalization era where opportunities are becoming scarcer day by day. All in all, my father has made me believe that I can always achieve anything that I set my eyes upon in life with the right kind of positive attitude and that nothing can stop me from doing what I purpose to do.
Growing up as a kid back in China, all I ever wanted was to join academia and dedicate my time to improving my art skills. My interest in arts does not come at the college level, however, while in school, I was the point of turn for my friends who needed drawing for themselves. The readings in my youth in my ninth grade in high-school changed my opinion of everything and opened my eyes with enjoyment to visual arts. Growing up in a society that develops talents in young ones, I was always interested in playing League of Legends. My addiction to his game and the keenness with which I participated earned me a highly coveted trophy of the best player in my school; I have not been so proud in my life. I was most motivated by the performance and music that I had experienced and played in a real setting. High school was generally interesting because it had its ups and downs and several confusing experiences. Generally, I felt like I had been well equipped not just for college but for the whole of my life. High school taught me both academic and emotional experiences which helped me build several aspects of my character. Thinking and reasoning skills are some of the things I developed throughout my stay in high school and also efficient learning techniques that worked best for me. Today I am a better person in character, thanks to my high school experiences.
My once promising sporting career was put to a random stop when the unlikeliest happened. My interest in basketball game saw me represent my school in many tournaments. However, one sad day I happened to break my arm which meant that my sporting career would come to a sudden halt. I was then left to pursue my art skills improving my drawing talent using the Sai2 software that complemented the tablet and pencil that I initially used exclusively.
When I joined college at Pine Manor College in Boston, all I ever wanted was a colorful accolade that will grace my entire career life. I was upbeat and determined to excel in everything I do and to make sure that I graduate with the best grades at the end of my course. Today, I reflect all that with a lot of joy and happiness. Even as I wait for my graduation at the end of this semester, I could not be any prouder ranking among the top in my class with sparkling grades. My goal in college was very simple, and so I had to toil to make my best and get the best of my classes. To this day I still appreciate the fact someone saw the potential in me and never gave up on me and made me realize the fact that success requires sacrifice. Self-sacrifice is a strategy that has helped me to cope with academics. Life in college has transformed me into a different person and has made me believe in several things of which the most important one is my belief in faith. Additionally, my life, in general, has been encountered by several ups and downs however the socialization I have made in college despite being brought up as an introvert has made me a much better person.
With broad self-reflection, I am capable of making peace with myself as an above average student with the drive to necessitate my professional life being dedicated to it. Given this revelation, I am caught up in thoughts about which career I should dedicate my future to given my interest in commitment to community services. However, mere amazement has not been good enough for the basis of my professional career. I have realized that I have to rationalize my desires, interests, and priorities even though I have always wanted to dedicate my life to community service.
Communication
Communication is one of the very dynamic concepts that I have learned in college from my coursework. The aspect of communication seemed simple, but as the process of communication was represented by a figure on the board showing the recipient and the sender, the concept seemed to be complex even though it was supposed to be very simple. In real life, the process of communication is more of just a complete jumble because in any interaction anyone can either be the recipient or the sender. Considering the mission statement of Pine Manor College in regards to communication as one of the college competencies, any graduate should have the capability to communicate with skill and clarity through writing, speaking and visual display. The graduates should be able to convey an understanding of the purpose and audience of their work and with the ability to draw on evidence and information to appropriately support the purpose of their communication and what demonstrates insight and mastery of the topic. I have enjoyed learning the different methods of always being in the lead as one of the values of interpersonal communication. I have been able to relate my leadership values to the concepts that I have learned regarding communication, and I have been able to seek support from my education to help me improve my leadership qualities.
Consequently, as a visual arts student, I must not only be an excellent sender and recipient in any communication process but also to have an insight of the dynamic society and to be capable of meeting their demands. The process of communication ranges a diversity of recipients but, as a student, my communication is almost limited to peers and professors and even the college administrators. However, moving to the next level of a graduate from college would mean that my communication channels would also include professionals. My studies at Pine Manor College have helped me understand the significance of using legitimate academic discourse to elaborate my knowledge and expertise on any subject matter and have also helped me to adequately understand the level of expertise required of me in writing my interdisciplinary academic papers.
Generally, the studies of visual arts have enabled me to develop critical dialogue and writing skills by hearing responses from others regarding what they perceive of my visual artworks. That has enabled me to rethink and conduct further exploration and to draw diverse interpretive opinions. The aspect of communication of critical dialogue has helped me to develop critical thinking skills and a positive impression of my college studies. Critical writing has helped me to develop my ability to translate whatever I see and feel into verbal forms of communication. The concepts of critical dialogue and critical writing have helped me to explore the narrative concept of visual arts studies, clarification and structure of my innovative concepts of artwork as well as communication concepts that have helped me to attract more ideas for exploring visual studies.
Critical Thinking
The power of the mind is one of the amazing traits of human beings because the condition of an individual's cognitive structure determines the condition and lifestyle of an individual. The minds of human beings are known for rapid and dynamic development and the level of cognitive development is determined by the capability of an individual to internalize all the thinking processes and apply them effectively. The college setting presents a better milieu for cognitive development because there is always the urge to move an extra mile past the comfort zone to experience improvements as individuals and future professionals in various fields of study. The aspect of critical thinking development is also very important to live a happy life. Pine Manor College equips its graduates with mental habits that help them in the exploration of the complexities of ideas, problems and various phenomena with in-depth insight and care. The graduates of Pine Manor College are capable of gathering and accessing relevant information and logic that challenge assumptions and allow them to reach informed conclusions.
Having in mind the setting in college, the best point of beginning the journey outside the comfort zone is to think and think adequately of the values acquired in college. My study of visual arts at Pine Manor College has enabled me to develop the capability to absorb ideas presented to me before deciding on the next course of action. The extent to which I make decisions regarding various ideas is based on my general point of reasoning of the idea. That is the aspect of critical thinking that I have been able to develop alongside the studies at Pine Manor College which implies the ordinary regurgitation of information but more of internalization of concepts. Generally, I believe in the concept that I have been able to demonstrate critical thinking through the electronic drawing that I have been able to design even for my friends and even for various people who request for my artwork to use as Facebook profile pictures.
The mastery of critical thinking skills is more often regarded as a lifelong journey which demands a lot of self-reflection. Life after college is very challenging with a lot of problems that demand critical thinking skills which determine the individual path in life. I exemplify my critical thinking capability by presenting solutions to various challenges through artwork and computer-efficiency capabilities. The aspect of applying critical thinking to visual arts is something that I have found surprisingly amazing because it has helped focus on life issues from a more diverse perspective because each drawing can be used to depict a particular message. Therefore, any incorrect combination of artwork would imply an incorrect interpretation of the message.
Generally, the acquisition of critical thinking skills has made me adequately prepared to take on the world and support in addressing the challenges that the community struggle with. The experiences I have had in college have made me more proficient person. I have changed in various ways both mentally and physically as a result of my college studies together with extracurricular activities. These experiences are very significant for my critical thinking ability because the knowledge I have gained throughout my studies in school has been a very important aspect of my personality and supplemented my identity.
Collaboration
Pine Manor College has helped me develop in various ways than one. Even though there have been very few students in classes, I have been able to develop teamwork skills and problem-solving throughout my studies. Collaboration is one of the skills that I have learned from my participation in teamwork and club activities throughout my study time at Pine Manor College. I have also learned that without collaboration in a team, there is no productivity and success in the team.
Cite this page
Free essay example: a personal intellectual autobiography. (2022, Oct 26). Retrieved from https://speedypaper.com/essays/free-essay-example-a-personal-intellectual-autobiography
Request Removal
If you are the original author of this essay and no longer wish to have it published on the SpeedyPaper website, please click below to request its removal: