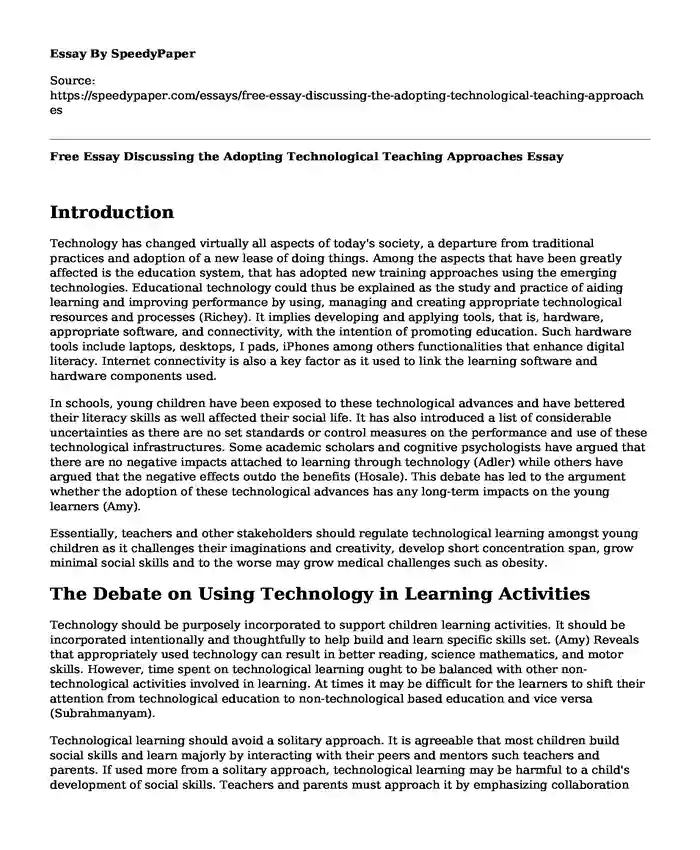 Introduction
Technology has changed virtually all aspects of today's society, a departure from traditional practices and adoption of a new lease of doing things. Among the aspects that have been greatly affected is the education system, that has adopted new training approaches using the emerging technologies. Educational technology could thus be explained as the study and practice of aiding learning and improving performance by using, managing and creating appropriate technological resources and processes (Richey). It implies developing and applying tools, that is, hardware, appropriate software, and connectivity, with the intention of promoting education. Such hardware tools include laptops, desktops, I pads, iPhones among others functionalities that enhance digital literacy. Internet connectivity is also a key factor as it used to link the learning software and hardware components used.
In schools, young children have been exposed to these technological advances and have bettered their literacy skills as well affected their social life. It has also introduced a list of considerable uncertainties as there are no set standards or control measures on the performance and use of these technological infrastructures. Some academic scholars and cognitive psychologists have argued that there are no negative impacts attached to learning through technology (Adler) while others have argued that the negative effects outdo the benefits (Hosale). This debate has led to the argument whether the adoption of these technological advances has any long-term impacts on the young learners (Amy).
Essentially, teachers and other stakeholders should regulate technological learning amongst young children as it challenges their imaginations and creativity, develop short concentration span, grow minimal social skills and to the worse may grow medical challenges such as obesity.
The Debate on Using Technology in Learning Activities
Technology should be purposely incorporated to support children learning activities. It should be incorporated intentionally and thoughtfully to help build and learn specific skills set. (Amy) Reveals that appropriately used technology can result in better reading, science mathematics, and motor skills. However, time spent on technological learning ought to be balanced with other non-technological activities involved in learning. At times it may be difficult for the learners to shift their attention from technological education to non-technological based education and vice versa (Subrahmanyam).
Technological learning should avoid a solitary approach. It is agreeable that most children build social skills and learn majorly by interacting with their peers and mentors such teachers and parents. If used more from a solitary approach, technological learning may be harmful to a child's development of social skills. Teachers and parents must approach it by emphasizing collaboration from all children (McCarrick).
The use of technological learning should allow mobility. Sedentary use of technology should be at all cost be discouraged as it is harmful to a child physical growth. For effectiveness, this new approach to learning must incorporate learning with active play. For instance, when exploring an outdoor activity, the children could play games based on their software related games. If not handled carefully, children may adopt mobility-related illnesses such obesity.
The device feature at a child's disposal should be appropriate. (Daugherty) Explains that devices and features allowed for children use should easy to manipulate and use. For example, devices to be used during active play should be easy to transport, and those necessary for sedentary activities be quite immobile. It could be easily used for reading. Features involved should also be appropriate. A device with a Keyboard maybe suitable for writing skills awhile a tablet may be suitable for reading skills.
My position on adopting technological teaching approaches
Adopting technological teaching approaches on young children, have long-term negative effects on their lives. More often than not, the children develop several problems than their peers who minimally use technology to learn and incorporate conventional methods (Bozic).
Firstly, most children exposed to technological learning risk leading an isolated life due to excessive preoccupation with technological devices and application that they use (Hosale). The addiction may lead to lack social contact with other people and may result in Neurosis, a condition characterized by depression, irritability, anger, mental confusion, anxiety and a sense of low esteem. Beyond the classroom, these children are not also exposed to the physical world and will often use other facilities that do no encourage physical activity. For example, they drive more than walk even when walking was cheaper and more conducive.
Secondly, young children taught through technology are at a loss developing a low concentration span. Their sensory skills fail to develop normally affecting the normal wiring of the sensory organs including the brain. The child's brain is conditioned to concentrate on given items, leading to deceased memory on other aspects of life. Also, due to exposure and obsession with finding everything by the click of a button, the children fail to develop imagination and critical thinking skills. Eventually, even after they mature the problem remain unresolved and characterizes their lives (Taylor).
Additionally, the children are also at risk of leading a life that has no privacy, and that is insecure. Especially at a time that hacking is on the rise, cyberbullying, increased severity, and other illicit behaviors that are on the web space, the children grow exposed to many threats of unscrupulous individuals with sinister motives. They have no sense of online privacy, give their locations freely on Google Maps, announce every move they make thus entirely leaving themselves exposed to any danger.
Conclusively, it is conditional that all stakeholders should gear towards protecting the young children from the long-term adversities that may encounter in the long-term discrediting the beneficial part of it. Caution must be applied at every stage of learning both at school and home. Most of the long-term negatives are irreversible and so should not be entertained unless the society wants to create more zombies than literate adults.
Works Cited
Adler, Aron Daniel. "Revolutionizing Education with Digital Ink: the Impact of Pen and Touch Technology on Education." Workshop on the Impact of Pen Touch Technology on Education (2016).
Amy, Christen. "Transforming the Classroom for Collaborative Learning in the 21st Century." Education Technology Impact (2009): 28-31.
Bozic, Nick. Learning Through Interaction: Technology and Children with Multiple Disabilities. Fulton, 1996.
Daugherty, Lindsay. How Much and What Kind? Identifying an Adequate Technology Infrastructure for Early Childhood. RAND Corporation. (2014), 2014.
Hosale, Sheri. "25 Negative Effects of Technology." 8 June 2013. RooGirl. 20 March 2018 <http://roogirl.com/25-negative-effects-of-technology/>.
McCarrick, Katy. "The Impact of Computer Use on Young Children's Social, Cognitive, Language Development and Motivation." AACE Journal, Volume 15 (2007): 73-95.
Richey, Rita c. "Reflections on the 2008 AECT Definitions of the Fied." TechTrends (2008): 24-25.
Subrahmanyam, Kaveri. "Evidence-based guidelines for the informal use of computers by children to promote the development of academic, cognitive and social skills." Ergonomics (2013): 1349-1362.
Taylor, Jim. "How Technology is Changing the Way Children Think and Focus." 04 December 2012. Psychology Today. 20 March 2018 <https://www.psychologytoday.com/us/blog/the-power-prime/201212/how-technology-is-changing-the-way-children-think-and-focus>.
Cite this page
Free Essay Discussing the Adopting Technological Teaching Approaches. (2022, Apr 11). Retrieved from https://speedypaper.com/essays/free-essay-discussing-the-adopting-technological-teaching-approaches
Request Removal
If you are the original author of this essay and no longer wish to have it published on the SpeedyPaper website, please click below to request its removal: