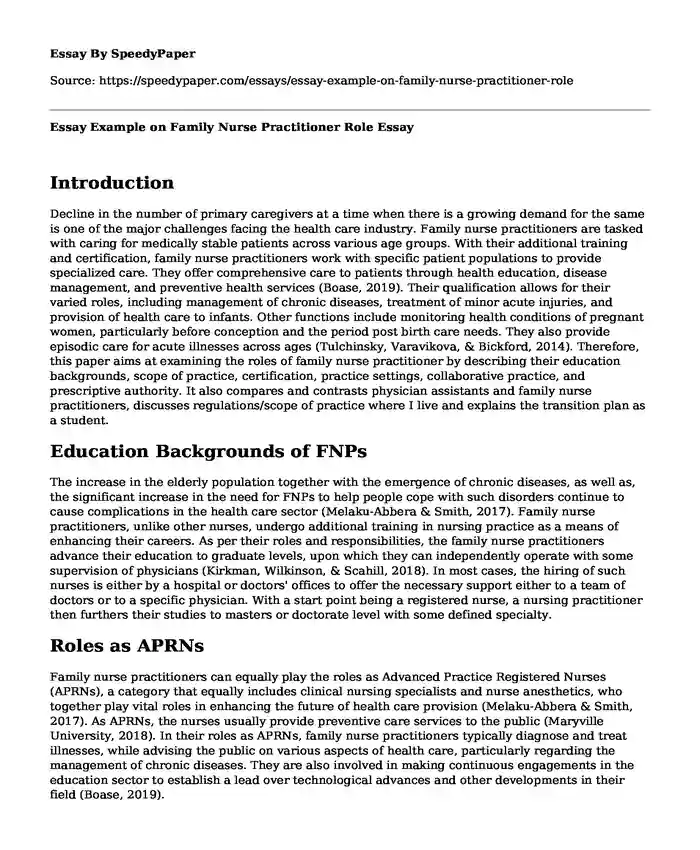 Introduction
Decline in the number of primary caregivers at a time when there is a growing demand for the same is one of the major challenges facing the health care industry. Family nurse practitioners are tasked with caring for medically stable patients across various age groups. With their additional training and certification, family nurse practitioners work with specific patient populations to provide specialized care. They offer comprehensive care to patients through health education, disease management, and preventive health services (Boase, 2019). Their qualification allows for their varied roles, including management of chronic diseases, treatment of minor acute injuries, and provision of health care to infants. Other functions include monitoring health conditions of pregnant women, particularly before conception and the period post birth care needs. They also provide episodic care for acute illnesses across ages (Tulchinsky, Varavikova, & Bickford, 2014). Therefore, this paper aims at examining the roles of family nurse practitioner by describing their education backgrounds, scope of practice, certification, practice settings, collaborative practice, and prescriptive authority. It also compares and contrasts physician assistants and family nurse practitioners, discusses regulations/scope of practice where I live and explains the transition plan as a student.
Education Backgrounds of FNPs
The increase in the elderly population together with the emergence of chronic diseases, as well as, the significant increase in the need for FNPs to help people cope with such disorders continue to cause complications in the health care sector (Melaku-Abbera & Smith, 2017). Family nurse practitioners, unlike other nurses, undergo additional training in nursing practice as a means of enhancing their careers. As per their roles and responsibilities, the family nurse practitioners advance their education to graduate levels, upon which they can independently operate with some supervision of physicians (Kirkman, Wilkinson, & Scahill, 2018). In most cases, the hiring of such nurses is either by a hospital or doctors' offices to offer the necessary support either to a team of doctors or to a specific physician. With a start point being a registered nurse, a nursing practitioner then furthers their studies to masters or doctorate level with some defined specialty.
Roles as APRNs
Family nurse practitioners can equally play the roles as Advanced Practice Registered Nurses (APRNs), a category that equally includes clinical nursing specialists and nurse anesthetics, who together play vital roles in enhancing the future of health care provision (Melaku-Abbera & Smith, 2017). As APRNs, the nurses usually provide preventive care services to the public (Maryville University, 2018). In their roles as APRNs, family nurse practitioners typically diagnose and treat illnesses, while advising the public on various aspects of health care, particularly regarding the management of chronic diseases. They are also involved in making continuous engagements in the education sector to establish a lead over technological advances and other developments in their field (Boase, 2019).
Scope of Practice
FNPs are health care professionals who work with individuals and family patients to test, diagnosis, and treat patients of different ages. Their scope of practice starts from the promotion of health care in general, proper disease prevention, and effective management of common and chronic disorders (Melaku-Abbera & Smith, 2017). In executing their roles, the FNPs document reviews about the patients they help especially their family health histories, physical examination, and diagnosis particularly, and treat health issues. Further, their knowledge base enables them to interpret lab and x-ray tests. More importantly, the FNPs offer medical prescription, education of patients in matters of illnesses' prevention and management as well as the promotion of health and well-being.
Certification of FNPs
FNPs are RNs who have acquired an advanced level of specialist knowledge base and clinical proficiencies in carrying out various extended practice activities as well as mixed decision making abilities in matters of primary health care (Tulchinsky et al., 2014). For one to become an FNP, he or she must first pass the RN examination for the licensing. One critical aspect in the process towards certification for FNPs is that during the post-graduate programs, one should have a combination of academic learning and experience that emphasizes on the mastery of advanced clinical skills (Kirkman et al., 2018). Upon the completion of the post-graduate program, one is then eligible for a certification, which then allows for licensing for practice.
Practice Settings & Descriptive Authority
Family Nurse Practitioners are particularly trained to work with patients of different ages, such as children and adults. The work happens in the context of either family practice or within a clinical setting. In their work, the FNPs collaborate with patients in the maintenance of health and wellness over a prolonged period, with a focus on mechanisms of prevention. In other cases, FNPs work with underserved populations and communities. With the advanced learning and experience in the field of nurses, FNPs have varying prescriptive authority across the United States. Mostly, the prescriptive authority varies as an attribute to the particular drug involved or in some instances, the state in which the FNP practices (Boase, 2019). Whereas specific state offers more flexibility for the prescriptive authority, others are highly restrictive, with most instances involves the confirmation of a physician.
Collaboration & Potential Practice Settings
Collaboration is an important element in FNPs practice. Despite the wide range of skills and training that the FNPs undergo, they still rarely work in isolation. Collaboration between FNPs as well as the other professional players in the practice is critical in influencing the success of their careers. Such collaborative cases are essential for making certain tough decisions on issues encountered during the practice, discussion of best practices, and analysis of treatment results (Melaku-Abbera & Smith, 2017). Such aspects are critical towards providing quality care services to patients and the success of their treatment procedures. As previously discussed, FNPs primarily work in the context of either family practice or within a clinical setting. However, with the vast knowledge base and experience in providing quality care services, there is another potential practice setting for FNPs to fully utilize their skills (Melaku-Abbera & Smith, 2017). Other than the family and clinical settings, the FNPs can also provide their services in nursing homes, hospice care centers, adult care facilities as well as children's homes.
Comparison & Contrast between PAs and FNPs
For professionals in the health care sector, seeking for challenging and well-paying careers usually end with two options; family nurse practitioners and physician assistants. Other than the fact that both are mid-level practitioners, it is equally important to note that they are not doctors, though they undertake roles traditionally taken by doctors such as diagnosis and medical prescription (Melaku-Abbera & Smith, 2017). Family nurse practitioners and physician assistants exhibit certain similarities and differences in almost equal measures. While PAs are traditionally drawn from a medical model, the FNPs are from the nursing tradition. Basing on their roles and scope, PAs are mostly specialized in surgical specialty with functions from pre-operative to post-operative stages. For the FNPs, their roles are primarily in maternal or neonatal care (Tulchinsky, Varavikova, & Bickford, 2014).
PAs and FNPs also differ in terms of their educational advancement as well as certification criteria. PAs have a more generalist advancement in education, especially in their graduate programs where they take up generalist examinations to license. However, for the FNPs, their advanced education is mainly for the service of specific populations, even though such populations could take a broader perspective to include primary family care. Besides, for the certification purposes, FNPs have their examinations taking a reflection to a particular population (Kirkman, Wilkinson, & Scahill, 2018). While both the PAs and FNPs can work in the hospital settings upon certification and licensing, FNPs have more flexibility in the training such that their practice equally has a broad spectrum such that they have more practice setting as compared to the PAs including within as well as out of clinics to patients' homes.
Ideally, FNPs can easily change their specialties upon acquisition of formal additional training requirements and further different certification examinations. For the PAs, the case is different. While traditionally changing specialties as PA was considered a relatively easy task, advancement in complexity and health care knowledge requires PAs with a readily proven experience in a particular specialty, especially for those that work with doctors (Melaku-Abbera & Smith, 2017).
Regulation/ Scope of Practice for Past & Current Issues related to PCNP Practice
Despite the global acknowledgment that PCNP practice encompasses broadened components to include diagnosis, prescription, treatment, as well as the performance and interpretation of diagnostic testing, various regulatory mechanisms, and regional specific practice regulations remain barriers to PCP's practice (Boase, 2019). Common issues contributing to such challenges include poor classification of their jobs, differences in the education requirements, and scope of practice conflict, all of which influence the establishment of regulations. Before the passing of the ACA of 2010, the health care system had no much focus; the same applies to regulation. However, with the passing of the Act, more demand was placed on health care professions with a system created that is more patient-centered (Tulchinsky, Varavikova, & Bickford, 2014). With such a development, many states have loosened the regulations, thus granting more autonomy to the practitioners, most notably on prescriptive authority, treatment, and diagnosis (Melaku-Abbera & Smith, 2017). Regardless, there has also been an increased entry barrier in the current as compared to the past, with a requirement of higher education levels before acceptance into practice. Such a move is attributed to the current need for standardizing the scope of practice across the U.S. for quality enhancement (Maryville University, 2018).
Impact on Regulation & Practice Scope on PCNP Role Evolution
Whereas regulation and practice scope on the role of PNCP evolution has had its limitations on certain aspects on the individuals, for the health care, there has been significant impact achieved. From the higher education standards set for enhanced competencies, there is a significantly improved quality of health care, increased safety as well as a significant reduction of errors within the practice scope (Kirkman, Wilkinson, & Scahill, 2018). With the regulation in the role evolution of the PNPCs, the practice is then standardized across various states, thus contributing to an expanded scope of quality care provision and ability to work in different scopes of practice across countries. Besides, there is the reduction of working hours for resident physicians, which works in the significant improvement of patient safety as regulation in training requires some level of specialty in a particular segment thus improved service delivery (Boase, 2019).
Cite this page
Essay Example on Family Nurse Practitioner Role. (2023, Jan 13). Retrieved from https://speedypaper.com/essays/essay-example-on-family-nurse-practitioner-role
Request Removal
If you are the original author of this essay and no longer wish to have it published on the SpeedyPaper website, please click below to request its removal: