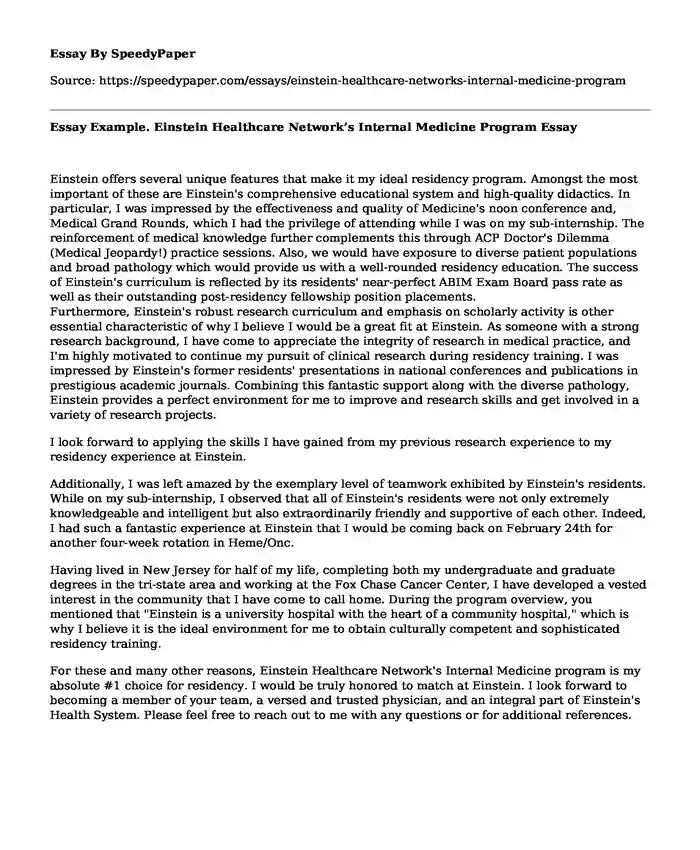 Einstein offers several unique features that make it my ideal residency program. Amongst the most important of these are Einstein's comprehensive educational system and high-quality didactics. In particular, I was impressed by the effectiveness and quality of Medicine's noon conference and, Medical Grand Rounds, which I had the privilege of attending while I was on my sub-internship. The reinforcement of medical knowledge further complements this through ACP Doctor's Dilemma (Medical Jeopardy!) practice sessions. Also, we would have exposure to diverse patient populations and broad pathology which would provide us with a well-rounded residency education. The success of Einstein's curriculum is reflected by its residents' near-perfect ABIM Exam Board pass rate as well as their outstanding post-residency fellowship position placements.
Furthermore, Einstein's robust research curriculum and emphasis on scholarly activity is other essential characteristic of why I believe I would be a great fit at Einstein. As someone with a strong research background, I have come to appreciate the integrity of research in medical practice, and I'm highly motivated to continue my pursuit of clinical research during residency training. I was impressed by Einstein's former residents' presentations in national conferences and publications in prestigious academic journals. Combining this fantastic support along with the diverse pathology, Einstein provides a perfect environment for me to improve and research skills and get involved in a variety of research projects.
I look forward to applying the skills I have gained from my previous research experience to my residency experience at Einstein.
Additionally, I was left amazed by the exemplary level of teamwork exhibited by Einstein's residents. While on my sub-internship, I observed that all of Einstein's residents were not only extremely knowledgeable and intelligent but also extraordinarily friendly and supportive of each other. Indeed, I had such a fantastic experience at Einstein that I would be coming back on February 24th for another four-week rotation in Heme/Onc.
Having lived in New Jersey for half of my life, completing both my undergraduate and graduate degrees in the tri-state area and working at the Fox Chase Cancer Center, I have developed a vested interest in the community that I have come to call home. During the program overview, you mentioned that "Einstein is a university hospital with the heart of a community hospital," which is why I believe it is the ideal environment for me to obtain culturally competent and sophisticated residency training.
For these and many other reasons, Einstein Healthcare Network's Internal Medicine program is my absolute #1 choice for residency. I would be truly honored to match at Einstein. I look forward to becoming a member of your team, a versed and trusted physician, and an integral part of Einstein's Health System. Please feel free to reach out to me with any questions or for additional references.
Cite this page
Essay Example. Einstein Healthcare Network's Internal Medicine Program. (2023, Apr 05). Retrieved from https://speedypaper.com/essays/einstein-healthcare-networks-internal-medicine-program
Request Removal
If you are the original author of this essay and no longer wish to have it published on the SpeedyPaper website, please click below to request its removal: