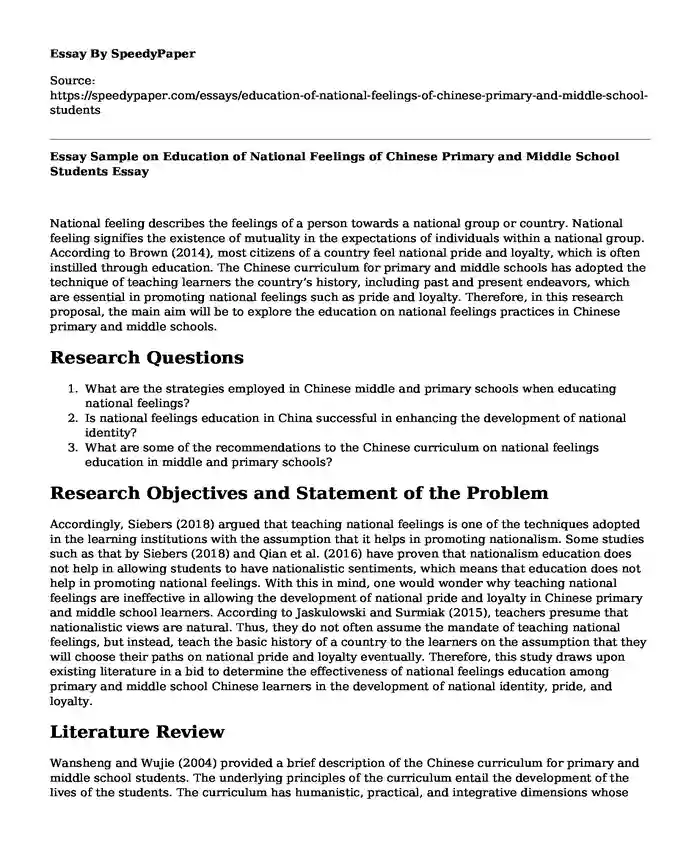 National feeling describes the feelings of a person towards a national group or country. National feeling signifies the existence of mutuality in the expectations of individuals within a national group. According to Brown (2014), most citizens of a country feel national pride and loyalty, which is often instilled through education. The Chinese curriculum for primary and middle schools has adopted the technique of teaching learners the country's history, including past and present endeavors, which are essential in promoting national feelings such as pride and loyalty. Therefore, in this research proposal, the main aim will be to explore the education on national feelings practices in Chinese primary and middle schools.
Research Questions
What are the strategies employed in Chinese middle and primary schools when educating national feelings?
Is national feelings education in China successful in enhancing the development of national identity?
What are some of the recommendations to the Chinese curriculum on national feelings education in middle and primary schools?
Research Objectives and Statement of the Problem
Accordingly, Siebers (2018) argued that teaching national feelings is one of the techniques adopted in the learning institutions with the assumption that it helps in promoting nationalism. Some studies such as that by Siebers (2018) and Qian et al. (2016) have proven that nationalism education does not help in allowing students to have nationalistic sentiments, which means that education does not help in promoting national feelings. With this in mind, one would wonder why teaching national feelings are ineffective in allowing the development of national pride and loyalty in Chinese primary and middle school learners. According to Jaskulowski and Surmiak (2015), teachers presume that nationalistic views are natural. Thus, they do not often assume the mandate of teaching national feelings, but instead, teach the basic history of a country to the learners on the assumption that they will choose their paths on national pride and loyalty eventually. Therefore, this study draws upon existing literature in a bid to determine the effectiveness of national feelings education among primary and middle school Chinese learners in the development of national identity, pride, and loyalty.
Literature Review
Wansheng and Wujie (2004) provided a brief description of the Chinese curriculum for primary and middle school students. The underlying principles of the curriculum entail the development of the lives of the students. The curriculum has humanistic, practical, and integrative dimensions whose objective is to allow students to develop feelings, attitudes, and values (Wansheng & Wujie, 2004). It is worth noting that the development of the curriculum aimed at ensuring that Chinese learners become responsible citizens with self-esteem, environmental awareness, and respect for parents. Similarly, Bailey (2013) asserted that educators from China wanted to ensure that education was practical and meaningful to the community. As such, this drive led them towards the adoption of the educational system in Germany (Bailey, 2013). The educational system of Germany strongly resonated with that of China. Thus, this led to the integration of national feelings education in the Chinese curriculum.
The education on national feelings in schools is in line with the belief that a good education curriculum should enable one to identify and give significance to concepts such as patriotism, minority rights, constitutionalism, and civil society (Nurdin, 2017). The idea is that a good citizen is committed to participating in different public activities. In social life issues, the lives of the students attending school are essential since it shape them to become responsible citizens. From the study conducted by Nurdin (2017), the results showed that public education policies enabled students to develop a sense of nationalism and patriotism. The level of awareness of citizen's rights and their responsibility, democratic values, the electoral process, and the importance of community engagement is higher among learners who are taught on nationalism as opposed to those who do not have any education on national feelings. Similarly, Wang (2008) asserted that schools teach the history on the politics on a country, which fosters the construction and reproduction of national identities, which, in turn, determines policy and state actions.
Zhang and Fagan (2016)conducted a study that showed that evidence of a curriculum on national feelings education did not have a substantial effect in influencing political participation such as voting and civic participation. Instead, it positively affected the civic intention and expression of the learners. The study results show that national feelings education is not sufficient to attain its desired objective of creating national loyalty and pride. Similarly, a study by Lau et al. (2016) sought to challenge the claims that nationalistic education in Hong Kong which has existed since the year 1985 has contributed to a homogenous national identity. Lau et al. (2016) claimed that China had interpreted national identity through its educational practices and policies. Chinese schools have implemented nationalistic education and integrated it into its curriculum to allow students to develop a national identity. Lau et al. (2016) challenged these educational policies with claims that they have been ineffective in achieving their objective.
Further, Law (2006) has a rather interesting perspective with claims that globalization undermines the state of cultures, identities, and local institutions hence undermining the attainment of the objectives of national feelings education. The role of citizenship education is to respond to globalization and its influence on the international and local communities (Ang & Ho, 2019). In addition to that, Kennedy (2013) stipulated that citizenship education in China has transformed substantially as the political system changes to cope with globalization and external and internal pressures for political reforms. Primarily, this signifies that globalization is one of the reasons behind the failure of national feelings education in promoting citizenship.
Lastly, Wong et al. (2016) stipulated that some teachers are also unable to teach national feelings of education in the desired way. Some teachers teach national education, yet they believe in the opposite. Similarly, Wang et al. (2006) stated that a teacher should be patriotic. When a teacher is not patriotic and lacks national values, he or she is not likely to enhance a positive impact on a learner's feelings towards a nation. A teacher's attitude and feelings could be one of the reasons behind the failure of national feelings education in China.
Significance of the Study
Notably, this study contributes to knowledge since it describes the efficacy of national education in China. The research seeks to point out how effective national feelings education is towards enhancing nationalism, the development of national identity, loyalty, and pride. The findings will help Chinese educators to know where they have failed in promoting nationalism through the national education curriculum. More so, the educators will find means of remediating the problem hence ensuring that the curriculum achieves its desired objective.
Research Methodology
Primarily, in this research, existing literature on national feelings education in primary and middle schools in China will be reviewed to identify the role of the curriculum in promoting nationalism among learners. In addition to that, selected students who just completed their primary and middle school levels will be selected for an interview. The interview will seek to determine their thoughts on civic participation in a bid to identify how national education has changed their thoughts about their country. During the selection process, the potential participants will be informed of the study and issued informed consent to affirm their willingness to participate in the process.
Conclusion
The research aims to explore education on national feelings in primary and middle schools in China. From the literature reviewed, it is clear that national education is aimed at changing ill perceptions of one's country by promoting nationalism and patriotism. Some studies have shown that a teacher's perception of their country hinders the effectiveness of national education. Further, other literature shows that national education does not enhance participation in voting and other public activities but improves civic intention and enhances awareness of one's rights and responsibilities as a citizen.
References
Ang, C., & Ho, E. L.-E. (2019). Feeling schools, affective nation: The emotional geographies of education in Singapore, slippages as tactical maneuvers. Emotion, Space and Society, 32, 100589. https://doi.org/10.1016/j.emospa.2019.100589

Bailey, J. P. (2013). Globalization and Chinese Education in the early 20th century. Front. Educ. China, 8(3), 319-419. https://link.springer.com/content/pdf/10.1007%2FBF03396982.pdf

Brown, J. A. (2014). "Our national feeling is a broken one:" Civic emotion and the holocaust in German citizenship education. Qualitative Sociology, 37(4), 425–442. https://doi.org/10.1007/s11133-014-9286-8

Jaskulowski, K., & Surmiak, A. (2015). Teaching history, teaching nationalism: a qualitative study of history teachers in a Polish post-industrial town. Critical Studies in Education, 58(1), 36–51. https://doi.org/10.1080/17508487.2015.1117006

Kennedy, K. J. (2013). Citizenship education in China. Research Gate. https://doi.org/10.4324/9780203797129Law, W. (2006). Citizenship, citizenship education, and the state in China in a global age. Cambridge Journal of Education, 36(4), 597–628. https://doi.org/10.1080/03057640601049322

Lau, T. C., Tse, T. K., & Leung, Y. W. (2016). Dynamics of Chinese nationalistic education in Hong Kong from 1945 to 2012. Oxford Review of Education, 42(6), 677–691. https://doi.org/10.1080/03054985.2016.1203301

Nurdin, E. S. (2017). Civic education policies: Their effect on university students' spirit of nationalism and patriotism. Citizenship, Social and Economics Education, 16(1), 69–82. https://doi.org/10.1177/2047173416688039

Qian, L., Xu, B., & Chen, D. (2016). Does history education promote nationalism in China? A 'limited effect' explanation. Journal of Contemporary China, 26(104), 199–212. https://doi.org/10.1080/10670564.2016.1223103

Siebers, H. (2018). Are education and nationalism a happy marriage? Ethno-nationalist disruptions of education in Dutch classrooms. British Journal of Sociology of Education, 40(1), 33–49. https://doi.org/10.1080/01425692.2018.1480354

Wang, C. K. J., Khoo, A., Goh, C. B., Tan, S., & Gopinathan, S. (2006). Patriotism and national education: Perceptions of trainee teachers in Singapore. Asia Pacific Journal of Education, 26(1), 51–64. https://doi.org/10.1080/02188790600607929

Wang, Z. (2008). National humiliation, history education, and the politics of historical memory: Patriotic education campaign in China. International Studies Quarterly, 52, 783-806. http://www.cctr.ust.hk/materials/library/isq_Zheng_Wang_12-08.pdf

Wansheng *, Z., & Wujie, N. (2004). The moral education curriculum for junior high schools in 21st century China. Journal of Moral Education, 33(4), 511–532. https://doi.org/10.1080/0305724042000327993
Cite this page
Essay Sample on Education of National Feelings of Chinese Primary and Middle School Students. (2023, Sep 08). Retrieved from https://speedypaper.com/essays/education-of-national-feelings-of-chinese-primary-and-middle-school-students
Request Removal
If you are the original author of this essay and no longer wish to have it published on the SpeedyPaper website, please click below to request its removal: