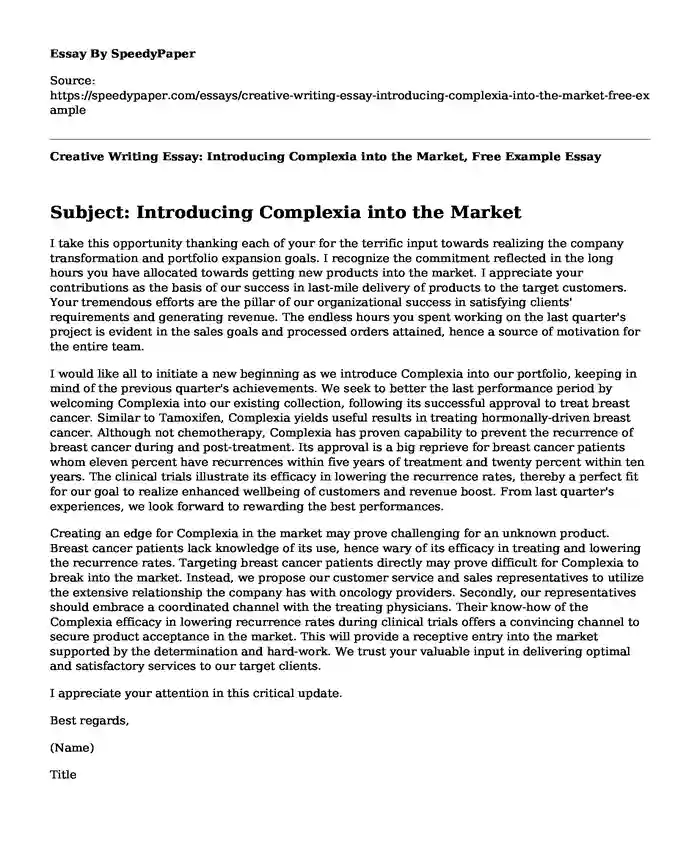 Subject: Introducing Complexia into the Market
I take this opportunity thanking each of your for the terrific input towards realizing the company transformation and portfolio expansion goals. I recognize the commitment reflected in the long hours you have allocated towards getting new products into the market. I appreciate your contributions as the basis of our success in last-mile delivery of products to the target customers. Your tremendous efforts are the pillar of our organizational success in satisfying clients' requirements and generating revenue. The endless hours you spent working on the last quarter's project is evident in the sales goals and processed orders attained, hence a source of motivation for the entire team.
I would like all to initiate a new beginning as we introduce Complexia into our portfolio, keeping in mind of the previous quarter's achievements. We seek to better the last performance period by welcoming Complexia into our existing collection, following its successful approval to treat breast cancer. Similar to Tamoxifen, Complexia yields useful results in treating hormonally-driven breast cancer. Although not chemotherapy, Complexia has proven capability to prevent the recurrence of breast cancer during and post-treatment. Its approval is a big reprieve for breast cancer patients whom eleven percent have recurrences within five years of treatment and twenty percent within ten years. The clinical trials illustrate its efficacy in lowering the recurrence rates, thereby a perfect fit for our goal to realize enhanced wellbeing of customers and revenue boost. From last quarter's experiences, we look forward to rewarding the best performances.
Creating an edge for Complexia in the market may prove challenging for an unknown product. Breast cancer patients lack knowledge of its use, hence wary of its efficacy in treating and lowering the recurrence rates. Targeting breast cancer patients directly may prove difficult for Complexia to break into the market. Instead, we propose our customer service and sales representatives to utilize the extensive relationship the company has with oncology providers. Secondly, our representatives should embrace a coordinated channel with the treating physicians. Their know-how of the Complexia efficacy in lowering recurrence rates during clinical trials offers a convincing channel to secure product acceptance in the market. This will provide a receptive entry into the market supported by the determination and hard-work. We trust your valuable input in delivering optimal and satisfactory services to our target clients.
I appreciate your attention in this critical update.
Best regards,
(Name)
Title
External Stakeholders
I take this opportunity to acknowledge the essence of our open and honest communication platform to our stakeholders. Sustaining a two-way exchange channel has in the past been a source of mutual benefit. Our success in securing product acceptance in the market relies not only on maintaining high-performance standards and prompt delivery but our capability to understand, manage and influence your expectations. Consistently with our norm, we consider the interests of external stakeholders crucial to accomplishing our organizational objectives.
We recognize that honest communication on our existing and new products is essential towards conveying our aims, policies, and objectives. This update retaliates our intentions of expanding our product family with offerings that yield mutual benefits beyond revenue generation. The addition of Complexia in our portfolio will assist us to serve breast cancer patients in lowering recurrence rates. Clinical trials have turned successful of its capability to reduce the recurrences currently at eleven percent within five years and twenty percent in ten years. Like Tamoxifen, Complexia is addressing the emotional and financial challenges attributed to tackling breast cancer and dealing with post-treatment recurrence. Clinical trials reveal its efficacy in treating the hormonal-driven breast cancer, thereby a breakthrough to overcome cancer that has turned a menace in the global healthcare system.
Complexia remains a little-known product, unlike the popularly used Tamoxifen, thereby exposing it to slow uptake in the market. The absence of long-term trials on its efficacy may prove detrimental to patients wary of post-treatment recurrence of breast cancer. Lack of proof of the drug capability to lower recurrence rates may take longer for Complexia to win support beyond treating physicians. In response, the inclusion of multi-stakeholder input during treatment of breast cancer promises potential to use the partnership with oncology providers in sensitizing its efficacy. We sustain the product on active research and development process to address any shortcoming that may arise from administering Complexia. Our business remains accountable to introduce products of guaranteed efficacy. Allied to this policy, our employees' input and collaboration with oncology providers alongside research team offer a truly supportive channel to sensitize patients on Complexia's efficacy in treating and lowering recurrence rates.
Blog Entry
Complexia realizes our commitment towards addressing the rising cases of breast cancer that has turned a global health challenge. Its introduction in the market is a big reprieve for the worldwide health system already overwhelmed by higher rates of early deaths from breast cancer. From the clinical trials, Complexia offers better success rate in treating breast cancer. Its success rate in treatment is unrivaled with lower cases of recurrence rate reported during clinical trials than its predecessor drugs. Complexia will lower the eleven percent of patients experiencing the recurrence within five years of breast cancer treatment. Its efficacy rates at the trial stages show potential to reduce the twenty percent recurrence rate amongst patients ten years after their treatment. Its uptake boosts healthcare outcome where breast cancer has become the leading cause of death in developed and developing world.
Business Partner
I take this opportunity acknowledging your devotion and active role in getting the new product to the market on time. I recognize the input of your team to allow us to deliver Complexia in the market successfully since its approval in the previous quarter. As we look forward to scaling other geographically-spread markets, we are counting on your total commitment from your team to deliver the product to the market. We seek to inform you that lead time processes influence our delivery schedules amidst rigorous regulation and fierce competition from generic drugs. The fulfillment of our promise to breast cancer patients depends on shorter lead time. Longer lead time will hinder the attainment of our corporate objective to prioritize the well-being of breast cancer patients by availing Complexia when needed.
Implementing quick response manufacturing approach will align with our strategy to cut our lead times. Unfortunately, longer manufacturing lead times gives generic products loopholes to strangle our opportunities in the market. Besides, the intensifying competition from existing patented drugs including Tamoxifen leaves increased lead times eroding Complexia competitiveness. Implementing quick response manufacturing creates a mutually beneficial trade-off by eliminating the high costs we both incur when expediting late orders. Shorter timelines will lower the cost incurred when rescheduling delivery and ensure on-time supply of Complexia without compromising patients' wellbeing.
We appreciate the contribution of your team as a fundamental basis of our success to confront the lead times challenge. We are convinced that our commitment towards delivering Complexia in the market is enough motivation to realizing quick response manufacturing and timely delivery. If we pull together our efforts, we will succeed in this worthy cause of prioritizing patients wellbeing aligned with our corporate objectives.
Thank you for your contributions and pledging total commitment in attaining short timelines.
Resolving Customer Conflict
Dissatisfaction is often bad news for any brand and company with their capability to steer more prospective customers away from the product. Unhappy customers have potential to become the catalyst for failure when left unaddressed. Whatever their reasons, the company assumes full responsibility to restore happiness in the customers again. Allied to this, addressing the customer complaints will regain credibility in the product. A seven-stage approach offers sufficient coverage to resolve the customer complaint of Complexia worsening his wife's illness.
Firstly, allowing the customer to tell their complaint will create a feeling of being heard without interruption. Secondly, the communication relation representative will thank the customer for informing the company about the problem. It will involve admitting that the company would not resolve faults they are entirely unaware of and only making assumptions about. Next, the representative will convey the sincere apology for the wife's situation. Avoiding moral reasons, excuses and justifications will weather the anger in the complainant. Next, seeking the best solution towards remedying the wife's condition will restore the customer faith in the product. Relying upon a sincere apology on the social media platform and declaring the company's commitment to ensuring correct treatment will win trust in other users. Also, reaching an agreement to the satisfaction of the complainant is essential. It is important to acknowledge that absence of accord may scuttle the customer's trust in the company's action. Such requires taking quick action through positive response. Lastly, a follow-up process is essential to ensure the customer realizes complete satisfaction.
Resolving the conflict will require providing necessary treatment to the wife and exonerating Complexia from worsening the situation. The company will link the patient to a team of qualified oncologists and physicians to help restore her wellbeing. Further clinical trials should be administered to ascertain the wife's status before taking Complexia. Completing this will help determine the efficacy of Complexia in lowering recurrence and treating breast cancer. The involvement of independent physicians and oncology providers will restore the product image since other customers may perceive sabotage to protect the brand reputation. Lastly, issuance of the regular update on the wife's progress and clinical trials is essential to avoid destructive speculations.
Effectiveness of Communication Strategies
The company acknowledges interests of internal and external stakeholders as essential parameters in the attainment of shareholders' wealth maximization objective. For this reason, establishing a consistent, open and timely communication helps convey its aims, policies, resolve complaints and endorse its credibility as a responsible company. As such, sending corporate information via multiple channels including digital channels and traditional media gives an inclusive communication. It allows the company communicate its beliefs and values. However, the presence of the company in the social media sites exposes it to the wrath of disappointed customers. The lack of active response to the complaints may spark the negative backlash and product rejection in the market.
The engagement of stakeholders in the company's official sharing yields whole identity on its annual performance. Capturing the company performance in the relations website, annual reports, and regular briefings offers a compelling communication output.
Cite this page
Creative Writing Essay: Introducing Complexia into the Market, Free Example. (2022, Jun 10). Retrieved from https://speedypaper.com/essays/creative-writing-essay-introducing-complexia-into-the-market-free-example
Request Removal
If you are the original author of this essay and no longer wish to have it published on the SpeedyPaper website, please click below to request its removal: