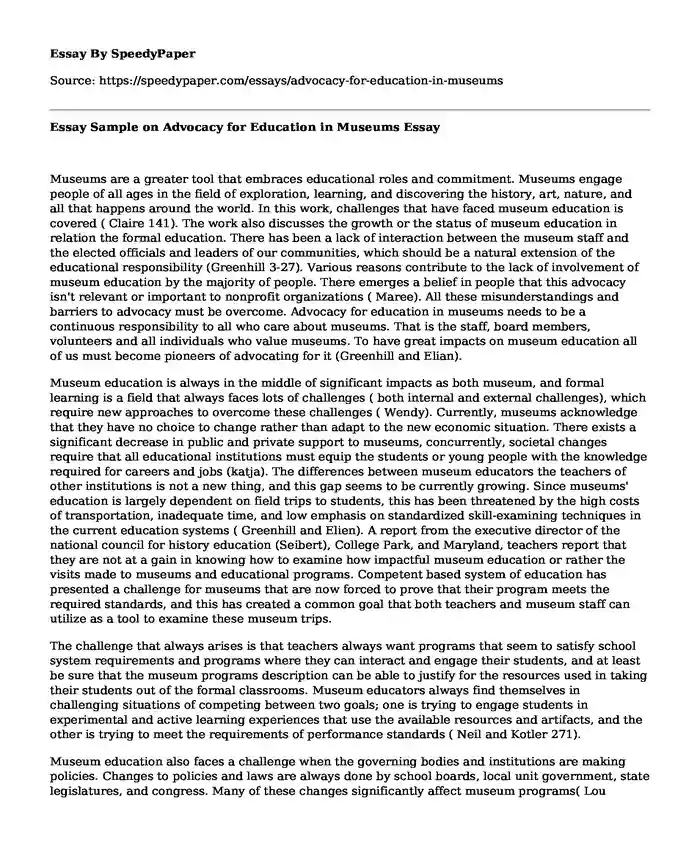 Museums are a greater tool that embraces educational roles and commitment. Museums engage people of all ages in the field of exploration, learning, and discovering the history, art, nature, and all that happens around the world. In this work, challenges that have faced museum education is covered ( Claire 141). The work also discusses the growth or the status of museum education in relation the formal education. There has been a lack of interaction between the museum staff and the elected officials and leaders of our communities, which should be a natural extension of the educational responsibility (Greenhill 3-27). Various reasons contribute to the lack of involvement of museum education by the majority of people. There emerges a belief in people that this advocacy isn't relevant or important to nonprofit organizations ( Maree). All these misunderstandings and barriers to advocacy must be overcome. Advocacy for education in museums needs to be a continuous responsibility to all who care about museums. That is the staff, board members, volunteers and all individuals who value museums. To have great impacts on museum education all of us must become pioneers of advocating for it (Greenhill and Elian).
Museum education is always in the middle of significant impacts as both museum, and formal learning is a field that always faces lots of challenges ( both internal and external challenges), which require new approaches to overcome these challenges ( Wendy). Currently, museums acknowledge that they have no choice to change rather than adapt to the new economic situation. There exists a significant decrease in public and private support to museums, concurrently, societal changes require that all educational institutions must equip the students or young people with the knowledge required for careers and jobs (katja). The differences between museum educators the teachers of other institutions is not a new thing, and this gap seems to be currently growing. Since museums' education is largely dependent on field trips to students, this has been threatened by the high costs of transportation, inadequate time, and low emphasis on standardized skill-examining techniques in the current education systems ( Greenhill and Elien). A report from the executive director of the national council for history education (Seibert), College Park, and Maryland, teachers report that they are not at a gain in knowing how to examine how impactful museum education or rather the visits made to museums and educational programs. Competent based system of education has presented a challenge for museums that are now forced to prove that their program meets the required standards, and this has created a common goal that both teachers and museum staff can utilize as a tool to examine these museum trips.
The challenge that always arises is that teachers always want programs that seem to satisfy school system requirements and programs where they can interact and engage their students, and at least be sure that the museum programs description can be able to justify for the resources used in taking their students out of the formal classrooms. Museum educators always find themselves in challenging situations of competing between two goals; one is trying to engage students in experimental and active learning experiences that use the available resources and artifacts, and the other is trying to meet the requirements of performance standards ( Neil and Kotler 271).
Museum education also faces a challenge when the governing bodies and institutions are making policies. Changes to policies and laws are always done by school boards, local unit government, state legislatures, and congress. Many of these changes significantly affect museum programs( Lou 34-48). An example is when the government, when faced with a shortage of resources, for example, money, the budget committee always lowers down the budgets for museum departments and the same time expect these museums to continue exercising their duties. This always pulls down the working of the museum ( Kirsten). Despite numerous connections between the government and the museums, museums are, on many occasions, not involved in any deliberations or changes made in the policies. This act is due to the perception that museums are not profit-making organisations, and therefore, no one sees their importance in decision-making programs.
The climate and concerns of art education have changed during the past decade, and this has altered the content and the techniques of teaching and learning about art in schools across the world. Museums have been playing a central role in curriculum planning, development of learning materials and providing services to schools (Clark, Day and Greer). Some of these changes have affected the museum education profession in one way or the other. For example, the emergence of web pages and sites which demonstrate the artwork or acts as sources of materials have affected the participation of students and teachers in museum work negatively since they can access the work in museums ( Angelina 150). This makes a lot of people to take museum facilities as irrelevant or of no importance to the current education systems since all the materials they require are available in other areas. This has even contributed to museum facilities being abandoned when it comes to development and renovations.
Museum education is also considered to lack enough intellectual base and theoretical foundation like that of scholars and thus difficult to be offered in universities ( P 29). In this concern, in higher learning institutions, museum education is not highly considered to be of great importance or relevance, and this has contributed to low advocacy for museum education across the world. From (Eisner and Dobbs 53-65), there is a lack or no communication network and contact between all museum educators and this contributes to low or no exchange of ideas and program resources. They criticized the lack of professional organizations intended to cater to the needs of museum educators. In their work, only the American Association of Museums (AAM) and the National Art Education Association (NAEA) organizations for museum educators exist up to today. Since the Eisner and Dobbs report, there is no any new-formed organization or any conference held to museum educators. According to the study, the emphasis on conference organization and participation is only at the national level, and this, in a way, does not promote museum education at the local levels.
Another major challenge is the lack of support for the professional development of museum educators and the facilities at large. This is well demonstrated by a lack of financial support and transportation to attend or present at various conferences held at national levels for museum educators ( Greenhill). Also, there is a lack of museum sponsorship involvement in workshops and seminars for museum educators from other museums ( Fernand 255-270). This leaves most of the museum educators to only have greater exposure to art historical literature with less knowledge in art education. All these challenges need to be overcome to promote education in museums.
Museum education needs to be delivered in new approaches, and new operation models are required to ensure the museum educational mission is sustained and achieved at low costs or reduced funding. Currently, it might not be clear what these new models are both in the short term or long term. Less expensive ways to deliver the museum services and at the same time maintaining and improving the quality experiences to all the visitors and the students who visit these facilities must be met. Most museums nowadays use other platforms like websites, social media, and cell phone tours as the best alternatives to traditional programs ( Angelina). This has, at a greater level, advocated for the museum education. Due to the current change of the education system all over the world and especially in America, education has become object-based, and thus museums are acting as a very necessary tool to provide the knowledge that is required ( Eisner and Dobbs). Considering natural history museums which is full of objects which are used in the research field has led to significant growth of museums and in general, increasing the interest for museum education from institutes and individual.
Museums are currently or from the 1800s been taken as democratic institutions that are accessible to each and everyone than the formal education systems like the universities. Museum education due to the growth of love for culture has been taken by people as an instrument for popular culture ( Dana) and thus great impact realized towards the growth of education in museums.
Increased diversity and professionalization of the techniques used to educate the public. Current education embraces the use of demonstrations, evidence, and facts when delivering knowledge. The use of tours or visits to museums has been a tool in acquiring this object-based curriculum. The presentation of objects and demonstrations is greatly exercised in museums since the museums equip the schools with all these sources that are being used. Research ( American Association of Museums 1992, P. 6) has shown that museums, apart from providing rich educational experiences to the individuals, also directly support the schools through the provision of materials rich with the necessary knowledge. Museums play a vital role in supporting natural infrastructure and supports public education( Hein 330-352). Museum education by the 21st century is not just for school tours and classes for adults but a necessary tool for education.
Advocacy is the process of supporting or recommending a course or a proposal. It is a processing of increasing the influence on specific people or audiences. Advocating for education in museums is very relevant in that it influences the legislation to increase the funding in museums. Museum leaders and educators need to be aware of their rights and responsibilities in advocating for museum education. The museum leaders should always be on the front line in advocating for the services offered in their facilities. This should be through programs like encouraging and advertising for field trips to school children and other learning institutions. Also offering support to the formal education is great advocacy; support such as providing teaching materials and experts to the students and teachers will greatly advocate for museum education.
The museums are considered as nonprofit sectors should always advocate for participation in the policies and law-making forums. Although many believe it's not profitable for non-profit organizations to engage in lobbying and advocacy, museum leaders and educators should always participate in public policy dialogue that always has impacts on these organizations, communities, and the people they offer services to. From a report based on Chicago Donors Forum ( Can I lobby), non-profit organizations play a very vital role in the formulation and implementation of public policy. The report demonstrates that lobbying within certain boundaries is legal for non-profit organizations and they are much conducive to a healthy, informed and strong democratic society. The participation of non-profit organizations in policy development will greatly advocate for museum education.
Advocacy for this education in museums is also achieved by being comfortable with advocacy. Advocacy is like healing or preventing a disaster in that it is a continuous process that needs to be carried on a day in day out ( Nina, Muyskens and Pursley). It is not a one thing activity rather than an activity that needs to be conducted throughout the years.
Cite this page
Essay Sample on Advocacy for Education in Museums. (2023, Mar 08). Retrieved from https://speedypaper.com/essays/advocacy-for-education-in-museums
Request Removal
If you are the original author of this essay and no longer wish to have it published on the SpeedyPaper website, please click below to request its removal: