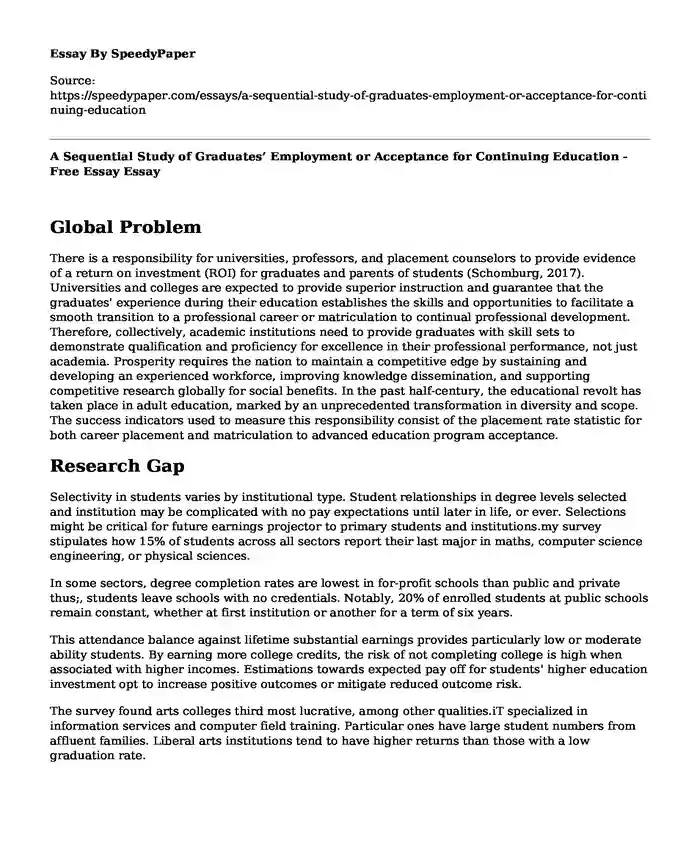 Global Problem
There is a responsibility for universities, professors, and placement counselors to provide evidence of a return on investment (ROI) for graduates and parents of students (Schomburg, 2017). Universities and colleges are expected to provide superior instruction and guarantee that the graduates' experience during their education establishes the skills and opportunities to facilitate a smooth transition to a professional career or matriculation to continual professional development. Therefore, collectively, academic institutions need to provide graduates with skill sets to demonstrate qualification and proficiency for excellence in their professional performance, not just academia. Prosperity requires the nation to maintain a competitive edge by sustaining and developing an experienced workforce, improving knowledge dissemination, and supporting competitive research globally for social benefits. In the past half-century, the educational revolt has taken place in adult education, marked by an unprecedented transformation in diversity and scope. The success indicators used to measure this responsibility consist of the placement rate statistic for both career placement and matriculation to advanced education program acceptance.
Research Gap
Selectivity in students varies by institutional type. Student relationships in degree levels selected and institution may be complicated with no pay expectations until later in life, or ever. Selections might be critical for future earnings projector to primary students and institutions.my survey stipulates how 15% of students across all sectors report their last major in maths, computer science engineering, or physical sciences.
In some sectors, degree completion rates are lowest in for-profit schools than public and private thus;, students leave schools with no credentials. Notably, 20% of enrolled students at public schools remain constant, whether at first institution or another for a term of six years.
This attendance balance against lifetime substantial earnings provides particularly low or moderate ability students. By earning more college credits, the risk of not completing college is high when associated with higher incomes. Estimations towards expected pay off for students' higher education investment opt to increase positive outcomes or mitigate reduced outcome risk.
The survey found arts colleges third most lucrative, among other qualities.iT specialized in information services and computer field training. Particular ones have large student numbers from affluent families. Liberal arts institutions tend to have higher returns than those with a low graduation rate.
Bridging the gaps
The current research study has demonstrated stable results of students expanding from 4,000 to 25,000 in 2018. The accelerated research is associated programs (ASAP) are tightly structured, meeting students' full financial needs ongoing and intrusive advising and other free passes in transit. Hilliard (2017). Random assignments have found ASAP students outperformed on evaluation and control groups on credit accumulation, three-year graduation, student persistence, full enrollment, and transfer to four years of college.
College readiness based on transcript analysis and standardized test scores is a complex concept, measured in multiple and controversial ways. Developmental placement in education determines the standardized exam, and a recent survey suggests such reviews not reliably in placing a student in their course taking appropriate level.
The university system serving millions of students are working hard to increase their graduations by 30% by 2025. Well-coordinated system combination actions such as; track faculty, improving curricular alignment with k-12, hiring more tenure campus efforts, supporting course redesign efforts and faculty innovations, and strengthening business partners relationship, hopes to produce a result initiative of 100,000 additional graduates by 2025.
With the establishment of specific adult learning institutions strong focus on online course and delivery, program design, emphasis on workforce development, institution decision making, and student data support are unique circumstances concerning barriers they face. ( Morrison & Kalman 2019). Since most faculties are a contract basis, workforce development is highly achieved, leaving students at high satisfaction levels. Recent research conducted an Analysis of how the recipient's degree of satisfaction rose from 63% to 85%.
Public policymakers who access higher education performance tend to legislate on account of these outcomes. Performance-based funding indicates a new principle in more senior education legislation. Policymakers may need a granular understanding of how their policies affect higher education. By so doing, they identify outcomes that need change, and most affected students sub-populations.
States ensure higher education agenda includes improving college completion rate focus. It remains significant funder and regulates institutional behaviors directly. They set campus goals overseeing a range of fiscal policies influencing academics. Its a way of promoting curriculum goals increasing completion by reaching for support from government agencies, community-based organizations, businesses, and industry. State cost depends on subsidized loans pell grants, endowments, tuition payments, and other sources. The cost of students pursuing a particular degree is uniform, where price and benefits entirely are student dependent. Policymakers decide on whether to admit more students increase completion, increasing transfer rate, reducing time to the degree, which requires different amounts of funding.
Although these studies support the need for academic institutions to understand why fluctuations in placement rates exist and which variables influence placement rate fluctuations directly, I will perform my research at local Central Pennsylvania College. Searching for an educational institution to complete my Analysis a Director of Career Services (2019) at a Mid Atlantic College in Pennsylvania, said that "although college placement trends have recently taken an upswing after ten years of fluctuation mostly downward. His college and others could benefit significantly if influencing variables were statistically validated" For his institution and others understanding the fluctuation in placement rates is critical for most institutions because it is utilized as one of the performance indicators for colleges. He explained how his placement rate statistic is one of the vital factors that determine their accreditation status during a Middle States Commission on Higher Education (MSCHE) evaluation. He stated the " I am sure other colleges could also benefit from advancing this current gap in research. Additionally, many educational institutions utilize their placement performance rate as a success measurement that facilitates or justifies an ROI for graduates and attending their specific college or university. Providing rational reasoning for students and parents concerning their investment in education at colleges and universities is critical (Ren, Zhu, & Warner, 2017).
Additionally, cause-effects or predictions are often assumed and misrepresented. This additional research will provide a model for furthering a greater understanding of the currently collected information from many colleges and universities. Therefore, the global problem at hand is the need for additional research related to colleges' and universities' placement rates.
Purpose
My research purpose is to provide additional research and information related to the fluctuations of placement trends for college graduates in two critical performance areas: placement in professional careers and advanced education matriculation for graduates in their selected professions. I was taking a quantitative-causal-comparative/quasi-experimental model using a Chi-Square method for my research. Although testing the independence of variables, the inverse results will be used in attempting to identify cause-effect relationships of individual independent variables related to placement rates. I will not duplicate any independent variables but measure the effects of a single independent variable on placement rates. Performing this research individually but on a host of independent variables. I will provide a globally useful model for educational institutions to utilize.
Therefore, quantitative research will be utilized for analyzing existing data currently captured by a targeted college. Underemployed graduates exhibit vocational distress and natural resilience. Their research shows underemployment or finding meaningful employment is a valid concern. Additionally, their studies indicate that the number of college graduates has increased during the past few years as the rate of satisfying and appropriate employability has decreased. They are reinforcing, even more, the need for my research.
Background Literature
Researchers in education and professional development has been on the frontline to study the transition of college graduates from student to professional career placement or educational matriculation. The following is a summary of base research related to the identified problem:
Okolie et al. (2019) indicate that a lack of generic and entrepreneurial skills decreases graduates' ability to find employment. Recommendations for higher partnerships and intern programs as part of the findings.
Abbasi et al. (2018) find that graduates did not have the skill sets needed to perform their post-graduate jobs. Deficiencies were related to the graduate's soft skills and not as much to the technical skills required. The research indicated that these deficiencies did not reduce employability but rather contributed to issues dealing with the challenges of the workforce once employed.
Wyonch (2019) investigated co-op programs and their benefit for graduates entering the workforce. The research reinforces the benefit of work-integrated learning (WIL) for graduates and transition programs to the workforce. Additionally, the study indicated higher wages and permanency of employment for co-op participants. At present stem, subjects are beneficial to art social science, co-op programs, and education.
Jackson & Tomlinson ( 2019).The study supports that professionals should assist students during the senior year to recognize their university experience values. Employability is all about developing reflective, critical abilities with an assessment of enhancing and empowering the learner. Their research also supported the idea that professional development is a critical factor rooted in superior student counseling and instruction. Additionally, they identified that, along with acquiring knowledge and skills, understanding the working environment is a significant aspect needed to provide proper professional development and career placement. However, the absence of these essential skills promotes challenges in securing professional employment or continuing with their education in relevant fields of study.
Miller and Hurlock (2017) focused on the level of education offered by non-research-intensive undergraduate institutions. Their research indicated that more female students enroll in these institutions than their male counterparts, thus ultimately explaining that the overall downward fluctuation for successful career placement rates of graduates might be gender-related gender-related.
Cite this page
A Sequential Study of Graduates' Employment or Acceptance for Continuing Education - Free Essay. (2023, Sep 19). Retrieved from https://speedypaper.com/essays/a-sequential-study-of-graduates-employment-or-acceptance-for-continuing-education
Request Removal
If you are the original author of this essay and no longer wish to have it published on the SpeedyPaper website, please click below to request its removal: