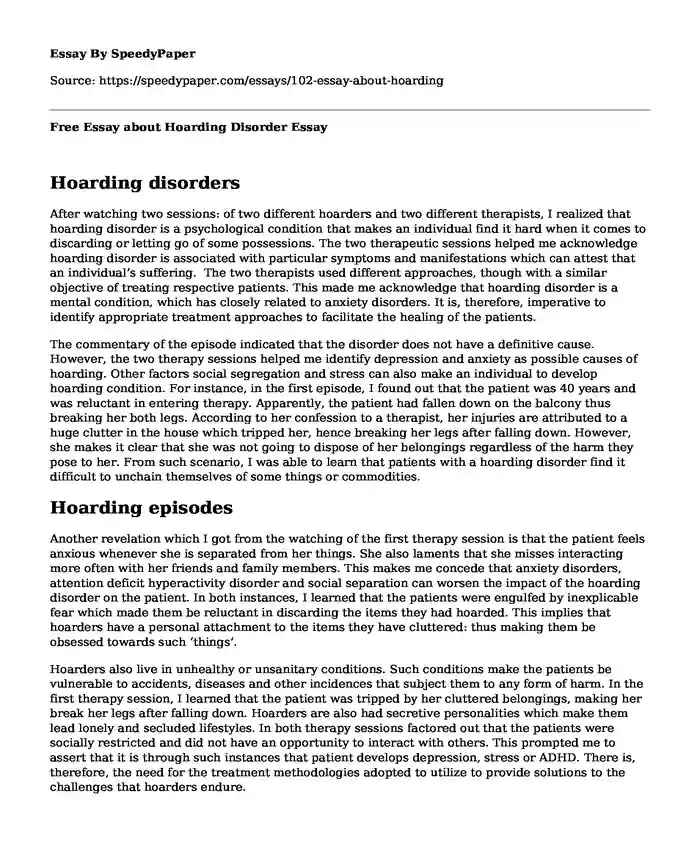 Hoarding disorders
After watching two sessions: of two different hoarders and two different therapists, I realized that hoarding disorder is a psychological condition that makes an individual find it hard when it comes to discarding or letting go of some possessions. The two therapeutic sessions helped me acknowledge hoarding disorder is associated with particular symptoms and manifestations which can attest that an individual's suffering. The two therapists used different approaches, though with a similar objective of treating respective patients. This made me acknowledge that hoarding disorder is a mental condition, which has closely related to anxiety disorders. It is, therefore, imperative to identify appropriate treatment approaches to facilitate the healing of the patients.
The commentary of the episode indicated that the disorder does not have a definitive cause. However, the two therapy sessions helped me identify depression and anxiety as possible causes of hoarding. Other factors social segregation and stress can also make an individual to develop hoarding condition. For instance, in the first episode, I found out that the patient was 40 years and was reluctant in entering therapy. Apparently, the patient had fallen down on the balcony thus breaking her both legs. According to her confession to a therapist, her injuries are attributed to a huge clutter in the house which tripped her, hence breaking her legs after falling down. However, she makes it clear that she was not going to dispose of her belongings regardless of the harm they pose to her. From such scenario, I was able to learn that patients with a hoarding disorder find it difficult to unchain themselves of some things or commodities.
Hoarding episodes
Another revelation which I got from the watching of the first therapy session is that the patient feels anxious whenever she is separated from her things. She also laments that she misses interacting more often with her friends and family members. This makes me concede that anxiety disorders, attention deficit hyperactivity disorder and social separation can worsen the impact of the hoarding disorder on the patient. In both instances, I learned that the patients were engulfed by inexplicable fear which made them be reluctant in discarding the items they had hoarded. This implies that hoarders have a personal attachment to the items they have cluttered: thus making them be obsessed towards such 'things'.
Hoarders also live in unhealthy or unsanitary conditions. Such conditions make the patients be vulnerable to accidents, diseases and other incidences that subject them to any form of harm. In the first therapy session, I learned that the patient was tripped by her cluttered belongings, making her break her legs after falling down. Hoarders are also had secretive personalities which make them lead lonely and secluded lifestyles. In both therapy sessions factored out that the patients were socially restricted and did not have an opportunity to interact with others. This prompted me to assert that it is through such instances that patient develops depression, stress or ADHD. There is, therefore, the need for the treatment methodologies adopted to utilize to provide solutions to the challenges that hoarders endure.
Apparently, therapy plays a significant role when it comes to the treatment of the hoarding disorder. From both sessions, I learned that the treatment/therapy commences once an individual acknowledges the existence of a problem that might have paved the way for the hoarding behavior. At this juncture, a therapist will face the challenges that emanate from a patient's reluctance in accepting to be helped. Sometimes, the hoarders will refuse to accept a therapy's assertion that they have a problem and they need treatment. I realized that it is a challenging task for a therapist to convince a hoarder to be treated.
Hoarding disorder treatment
I considered exposure therapy to be a suitable approach as far the treatment of the hoarding disorder is concerned. While using this strategy, I saw the therapist encouraging the patient to face his anxiety through organization and arrangement skills. This helped a hoarder to make an informed decision on what items he was supposed to be discarded as well as those items that are meant to be kept. A therapy is able to oversee these activities while at the same time monitoring a patient's anxiety levels. I came to understand that an exposure therapy is important when it comes to altering maladaptive thoughts, which ultimately helps in suppressing hoarding behaviors. I also find out that harm-reduction methods are significant complementary methods to the therapy. This involves stopping compulsive acquiring or clearing a hoarder's homestead. For this strategy to be a success, there is the need of setting minor, achievable targets. This is done with an aim of improving the safety and well-being of the patient. Medications can also be utilized in the treatment of comorbid conditions.
Through the watching of the episode involve two therapy sessions, I was able to decipher a lot regarding the hoarding disorder. I realized that patients with this condition need a suitable treatment which is vital in helping them cope with challenges associated with a hoarding disorder. It is, therefore, essential for therapists to adopt appropriate methods when treating patients with hoarding conditions.
Cite this page
Free Essay about Hoarding Disorder. (2018, Feb 14). Retrieved from https://speedypaper.com/essays/102-essay-about-hoarding
Request Removal
If you are the original author of this essay and no longer wish to have it published on the SpeedyPaper website, please click below to request its removal: