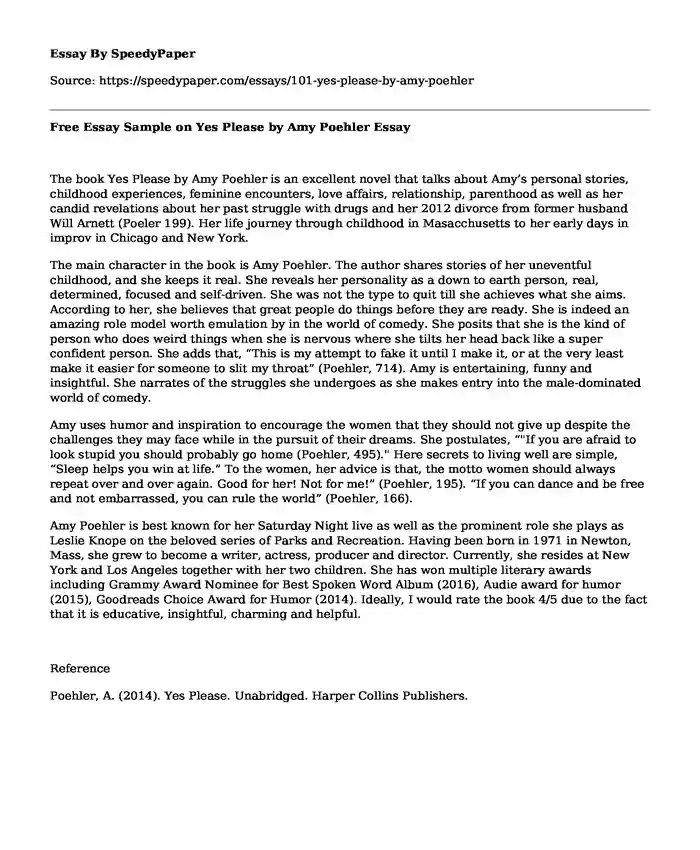 The book Yes Please by Amy Poehler is an excellent novel that talks about Amy's personal stories, childhood experiences, feminine encounters, love affairs, relationship, parenthood as well as her candid revelations about her past struggle with drugs and her 2012 divorce from former husband Will Arnett (Poeler 199). Her life journey through childhood in Masacchusetts to her early days in improv in Chicago and New York.
The main character in the book is Amy Poehler. The author shares stories of her uneventful childhood, and she keeps it real. She reveals her personality as a down to earth person, real, determined, focused and self-driven. She was not the type to quit till she achieves what she aims. According to her, she believes that great people do things before they are ready. She is indeed an amazing role model worth emulation by in the world of comedy. She posits that she is the kind of person who does weird things when she is nervous where she tilts her head back like a super confident person. She adds that, "This is my attempt to fake it until I make it, or at the very least make it easier for someone to slit my throat" (Poehler, 714). Amy is entertaining, funny and insightful. She narrates of the struggles she undergoes as she makes entry into the male-dominated world of comedy.
Amy uses humor and inspiration to encourage the women that they should not give up despite the challenges they may face while in the pursuit of their dreams. She postulates, ""If you are afraid to look stupid you should probably go home (Poehler, 495)." Here secrets to living well are simple, "Sleep helps you win at life." To the women, her advice is that, the motto women should always repeat over and over again. Good for her! Not for me!" (Poehler, 195). "If you can dance and be free and not embarrassed, you can rule the world" (Poehler, 166).
Amy Poehler is best known for her Saturday Night live as well as the prominent role she plays as Leslie Knope on the beloved series of Parks and Recreation. Having been born in 1971 in Newton, Mass, she grew to become a writer, actress, producer and director. Currently, she resides at New York and Los Angeles together with her two children. She has won multiple literary awards including Grammy Award Nominee for Best Spoken Word Album (2016), Audie award for humor (2015), Goodreads Choice Award for Humor (2014). Ideally, I would rate the book 4/5 due to the fact that it is educative, insightful, charming and helpful.
Reference
Poehler, A. (2014). Yes Please. Unabridged. Harper Collins Publishers.
Cite this page
Free Essay Sample on Yes Please by Amy Poehler. (2018, Mar 23). Retrieved from https://speedypaper.com/essays/101-yes-please-by-amy-poehler
Request Removal
If you are the original author of this essay and no longer wish to have it published on the SpeedyPaper website, please click below to request its removal: