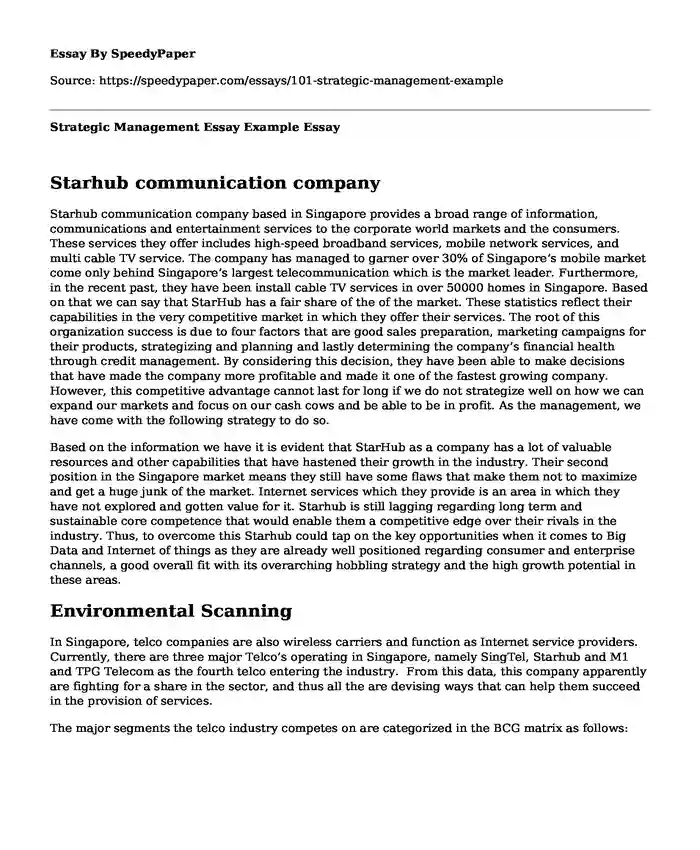 Starhub communication company
Starhub communication company based in Singapore provides a broad range of information, communications and entertainment services to the corporate world markets and the consumers. These services they offer includes high-speed broadband services, mobile network services, and multi cable TV service. The company has managed to garner over 30% of Singapore's mobile market come only behind Singapore's largest telecommunication which is the market leader. Furthermore, in the recent past, they have been install cable TV services in over 50000 homes in Singapore. Based on that we can say that StarHub has a fair share of the of the market. These statistics reflect their capabilities in the very competitive market in which they offer their services. The root of this organization success is due to four factors that are good sales preparation, marketing campaigns for their products, strategizing and planning and lastly determining the company's financial health through credit management. By considering this decision, they have been able to make decisions that have made the company more profitable and made it one of the fastest growing company. However, this competitive advantage cannot last for long if we do not strategize well on how we can expand our markets and focus on our cash cows and be able to be in profit. As the management, we have come with the following strategy to do so.
Based on the information we have it is evident that StarHub as a company has a lot of valuable resources and other capabilities that have hastened their growth in the industry. Their second position in the Singapore market means they still have some flaws that make them not to maximize and get a huge junk of the market. Internet services which they provide is an area in which they have not explored and gotten value for it. Starhub is still lagging regarding long term and sustainable core competence that would enable them a competitive edge over their rivals in the industry. Thus, to overcome this Starhub could tap on the key opportunities when it comes to Big Data and Internet of things as they are already well positioned regarding consumer and enterprise channels, a good overall fit with its overarching hobbling strategy and the high growth potential in these areas.
Environmental Scanning
In Singapore, telco companies are also wireless carriers and function as Internet service providers. Currently, there are three major Telco's operating in Singapore, namely SingTel, Starhub and M1 and TPG Telecom as the fourth telco entering the industry. From this data, this company apparently are fighting for a share in the sector, and thus all the are devising ways that can help them succeed in the provision of services.
The major segments the telco industry competes on are categorized in the BCG matrix as follows:
Mobile, Broadband, Pay TV
The primary drivers of the mobile market are the population growth rate and smartphone penetration rate. Despite a high penetration rate of 85%, the rate of increase of new mobile subscribers is expected to stagnate around the range of 1-2% (Singstat,2016). Given the limited population growth rate and relatively saturated market, growth in the mobile market will likely slow down.
Demand for broadband has been on the increase over the last few years as more consumers switch to optical fiber broadband.
Currently, all 3 Telco's in Singapore offer their Pay TV services. Also, they have been facing competition from over the top (OTT) content providers such as Netflix and ViewQwest. Therefore, there is high competition for this segment, and it will be challenging to retain their subscriber base.
Summary of BCG Analysis
The environment is highly competitive for the mobile, broadband and Pay TV segments and thus we should continue to cash in for Mobile, Broadband, Device Sales and focus our investments on the next generation of Big Data and IOT solutions. These are high growth industries and represent the next cash cows for the future, the goal here is to capture market share faster than SingTel - and to build barriers to entry via network effects of storing data
III. TOWS Analysis
Strengths

Weaknesses

Opportunities

S2: Highly focus on external innovation

O1: IOT as a good position in future:

Business Level

Focus on innovative programs geared towards IOT

Strong enterprise cloud services + Optimistic outlook for Big Data:

Business Level

Focus on the growing demand of Big Data services for enterprise customers

W2: Weak profit margins

O2: Optimistic outlook for Big Data:


Business Level

Higher focus on Big Data and creating future opportunities to overcome weak profit margins

Threats

S2: Highly focus on external innovation

T1: Threat of new entrants and existing rivalry:

Business Level

Focusing efforts on product/ service innovation via incubator program which allows for higher differentiation and mitigates threat of price war

S4: Reasonably strong financial position

T2:Increasing risk of cybersecurity:

Business Level

Setting up new functions to protect consumer's cybersecurity is possible with high financial resources and investing in skilled personnel cyber issues.

W1: High focus on local market

T1: Threat of new entrants and existing rivalry:

Corporate Level

Expansion to developing nations where telco infrastructure and services are not well-established
Strategy Formulation
After analyzing the macro-environment and evaluating the external and internal factors, we have come up with an overarching strategy that comprises of both the corporate and business level to help StarHub better tap into high growth technologies and to convert the Question Marks into Stars, while still harvesting the cash cows to keep a healthy cash flow.
The strategies can be divided into (1) Corporate level strategies and (2) Business level strategy.
(1) Corporate Level Strategy
A. Venturing into new markets
Growth strategies
The demand for the use of Internet, TV services in various parts of the world is a ready market especially for a company like starHub. Through identifying of SEA regions where these services are in demand we recommend that star hub due to its competitive nature should consider expanding their activities to these areas.
Acquisition
in the SEA region, not all companies are successful in their endeavors and thus because star hub has established itself as a successful in this business they should consider purchasing firms that are failing especially in SEA region.
Long term contracts
In business making good partnership is key to survival in the harsh and unpredictable market. Getting into business is what we would advise star hub to consider to help them deliver their services especially in foreign markets. This would reduce the burden of new business issues and ensure service is delivered without any hitches.
Business Level Strategy
Develop Internet of Things (IOT) capabilities
Internet of things represents a paradigm shift in technology yet to be fully realized in Singapore, where our physical environment and everyday objects we interact with can receive and send data via the internet. Thus, we recommend that Starhub pursues Concentration strategies via vertical integration in their IOT segment. We have selected this part due to the high growth potential of this segment where we can classify it as being a question mark for Starhub, where market share is flat and fragmented amongst many small providers.
As highlighted in our SWOT analysis, Starhub is well-positioned to roll out even larger IOT initiatives as it has already experienced retailing IOT solutions on a smaller scale to consumers, and it complements the hobbling strategy of Starhub where IOT devices can now form the basis of a digital hub for consumers and corporate accounts (Appendix-diagram illustrating how Starhub can be an integral part of the home). In other words, hobbling extends beyond Mobile devices, pay TV and Broadband, and into the workplace or home environment interconnected via IOT devices.
Rationale for Focusing on Enterprise Accounts
This strategic focus will synergize especially well for corporate accounts that have already subscribed to Starhub's Big Data analytics service. By providing IOT solutions to enterprise accounts, StarHub can generate data which can then be synched to the business' pre-existing data analytics. Overall, the creation of a seamless experience for data analysis will provide essential insights for corporate clients without the need for extensive analysis and number crunching.
Furthermore, as more consumers utilize IOT, more data and insights can be generated which enterprise customers can leverage on for outreach, marketing, and product development purposes, thereby creating a network effect where Starhub's data mining progressively improves as more consumers and businesses use it. As of now, Starhub generates its data from Pay TV users, broadband users and mobile data subscribers, and this data will proceed to become richer with the increasing trend of IOT use.
| | |
| --- | --- |
| Pros | Cons |
| Developing a new high growth revenue stream - Possibly into a new core competence | Timing may not be right - thus solutions provided may not be up to par with expectations of consumers and enterprises - Possibly wrong timing where technology isn't up to par with expectations of enterprises and consumers |
| Highly feasible due to synergy with existing overarching strategy - strong financial resources | Forming barriers to entry may be difficult - Large array of solutions and products available, competing Telco's can become their channel partners |
| Complements existing product offerings - Mobile data, Mobile Devices, Internet Broadband | |
After evaluating this strategy, the high potential for growth, synergy with existing strategies and product offerings highlights high feasibility and the concerns addressed can be overcome should Starhub aggressively market and push to provide IOT Solutions.
Focus on product and service innovation via Starhub's i3 initiative
Corporations around the world are jumping onto the innovation bandwagon, launching incubators and venture funds of their own to bring promising ideas under their roofs and Starhub is no exception. Since 2014, StarHub has hopped onto the bandwagon to launch its i3 incubator program with the aim of transforming the organization from a 'dinosaur' to an all-rounded technology company (Lee, 2014). The launch of Crowdtivate has provided startups the necessary funds, expertise and resources that they would need to scale the business.
Bearing in mind the high level of competition amongst existing rivals, StarHub needs to differentiate itself with its customer service to their clients - in this case the entrepreneurs. With a variety of attractive incubator programs available in the market, StarHub would need to signal to entrepreneurs its sincerity in establishing a long-term partnership with them.
However, there seems to be a lack of commitment to the Crowdtivate platform in the recent two years. It appears that the hype for such incubation program has been replaced by a heavier emphasis on the mobile and broadband segment for StarHub.
| | |
| --- | --- |
| Pros | Cons |
| Enhance innovation capabilities that would be critical to long term success | High uncertainty and risk as there is a high failure rate among startups |
| | Needs a long time before seeing tangible results |
While Crowdtivate can help StarHub to enhance its innovation capacity, the amount of resources invested in the startups might not be worth it given that 80% of the startup fail within the first 18 months (Quote). Thus, the risk associated with running incubator program might not be able to generate substantial ROI in the short term and would require long term commitment before one could see tangible results.
After weighing the pros and cons of this strategy, it would be more apt to keep this as a long term strategy as StarHub continuously innovate to find new potential market.
Further develop Big Data services for enterprise customers
Over the last few years, data usage in general has been increasing due to higher penetration rate and increased demand (Kurian, 2015). This illustrates the huge growth potential in Big Data services, in which Starhub can tap on to boost its revenue streams.
With this optimistic outlook on Big Data's growth coupled with low profit margins, it is recommended for Starhub to devote more resources in managing and creating value to its enterprise customers with a focus on the collection and management of Big Data. StarHub can potentially expand its data analytics unit and re-package them to cross-sell to specific enterprise accounts in different industries.
Besides engaging in service differentiation, Starhub should tap on this opportunity to create future products and services to its clients through diversification, which may lead to future global opportunities. At the same time, enterprise clients can receive more differentiated and unique solutions, thereby reducing the threat of substitution.
| | |
| --- | --- |
| Pros | Cons |
| Differentiation and thereby, raising the barriers to entry | Increased costs and manpower requirement in data analytics and security departments |
| Cross selling is possible by bundling with enterprise cloud services | Convergence and competition between Starhub and other data analytics firms |
| Creating future opportunities in the field of data management | May be easily replicable by the other Telco's |
| Build trust and reliability amongst clients and brand loyalty | |
We find this strategy to be a viable one despite it increasing the competitive landscape as well as its ease of replication. With the growing need for data management services, we recommend that Starhub adopt this strategy to meet this growing demand.
Developing Cyber Security function
As the world gets increasingly connected, consumers and businesses are more concerned about their data privacy. Starhub is currently heightening its profile as an "Enterprise Grade" provider in the business community and is rapidly expanding in enterprise solutions and services for corporate customers. Starhub in the recent past has witnessed a lot of cyber-attacks thus is a major business threat which needs to be addressed and allow for the smooth operation of the company.
StarHub currently provides a wide suite of security solutions, ranging from network, endpoint to web security solutions. With Starhub's relatively strong financial position, it could consider devoting more resources to strengthen its cyber-security functions, thereby increasing trust and reliability in the business. Furthermore, with the new entrant of TPG Telecom, such a strategy would raise the barriers to entry and make the entrance the already saturated market even more challenging.
| | |
| --- | --- |
| Pros | Cons |
| Growing concern with regards to data privacy | Costly to implement |
| Relatively strong financial position to provide cyber security functions | Easily replicable by its existing competitors |
After weighing the pros and cons of this strategy, we felt that it would be wise to keep this as a long term strategy where StarHub should continuously develop alongside with the growth of IOT and Big data.
Strategy Implementation
At this point the company's leaders must define when the strategy should be implemented and who specifically can be crucial in the implementation of this business. identifying the individuals to carry out the implementation and how this can align with the normal operations of starhub. The management must make sure all the necessary requirements are met before the beginning of the strategic implementation.
After discussing the various aspect that StarHub can possibly tap on, we now narrow down our strategies to focus solely on IOT and Big Data. However before moving in we as a company should first advertise about IOT and Big Data, what are they about? How can they get these services? and how can this improve their services. prices plus requirements for the full package shall be availed to the population so they can know what starhub wants to do. An in-depth explanation of how these two strategies will be integrated are as follow:
Key target audience for Big Data
StarHub can direct more effort in targeting the retail industry through the provision of key analytics to retail owners with regards to the movement patterns of shoppers and their dwelling times in malls across Singapore. Since the marketing and leasing teams in the retail industry are one of the key users of data analytics, generating valuable data insights for this segment of corporate clients would be a viable stream of revenue for StarHub to tap on. As leaders of the company we can create more sales campaign where we can market the services more on other digital platforms.
Other than the retail industry, StarHub can potentially focus on media agencies and research companies who will require Big Data to provide their clients a more in-depth and holistic view of target audiences. For instance, given Starhub's expertise in providing location-centric data, media agencies can therefore, generate insights and provide advertising strategies that are more apt for their clients. Providing discounts plus free installation to their clients can help in ensuring that they
How big data capabilities will be developed
IOT
In rolling out the internet of things (IOT), StarHub must take into consideration and concentrate on this idea using vertical integration because they can do so. Give the huge base of retail customers of cable TV, mobile internet bringing in this approach is more likely to make them choose StarHub as a company of choice when it comes to the web. Being financially stable and with experience and a host of natural resources makes this company very much suitable for implementing this idea.
- Focusing on enterprise accounts
- Acquire IOT business solutions (United Inbox)
- Form strategic partnerships with IOT hardware manufacturers
Given the fact that some corporate have already subscribed to Starhub's services this provides an opportunity for them to easily sell their services since this corporate agencies and consumers are already in good working terms. By rolling new strategy the they can get market and feedback regarding IOT strategy they are going to roll out.
Along with acquiring other IOT business solutions, Starhub would also need to form strategic partnerships with IOT hardware manufacturers such as IPI Singapore or Mouser Electronics whom will be able to provide the various processors, wireless chips, microcontrollers, and other components. Such strategic partnerships would provide Starhub the specialized technical and creative expertise needed while it focuses on the necessary product development, marketing, manufacturing, and distribution capabilities.
- Combine traditional methods of data collection & data collected from IOT
- Analyze data collected (information is sent back and forth to clients) subscriptions
- Provide data analytics services to clients and create unique solution for customers
- Provide discounts to clients over a certain to attract more customers on a given period
Doing this mainly via retailing other offerings provided by startups + Own Crowdtivate program and pivoting it mainly for IOT ideas
Based on Starhub's strong financial position as well as extensive experience with retailing services as well as physical products, Starhub can choose to become channel partners with companies providing IOT solutions and forming long-term contracts. The focus here would be to attain exclusive distributorship of these solutions and thus, securing a foothold for a first mover's advantage and preventing competing telco's to adopt the same strategy.
In order to further develop IOT as a distinctive core competence which other competitors are unable to easily imitate, Starhub should pivot its Crowdtivate incubator program to focus on IOT solutions which Starhub can then proceed to acquire. High potential solutions can be acquired by Starhub and then fully funded to position them for growth
Evaluation and Control
Balanced Scorecard
- Financial
From the financial perspective,
- Customer
- Internal business perspective
- Innovation and learning
Strategy

Goals

objectives

Measure

Target

customers

Working with Starhub's customers to identify their needs and what they believe the company should improve on

Resolve customer needs by working on the issues they world like addressed

Changing business conditions

Customers' needs addressed

5/5

Creating a customer department for customers

Number of suggestions presented

Success/fail

Building good business relation with the customers

Applying new communication techniques

Number of response received per day

5

Making starhub contacts working and ready for customers issues

Number of calls received per

Satisfied/not satisfied

Financials

Funding of the new strategy with reasonable financing

Creating a strategic and cost saving program

Ensure funds are utilized well in rolling out of the new strategy

Percentage of initiatives that have resulted in productive use of finances

80%

Making the management accountable for finances placed in the new strategy

Ensure a detailed report is provided after a given period on how finances have been used to achieve the resources.

Percentage of finances used well

75%

Internal processes

Ensure all the necessary procedure in provision of the services such as the internet is well managed by starhub

Improvement of service delivery

Ensure that all customers and corporations receive the services provided with little hitches

Feedback from customers and corporations on the services we provide

4/5

Effective implementation of the strategy

Strategies that facilitated the achievement of goals

Percentage of goals met

85%

Innovation

Starhub despite being a giant in communication industry further would like to improve innovation by encouraging new ones.

Promote various types of innovations that can improve operations such innovations to combat cybercrime

Finance the innovations at their disposal through financing their launching and operation

Calculating the return on investments on this innovation

70%
Cite this page
Strategic Management Essay Example. (2018, Oct 25). Retrieved from https://speedypaper.com/essays/101-strategic-management-example
Request Removal
If you are the original author of this essay and no longer wish to have it published on the SpeedyPaper website, please click below to request its removal: