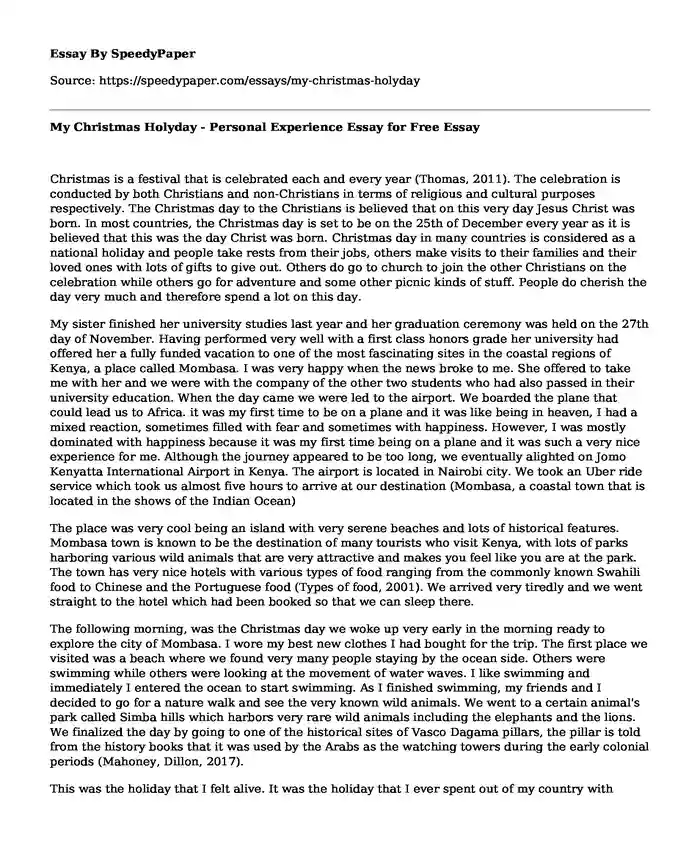 Christmas is a festival that is celebrated each and every year (Thomas, 2011). The celebration is conducted by both Christians and non-Christians in terms of religious and cultural purposes respectively. The Christmas day to the Christians is believed that on this very day Jesus Christ was born. In most countries, the Christmas day is set to be on the 25th of December every year as it is believed that this was the day Christ was born. Christmas day in many countries is considered as a national holiday and people take rests from their jobs, others make visits to their families and their loved ones with lots of gifts to give out. Others do go to church to join the other Christians on the celebration while others go for adventure and some other picnic kinds of stuff. People do cherish the day very much and therefore spend a lot on this day.
My sister finished her university studies last year and her graduation ceremony was held on the 27th day of November. Having performed very well with a first class honors grade her university had offered her a fully funded vacation to one of the most fascinating sites in the coastal regions of Kenya, a place called Mombasa. I was very happy when the news broke to me. She offered to take me with her and we were with the company of the other two students who had also passed in their university education. When the day came we were led to the airport. We boarded the plane that could lead us to Africa. it was my first time to be on a plane and it was like being in heaven, I had a mixed reaction, sometimes filled with fear and sometimes with happiness. However, I was mostly dominated with happiness because it was my first time being on a plane and it was such a very nice experience for me. Although the journey appeared to be too long, we eventually alighted on Jomo Kenyatta International Airport in Kenya. The airport is located in Nairobi city. We took an Uber ride service which took us almost five hours to arrive at our destination (Mombasa, a coastal town that is located in the shows of the Indian Ocean)
The place was very cool being an island with very serene beaches and lots of historical features. Mombasa town is known to be the destination of many tourists who visit Kenya, with lots of parks harboring various wild animals that are very attractive and makes you feel like you are at the park. The town has very nice hotels with various types of food ranging from the commonly known Swahili food to Chinese and the Portuguese food (Types of food, 2001). We arrived very tiredly and we went straight to the hotel which had been booked so that we can sleep there.
The following morning, was the Christmas day we woke up very early in the morning ready to explore the city of Mombasa. I wore my best new clothes I had bought for the trip. The first place we visited was a beach where we found very many people staying by the ocean side. Others were swimming while others were looking at the movement of water waves. I like swimming and immediately I entered the ocean to start swimming. As I finished swimming, my friends and I decided to go for a nature walk and see the very known wild animals. We went to a certain animal's park called Simba hills which harbors very rare wild animals including the elephants and the lions. We finalized the day by going to one of the historical sites of Vasco Dagama pillars, the pillar is told from the history books that it was used by the Arabs as the watching towers during the early colonial periods (Mahoney, Dillon, 2017).
This was the holiday that I felt alive. It was the holiday that I ever spent out of my country with family and friends. How I wish that those days would just come back, but if wishes were horses baggers could ride.

Work Cited
Agar, Sandie. "Types of Food." Small Animal Nutrition, 2001, pp. 25-35., doi:10.1016/b978-0-7506-4575-1.50006-5.
"Christmas, Thomas." Benezit Dictionary of Artists, 2011, doi:10.1093/benz/9780199773787.article.b00037997.
Mahoney, Dillon. "Mombasa Marginalized." University of California Press, 2017, doi:10.1525/california/9780520292871.003.0002.
Cite this page
My Christmas Holyday - Personal Experience Essay for Free. (2022, Feb 21). Retrieved from https://speedypaper.com/essays/my-christmas-holyday
Request Removal
If you are the original author of this essay and no longer wish to have it published on the SpeedyPaper website, please click below to request its removal: