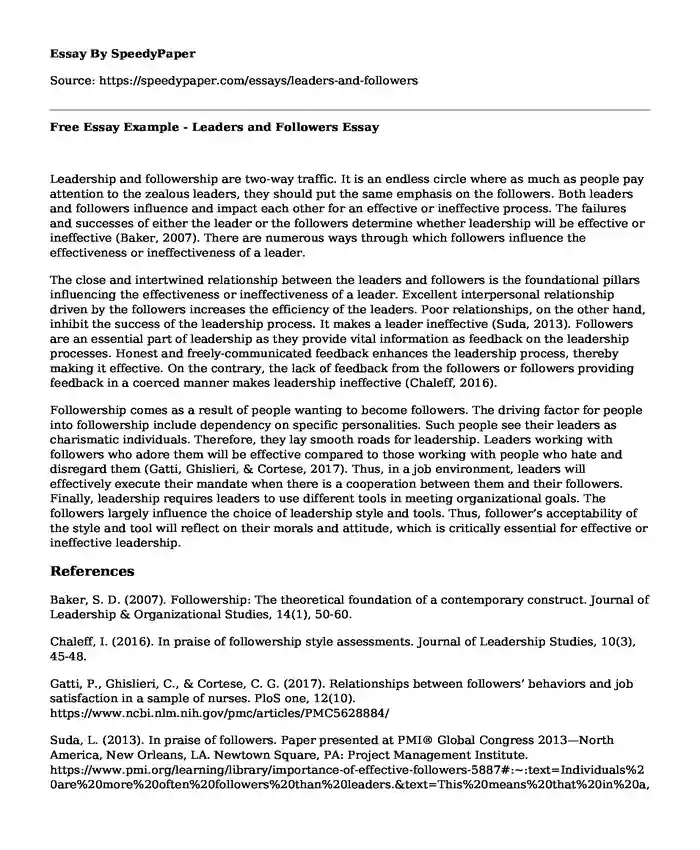 Leadership and followership are two-way traffic. It is an endless circle where as much as people pay attention to the zealous leaders, they should put the same emphasis on the followers. Both leaders and followers influence and impact each other for an effective or ineffective process. The failures and successes of either the leader or the followers determine whether leadership will be effective or ineffective (Baker, 2007). There are numerous ways through which followers influence the effectiveness or ineffectiveness of a leader.
The close and intertwined relationship between the leaders and followers is the foundational pillars influencing the effectiveness or ineffectiveness of a leader. Excellent interpersonal relationship driven by the followers increases the efficiency of the leaders. Poor relationships, on the other hand, inhibit the success of the leadership process. It makes a leader ineffective (Suda, 2013). Followers are an essential part of leadership as they provide vital information as feedback on the leadership processes. Honest and freely-communicated feedback enhances the leadership process, thereby making it effective. On the contrary, the lack of feedback from the followers or followers providing feedback in a coerced manner makes leadership ineffective (Chaleff, 2016).
Followership comes as a result of people wanting to become followers. The driving factor for people into followership include dependency on specific personalities. Such people see their leaders as charismatic individuals. Therefore, they lay smooth roads for leadership. Leaders working with followers who adore them will be effective compared to those working with people who hate and disregard them (Gatti, Ghislieri, & Cortese, 2017). Thus, in a job environment, leaders will effectively execute their mandate when there is a cooperation between them and their followers. Finally, leadership requires leaders to use different tools in meeting organizational goals. The followers largely influence the choice of leadership style and tools. Thus, follower's acceptability of the style and tool will reflect on their morals and attitude, which is critically essential for effective or ineffective leadership.
References
Baker, S. D. (2007). Followership: The theoretical foundation of a contemporary construct. Journal of Leadership & Organizational Studies, 14(1), 50-60.
Chaleff, I. (2016). In praise of followership style assessments. Journal of Leadership Studies, 10(3), 45-48.
Gatti, P., Ghislieri, C., & Cortese, C. G. (2017). Relationships between followers' behaviors and job satisfaction in a sample of nurses. PloS one, 12(10). https://www.ncbi.nlm.nih.gov/pmc/articles/PMC5628884/
Suda, L. (2013). In praise of followers. Paper presented at PMI® Global Congress 2013—North America, New Orleans, LA. Newtown Square, PA: Project Management Institute. https://www.pmi.org/learning/library/importance-of-effective-followers-5887#:~:text=Individuals%20are%20more%20often%20followers%20than%20leaders.&text=This%20means%20that%20in%20a,fit%20situations%2C%20especially%20their%20followers.
Cite this page
Free Essay Example - Leaders and Followers. (2023, Aug 29). Retrieved from https://speedypaper.com/essays/leaders-and-followers
Request Removal
If you are the original author of this essay and no longer wish to have it published on the SpeedyPaper website, please click below to request its removal: