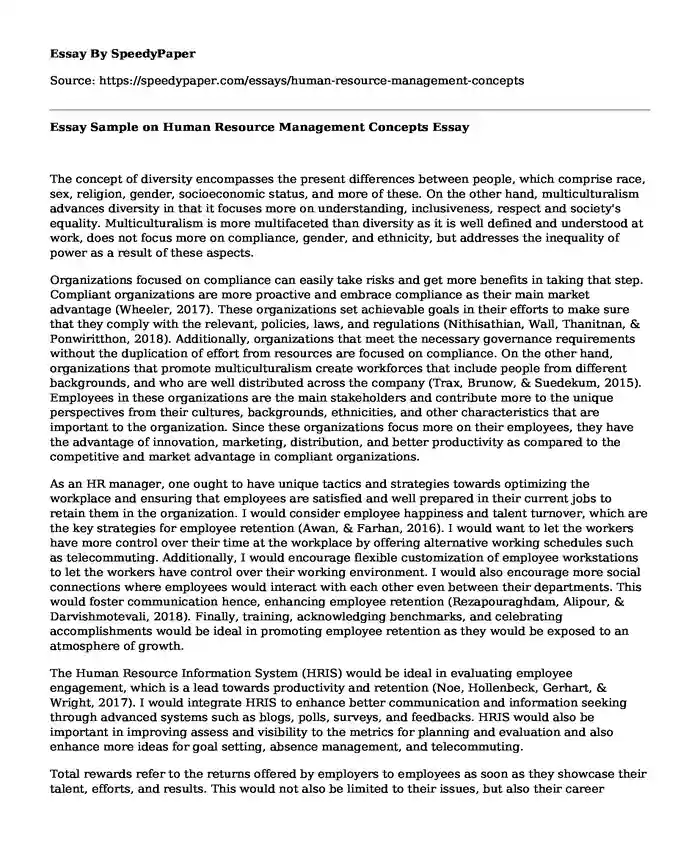 The concept of diversity encompasses the present differences between people, which comprise race, sex, religion, gender, socioeconomic status, and more of these. On the other hand, multiculturalism advances diversity in that it focuses more on understanding, inclusiveness, respect and society's equality. Multiculturalism is more multifaceted than diversity as it is well defined and understood at work, does not focus more on compliance, gender, and ethnicity, but addresses the inequality of power as a result of these aspects.
Organizations focused on compliance can easily take risks and get more benefits in taking that step. Compliant organizations are more proactive and embrace compliance as their main market advantage (Wheeler, 2017). These organizations set achievable goals in their efforts to make sure that they comply with the relevant, policies, laws, and regulations (Nithisathian, Wall, Thanitnan, & Ponwiritthon, 2018). Additionally, organizations that meet the necessary governance requirements without the duplication of effort from resources are focused on compliance. On the other hand, organizations that promote multiculturalism create workforces that include people from different backgrounds, and who are well distributed across the company (Trax, Brunow, & Suedekum, 2015). Employees in these organizations are the main stakeholders and contribute more to the unique perspectives from their cultures, backgrounds, ethnicities, and other characteristics that are important to the organization. Since these organizations focus more on their employees, they have the advantage of innovation, marketing, distribution, and better productivity as compared to the competitive and market advantage in compliant organizations.
As an HR manager, one ought to have unique tactics and strategies towards optimizing the workplace and ensuring that employees are satisfied and well prepared in their current jobs to retain them in the organization. I would consider employee happiness and talent turnover, which are the key strategies for employee retention (Awan, & Farhan, 2016). I would want to let the workers have more control over their time at the workplace by offering alternative working schedules such as telecommuting. Additionally, I would encourage flexible customization of employee workstations to let the workers have control over their working environment. I would also encourage more social connections where employees would interact with each other even between their departments. This would foster communication hence, enhancing employee retention (Rezapouraghdam, Alipour, & Darvishmotevali, 2018). Finally, training, acknowledging benchmarks, and celebrating accomplishments would be ideal in promoting employee retention as they would be exposed to an atmosphere of growth.
The Human Resource Information System (HRIS) would be ideal in evaluating employee engagement, which is a lead towards productivity and retention (Noe, Hollenbeck, Gerhart, & Wright, 2017). I would integrate HRIS to enhance better communication and information seeking through advanced systems such as blogs, polls, surveys, and feedbacks. HRIS would also be important in improving assess and visibility to the metrics for planning and evaluation and also enhance more ideas for goal setting, absence management, and telecommuting.
Total rewards refer to the returns offered by employers to employees as soon as they showcase their talent, efforts, and results. This would not also be limited to their issues, but also their career opportunities such as information from tuition, self-learned skills, and theoretical information (Akhtar, Aamir, Khurshid, Abro, & Hussain, 2015). Similarly, retention takes advantage of employees' skills and rewarding their good work through providing them with mentorship programs, compensation, work-life balance, training, transparency, and inclusion in processes such as decision-making (Akhtar, Aamir, Khurshid, Abro, & Hussain, 2015). The total rewards strategy and retention; therefore, both focus on retaining while attracting the best workers to the organization.
As an HR manager, I would consider focusing on the future, and more specifically, the interaction between employees and their managers. I would also survey the workers in the organization to seek their challenges and demands and how easily they can access information regarding the company. I would also seek the best software such as the HRIS, which meets the needs of the stakeholders in the organization. A vendor-neutral consideration would be best in determining if there has been a positive impact on employee retention.
Recruiting, selection, training, and development are important integrals of human resource management, commonly concerned with workers and their relationships within the organization. Through recruitment, an organization can better identify and attract potential candidates to start evaluating them for future incorporation into the organization (Noe, Hollenbeck, Gerhart, & Wright, 2017). In an organizational strategy with advanced productivity, recruitment can enhance the monitoring of the best candidates for a position. Selection in organizations in important in enabling decision making on the candidates to be allowed into the organization while training and development programs deficiencies in employees and makes them versatile in the normal duties (Noe et al., 2017). Thorough selection, candidates can better be evaluated for their skills and the best of them preferred over the mass. Training and development let the best employees be equipped with the necessary skills to create viable plans to meet the organizations demands, goals, and objectives (Noe et al., 2017).
The HR function is effective in determining how the organization would work towards meeting its strategic objectives (Collings, Wood, & Szamosi, 2018). The HR function of the organization worked for in the past included a comparison of the extent of the activities of the leaders to the HR system over a predefined period. The departments of marketing were primarily effective in the HR function of the organization. There was increased productivity, reduced costs, enhanced performance measurement, and improved organizational efficiency from the department. The HR function was operational in comparison to the best practice integrating the specific requirements of the organization and the improvement opportunities.
My previous organization incorporated the employee wellness program that has been effective in letting organizations realize better productivity of the organization (Ammendolia, Cote, Cancelliere, Cassidy, Hartvigsen, Boyle, & Amick, 2016). The program created was effective in reducing absenteeism, improving productivity, enhancing morale, reducing turnover, and creating self-management strategies. The initiative was effective as it addressed the rising costs of healthcare benefits by creating better options for the insiders.
A diverse workforce has been a key integral to business strategy as it lets organizations better meet their business objectives cost-effectively (Campbell, & Reyes-Picknell, 2015). One of the key ways of enhancing diversity includes avoidance of workplace discrimination, where there would be a realization of a safer and productive environment. Through this initiative, employees would be more loyal committed and focused on their jobs (Ashikali, & Groeneveld, 2015). Secondly, effective communication has been unique in a business strategy. However, it is not complete without enhancing organization diversity. Ways of communication including sending emails and social media can let employers show their customers and other stakeholders that they care about diversity and respond to the global trends. Finally, creating a transferrable environment can enhance diversity hence, promote a business strategy. For instance, employees can have more flexible schedules to enhance the demands from their areas of work and promote their work-life balance approaches.
A clear diversity program enhances the sharing of ideas and innovations from various backgrounds and cultures of the employees (Greene, 2017). The diversity program of the company previously worked for included the offering compensation for the diverse hiring practices and training. The organization once reported gender discrimination, and when other women in the workplace came forward to claim for rights equality, the subject was threatened to be let go of the organization. However, the case attracted more women, making them more robust, leading to a prompt response regarding the case hence, leading to investigations. The diversity program was, therefore, effective as it led to gender balance to the present.
Attracting the best performing employees would call for the best selection process. The streamlined selection process would be better in hiring the top talent with compelling jobs, and competitive benefits (Gatewood, Feild, & Barrick, 2015). The employer would not miss off the potential skillful candidate as compared to the complex selection process. However, some considerations would be missed off in a streamlined selection process. A lengthy and complex selection process would turn off potential candidates. However, it would also consider the best skills to take advantage (Albrecht, Bakker, Gruman, Macey, & Saks, 2015). As a job seeker, I would prefer the streamlined selection process. The complex process is tedious and would lead the preference of organizations that have greater respect for time (Stone, & Deadrick, 2015). Going through the tedious process would let me feel disengaged by the management and hence, the development of a negative perception regarding the company, especially when they take too long to respond to my application.
The selection process of my previous organization was more streamlined than complex. I took the skills, personality, and behavioral tests at the office in a swift manner. The process was effective as it addressed my demands of time and also led to the HR personnel making more informed decisions based on the answers. The prompt response led me to become more convinced that it was the organization I was looking forward to working with.
References
Akhtar, C. S., Aamir, A., Khurshid, M. A., Abro, M. M. Q., & Hussain, J. (2015). Total rewards and retention: Case study of higher education institutions in Pakistan. Procedia-Social and Behavioral Sciences, 210, 251-259.
Albrecht, S. L., Bakker, A. B., Gruman, J. A., Macey, W. H., & Saks, A. M. (2015). Employee engagement, human resource management practices and competitive advantage: An integrated approach. Journal of Organizational Effectiveness: People and Performance, 2(1), 7-35.
Ammendolia, C., Cote, P., Cancelliere, C., Cassidy, J. D., Hartvigsen, J., Boyle, E., & Amick, B. (2016). Healthy and productive workers: using intervention mapping to design a workplace health promotion and wellness program to improve presenteeism. BMC Public Health, 16(1), 1190.
Ashikali, T., & Groeneveld, S. (2015). Diversity management in public organizations and its effect on employees' affective commitment: The role of transformational leadership and the inclusiveness of the organizational culture. Review of Public Personnel Administration, 35(2), 146-168.
Awan, A. G., & Farhan, H. M. (2016). Talent Management Practices and their impact on Job Satisfaction of Employees: A case study of Banking Sector in Pakistan. Science International, 28(2), 1950.
Campbell, J. D., & Reyes-Picknell, J. V. (2015). Uptime: Strategies for excellence in maintenance management. Productivity Press.
Cite this page
Essay Sample on Human Resource Management Concepts. (2022, Nov 30). Retrieved from https://speedypaper.com/essays/human-resource-management-concepts
Request Removal
If you are the original author of this essay and no longer wish to have it published on the SpeedyPaper website, please click below to request its removal: