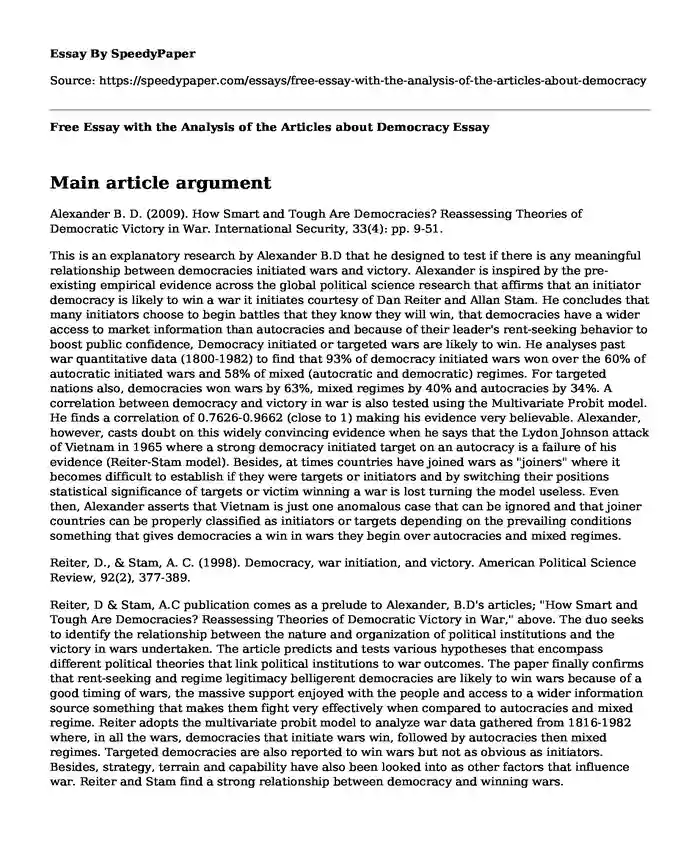 | | |
| --- | --- |
| Type of paper:  | Article review |
| Categories: | Democracy |
| Pages: | 5 |
| Wordcount: | 1213 words |
Main article argument
Alexander B. D. (2009). How Smart and Tough Are Democracies? Reassessing Theories of Democratic Victory in War. International Security, 33(4): pp. 9-51.
This is an explanatory research by Alexander B.D that he designed to test if there is any meaningful relationship between democracies initiated wars and victory. Alexander is inspired by the pre-existing empirical evidence across the global political science research that affirms that an initiator democracy is likely to win a war it initiates courtesy of Dan Reiter and Allan Stam. He concludes that many initiators choose to begin battles that they know they will win, that democracies have a wider access to market information than autocracies and because of their leader's rent-seeking behavior to boost public confidence, Democracy initiated or targeted wars are likely to win. He analyses past war quantitative data (1800-1982) to find that 93% of democracy initiated wars won over the 60% of autocratic initiated wars and 58% of mixed (autocratic and democratic) regimes. For targeted nations also, democracies won wars by 63%, mixed regimes by 40% and autocracies by 34%. A correlation between democracy and victory in war is also tested using the Multivariate Probit model. He finds a correlation of 0.7626-0.9662 (close to 1) making his evidence very believable. Alexander, however, casts doubt on this widely convincing evidence when he says that the Lydon Johnson attack of Vietnam in 1965 where a strong democracy initiated target on an autocracy is a failure of his evidence (Reiter-Stam model). Besides, at times countries have joined wars as "joiners" where it becomes difficult to establish if they were targets or initiators and by switching their positions statistical significance of targets or victim winning a war is lost turning the model useless. Even then, Alexander asserts that Vietnam is just one anomalous case that can be ignored and that joiner countries can be properly classified as initiators or targets depending on the prevailing conditions something that gives democracies a win in wars they begin over autocracies and mixed regimes.
Reiter, D., & Stam, A. C. (1998). Democracy, war initiation, and victory. American Political Science Review, 92(2), 377-389.
Reiter, D & Stam, A.C publication comes as a prelude to Alexander, B.D's articles; "How Smart and Tough Are Democracies? Reassessing Theories of Democratic Victory in War," above. The duo seeks to identify the relationship between the nature and organization of political institutions and the victory in wars undertaken. The article predicts and tests various hypotheses that encompass different political theories that link political institutions to war outcomes. The paper finally confirms that rent-seeking and regime legitimacy belligerent democracies are likely to win wars because of a good timing of wars, the massive support enjoyed with the people and access to a wider information source something that makes them fight very effectively when compared to autocracies and mixed regime. Reiter adopts the multivariate probit model to analyze war data gathered from 1816-1982 where, in all the wars, democracies that initiate wars win, followed by autocracies then mixed regimes. Targeted democracies are also reported to win wars but not as obvious as initiators. Besides, strategy, terrain and capability have also been looked into as other factors that influence war. Reiter and Stam find a strong relationship between democracy and winning wars.
Methodology
Type of study
These two articles are a mixed research with aspects of a quantitative research and qualitative research. Past war data, is gathered and percentages are ascertained on the chance of democracies that initiate wars, target, autocracies or mixed regimes winning the wars. A Correlation coefficient explaining the correlation coefficient between democracy and victory in wars is also calculated making the two types of research adopt an aspect of a qualitative research.
Method of data collection
On the method of data collection that was used in both articles, literature review seems to prevail. A lot of evidence from past published resources and theories has been used to explain hypothesis, concepts and findings. Evidenced by the bulk of reference materials cited.
Sources of data
Besides, these articles go an extra mile to gather data from an organization database (1800-1982), the Historical Evaluation and Research Organization (HERO) dataset greatly informs Alexander in his article. Reiter and Stam also read from the Correlates of War (CoW) that informs him of wars fought, 1816-1982.
Type of data
The type of data used in these articles as described in the first paragraph of the methodology is quantitative and qualitative data.
Analysis of data
Then the data is being analyzed by calculation of percentages by calculating arithmetically. In "How Smart and Tough are democracies...," Alexander explains to us the percentages of wars that democratic initiators, targets, autocracies and mixed regimes have been able to win. Reiter and Stam don't analyze their data using percentages. Data is also analyzed using Analysis of Variance (ANOVA) software where the significance of variables is tested and correlations are calculated using the multivariate probit model (MPM), in the two articles.
Contribution of conceptual and methodological differences to research findings
Conceptual framework
Analyzing by the conceptual framework underlying it entails identifying the independent and dependent variables focused on by the study. In the two pieces of research, the unit of analysis is a single nation participating in a war.
In Alexander's, "How Smart and Tough are Democracies...," the authors do not reveal their dependent and independent variables. However, the variables are well discernible from the report. The independent variable is initiating country (democracy; initiator or targets, autocracy or mixed regime) while the dependent variable is winning or losing in war.
On the other hand, Reiter and Stam's research is underlain by a number of independent variables; war initiator, state material capability (military quality), strategy terrain and alliances.
Methodological differences
There are no remarkable methodological differences as the type of data is quantitative and qualitative in nature and the methods of data collection are the same in the two types of research. Even then, Alexander's data sample space is smaller (1816-1982) as opposed to Reiter and Stam who look at pat war data (1800-1982). Reiter and Stam also delve deeper into their research by looking at past political theories, what they have got to say, forms and tests hypotheses.
How differences in approach of studies influence Findings
It then turns out, Reiter and Stam's report is more informative and more reliable; it brings new knowledge that apart from being a democracy, some other factors (alliances, terrain and material capability) greatly influence war. Besides, his observation invokes the need for more research on: what factors make democracies win, why democracies initiate wars they will win and why democratic targets perform poorer than initiators. This makes Alexander's study, shallow, less reliable and just informative without contributing much to the matter at hand.
Conclusion
Indeed, democracies have been identified as key winners in wars they begin or are targeted. However, a number of factors underlie this. Research has thus been invited to identify these factors, why democracies initiate wars they will win and why democratic targets perform poorer in war than initiators.
References
Alexander B. D. (2009). How Smart and Tough Are Democracies? Reassessing Theories of Democratic Victory in War. International Security, 33(4): pp. 9-51.
Reiter, D., & Stam, A. C. (1998). Democracy, war initiation, and victory. American Political Science Review, 92(2), 377-389.
Cite this page
Free Essay with the Analysis of the Articles about Democracy. (2022, Mar 09). Retrieved from https://speedypaper.com/essays/free-essay-with-the-analysis-of-the-articles-about-democracy
Request Removal
If you are the original author of this essay and no longer wish to have it published on the SpeedyPaper website, please click below to request its removal: