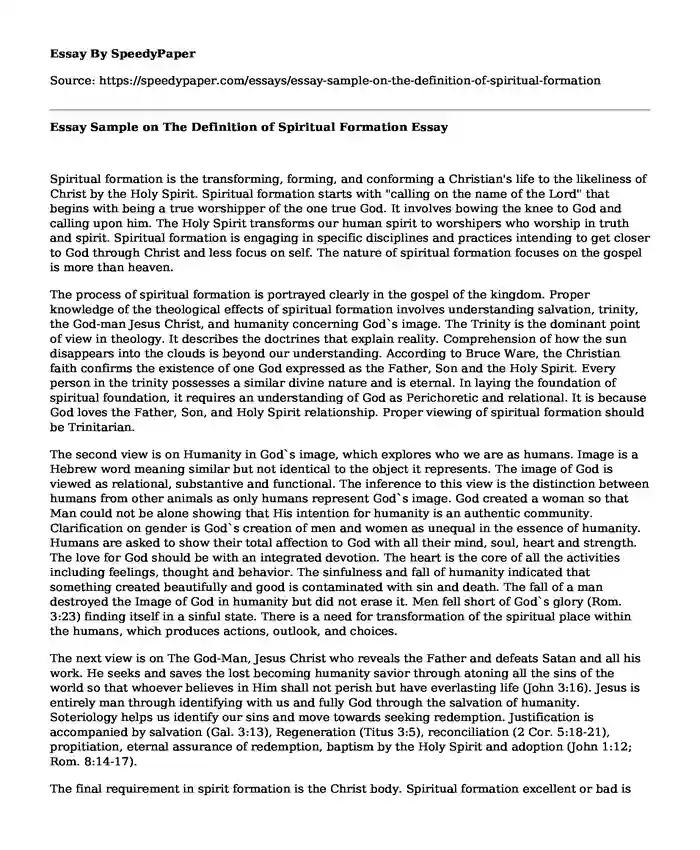 Spiritual formation is the transforming, forming, and conforming a Christian's life to the likeliness of Christ by the Holy Spirit. Spiritual formation starts with "calling on the name of the Lord" that begins with being a true worshipper of the one true God. It involves bowing the knee to God and calling upon him. The Holy Spirit transforms our human spirit to worshipers who worship in truth and spirit. Spiritual formation is engaging in specific disciplines and practices intending to get closer to God through Christ and less focus on self. The nature of spiritual formation focuses on the gospel is more than heaven.
The process of spiritual formation is portrayed clearly in the gospel of the kingdom. Proper knowledge of the theological effects of spiritual formation involves understanding salvation, trinity, the God-man Jesus Christ, and humanity concerning God`s image. The Trinity is the dominant point of view in theology. It describes the doctrines that explain reality. Comprehension of how the sun disappears into the clouds is beyond our understanding. According to Bruce Ware, the Christian faith confirms the existence of one God expressed as the Father, Son and the Holy Spirit. Every person in the trinity possesses a similar divine nature and is eternal. In laying the foundation of spiritual foundation, it requires an understanding of God as Perichoretic and relational. It is because God loves the Father, Son, and Holy Spirit relationship. Proper viewing of spiritual formation should be Trinitarian.
The second view is on Humanity in God`s image, which explores who we are as humans. Image is a Hebrew word meaning similar but not identical to the object it represents. The image of God is viewed as relational, substantive and functional. The inference to this view is the distinction between humans from other animals as only humans represent God`s image. God created a woman so that Man could not be alone showing that His intention for humanity is an authentic community. Clarification on gender is God`s creation of men and women as unequal in the essence of humanity. Humans are asked to show their total affection to God with all their mind, soul, heart and strength. The love for God should be with an integrated devotion. The heart is the core of all the activities including feelings, thought and behavior. The sinfulness and fall of humanity indicated that something created beautifully and good is contaminated with sin and death. The fall of a man destroyed the Image of God in humanity but did not erase it. Men fell short of God`s glory (Rom. 3:23) finding itself in a sinful state. There is a need for transformation of the spiritual place within the humans, which produces actions, outlook, and choices.
The next view is on The God-Man, Jesus Christ who reveals the Father and defeats Satan and all his work. He seeks and saves the lost becoming humanity savior through atoning all the sins of the world so that whoever believes in Him shall not perish but have everlasting life (John 3:16). Jesus is entirely man through identifying with us and fully God through the salvation of humanity. Soteriology helps us identify our sins and move towards seeking redemption. Justification is accompanied by salvation (Gal. 3:13), Regeneration (Titus 3:5), reconciliation (2 Cor. 5:18-21), propitiation, eternal assurance of redemption, baptism by the Holy Spirit and adoption (John 1:12; Rom. 8:14-17).
The final requirement in spirit formation is the Christ body. Spiritual formation excellent or bad is social through creating individuals who reproduce the character and life of God. We need one another to be formed in Christ's image. Spiritual formation requires accepting that God`s spirit is working and our lives are aligned with that work. Paul commands us to discipline ourselves for godliness reasons (1 Tim 4:7). The life of a believer will conform to the character of Jesus Christ. Spiritual formation ultimately is our interaction in the presence of God by walking with Him each day through prayer, worship, mental discipline, witness and obedience. Worship is the heart of the total formation of the spirit because everything flows through it.
References
Akerlund, T. (2016). "To Live Lives Worthy of God": Leadership and Spiritual Formation in I Thessalonians 2:1-12. Journal of Spiritual Formation and Soul Care, 9(1), 18-34. doi:10.1177/193979091600900103
Bekker, C. J. (2009). Towards a theoretical model of Christian leadership. Journal of Biblical Perspectives in Leadership, 2(2), 142-152.
Charlton, J., Carroll, J. W., Wheeler, B. G., Aleshire, D. O., & Marler, P. L. (1999). Being There: Culture and Formation in Two Theological Schools. Social Forces, 78(1), 399. doi:10.2307/3005820
Copan, V. (2010). Spiritual Formation and St. Paul as Spiritual Director: Determining the Primary Aims. Journal of Spiritual Formation and Soul Care, 3(2), 140-154. doi:10.1177/193979091000300203
Forrest, B. K., & Lamport, M. A. (2013). Modeling Spiritual Formation from a Distance: Paul's Formation Transactions with the Roman Christians. Christian Education Journal: Research on Educational Ministry, 10(1), 110-124. doi:10.1177/073989131301000109
Hieromonk Damascene. (2006, March 10). The Way of Spiritual Transformation, 41(3-4), 147-168. Retrieved from http://orthodoxinfo.com/praxis/spiritualtransformation.aspx
Kinsey, A. D. (2009). Spiritual Formation as if the Church Mattered: Growing in Christ through Community - By John C. Wilhoit. Reviews in Religion & Theology, 16(3), 389-392. doi:10.1111/j.1467-9418.2009.00431_4.x
Lowe, S. D., & Lowe, M. E. (2010). Spiritual Formation in Theological Distance Education: An Ecosystems Model. Christian Education Journal: Research on Educational Ministry, 7(1), 85-102. doi:10.1177/073989131000700106
Pettit, P. (Ed.). (2008). Foundations of spiritual formation: A community approach to becoming like Christ. Kregel Academic.
Porter, S. L. (2008). Sanctification in a New Key: Relieving Evangelical Anxieties over Spiritual Formation. Journal of Spiritual Formation and Soul Care, 1(2), 129-148. doi:10.1177/193979090800100202
Porter, S. L. (2014). Philosophy and Spiritual Formation: A Call to Philosophy and Spiritual Formation. Journal of Spiritual Formation and Soul Care, 7(2), 248-257. doi:10.1177/193979091400700208
Willard, D. (2000). Spiritual Formation in Christ: A Perspective on what it is and how it Might be Done. Journal of Psychology and Theology, 28(4), 254-258. doi:10.1177/009164710002800402
Cite this page
Essay Sample on The Definition of Spiritual Formation. (2023, Feb 25). Retrieved from https://speedypaper.com/essays/essay-sample-on-the-definition-of-spiritual-formation
Request Removal
If you are the original author of this essay and no longer wish to have it published on the SpeedyPaper website, please click below to request its removal: