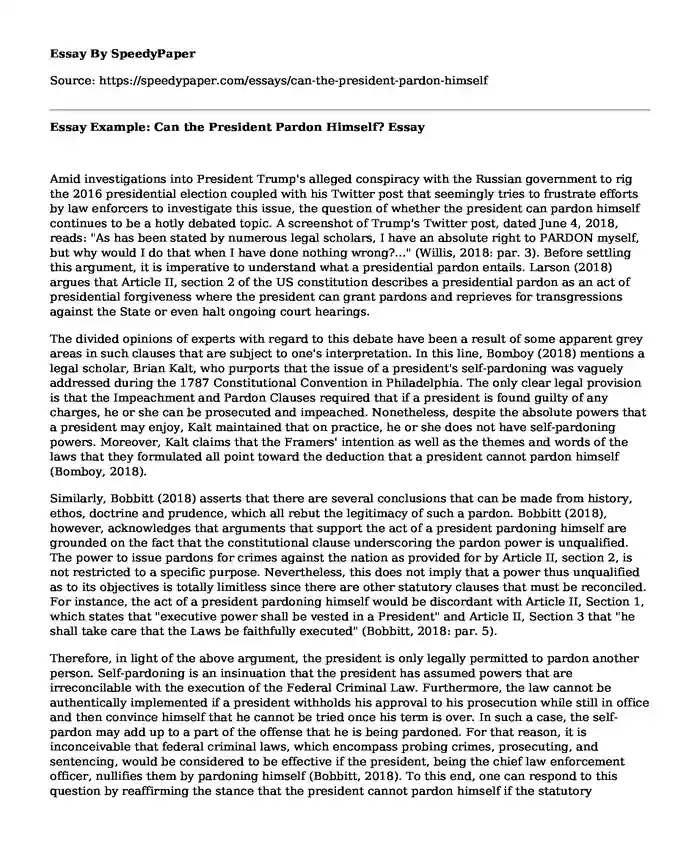 Amid investigations into President Trump's alleged conspiracy with the Russian government to rig the 2016 presidential election coupled with his Twitter post that seemingly tries to frustrate efforts by law enforcers to investigate this issue, the question of whether the president can pardon himself continues to be a hotly debated topic. A screenshot of Trump's Twitter post, dated June 4, 2018, reads: "As has been stated by numerous legal scholars, I have an absolute right to PARDON myself, but why would I do that when I have done nothing wrong?..." (Willis, 2018: par. 3). Before settling this argument, it is imperative to understand what a presidential pardon entails. Larson (2018) argues that Article II, section 2 of the US constitution describes a presidential pardon as an act of presidential forgiveness where the president can grant pardons and reprieves for transgressions against the State or even halt ongoing court hearings.
The divided opinions of experts with regard to this debate have been a result of some apparent grey areas in such clauses that are subject to one's interpretation. In this line, Bomboy (2018) mentions a legal scholar, Brian Kalt, who purports that the issue of a president's self-pardoning was vaguely addressed during the 1787 Constitutional Convention in Philadelphia. The only clear legal provision is that the Impeachment and Pardon Clauses required that if a president is found guilty of any charges, he or she can be prosecuted and impeached. Nonetheless, despite the absolute powers that a president may enjoy, Kalt maintained that on practice, he or she does not have self-pardoning powers. Moreover, Kalt claims that the Framers' intention as well as the themes and words of the laws that they formulated all point toward the deduction that a president cannot pardon himself (Bomboy, 2018).
Similarly, Bobbitt (2018) asserts that there are several conclusions that can be made from history, ethos, doctrine and prudence, which all rebut the legitimacy of such a pardon. Bobbitt (2018), however, acknowledges that arguments that support the act of a president pardoning himself are grounded on the fact that the constitutional clause underscoring the pardon power is unqualified. The power to issue pardons for crimes against the nation as provided for by Article II, section 2, is not restricted to a specific purpose. Nevertheless, this does not imply that a power thus unqualified as to its objectives is totally limitless since there are other statutory clauses that must be reconciled. For instance, the act of a president pardoning himself would be discordant with Article II, Section 1, which states that "executive power shall be vested in a President" and Article II, Section 3 that "he shall take care that the Laws be faithfully executed" (Bobbitt, 2018: par. 5).
Therefore, in light of the above argument, the president is only legally permitted to pardon another person. Self-pardoning is an insinuation that the president has assumed powers that are irreconcilable with the execution of the Federal Criminal Law. Furthermore, the law cannot be authentically implemented if a president withholds his approval to his prosecution while still in office and then convince himself that he cannot be tried once his term is over. In such a case, the self-pardon may add up to a part of the offense that he is being pardoned. For that reason, it is inconceivable that federal criminal laws, which encompass probing crimes, prosecuting, and sentencing, would be considered to be effective if the president, being the chief law enforcement officer, nullifies them by pardoning himself (Bobbitt, 2018). To this end, one can respond to this question by reaffirming the stance that the president cannot pardon himself if the statutory provisions are to be upheld.


References
Bobbitt, P. (2018). Self-Pardons: The President Can't Pardon Himself, So Why Do People Think He Can? Retrieved from https://www.lawfareblog.com/self-pardons-president-cant-pardon-himself-so-why-do-people-think-he-can
Bomboy, S. (2018). Explaining the presidential self-pardon debate - National Constitution Center. Retrieved from https://constitutioncenter.org/blog/explaining-the-presidential-self-pardon-debate
Willis, J. (2018). Can a President Pardon Himself? Donald Trump's Latest Bit of Expert Legal Analysis, Explained. Retrieved from https://www.gq.com/story/can-presidents-pardon-themselves-explainer
Cite this page
Essay Example: Can the President Pardon Himself?. (2022, Oct 27). Retrieved from https://speedypaper.com/essays/can-the-president-pardon-himself
Request Removal
If you are the original author of this essay and no longer wish to have it published on the SpeedyPaper website, please click below to request its removal: