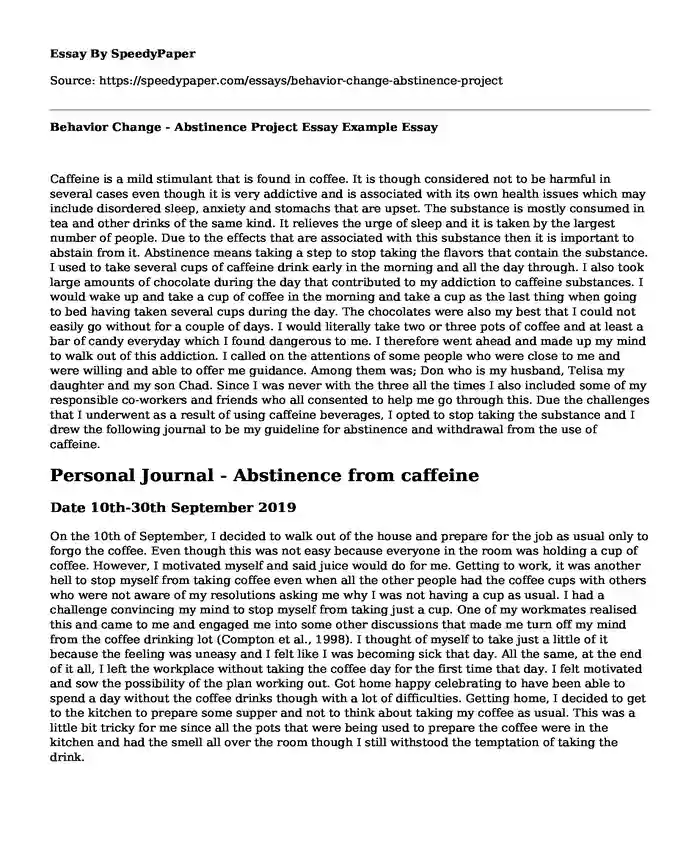 Caffeine is a mild stimulant that is found in coffee. It is though considered not to be harmful in several cases even though it is very addictive and is associated with its own health issues which may include disordered sleep, anxiety and stomachs that are upset. The substance is mostly consumed in tea and other drinks of the same kind. It relieves the urge of sleep and it is taken by the largest number of people. Due to the effects that are associated with this substance then it is important to abstain from it. Abstinence means taking a step to stop taking the flavors that contain the substance. I used to take several cups of caffeine drink early in the morning and all the day through. I also took large amounts of chocolate during the day that contributed to my addiction to caffeine substances. I would wake up and take a cup of coffee in the morning and take a cup as the last thing when going to bed having taken several cups during the day. The chocolates were also my best that I could not easily go without for a couple of days. I would literally take two or three pots of coffee and at least a bar of candy everyday which I found dangerous to me. I therefore went ahead and made up my mind to walk out of this addiction. I called on the attentions of some people who were close to me and were willing and able to offer me guidance. Among them was; Don who is my husband, Telisa my daughter and my son Chad. Since I was never with the three all the times I also included some of my responsible co-workers and friends who all consented to help me go through this. Due the challenges that I underwent as a result of using caffeine beverages, I opted to stop taking the substance and I drew the following journal to be my guideline for abstinence and withdrawal from the use of caffeine.
Personal Journal - Abstinence from caffeine
Date 10th-30th September 2019
On the 10th of September, I decided to walk out of the house and prepare for the job as usual only to forgo the coffee. Even though this was not easy because everyone in the room was holding a cup of coffee. However, I motivated myself and said juice would do for me. Getting to work, it was another hell to stop myself from taking coffee even when all the other people had the coffee cups with others who were not aware of my resolutions asking me why I was not having a cup as usual. I had a challenge convincing my mind to stop myself from taking just a cup. One of my workmates realised this and came to me and engaged me into some other discussions that made me turn off my mind from the coffee drinking lot (Compton et al., 1998). I thought of myself to take just a little of it because the feeling was uneasy and I felt like I was becoming sick that day. All the same, at the end of it all, I left the workplace without taking the coffee day for the first time that day. I felt motivated and sow the possibility of the plan working out. Got home happy celebrating to have been able to spend a day without the coffee drinks though with a lot of difficulties. Getting home, I decided to get to the kitchen to prepare some supper and not to think about taking my coffee as usual. This was a little bit tricky for me since all the pots that were being used to prepare the coffee were in the kitchen and had the smell all over the room though I still withstood the temptation of taking the drink.
12th September 2019
This was my second day in the plan to withdraw from taking caffeine. I woke up again as usual and prepared to get the job. Being that morning was cold, I could not manage to take the juice. I, therefore, decided to walk to work having parked some meal for myself. Having been used to drinking, I found it difficult to leave the house without taking a drink. My husband reminded me of the decision that I had made, and he supported my idea of carrying packed food for me (Compton et al., 1998). When I got to the office this day, the company chef brought tea in a thermos like they did not know my intention about the same. I almost forgot but immediately remembered and told her to take back the tea for it had the contents of caffeine. This was getting well for me though at some time in the day had a weird urge for coffee. I wanted coffee as I wanted it. I got back home and the support of my husband, son and daughter, I was able to forgo the coffee the second day again.
15th September 2019
This day I woke up and the urge was too much. I then decided to think of what I could do to avoid taking the substance and was like overwhelmed. I shared this with my husband who in consultation with our son and daughter agreed in one voice that we were going to make a new shopping of the beverages. They agreed that only beverages that do not have the caffeine substance in them be shopped. It was almost effective in their opinion. I went to the workplace and requested permission. I came back home and was set out to the supermarket to do the shopping. We made the selections of all the products that did not in any form have the content of caffeine. I took some other items that would be used in place of coffee but did not have the content. It was a strategy to help deal with the temptations which came when the other people were taking the drink in the house except for me (Compton et al., 1998). Going back home I prepared a drink that we all took, and everyone was satisfied it was effective. This helped me deal with the urge that I had felt during the morning of the very day. I was convinced in my heart this would work out though was mindful not to be addicted again to the other products.
17th September 2019
I woke up this day rushed to the kitchen to prepare the breakfast for the family before I would go for work. I had some of the drink I had made in a tin and packed it for my use later in the day when I had gone. At the office, when the time came for the break, all people were served the usual coffee except for me. Some other co-workers who did not know what was going on attacked me and were making their observations for the past one week that I did not take the traditional drink with them as I used to do. I had to explain myself to make them understand why I had to do that. Some of them who knew how I loved coffee said I was pretending and it would not be possible for me to quit altogether. It was one of the worse discouragements that I came across. I did not pay attention to their negativity but motivated myself to show them that I had decided and I could do it to the later. One of the workers who were present I this crowd and knew what I was going through came over to console me, and this encouraged me so much that I sore to stand to my decision.
19th September 2019
This day, things were a bit normalizing. I happened to take a walk with my friends after a relatively long time. These people knew my plans to quite the substance and had promised to stand with me and help me go through this together. As we were walking, we came across one of the cafes that we had loved going for a long time. The majority then suggested that we go to the cafe and have a bite since it had taken time before we did. Just from the door, the smell of coffee was so intensified, and I thought of myself to have a taste only for once. The order was made, and when I called coffee as the others had done, I was booed, and another order of soda was made for me. I realized how caring my friends were about me and I trusted the power of sharing with friends.
22nd September 2019
The urge for coffee even after using substitutes was back and so powerful in me. I thought of what I would do to stop this but was not in a position to come up with a solution. I had to reach out to one of my friends who kept me and gave me counselling on how to manage myself while going through the very process. One of the things she told me which I later applied and worked for me was that I had to keep myself off the places where there were coffee sold and avoid exposure to the candy as well to have the influence that came with the perception dealt with. I took to her words and recognized why my family had consented to get rid of coffee products from the house. It gave me the opportunity to be selective on the steps that I had to make in the subsequent days.
24th September 2019
I had to continue applying the advice I had received which also came up with another thought in my mind. Because I am a Christian and a firm believer, I had a problem of isolating other people since this appeared like discrimination. I was disturbed, and I went ahead to involve some other church members who included the elder and the pastor about the same thing. The information was confirmed, and I was set to take heed. Immediately I came home in the evening, one of my excellent friends who also had not been in the town for some time came and asked to take a walk with her. This was challenging to me because I knew she loved coffee and she knew I loved coffee also. I managed to convince her and let her go without me. This was a great achievement.
26th September 2019
I had become comfortable without taking coffee or candy though still had an occasional urge of making the same once I a while. This day I experienced a serious headache, and I had to seek medical attention. Going to the hospital and explaining my problem as a diagnosis was made, the doctor told me clearly that it was a sign of withdrawal from caffeine. I felt a bit easy though in pain (Compton et al., 1998). I was given some drugs that effectively managed my headache, and I rested assured that the efforts had worked out for good. This was a great achievement to me and even to all who surrounded me. I became sure that the caffeine substance presence in my body was done and I had to live a new life again.
29th September 2019
I recognized the efforts to put into the culmination of the withdrawal from the caffeine use. I made up my mind this very day that I will never in my life retake caffeine content. I drew my followed plans and analyzed. I decided this day to hold a talk in one of the streets on my way from work to give a speech to them that are going through the same thing of addiction I went through. It has been part of my life today. I removed all the fears I had and declared it to everyone who ought to have known it that I had decided to quit coffee consumption.
Reflection on Abstinence
The process I went through to withdraw from caffeine is beneficial to me concerning my understanding with different kind of people. It has realized that many people are caught down by chemical addiction while are striving to get out of it. Such people should be handled with a lot of care and have the best suggestions made to them on how to get rid of what they are stack in. The fact that someone abuses drug is not a reason enough to blame such a person since it is not the person willing to continue in that state the addiction that has power withhold them. It is crucial therefore to deal with these people with a lot of contempt and respect to have accommodated in our society. The move for helping such people should be louder than the criticism that goes around them. Having gone through a process [of withdrawal that wasn't easy at all has made realize the impact the addicts have on their lives. Otherwise, it is not the end of the road since it was possible to withdraw naturally without having to be taken through medication. This process is healthy for life and leaves an individual whole in the physiology. According to the experience that I got during my withdrawal, I have been able to learn a lot about the people who use chemical additives (Compton et al., 1998).
Cite this page
Behavior Change - Abstinence Project Essay Example. (2022, Sep 05). Retrieved from https://speedypaper.com/essays/behavior-change-abstinence-project
Request Removal
If you are the original author of this essay and no longer wish to have it published on the SpeedyPaper website, please click below to request its removal: