How to write a persuasive essay: main stages of work and inspirational idea

There are numerous conspiracy theories in the world, with each new one being even more interesting and intriguing than the previous one. The prominence of convincing techniques should never be underestimated, as it provides people with an opportunity to influence others and mold their views. 
A deep and profound knowledge of basic persuasion techniques is not innate and granted. Instead, college students have to work hard to create every single persuasive essay and make it meaningful and influential. Do you have to come up with a similar project but have no idea how to write a persuasive essay? Keep reading to detect effective tips and helpful guidelines that will help you create the most powerful and convincing paper ever. 

Tip from SpeedyPaper:
Start with the definition of the paper so that you are 100% sure of the paper type you are working on. Once you acknowledge the specifications of the paper, you have a chance to come up with a meaningful and influential text.  
What is a persuasive essay?
As a college student, you will have to deal with the most different types of academic assignments, and a persuasive essay is not an exception. Therefore, you should have a clear understanding of the paper type and its specifications, especially if you are an ambitious and goal-oriented student. 
What is persuasive writing? A persuasive essay is a type of academic project, the main idea of which is to initiate a discussion on a specific topic. The writer's task is to introduce the question and highlight a specific stance. As there are different types of persuasive essays, their specifications may vary a bit, but the main idea of the work remains the same. 
Why is persuasive writing important? Logical and analytical thinking, an ability to compare and contrast facts, and a chance to draw reasonable conclusions and give arguments proving your point of view are a few advantages students can notice working on this type of academic writing. 
Key elements of persuasive writing
What makes a persuasive essay influential and interesting? There are three elements of persuasive writing that can advance it to a different level, transforming it into a compelling, exciting, and effective text worth appreciation. 
Ethos. It is the first element of persuasion that helps the writer to set the credibility of the claims. Additionally, it adds to the good moral of the author. This way, the audience is likely to trust the writer, taking the offered stance much faster. 
Pathos. It is another aspect that is directed at the emotions of the readers. Triggering certain emotions and feelings, the writer helps the audience to dive into the question and get more excited about it. 
Logos. The final element predetermines the logical and rational components. Thus, the writer should not only appeal to the knowledge and emotions of the readers but also pay attention to logic. 
Persuasive Essay Checklist
Embarking on a journey to write an effective persuasive essay? There are key elements that shouldn't be missed. Each essay differs, and the persuasive essay topics chosen will dictate some steps, but there are commonalities. Here is your checklist:
Strong thesis statement.
Comprehensive research on the topic.
Clear and logical argument structure.
Relevant and impactful evidence.
Effective counterarguments.
Persuasive language and rhetorical techniques.
Proofreading and editing.
After selecting one from many essay topics, proceed to draft your essay. Refer back to this checklist, ensuring each step is completed. In doing so, you'll craft a compelling and successful persuasive essay.
Avoid these writing mistakes!
Delve into the world of persuasive writing with caution. Writing mistakes can mar your essay's impact. For instance, those crafting
law essays
should heed these points. Avoid plagiarism. It's the most egregious error, easily detectable with modern technology.
Each
MBA essay writer
knows that jargon overuse can be another pitfall. Sure, some essays require legal terminology but don't overcomplicate. Simplicity often wins the day. Another mistake is submitting work without thorough editing. A stray typo can affect the reader's perception negatively. That's why the role of an
online paper writer
extends beyond just writing.
Persuasive essay topic ideas: how to make the right choice
Working on a persuasive text, you need to start with the topic. If you are free to choose, then you should make maximum effort to focus on the most appealing and up-to-date theme that will be relevant for the audience. At this point, it is indispensable to mention that students who get a comprehensive list of topics to use by a professor are more fortunate than the ones who have to make the decision independently.

If you find it complicated to detect a meaningful theme for your persuasive paper, here are a few guidelines that will draw you closer to the desired result:
Research the field so that you are aware of the numerous most significant aspects of the question under analysis.
Brainstorm the existing topics.
Narrow down your choice so that you are focused on a single aspect.
Check out free sample themes to get inspired.
Come up with an original and unique theme for your paper. 
Do you need extra motivation? Check out 20 interesting and appealing topics that will help you make the right choice. 
Eating meat as an unhealthy habit
School uniform: should it be banned?
Are small dogs easier to manage than big ones?
The best punishment for cheating: what should it be?
The most effective techniques to deal with bullying
The most interesting subject to learn at school
Should music be available for free?
Wealthy people and taxes: should they pay more? 
Should learners decide on what they study?
Persuasive essay outline
Once you are settled with the topic of your persuasive essay, you are ready to move on to the preparatory stage. Keep in mind that you should not dive into paper creation unless you are ready with a comprehensive outline.
Writing an outline is halfway to the successful completion of the assignment, as it is a detailed guide that will lead you through the most challenging and demanding writing-related aspects. At this point, one should remember that flawless structure and attention to detail are indispensable, as each element is important.
What should persuasive writing start with? Here are the most critical parts of the paper you should not miss.
Introduction. Although it is not the biggest part of the paper, it is the most significant one. It consists of a hook, topical information, and a thesis statement. The main goal of the passage is to attract readers and make them excited about the whole paper. Define the topic of your work and highlight your perspective, grabbing the reader's attention and giving a brief idea of what is there in the body.
Main body. This part is the biggest one and the most detailed. The writer's task here is to include as many examples and evidence as possible to convince readers and prove that the presented idea is logical and reasonable. In the overwhelming majority of instances, the body part consists of 3 to 5 paragraphs.
Conclusion. The concluding part should contain no new information. Instead, it should reiterate the thesis statement and sum up the ideas that were specified in the body part.
Working on the outline, you should not fill in all the information you have. Instead, make it short and meaningful so that you will be able to add interesting facts, examples, and other elements stress-free. A coherent outline is not only an excellent plan of work but also a way to keep separate parts of the text linked. Use transition words and phrases to maintain the logical flow of the ideas.
Persuasive essay format
Persuasive writing is undoubtedly demanding, as the content is not the only requirement to meet. Excellent structure and proper formatting are also critical. Here are a few requirements you should follow in order to keep the persuasive paper impeccable.
Fonts: Any easy-to-read fonts you like
Font size: 12 pt for the text and 16 pt for headlines
Spacing: 1.5 or 2
Word count: may vary from 500 to 2000 words
How to write a persuasive essay: step-by-step guide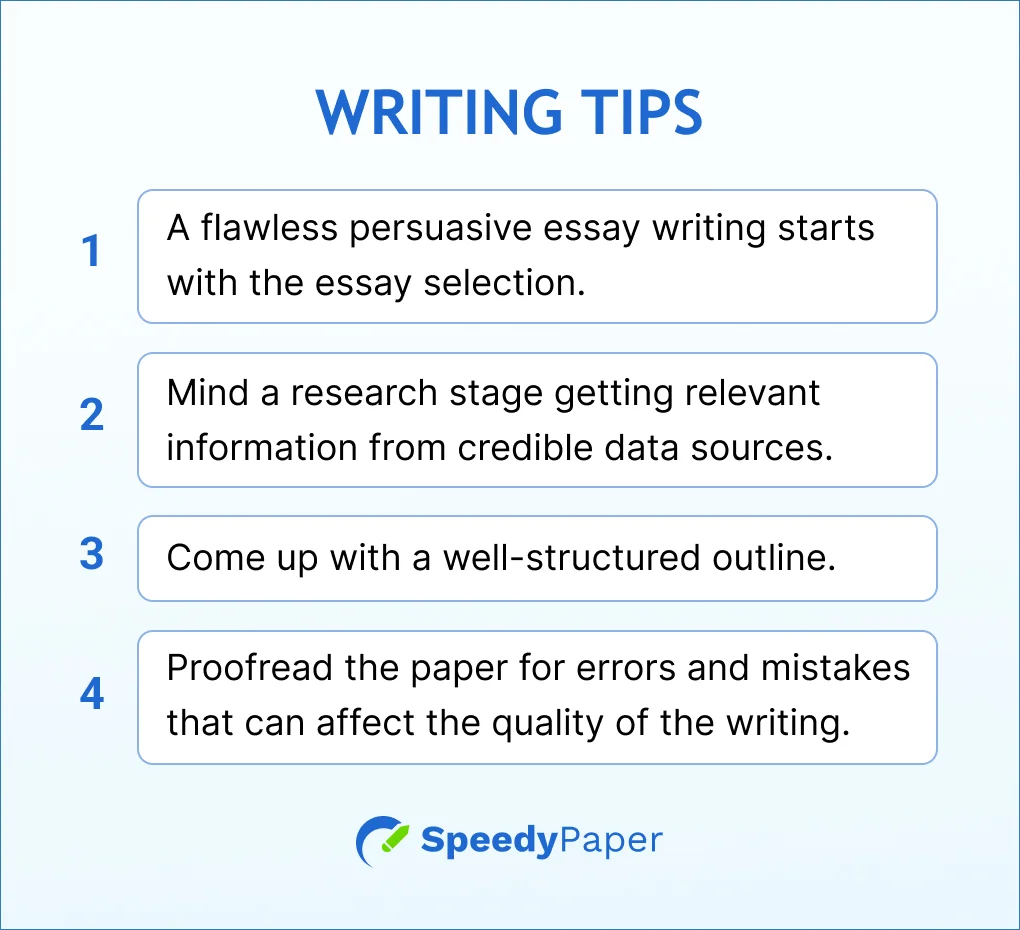 Have you already selected the topic of your essay? Then, it is the right time to dive into the specifications of the writing process. The first and most critical advice you should follow is to check multiple persuasive essay examples before you proceed to your paper. Extraordinary ideas, unique writing tools, and instruments will never be odd but will rather contribute to the quality of your essay. Browse the SpeedyPaper website if you want to read multiple sample texts to clarify the structure of a persuasive essay or find out formatting tips you can benefit from. Are you ready to proceed to your custom paper writing? Here are a few most critical steps you should take in order to thrive.
Choose the topic and your stance. What do you want to write about? The topic selection is one of the most exacting and significant aspects of the work, as it will predetermine the outcomes. Focus on meaningful and reasonable themes that are interesting to discuss. Additionally, you should choose your point of view on the issue so that you provide readers with logical and structured ideas.
Do research. Striving to keep the paper relevant, it is indispensable to find credible sources of information that will make your persuasive paper influential. Analyze the available data on the topic, learning two sides of the question so that you know how to make reasonable contradictions.
Learn the audience. The tone of your writing and the selected style may vary a bit, depending on the target audience. Therefore, think of the perspective readers of your paper to make the right choice.
Create an outline. A coherent and well-structured outline is halfway to writing a beneficial paper. Follow the traditional structure of the essay, including the introduction, main body, and conclusion.
Write the first draft. Finally, you are ready to proceed to the essay writing. Make sure you include up-to-date statistics, infographics, and evidence that will prove your words and will contribute to your stance.
Proofread the paper. Although it seems that the essay writing process is accomplished, there is another step you should take to prevent unwanted outcomes. Proofreading and editing the first draft is a must, as it helps to eliminate typos and mistakes that can affect the quality of your paper.


Tip from SpeedyPaper:
Keep each part of the paper concise and logical so that the readers are always eager to continue reading. 
Persuasive essay writing tips
Following the guidelines and writing recommendations, students have an opportunity to come up with a top-quality persuasive essay. Additionally, there are a few tips that may help you avoid minor inaccuracies that will affect the overall quality of the paper.
Avoid fancy words and slang.
Use transition words and phrases to keep different parts of the text logically connected.
Take advantage of various persuasion techniques.
Provide readers with strong evidence and argument.
Double-check the whole paper for typos and inaccuracies.
Ask the right questions.
Play with the emotions and feelings of the readers.
Persuasive essay example
Writing a persuasive essay may be easy if you follow the guidelines and recommendations mentioned above. However, irrespective of the writing experience and competence in the field, learners may have problems with certain parts of the projects. How to start off a persuasive essay? How many paragraphs should be included? What is the formatting style to use? Should there be examples mentioned? There is a plethora of questions that may pop up as you start working on your project.

Tip from SpeedyPaper:
The more sample papers you read, the most ideas you get. Take your time to analyze available options and come up with a credible and influential paper.

The simplest way to answer them is by reading multiple persuasive essay examples. They will not only guide you through the writing process but will also supply you with unique writing techniques and ideas that will advance the quality of your writing to an exceptionally new level. Check out an extensive list of persuasive essay samples that are available on the website for free and take maximum advantage of the motivational and helpful options. Look through the paper mentioned below to get a clearer idea of what you can get for free.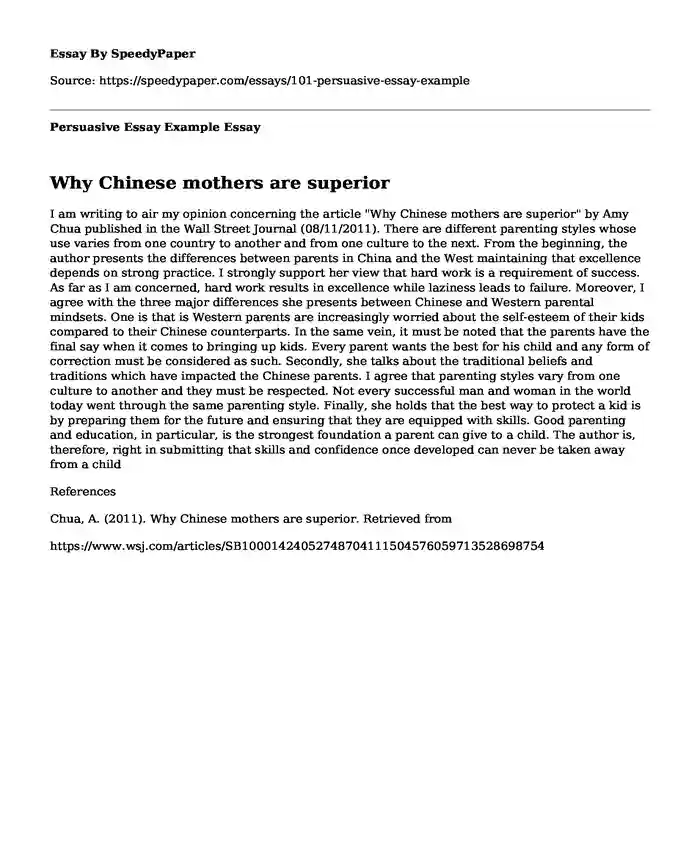 Conclusion
Have you paid due attention to the persuasive essay writing tips? Chances are you can create a well-structured, influential, and consistent paper worth appreciation. However, if you still feel unconfident about your skills and knowledge, it is not the reason to despair and give up. SpeedyPaper is a team of professionals who are always ready to lend their helping hand with the most complicated types of academic projects.
Do you have problems with your persuasive paper writing? Don't you know how to write a narrative essay? Contact the representatives of the customer support service to get answers to the most bothersome questions. Estimate the approximate cost of your assignment, choose the convenient payment method, and confirm an order. Make sure you are specific, giving the details and mentioning the requirements to the paper. Professional writers will accomplish the project within a specified deadline to help you succeed stress- and effort-free.