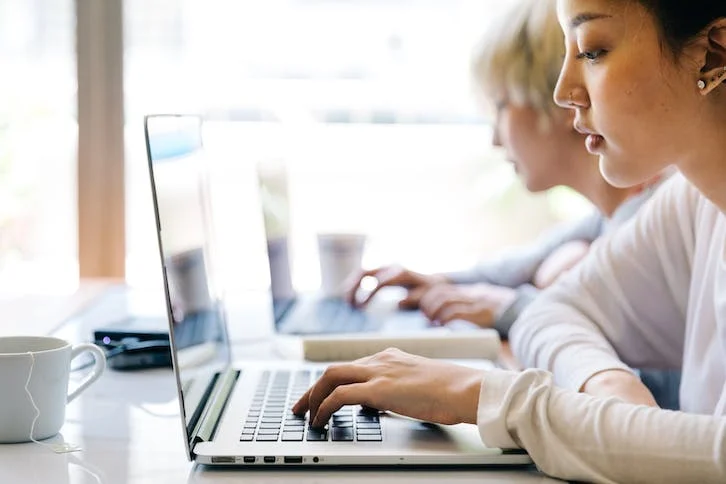 Research paper format | APA, MLA, & Chicago
Alright, listen up, students! You've done the research, collected your data, and even conjured up a brilliant thesis statement. Now comes the big question: how do you format it all? Fear not; this crash course gives you the low-down on three heavy hitters in the formatting of a research paper game: APA, MLA, and Chicago.
Formatting an APA paper
So, you're diving into the social sciences, eh? Psychology, Education, or maybe even Nursing? APA format is your new best friend. Developed by the American Psychological Association, APA formatting is designed for clarity and uniformity. Trust us! Your professor will notice if you mess this up. So here are the basics you need to know about formatting a paper in APA style.
Title page
Kick things off with a bang; your title page must be on point. An APA title page requires a running head – that's a short version of your title. Keep it under 50 characters, and don't forget the page number on the top-right corner. Center your full title, name, and institution smack dab in the middle of the page. Take care of the title page, and you've taken your first step in properly formatting a paper in APA style.
Running head
That elusive running head on your APA title page isn't as complicated as it seems. It's a simplified version of your paper's title and should not exceed 50 characters. This quirky feature appears on every page of your document, starting with the title page. Here is how to format an APA Style title page with a running head. Let's break it down:
Place it in the header.
Align to the left margin.
Use all capital letters.
Keep it under 50 characters.
Include the words "Running head" only on the first page.
After the first page, just use the title part of the running head, and don't forget to add the page number on the right side.
Headings
Here's where the real structure kicks in. If your paper is a multi-level skyscraper, then headings are your floors. Headings help divide your paper into sections, making it easier for your readers to navigate your arguments. For those looking to nail the research paper format in APA style, you'll have to master five levels of headings. Each level serves its purpose, helping you organize your thoughts and guide your reader through your scholarly journey.
Reference page
The reference page acts like the credits at the end of a movie. Only here, failing to give proper credit could lead to plagiarism – and nobody wants that. According to APA guidelines for formatting, your reference list should start on a new page and be double-spaced. Each entry needs a hanging indent, which means the first line is flush left, but subsequent lines are indented. Remember to list your sources alphabetically by the author's last names. As you can see, these are your APA research paper format secrets!
Formatting an MLA paper
So you're writing in the humanities? Think literature, art, or even philosophy. MLA, also known as the Modern Language Association style, is your go-to. While it's not as disciplined as APA, it does have its unique quirks that you'll need to grasp, especially if you want to shine in classes that prioritize the discussion of human culture and thought.
Title page
Unlike APA, an MLA paper usually doesn't need a title page. But wait, what if your instructor insists on a title page? No worries. According to guidelines for formatting an MLA paper, center your title, your name, your instructor's name, the course, and the date on separate double-spaced lines. Keep it simple, but follow any specific instructions your professor might give you. And here is how to write a research paper like a pro!
Running head
In MLA, the running head is way more relaxed than its APA counterpart. You're not crafting a mini title; you're merely putting your last name in the header, followed by the page number. Yep, you heard that right. Slap that combo on the top-right corner of every page, including the first one. No all-caps, no "Running head" – just your last name and the page number, separated by a space. This MLA research paper format is your key to high grades!
Headings
Ah, the art of sectioning off your paper. While the heading game in APA is all about levels and sublevels, MLA prefers to keep things streamlined. Let's dive into what this means for your research paper format in MLA. For starters, you've got two types of headings to play with: numbered and unnumbered. Stick to one style, and make sure your headings offer a clear roadmap of your paper's structure. And here is the format for writing an essay!
Reference page
Okay, here comes the grand finale in MLA formatting: the Works Cited page. It is where you list every source you've cited in your paper. It should start on a new page, be centered at the top, and have the title "Works Cited." Let's break down what you need:
Title: "Works Cited," centered.
Alphabetical order: List entries by the author's last name.
Double-spacing: Keep everything double-spaced.
Hanging indent: Use it for the second and subsequent lines of each entry.
Now, keep in mind that the type of source determines the formatting of each entry. Whether it's a book, journal article, or website, MLA has specific guidelines for each.
Formatting a Chicago paper
Rolling into the big leagues, are we? If you're tackling a research paper in history, you'll likely use Chicago style. This format has intricate details, so it's crucial to get the research paper format down pat. With two different systems – notes-bibliography and author-date – the Chicago style offers flexibility but demands attention to detail.
Title page
Alright, let's talk title pages. Chicago is a bit old-school, with a traditional title page that's straightforward but formal. Place your title about a third down the page, centered. A few lines include your name, course information, and the date. So go ahead and make that title page as polished as your research. But you can always say, "Write a research paper for me!"
Running head
For the Chicago style, the running head doesn't need to be too complicated. It's pretty straightforward – just the page number, located in the top right corner. But here's where it gets interesting: if you're using the notes-bibliography system, you might also include a shortened form of your title opposite the page number. All these elements come together to provide a consistent research paper format that screams professionalism. Keep that running head clean and simple, and you're off to a great start.
Headings
In Chicago style, you can go pretty easy on the headings. Unlike APA's complex five-level system, Chicago usually involves only three levels. These can be distinguished by varying the font (regular vs. bold), and you can also play with italics. But you may need a fast essay writer to do that work!
Reference page
Your entries should be alphabetized by the author's last name and have a hanging indent, just like in APA and MLA. The research paper format here emphasizes comprehensive citations, and each entry might include the author, title, place of publication, publisher, and date of publication. It's the academic equivalent of putting all your cards on the table. Besides, do not be shy to reach us if you need coursework writing help ASAP!
Discovering all formatting secrets
So there you have it – a no-nonsense guide to mastering the nuances of APA, MLA, and Chicago styles. Each has its quirks, sure, but they all aim for the same thing: clarity, credibility, and a roadmap for your reader. The research paper format isn't just a bunch of arbitrary rules but a tool that helps organize your thoughts and lend credibility to your work. Go forth, and may your formatting be ever flawless.