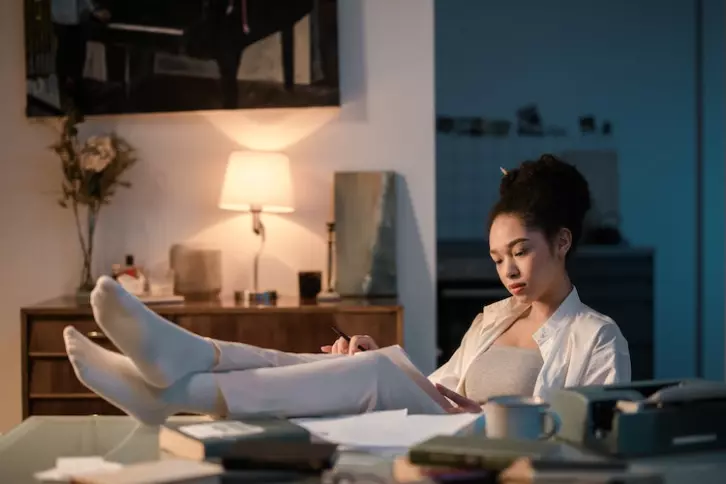 How to write a critical essay in a Nutshell
Indeed you have read books, listened to music, or watched movies at least once. All these art pieces give you certain impressions or desires to discuss certain aspects with someone. Perhaps you even wrote comments on review aggregators, which is technically similar to a critical analysis essay. In this case, it will be easier for you to understand the criteria for such an assignment. But what do you need to know as 
fast essay writer
? What aspects and critical analysis essay topics do you need to learn to understand? So this is what is essential for all modern students!
What is a critical analysis essay?
Imagine that you are faced with such an assignment for the first time and do not know what to do. What is critical analysis essay all about? As a writer, you need to take any book, painting, sculpture, or another piece of art for analysis. Your goal is to analyze the author or artist's points. A critical analysis essay is aimed at a complete analysis of each artistic aspect, the main goal, and the tools to achieve it. Imagine that you have dismantled the house, separating each floor section, brick, roof, and foundation from a common base. After analyzing each part of the house, you will understand what it was created from, and you can even prepare a judgment, pointing out its strengths and weaknesses. Here's how you should write a critical analysis essay. And now, let's check out other important nuances.
Are all critical essays negative?
The word "critical" possesses several meanings. The most commonly used is related to expressing negative opinions on something. Online trolls are always critical about everything. On the other hand, "critical" can also relate to the opinions of professional critics on movies, music or literature. If you read a critical review in a "Rolling Stone" magazine, you can expect it to be expertly written and insightful.
When you are assigned to write a critical essay in high school or college, your professor has another meaning of this word in mind. In such cases, "critical" means a careful judgment and analysis of both good and bad parts of the art piece. Therefore, you don't have to be all positive or negative towards the book or article you have to discuss. Instead, you get a chance to try on a mantle of a professional critic and provide a thoughtful and informative piece of writing for people who have not had the pleasure to read the book you are discussing. You may decide to get the
best paper help
to cope with the writing challenge, but it is worth delving deeper into the details first to complete an outstanding paper.
Tip From SpeedyPaper:
You need careful judgment and analysis of the art piece's good and bad parts. Never write a critical analysis essay based on subjective factors!


Three types of critical essays
There are three strategies for you to choose from when writing a critical essay. Depending on the approach, your paper will require different research and analysis. So you should decide on the type of critical paper you wish to write before you start. Your instructor may specify the preferred type within the assignment, so pay close attention to the task you are given.
Evaluative critical essay
This type is the easiest to understand, though professors rarely require students to write it. In an evaluative critical essay, you should explain whether you like the book and provide the reasons for your reaction. Of course, it is not enough to say you hate the novel because it's stupid. Instead, you have to provide your literary standards and compare them to the book you are discussing.
Look for formal literary methods and devices that you find unappealing and provide copious examples from the text to support your arguments. You can also compare the novel to other works that you consider more educational or entertaining. Another good idea is to analyze political, historical or religious aspects of the work and their influence on the author. Treat an evaluative critical essay as an argumentative piece, not a reaction paper. Address possible objections to your points and provide evidence, this way your paper will be convincing.
Descriptive critical essay
This type of paper resembles a rhetorical analysis essay when you have to analyze what makes the book tick, what makes it such an outstanding example of its genre. You can select one or two literary devices or methods the author uses and discuss their role in the book. You can always find numerous examples of any literary means you choose between the covers of the book. The only challenge you are going to face is putting the obvious findings into an exciting light, so get ready to let your imagination run wild.
Tip From SpeedyPaper:
Focus on the most important details to craft a good critical analysis essay. But, of course, describing all the nuances and minute details is not always a good idea, so discuss this with your professor.


Interpretive critical essay
If you want to answer the question "What does this work mean?", you are trying to interpret the book. Instead of merely rephrasing the work, analyze it. First, you need to choose your strategy; it can be based on psychoanalysis, economic theories, historical impact, etc. Use this approach to dissect the work and provide copious examples for your every argument. After completing your interpretive essay, the reader should have a good idea of what the author wanted to say with his or her work.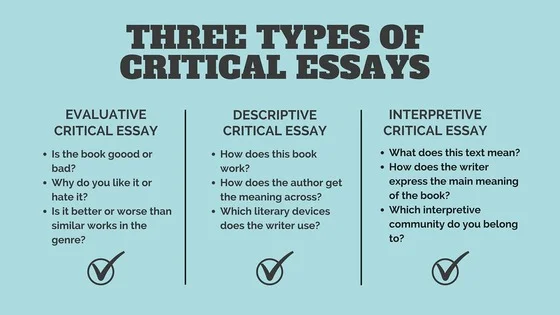 Critical analysis essay topics
Now you know how to start a critical analysis essay. But there is one more nuance that you should consider. You need to choose a good topic if you want to write a critical analysis fast. The right idea for your paper will help you avoid many pitfalls. Here are the topics that are worth your attention.
Now you will surely be able to craft a good critical analysis essay. Don't be afraid to experiment and choose interesting topics. By the way, you should also check how to write a polished essay so that you don't have any problems in the future.
6 steps to write a successful critical essay
As ever, we'll break the writing process into easily manageable steps for you to follow. As you see, writing is just a single stage, while pre-writing is where you will need to do most of the work.
Choosing the right primary source
Not every instructor is willing to let students choose the book or poem to analyze. However, if you are among the few lucky bastards, choose wisely. Pick a work you like and know well, the one you've read at least a couple of times and can probably quote your favorite parts. Make your life easier by selecting the right book, and your critical essay will be done in no time.
Tip From SpeedyPaper:
Clarifying the details will help you avoid hours of editing or rewriting your critical analysis essay. Ask all important questions to your instructor before you start.


Reading and note-taking
The easiest way to work on a book is by highlighting or underlining the parts you find interesting or entertaining. However, this is not enough. While reading the work, always ask yourself:
How does this chapter make me feel?
Which questions arise when I read this book?
Which methods and devices does the author use to make me feel this way?
Why can't I stop laughing or crying when I read this dialog?
The more questions you ask yourself, the easier it will be for you to create an outline and analyze the book. And to keep your notes in order, use a blank sheet of paper to write down the numbers of pages with interesting literary methods.
Crafting a thesis
The content of your thesis will depend on which type of critical essay you are going to write. Consult our comprehensive guide to write your thesis statement. In short, your thesis should answer the central question: "So what?". Besides just stating the obvious, address the how or the why. Explain to the readers how you came to this conclusion or why they should care about your opinion.
Researching secondary sources
If you can't come up with any ideas for the critical essay, consult professional critics. Read literary discussions or evaluations of the text you have to analyze. These will help you form your own opinion. Research the author's biography, the historical period of his or her life, political or religious factors that might have influenced the text.
Plotting an outline
It is tempting to delve into writing after days of research, but in the end, you risk producing a jumbled mess of unrelated thoughts. So take the time necessary to create a rough outline. List the main points you want to make, use your notes and examples from the primary source to flesh out the body paragraphs. Their number and length will depend on the parameters of your assignment.
Writing, editing, and proofreading
After so many preparatory steps, writing a critical essay is easy. All you have to do is put your thoughts into words, and words — into sentences and paragraphs. Remember to cite the sources and edit the finished paper carefully. Think about what a professional critic would write after reading your essay. Every typo decreases your credibility, so proofreading is also a must.
Tip From SpeedyPaper:
Pay special attention to polishing your critical analysis essay. Read each sentence, and paraphrase the weak parts.

Critical analysis essay outline
Think of an outline as a way to organize your arguments and thoughts. Since the "what is critical analysis essay" question is no longer a problem for you, let's check the key nuances of your outline. Typically, your professor will give you a sample so that you can write a critical analysis essay. But here is a sample that you can use in most cases.
Background Info: Add some context.
Info

Title.
Author.
Publication information.
Statement and purpose

Thesis statement: After rendering the context, add your reaction to the work.
Summary: Visualize your understanding of the source.
Critical Analysis: This is the place for detailed analysis and critical evaluation.

Visualize the structure and organization of the source.
Concentrate on style or rhetorical aspects.
Evaluate the effectiveness of the source and the message you have identified.
Evaluate the level of impartiality and topic disclosure.
Discuss the influence of the source on the audience.
As with all other critical analysis essay samples, you need a solid conclusion. Then, summarize your reactions and offer your final thoughts to make your critical analysis essay valuable to the reader (professor).
Critical analysis essay examples
Surely you want to write a critical analysis like a pro and avoid common mistakes. In this case, you need to check out good critical analysis essay examples. This approach is the most efficient as you can craft your essay by comparing it step by step with the example. Here is a good sample that will help you stand out and create a solid critical analysis essay, so don't hesitate.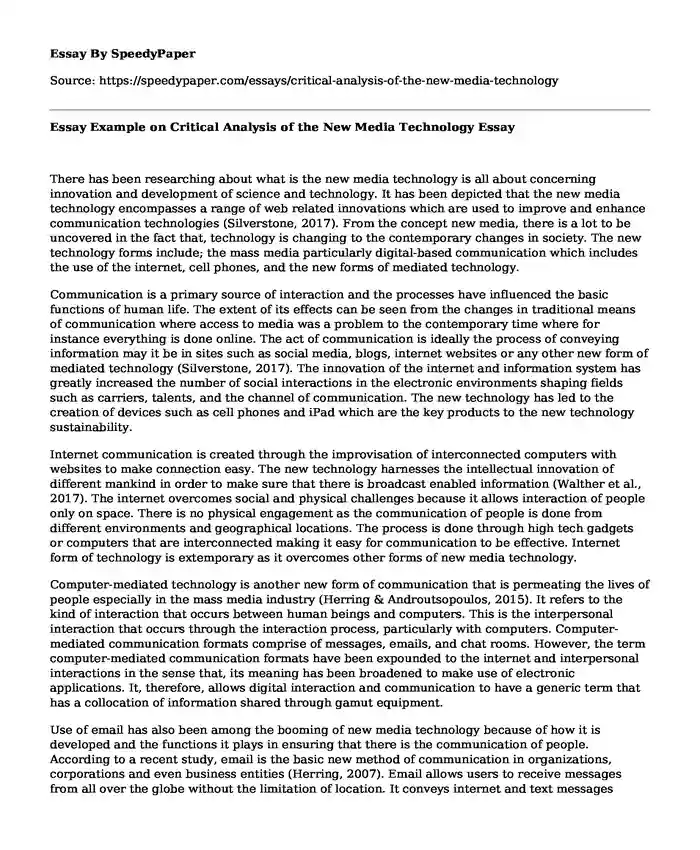 As you can see, looking for good samples can help get more information. Good examples give students an understanding of the essence of such assignments. However, you can always find a
critical thinking writing service
and delegate papers if some academic nuances seem too complicated.
Conclusion
If you need a critical essay example, check out our database. You will find many relevant samples to help you stand out and save time here. Moreover, you can also check other types of papers and learn how to write a rhetorical analysis essay. We have collected many useful samples and guides for any academic level. What's more, our team of experts will gladly help you with your academic burden. Reach out to our writers and editors, who will gladly improve your paper or create one from scratch to save time. As you can see, your critical analysis essay is in safe hands! Now you can achieve the required academic results!