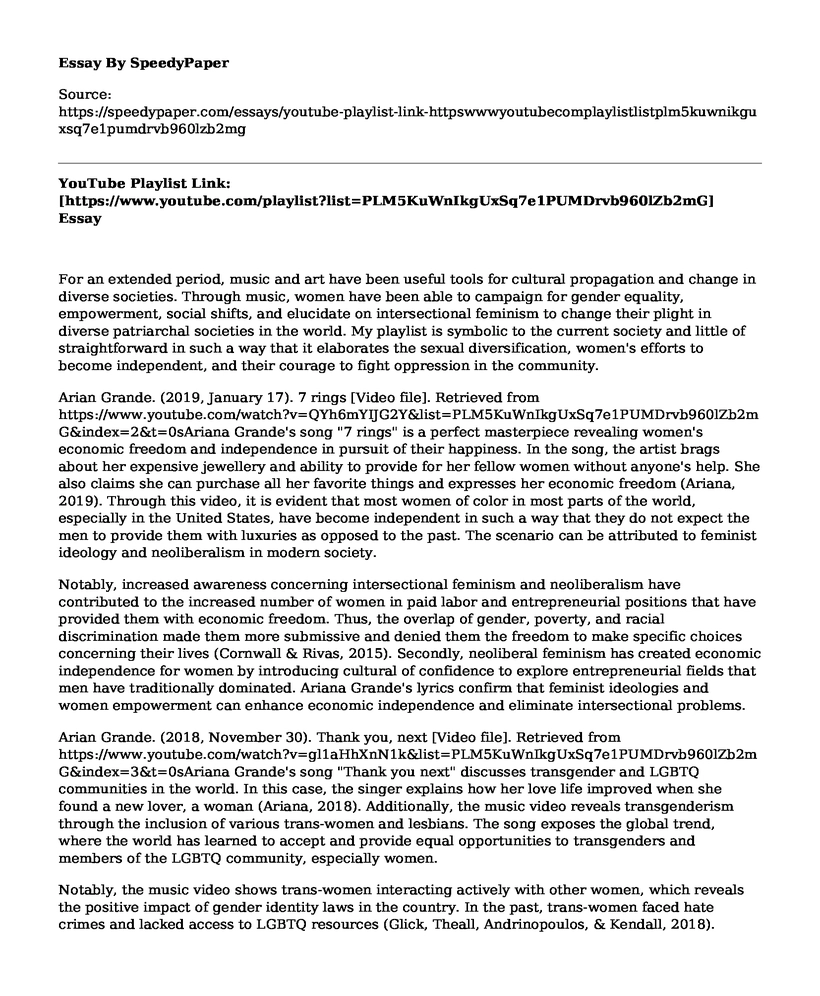 For an extended period, music and art have been useful tools for cultural propagation and change in diverse societies. Through music, women have been able to campaign for gender equality, empowerment, social shifts, and elucidate on intersectional feminism to change their plight in diverse patriarchal societies in the world. My playlist is symbolic to the current society and little of straightforward in such a way that it elaborates the sexual diversification, women's efforts to become independent, and their courage to fight oppression in the community.
Arian Grande. (2019, January 17). 7 rings [Video file]. Retrieved from https://www.youtube.com/watch?v=QYh6mYIJG2Y&list=PLM5KuWnIkgUxSq7e1PUMDrvb960lZb2mG&index=2&t=0sAriana Grande's song "7 rings" is a perfect masterpiece revealing women's economic freedom and independence in pursuit of their happiness. In the song, the artist brags about her expensive jewellery and ability to provide for her fellow women without anyone's help. She also claims she can purchase all her favorite things and expresses her economic freedom (Ariana, 2019). Through this video, it is evident that most women of color in most parts of the world, especially in the United States, have become independent in such a way that they do not expect the men to provide them with luxuries as opposed to the past. The scenario can be attributed to feminist ideology and neoliberalism in modern society.
Notably, increased awareness concerning intersectional feminism and neoliberalism have contributed to the increased number of women in paid labor and entrepreneurial positions that have provided them with economic freedom. Thus, the overlap of gender, poverty, and racial discrimination made them more submissive and denied them the freedom to make specific choices concerning their lives (Cornwall & Rivas, 2015). Secondly, neoliberal feminism has created economic independence for women by introducing cultural of confidence to explore entrepreneurial fields that men have traditionally dominated. Ariana Grande's lyrics confirm that feminist ideologies and women empowerment can enhance economic independence and eliminate intersectional problems.
Arian Grande. (2018, November 30). Thank you, next [Video file]. Retrieved from https://www.youtube.com/watch?v=gl1aHhXnN1k&list=PLM5KuWnIkgUxSq7e1PUMDrvb960lZb2mG&index=3&t=0sAriana Grande's song "Thank you next" discusses transgender and LGBTQ communities in the world. In this case, the singer explains how her love life improved when she found a new lover, a woman (Ariana, 2018). Additionally, the music video reveals transgenderism through the inclusion of various trans-women and lesbians. The song exposes the global trend, where the world has learned to accept and provide equal opportunities to transgenders and members of the LGBTQ community, especially women.
Notably, the music video shows trans-women interacting actively with other women, which reveals the positive impact of gender identity laws in the country. In the past, trans-women faced hate crimes and lacked access to LGBTQ resources (Glick, Theall, Andrinopoulos, & Kendall, 2018). Additionally, due to gender bias, they were not recognized as women, which created challenges in their access for social amenities, creation of social relationships, and having access to public resources, such as education. However, the development of the trans-rights movement in the US has foreseen rapid changes in reproductive justice in the country. Today, transgenders have equal access to health care, education, equal employment, domestic violence assistance, abortion, and comprehensive sex education (Glick et al., 2018). Therefore, this song serves as a mirror of improved sexuality and sexual orientation among women in the world.
Thailandfox. (2018a, January 17). The greatest showman-this is me [Video file]. Retrieved from https://www.youtube.com/watch?v=IRyMoHJu-i8&list=PLM5KuWnIkgUxSq7e1PUMDrvb960lZb2mG&index=5The musical "This is me" in The Greatest Showman movie depicts trans-women and other minority races contributions in the global campaign for societal equality and inclusion in the face of oppression and intersectionality. Notably, this song mentions the race, shapes of the body, different kinds of people, and ability. The lyrics "I am not a stranger to the dark" reveal trans-women's oppression in the past due to the intersectionality of their race economic status, and gender (Thailandfox, 2018). Additionally, the musical shows how society intimidates the minority to hide and remain in their oppressive state by ignoring their needs and voices. However, the song claims that the underprivileged have learned to be resilient and bounce back despite the society's efforts to undermine them.
Additionally, the musical depicts a feminist revolution, where trans-women have accepted their predicaments and are determined to change their destiny. Moreover, the intersectionality of race and gender is evident when an Asian man claims, "Another round of bullets hits my skin" (Thailandfox, 2018a). According to Glick et al. (2018), trans-individuals of color face much discrimination in the United States compared to white transgenders. The musical also shows a man insulting the lead artist as a whore, which depicts the hate towards members of the LGBT community. Nevertheless, the song reveals their courage and efforts to fight for their rights despite everyone wanting them to remain hidden from the societal lime light.
Thailandfox. (2018b, January 18). The greatest showman- Never Enough [Video file]. Retrieved from https://www.youtube.com/watch?v=6jZVsr7q-tE&list=PLM5KuWnIkgUxSq7e1PUMDrvb960lZb2mG&index=5&t=0sThe musical "Never Enough" in The Greatest Showman Movie reveals women's struggle to attain love in a society where social status plays a vital role in social relationships. The singer, who has fame and wealth, feels incomplete without the love of her life (Thailandfox, 2018b). In this case, the scenario reveals that despite women being successful in society, they still need love and affection, which is not usually reciprocated by their male counterparts.
In a different lens, despite the singer being affluent and famous, she feels empty because she mo one to love her back. The man may be incapable of loving her since he is intimidated by her social status. The scenario elucidates on challenges successful women face in maintaining social relationships in patriarchal societies since they are perceived as a threat to men's authority. According to Cornwall & Rivas (2015), many anti-feminism philosophers claim that empowerment and authority feminist groups provide women with make it difficult for them to find affection. On the other hand, the lyric video shows a couple, where a woman of color leaves her spouse after his family gazes at them. The situation reveals how social class makes it challenging for people from different levels to fall in love.
Arcee. (2018, January 10). Dean- Instagram [Video file]. Retrieved from https://www.youtube.com/watch?v=uyhKR0hDC2c&list=PLM5KuWnIkgUxSq7e1PUMDrvb960lZb2mG&index=4&t=0sDean's song "Instagram" provides an insight into the life of many youths in the contemporary world of technological advancement. In this case, the author reveals how he stays indoors watching other people enjoy their lives and post pictures on Instagram (Arcee, 2018). Additionally, he emphasizes his loneliness as he reveals that staying alone in bed is a routine activity.
Notably, the song sheds light on the life of many youths today, who are depressed and stressed about life; yet continue to live in the dark. Instagram provides people with an opportunity to share their fun and leisure moments for others to like and comment. As a result, many people, especially young women, want to live like most of their Instagram celebrities who seem successful. Due to economic hardships, they end up depressed since they cannot afford the luxurious Instagram life. The situation has destroyed social networking among youths who lack self-esteem and undermine themselves due to material possessions. Noticeably, most of the Instagram photos do not prove that an individual is successful in life, everyone has their up and down in life, which may be difficult for the youth to comprehend given the increased pressure in social media.
Conclusion
Overall, music serves as a tool for advocating for social changes since it exposes people's hidden emotions, desires, and emerging socio-political trends. For example, the above songs converge in their central theme for social change, equality, and inclusivity in society. Ariana Grande's songs and The Greatest Showman's "This is me" musical expresses women's independence, sexual freedom, and gender identity. On the other hand, Dean's Instagram and the "Never Enough" tracks reveal the emptiness and loneliness faced by most people due to dysfunctional social relationships. It is incumbent on people to encourage diversity and equity in societal elements such as sexuality and gender.
References
Arcee. (2018, January 10). Dean- Instagram [Video file]. Retrieved from https://www.youtube.com/watch?v=uyhKR0hDC2c&list=PLM5KuWnIkgUxSq7e1PUMDrvb960lZb2mG&index=4&t=0sArian Grande. (2018, November 30). Thank you, next [Video file]. Retrieved from https://www.youtube.com/watch?v=gl1aHhXnN1k&list=PLM5KuWnIkgUxSq7e1PUMDrvb960lZb2mG&index=3&t=0sArian Grande. (2019, January 17). 7 rings [Video file]. Retrieved from https://www.youtube.com/watch?v=QYh6mYIJG2Y&list=PLM5KuWnIkgUxSq7e1PUMDrvb960lZb2mG&index=2&t=0sCornwall, A., & Rivas, A. M. (2015). From gender equality and women's empowerment to global justice: Reclaiming a transformative agenda for gender and development. Third World Quarterly, 36(2), 396-415. https://doi.org/10.1080/01436597.2015.1013341Glick, J. L., Theall, K. P., Andrinopoulos, K. M., & Kendall, C. (2018). The role of discrimination in care postponement among trans-feminine individuals in the US National Transgender Discrimination Survey. LGBT Health, 5(3), 171-179. https://doi.org/10.1089/lgbt.2017.0093Thailandfox. (2018a, January 17). The greatest showman-this is me [Video file]. Retrieved from https://www.youtube.com/watch?v=IRyMoHJu-i8&list=PLM5KuWnIkgUxSq7e1PUMDrvb960lZb2mG&index=5Thailandfox. (2018b, January 18). The greatest showman- Never Enough [Video file]. Retrieved from https://www.youtube.com/watch?v=6jZVsr7q-tE&list=PLM5KuWnIkgUxSq7e1PUMDrvb960lZb2mG&index=5&t=0s
Cite this page
YouTube Playlist Link: [https://www.youtube.com/playlist?list=PLM5KuWnIkgUxSq7e1PUMDrvb960lZb2mG]. (2023, Jan 09). Retrieved from https://speedypaper.com/essays/youtube-playlist-link-httpswwwyoutubecomplaylistlistplm5kuwnikguxsq7e1pumdrvb960lzb2mg
Request Removal
If you are the original author of this essay and no longer wish to have it published on the SpeedyPaper website, please click below to request its removal: