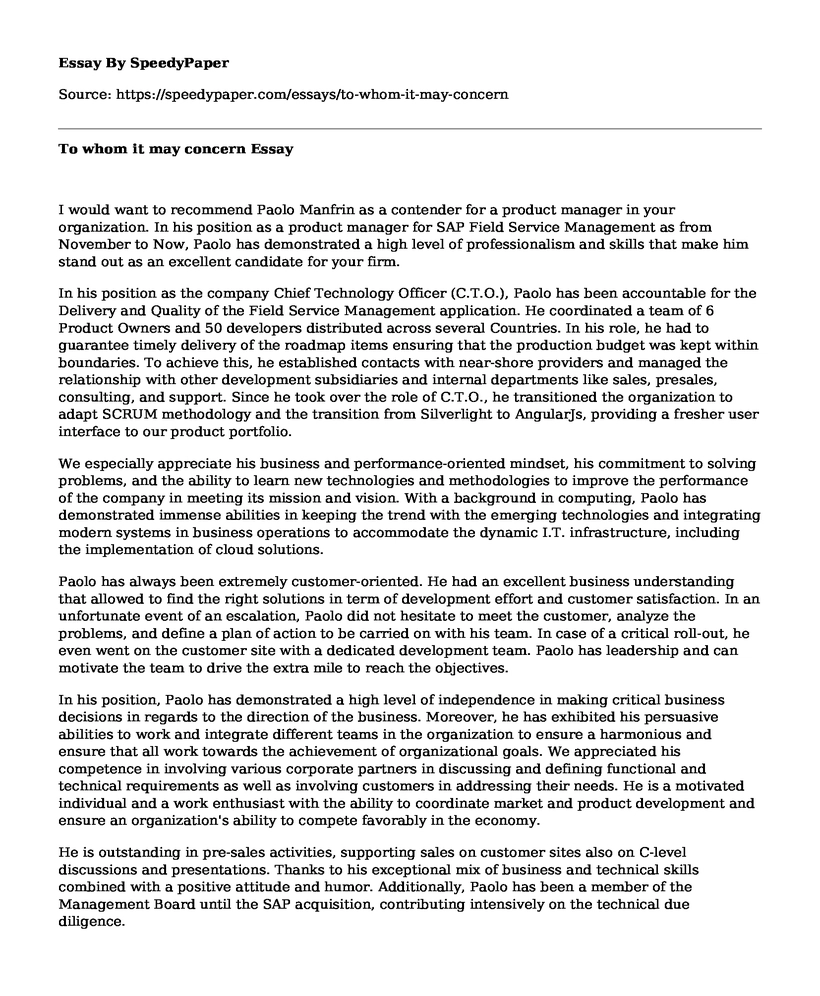 I would want to recommend Paolo Manfrin as a contender for a product manager in your organization. In his position as a product manager for SAP Field Service Management as from November to Now, Paolo has demonstrated a high level of professionalism and skills that make him stand out as an excellent candidate for your firm.
In his position as the company Chief Technology Officer (C.T.O.), Paolo has been accountable for the Delivery and Quality of the Field Service Management application. He coordinated a team of 6 Product Owners and 50 developers distributed across several Countries. In his role, he had to guarantee timely delivery of the roadmap items ensuring that the production budget was kept within boundaries. To achieve this, he established contacts with near-shore providers and managed the relationship with other development subsidiaries and internal departments like sales, presales, consulting, and support. Since he took over the role of C.T.O., he transitioned the organization to adapt SCRUM methodology and the transition from Silverlight to AngularJs, providing a fresher user interface to our product portfolio.
We especially appreciate his business and performance-oriented mindset, his commitment to solving problems, and the ability to learn new technologies and methodologies to improve the performance of the company in meeting its mission and vision. With a background in computing, Paolo has demonstrated immense abilities in keeping the trend with the emerging technologies and integrating modern systems in business operations to accommodate the dynamic I.T. infrastructure, including the implementation of cloud solutions.
Paolo has always been extremely customer-oriented. He had an excellent business understanding that allowed to find the right solutions in term of development effort and customer satisfaction. In an unfortunate event of an escalation, Paolo did not hesitate to meet the customer, analyze the problems, and define a plan of action to be carried on with his team. In case of a critical roll-out, he even went on the customer site with a dedicated development team. Paolo has leadership and can motivate the team to drive the extra mile to reach the objectives.
In his position, Paolo has demonstrated a high level of independence in making critical business decisions in regards to the direction of the business. Moreover, he has exhibited his persuasive abilities to work and integrate different teams in the organization to ensure a harmonious and ensure that all work towards the achievement of organizational goals. We appreciated his competence in involving various corporate partners in discussing and defining functional and technical requirements as well as involving customers in addressing their needs. He is a motivated individual and a work enthusiast with the ability to coordinate market and product development and ensure an organization's ability to compete favorably in the economy.
He is outstanding in pre-sales activities, supporting sales on customer sites also on C-level discussions and presentations. Thanks to his exceptional mix of business and technical skills combined with a positive attitude and humor. Additionally, Paolo has been a member of the Management Board until the SAP acquisition, contributing intensively on the technical due diligence.
Paolo possesses a high level of professional experience and will be an asset to any organization. I passionately recommend him for a Product Manager position due to his skills in transforming the sector. In case of any additional information, please feel free to ask, and I will be glad to respond.
Yours Sincerely,
Name
Company C.E.O.
SAP Field Service Management
Address
Phone
Email
Cite this page
To whom it may concern. (2023, Mar 06). Retrieved from https://speedypaper.com/essays/to-whom-it-may-concern
Request Removal
If you are the original author of this essay and no longer wish to have it published on the SpeedyPaper website, please click below to request its removal: