B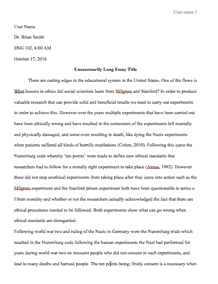 This essay has been submitted by a student. This is not an example of the work written by our professional essay writers.
Personality traits, like temperaments, are endogenous dispositions that follow intrinsic paths of development essentially independent of environmental influences.
The Hypothesis of the Study.
That there exists strong conceptual links to child temperament.
That the intrinsic maturation of personality is complemented by the culturally conditioned development of characteristic adaptations that express personality.
Variables (factors) being looked at as an influence on personality.
These are; Basic Tendencies, Characteristic Adaptations, Self-Concept, External Influences and Objective Biography.
If these variables or the relationship between these variables have been studied before, what have other studies found? This shows historical significance.
The five-factor model may be found in every culture because it is a product of human biology; recent research on animals suggests that at least some of the five factors may also be shared by nonhuman species. Gosling and John (1998) asked cat and dog owners to describe their pets, with terms taken from the five-factor model or from a list intended to describe temperament in animals. In both instruments and in both species, they found four factors: three corresponding to Neuroticism, Extraversion, and Agreeableness, and the fourth combining features of Openness to Experience and Conscientiousness in a kind of animal Intellect factor. King and Figueroa (1997) analyzed zookeeper ratings of chimpanzees and found six factors, which corresponded to the five-factor model plus a large dominance factor.
Research Design used in the Study
Research design used was Correlational study, this is a quantitative research technique where there are two or more quantitative variables (usually from the same group) and one is trying to establish a similarity or difference between them.
Ethics in Research
Ethics can be defined as the means and techniques through which a researcher decides to act or how he solves intricate issues and problems that he encounters in the research process. There are several principles of ethics in research, but they can be categorized into three main principles; respect and regard for individuals, beneficence, and fairness (justice). The data was collected from five different countries and it comprised both men and women of varying ages, it also included respondents from all occupational groups and the correspondents gave their consent before participation.
ARTICLE 2
Title of the Article.
Woodward, A. Kagan, J. Snidman, N. Arcus, D. (2000). Taxonic Structure of Infant Reactivity: Evidence From a Taxometric Perspective, 11(4), 296-301.
The Purpose of the Article.
The purpose of the article is to determine and evaluate whether a qualitative latent structure, which is consistent with theoretical conjectures provided in an earlier research (a theoretical framework that classified infants into qualitative categories of reactivity, rather than on a continuous dimension) would be found to underlie quantitative indices of reactivity to stimuli in a sample of 599 four-month-old infants.
The Hypothesis of the Study.
The hypothesis of this study concerns differences in the excitability of the limbic structures, and their projections to the hypothalamus, cingulate cortex, stria terminalis, hippocampus, and the central guy. The amygdala is of special interest because it has been shown that the amygdala responds to unfamiliar stimuli and therefore to the novel events presented to the 4-month-old infants. In particular, the thresholds of excitability for the basolateral and central areas of the amygdala may play pivotal roles in infant reactivity. These two sites are modulated by different neurochemicals, and their afferent and efferent patterns are distinct. Specifically, visual and auditory stimuli synapse on the basolateral area, which is modulated to a significant degree by gamma amino butyric acid. In contrast, the central nucleus is modulated more significantly by corti cotropin-releasing hormone.
Variables (factors) being looked at.
The article looks at eleven variables that influence personality. These are; movement of legs and arms, the rupture or tear of arms and legs, the straightening or opening of limb joints beyond their normal healthy range, back arches, smiles, speech production, anxiety, and worry, fussing and lastly crying.
If these variables or the relationship between these variables have been studied before, what have other studies found? This shows historical significance.
Several other studies have been conducted in this field, some of animals and others on infants. In their 1984 research study, Davis and Co. identified the circuits that mediate the acquisition of conditioned fear reactions. In 1988, Blizard and Co. showed that strain differences existed in the tendency to approach or avoid novelty in rats, cats, and primates. These experiments which were conducted on animals showed that projections which originate from the basolateral area to the ventral pallidum form a connecting link between variations in motor activity, while projections from the core area of the amygdala to the central gray more often mediate distress cries.
Research Design used in the Study
The current study is a descriptive research design, and this is because the research entails the observation of subjects while in their natural environment, this is referred to as naturalistic observation.
Ethics in Research
In our article, the subjects had diminished autonomy (four-month-old infants), but the consent of the mothers was given. The sample had 281 girls, and 318 boys were healthy, and their selection was not stratified in any regard. Of the three main principles, the research has adhered to two, and as such, we can conclude it was conducted in an ethical manner.
ARTICLE 3
Title of the Article.
Behavioral Inhibition: Linking Biology and Behavior within a Developmental Framework
The Purpose of the Article.To examine whether the increased activity of the amygdala (especially the central nucleus) would be expected to result in increased activity across response systems that have extensive connections with the central nucleus.
The Hypothesis of the Study.
Whether reactivity (the infants or children physiological and behavioral responses to sensory stimuli) affects different developmental trajectories for behaviorally inhibited children.
Whether regulation (cognitive processes such as voluntary attention control and response inhibition and the childs style of reactivity) affects different developmental trajectories for behaviorally inhibited children.
Variables (factors) being looked at.
The variables being looked at are heart rate (that inhibited children should show consistently lower heart period, corresponding to higher heart rate and larger decreases in HP in response to unfamiliarity) and the second variable is cortisol (high baseline cortisol levels are associated with behavioral inhibition)
If these variables or the relationship between these variables have been studied before, what have other studies found? This shows historical significance.
There has been initial research which was conducted on behavioral inhibition by Davis and LeDoux. There were two main key observations and findings from their longitudinal studies of behavioral inhibition. First, children developed a greater repertoire of behaviors in response to novel social situations. Secondly, in as much as the behavioral manifestation changed somewhat over development, there was significant preservation of individual differences in inhibition. Behaviorally inhibited children displayed marked continuity in their distinctive pattern of responding to unfamiliar social and nonsocial stimuli.
Research Design used in the Study
This is a descriptive research design, where the children are observed in their natural environment.
Ethics in Research
Ethics in this research paper has been achieved through the honest report of data, results and procedures. There hasnt been falsification of data. The research is also objective and there is no prejudice in the analysis and interpretation of data. The researcher has avoided wasteful and duplicative publication and he portrays openness in sharing his data and results.
REFERENCES
Muaz, Jalil Mohammad (2013), Practical Guidelines for conducting research. Summarizing good
research practice in line with the DCED Standard
Ader, H. J., Mellenbergh, G. J., & Hand, D. J. (2008). Advising on research methods: a
consultant's companion. Huizen: Johannes van Kessel Publishing. ISBN 978-90-79418-01-5
Creswell, J.W. (2012). Educational research: Planning, conducting and evaluating quantitative
and qualitative research. Upper Saddle River, NJ: Prentice Hall.
Need a paper on the same topic?
We will write it for you from scratch!
Request Removal
If you are the original author of this essay and no longer wish to have it published on the SpeedyPaper website, please click below to request its removal: