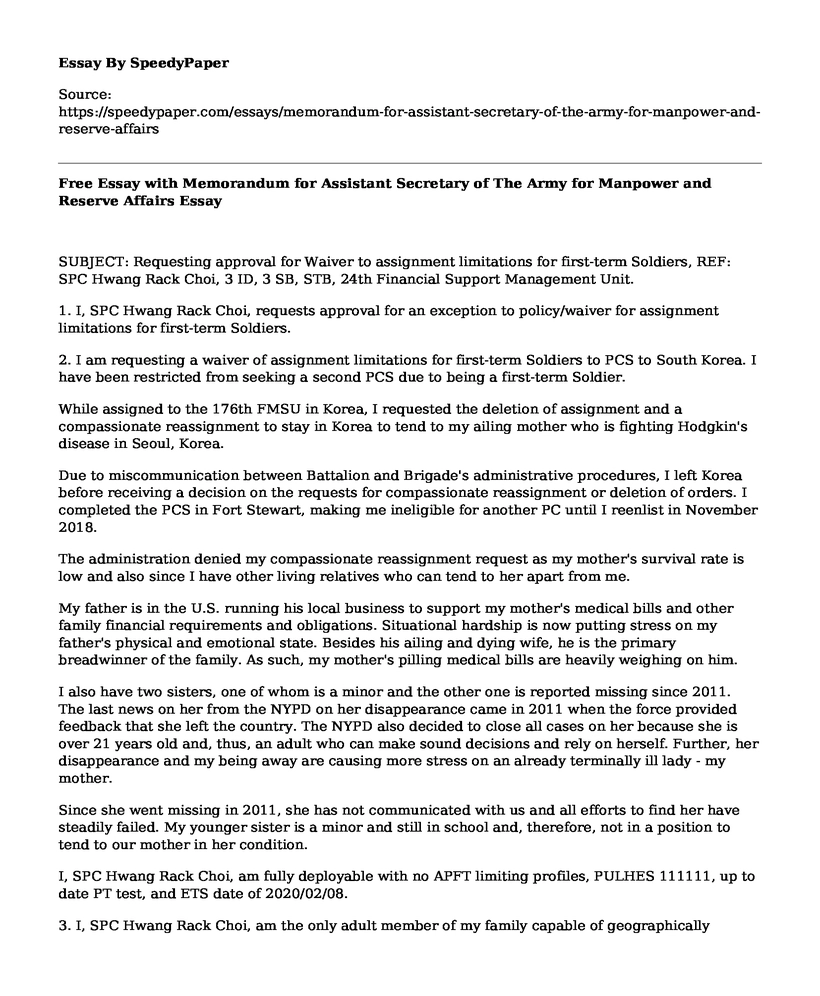 | | |
| --- | --- |
| Type of paper:  | Personal statement |
| Categories: | Army |
| Pages: | 2 |
| Wordcount: | 544 words |
SUBJECT: Requesting approval for Waiver to assignment limitations for first-term Soldiers, REF: SPC Hwang Rack Choi, 3 ID, 3 SB, STB, 24th Financial Support Management Unit.
1. I, SPC Hwang Rack Choi, requests approval for an exception to policy/waiver for assignment limitations for first-term Soldiers.
2. I am requesting a waiver of assignment limitations for first-term Soldiers to PCS to South Korea. I have been restricted from seeking a second PCS due to being a first-term Soldier.
While assigned to the 176th FMSU in Korea, I requested the deletion of assignment and a compassionate reassignment to stay in Korea to tend to my ailing mother who is fighting Hodgkin's disease in Seoul, Korea.
Due to miscommunication between Battalion and Brigade's administrative procedures, I left Korea before receiving a decision on the requests for compassionate reassignment or deletion of orders. I completed the PCS in Fort Stewart, making me ineligible for another PC until I reenlist in November 2018.
The administration denied my compassionate reassignment request as my mother's survival rate is low and also since I have other living relatives who can tend to her apart from me.
My father is in the U.S. running his local business to support my mother's medical bills and other family financial requirements and obligations. Situational hardship is now putting stress on my father's physical and emotional state. Besides his ailing and dying wife, he is the primary breadwinner of the family. As such, my mother's pilling medical bills are heavily weighing on him.
I also have two sisters, one of whom is a minor and the other one is reported missing since 2011. The last news on her from the NYPD on her disappearance came in 2011 when the force provided feedback that she left the country. The NYPD also decided to close all cases on her because she is over 21 years old and, thus, an adult who can make sound decisions and rely on herself. Further, her disappearance and my being away are causing more stress on an already terminally ill lady - my mother.
Since she went missing in 2011, she has not communicated with us and all efforts to find her have steadily failed. My younger sister is a minor and still in school and, therefore, not in a position to tend to our mother in her condition.
I, SPC Hwang Rack Choi, am fully deployable with no APFT limiting profiles, PULHES 111111, up to date PT test, and ETS date of 2020/02/08.
3. I, SPC Hwang Rack Choi, am the only adult member of my family capable of geographically residing close to my mother without jeopardizing the quality of medical care she continues to receive. I am also the only close family member available to take care of my mother as she goes through her treatments.
4. Reenlistment is not an option because it will lock me to Fort Stewart until the summer of 2019. Therefore, by drafting and forwarding this request, I am wholeheartedly showing my desire to serve my country and my family. I sincerely and respectfully request an exception to policy waiver for assignment limitations on first-term Soldiers to PCS to Korea.
HWANG RACK CHOI
SPC, USA
Name
CPT, FI
Commanding
Name
MAJ, FI
Commanding
Name
COL,
Commanding
Cite this page
Free Essay with Memorandum for Assistant Secretary of The Army for Manpower and Reserve Affairs. (2022, Apr 15). Retrieved from https://speedypaper.com/essays/memorandum-for-assistant-secretary-of-the-army-for-manpower-and-reserve-affairs
Request Removal
If you are the original author of this essay and no longer wish to have it published on the SpeedyPaper website, please click below to request its removal: