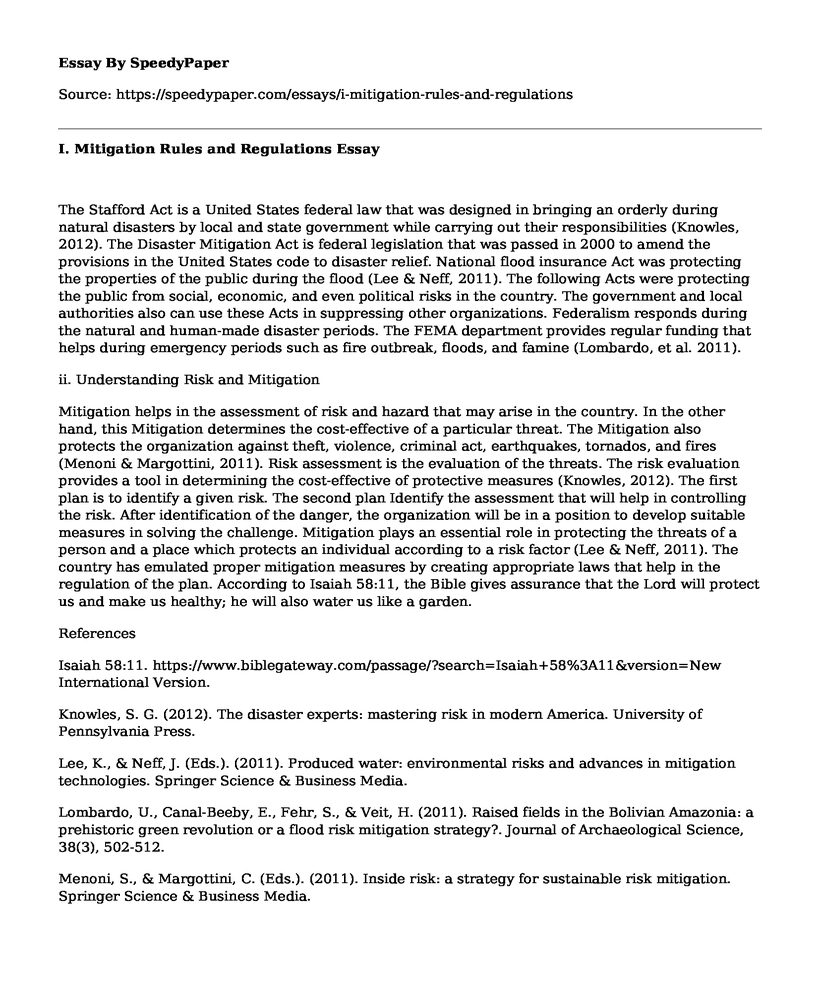 The Stafford Act is a United States federal law that was designed in bringing an orderly during natural disasters by local and state government while carrying out their responsibilities (Knowles, 2012). The Disaster Mitigation Act is federal legislation that was passed in 2000 to amend the provisions in the United States code to disaster relief. National flood insurance Act was protecting the properties of the public during the flood (Lee & Neff, 2011). The following Acts were protecting the public from social, economic, and even political risks in the country. The government and local authorities also can use these Acts in suppressing other organizations. Federalism responds during the natural and human-made disaster periods. The FEMA department provides regular funding that helps during emergency periods such as fire outbreak, floods, and famine (Lombardo, et al. 2011).
ii. Understanding Risk and Mitigation
Mitigation helps in the assessment of risk and hazard that may arise in the country. In the other hand, this Mitigation determines the cost-effective of a particular threat. The Mitigation also protects the organization against theft, violence, criminal act, earthquakes, tornados, and fires (Menoni & Margottini, 2011). Risk assessment is the evaluation of the threats. The risk evaluation provides a tool in determining the cost-effective of protective measures (Knowles, 2012). The first plan is to identify a given risk. The second plan Identify the assessment that will help in controlling the risk. After identification of the danger, the organization will be in a position to develop suitable measures in solving the challenge. Mitigation plays an essential role in protecting the threats of a person and a place which protects an individual according to a risk factor (Lee & Neff, 2011). The country has emulated proper mitigation measures by creating appropriate laws that help in the regulation of the plan. According to Isaiah 58:11, the Bible gives assurance that the Lord will protect us and make us healthy; he will also water us like a garden.
References
Isaiah 58:11. https://www.biblegateway.com/passage/?search=Isaiah+58%3A11&version=New International Version.
Knowles, S. G. (2012). The disaster experts: mastering risk in modern America. University of Pennsylvania Press.
Lee, K., & Neff, J. (Eds.). (2011). Produced water: environmental risks and advances in mitigation technologies. Springer Science & Business Media.
Lombardo, U., Canal-Beeby, E., Fehr, S., & Veit, H. (2011). Raised fields in the Bolivian Amazonia: a prehistoric green revolution or a flood risk mitigation strategy?. Journal of Archaeological Science, 38(3), 502-512.
Menoni, S., & Margottini, C. (Eds.). (2011). Inside risk: a strategy for sustainable risk mitigation. Springer Science & Business Media.
Cite this page
I. Mitigation Rules and Regulations. (2023, Jan 20). Retrieved from https://speedypaper.com/essays/i-mitigation-rules-and-regulations
Request Removal
If you are the original author of this essay and no longer wish to have it published on the SpeedyPaper website, please click below to request its removal: