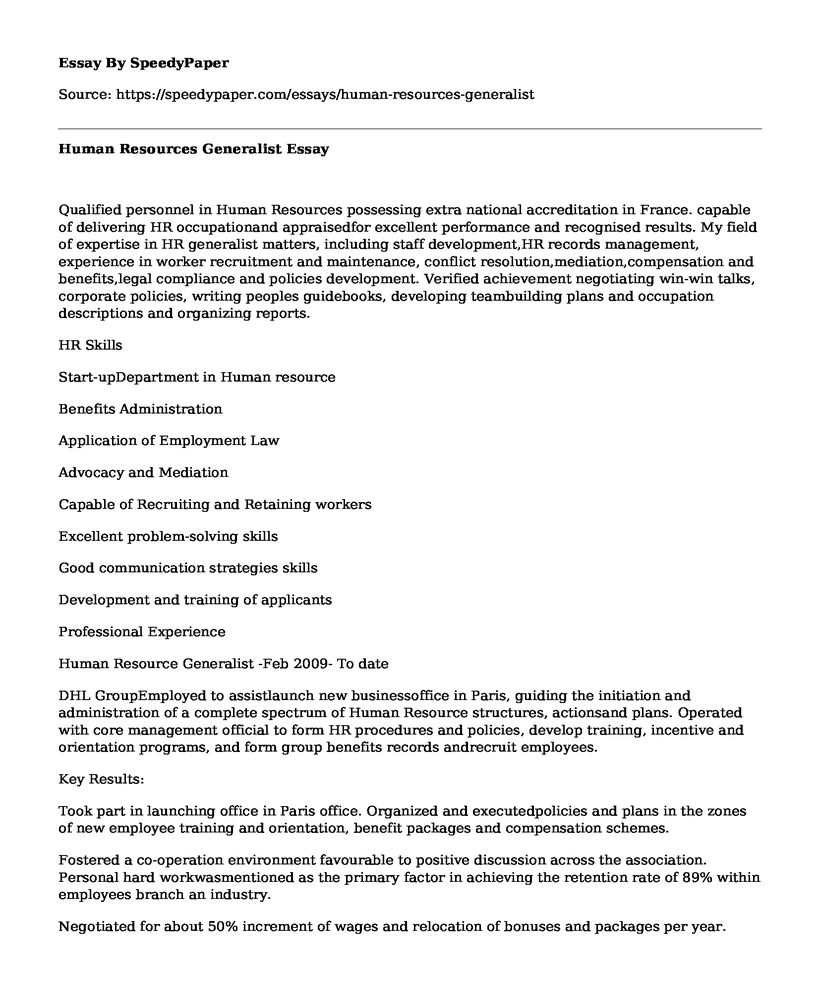 Qualified personnel in Human Resources possessing extra national accreditation in France. capable of delivering HR occupationand appraisedfor excellent performance and recognised results. My field of expertise in HR generalist matters, including staff development,HR records management, experience in worker recruitment and maintenance, conflict resolution,mediation,compensation and benefits,legal compliance and policies development. Verified achievement negotiating win-win talks, corporate policies, writing peoples guidebooks, developing teambuilding plans and occupation descriptions and organizing reports.
HR Skills
Start-upDepartment in Human resource
Benefits Administration
Application of Employment Law
Advocacy and Mediation
Capable of Recruiting and Retaining workers
Excellent problem-solving skills
Good communication strategies skills
Development and training of applicants
Professional Experience
Human Resource Generalist -Feb 2009- To date
DHL GroupEmployed to assistlaunch new businessoffice in Paris, guiding the initiation and administration of a complete spectrum of Human Resource structures, actionsand plans. Operated with core management official to form HR procedures and policies, develop training, incentive and orientation programs, and form group benefits records andrecruit employees.
Key Results:
Took part in launching office in Paris office. Organized and executedpolicies and plans in the zones of new employee training and orientation, benefit packages and compensation schemes.
Fostered a co-operation environment favourable to positive discussion across the association. Personal hard workwasmentioned as the primary factor in achieving the retention rate of 89% within employees branch an industry.
Negotiated for about 50% increment of wages and relocation of bonuses and packages per year.
Brought employees compensation plan into complete compliance. Established ideal list of providers and trainedthe associates and managers on the measure to guide them in case of injury.
Negotiated for 16% Cut benefits by bargaining appropriatecontracts and ensuring the employees with ineligible benefits are not paid by the company.
Developed workers manual with company disciplinary procedures, policies, benefit information and behavior.
Launched the initial corporation official performance evaluation program forming a flexible tool that was used companywide later.
Human Resource Representative2005 to 2008Human Resource Assistant2004 to 2005
Dolce Mondo Trading
Encouragedaccomplishment of awide range roles concerning HR, including training and recruiting workers,ordering benefits, managing records and supervision of disciplinary action. Acted as the chairperson in annual flex enrolment meeting, harmonized health affairs and wellness of workers and conducted exit interviews.
Key Results:
Informed 25-members on best practices and basic interviewing techniques, coaching sessions and conducting workshop that enhanced thorough hiring decisions.
Initiated organizations tracking systems and disciplinary procedures that protected the organization from lawful risk and guaranteed constant and just discipline methods.
Formulatedinventive and profitableincentive and motivating programs thatenhanced workerspleasure and output.
Revised new-hire informedpackage to include HR data and corporation resources.
Protectedcorporationfrom losing a lot of finance by minimizingdependence on employment interventions. Developed the mostof initial outsourced employing functions within to minimize the 200+ billable hours to less than 15 per month.
Academic Qualification
Bachelor of Arts: English Ahlia University - Jordan 2009
Training & Certificates
The Chartered Institute of Personnel and Development (CIPD Certificate) in HR - Level 5-2018
Continuing Professional Development Certificate -2018
Designing an Excel Dashboard.
Project Management Professional Preparation - PMP
Visio 2016
Key Performance Indicators-KPIs.
ISO 9001:2008 Quality Management System Certificate
Modern Administration & Etiquette Art
Public Relations.
Accounting for non-Accounts.
Cite this page
Human Resources Generalist. (2023, Jan 19). Retrieved from https://speedypaper.com/essays/human-resources-generalist
Request Removal
If you are the original author of this essay and no longer wish to have it published on the SpeedyPaper website, please click below to request its removal: