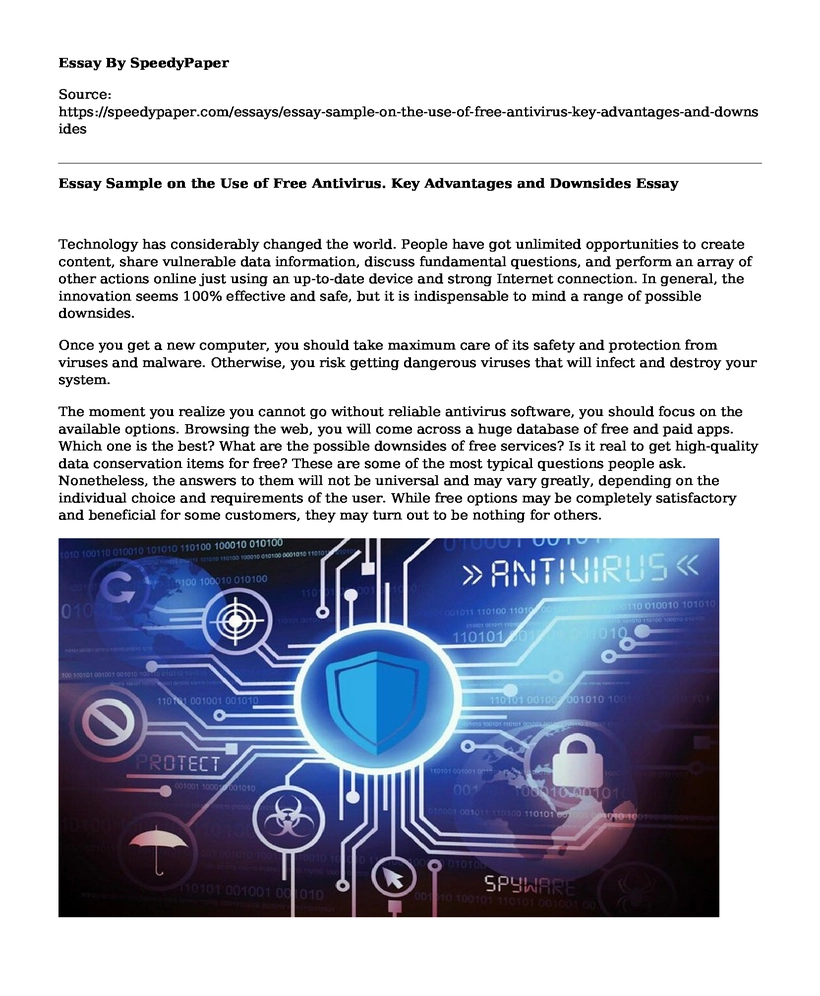 | | |
| --- | --- |
| Type of paper:  | Essay |
| Categories: | Cyber security |
| Pages: | 5 |
| Wordcount: | 1161 words |
Technology has considerably changed the world. People have got unlimited opportunities to create content, share vulnerable data information, discuss fundamental questions, and perform an array of other actions online just using an up-to-date device and strong Internet connection. In general, the innovation seems 100% effective and safe, but it is indispensable to mind a range of possible downsides.
Once you get a new computer, you should take maximum care of its safety and protection from viruses and malware. Otherwise, you risk getting dangerous viruses that will infect and destroy your system.
The moment you realize you cannot go without reliable antivirus software, you should focus on the available options. Browsing the web, you will come across a huge database of free and paid apps. Which one is the best? What are the possible downsides of free services? Is it real to get high-quality data conservation items for free? These are some of the most typical questions people ask. Nonetheless, the answers to them will not be universal and may vary greatly, depending on the individual choice and requirements of the user. While free options may be completely satisfactory and beneficial for some customers, they may turn out to be nothing for others.
When it comes to free and paid antivirus software, most people pay attention to the level of protection they offer. It is impossible to deny that free options are better than nothing, but the safety level they offer is not always high. A free antivirus program may not protect you from the latest version of the virus or worm, but it will surely provide you with the basic level of safety necessary for routine computer use.
The Discrepancy between Free and Paid Antivirus Programs
Getting applications for free makes a lot of people doubt its quality. Is it real to get a high-quality product at no cost? Take your time to surf the online market and discover general facts about both options so that you can learn the discrepancies between them. Focus on the characteristics and peculiarities of available software to decide whether free options are worth attention.
From the very beginning, it is indispensable that the first and the most obvious difference between the two types of programs is the cost. However, it is nothing compared to the level of defense the options may provide. While the free programs offer safety from common threats, paid ones will also cover more advanced and up-to-date risks. Besides, the number of devices covered with free services is limited to one, which may not be the option for people who have several devices. Finally, it is indispensable to mention the extra control and features you will get with paid programs.
Generally, there are several discrepancies between free and paid antivirus apps, which may be critical for some users and insignificant for others. Keep reading to learn some benefits and downsides of free programs that may help you get settled.
Most Significant Advantages of Free Antivirus Software
It is impossible to deny that getting a paid antivirus is the top choice, as it guarantees maximum safety of each experience using the web. However, there are still numerous benefits you can enjoy working with free software.
It Is Free
This is the obvious point that makes most users download this type of antivirus. If customers are not ready to spend money to get the maximum level of data protection, they are searching for free alternatives. Consequently, this is the best option for budget-concerned people who strive to discover the golden middle so that their devices are protected, but they do not have to pay for it.
Additionally, it is indispensable to mention that a considerable number of paid antivirus programs offer free trial terms, which means you can take advantage of all the comprehensive features and specifications of the software at no cost.
It May Help You Test Paid Subscription
When people first get their computers, they start desperately searching for dependable and reputable antivirus. In the overwhelming majority of cases, users are not ready to pay for the program they are not even aware of. Fortunately, most developers offer a free trial so that customers can "test" the software and realize the level of convenience and preservation they may get. This way, users can download and use several antivirus programs, comparing their features and functions to opt for the most suitable and trustworthy one.
It Is Easy to Use
Free service does not usually have complicated features and fancy interfaces. Instead, it is usually easy to navigate and use, so customers have to download the program and start taking advantage of it. Once you set up the app, it starts protecting your device from viruses and malfunctions.
It Still Protects Your Computer
Although you should not expect the highest level of data stability, if you use free antivirus, it is still an impressive option for trivial computer users. Do not expect the program to offer you an elaborate list of features and security advantages, but it will effectively detect and remove harmful viruses and worms.
Core Downsides of Free Antivirus Use
As you could have already noticed, free antiviruses offer a range of advantages for their users. Nonetheless, apart from positive aspects, the customer should take into account possible risks and downsides of the experience.
It Is About Minimal Data Protection
The first and the most critical downside of the free program is the low level of protection and data safety it offers. It is impossible to deny that your computer will be guarded against the most common types of trojans and viruses, but you should not expect it to deal with up-to-date types of malware.
It Offers Limited Features
If you download a free antivirus, you should not expect it to contain an extensive range of extra features and premium services. Instead, what you get is a standard set of options that are aimed at scanning, detecting, and removing infected files. At the same time, users should remember that by getting the premium version, they will get unlimited access to web protection, email safety, system tune-ups, and an array of other important peculiarities.
It Contains Ads
Don't you want to spend a considerable sum of money on a paid antivirus? Be ready to come across a plethora of pop-ups and ads that will bother you asking to promote to the full version.
Conclusion
If you take your time to read and comprehend the data mentioned above, you will realize how significant it is to choose a reliable and effective antivirus software that will protect your computer and decrease possible risks. At this point, it is critical to mention that the online market is filled with unlimited options, with some of them being free and others paid. What antivirus program is the best? Compare the list of possible advantages and downsides of free services before you make the final choice. It will help you avoid mistakes and relish safe and flawless experiences.
Cite this page
Essay Sample on the Use of Free Antivirus. Key Advantages and Downsides. (2022, Apr 04). Retrieved from https://speedypaper.com/essays/essay-sample-on-the-use-of-free-antivirus-key-advantages-and-downsides
Request Removal
If you are the original author of this essay and no longer wish to have it published on the SpeedyPaper website, please click below to request its removal: