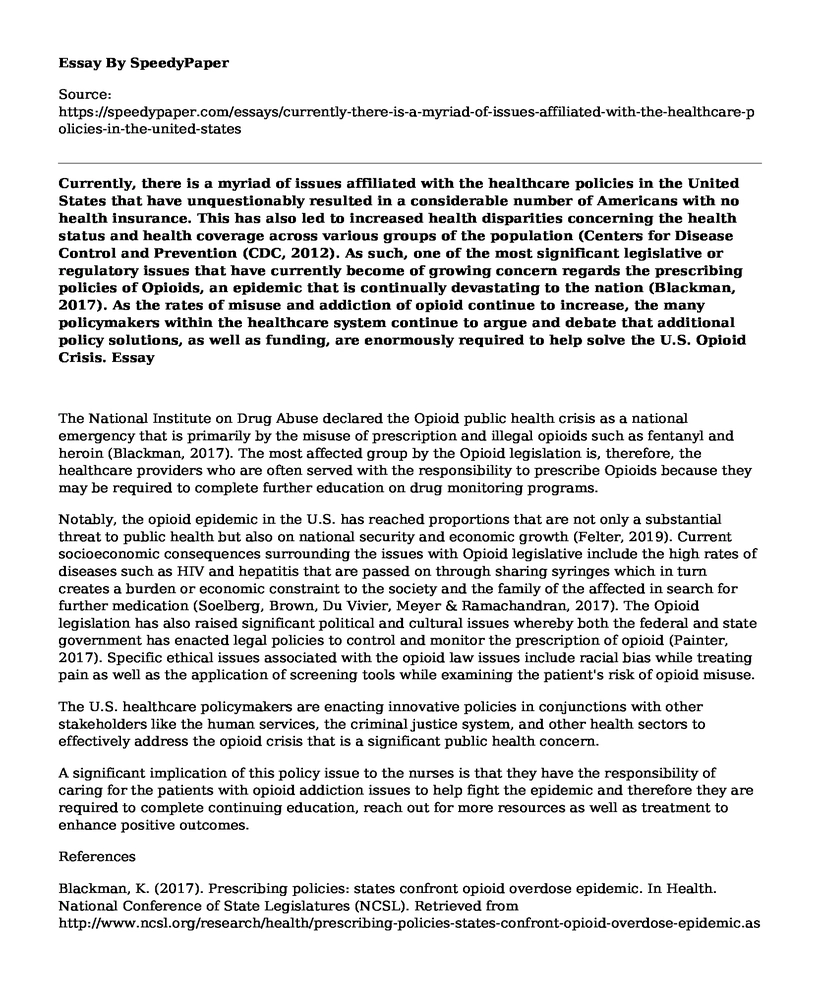 The National Institute on Drug Abuse declared the Opioid public health crisis as a national emergency that is primarily by the misuse of prescription and illegal opioids such as fentanyl and heroin (Blackman, 2017). The most affected group by the Opioid legislation is, therefore, the healthcare providers who are often served with the responsibility to prescribe Opioids because they may be required to complete further education on drug monitoring programs.
Notably, the opioid epidemic in the U.S. has reached proportions that are not only a substantial threat to public health but also on national security and economic growth (Felter, 2019). Current socioeconomic consequences surrounding the issues with Opioid legislative include the high rates of diseases such as HIV and hepatitis that are passed on through sharing syringes which in turn creates a burden or economic constraint to the society and the family of the affected in search for further medication (Soelberg, Brown, Du Vivier, Meyer & Ramachandran, 2017). The Opioid legislation has also raised significant political and cultural issues whereby both the federal and state government has enacted legal policies to control and monitor the prescription of opioid (Painter, 2017). Specific ethical issues associated with the opioid law issues include racial bias while treating pain as well as the application of screening tools while examining the patient's risk of opioid misuse.
The U.S. healthcare policymakers are enacting innovative policies in conjunctions with other stakeholders like the human services, the criminal justice system, and other health sectors to effectively address the opioid crisis that is a significant public health concern.
A significant implication of this policy issue to the nurses is that they have the responsibility of caring for the patients with opioid addiction issues to help fight the epidemic and therefore they are required to complete continuing education, reach out for more resources as well as treatment to enhance positive outcomes.
References
Blackman, K. (2017). Prescribing policies: states confront opioid overdose epidemic. In Health. National Conference of State Legislatures (NCSL). Retrieved from http://www.ncsl.org/research/health/prescribing-policies-states-confront-opioid-overdose-epidemic.aspx
Centers for Disease Control and Prevention (CDC. (2012). CDC grand rounds: prescription drug overdoses-a US epidemic. MMWR. Morbidity and mortality weekly report, 61(1), 10.Felter, C. (2019). The U.S. Opioid Epidemic. Council Foreign Relation. Retrieved from https://www.cfr.org/backgrounder/us-opioid-epidemic
Painter, S. G. (2017). Opiate crisis and healthcare reform in America: A review for nurses. OJIN: The Online Journal of Issues in Nursing, 22(2).doi:10.3912/OJIN.Vol22No02Man03
Soelberg, C. D., Brown, R. E., Du Vivier, D., Meyer, J. E., & Ramachandran, B. K. (2017). The US opioid crisis: current federal and state legal issues. Anesthesia & Analgesia, 125(5), 1675-1681. doi: 10.1213/ANE.0000000000002403.
Cite this page
Currently, there is a myriad of issues affiliated with the healthcare policies in the United States that have unquestionably resulted in a considerable number of Americans with no health insurance. This has also led to increased health disparities concerning the health status and health coverage across various groups of the population (Centers for Disease Control and Prevention (CDC, 2012). As such, one of the most significant legislative or regulatory issues that have currently become of growing concern regards the prescribing policies of Opioids, an epidemic that is continually devastating to the nation (Blackman, 2017). As the rates of misuse and addiction of opioid continue to increase, the many policymakers within the healthcare system continue to argue and debate that additional policy solutions, as well as funding, are enormously required to help solve the U.S. Opioid Crisis.. (2023, Jan 19). Retrieved from https://speedypaper.com/essays/currently-there-is-a-myriad-of-issues-affiliated-with-the-healthcare-policies-in-the-united-states
Request Removal
If you are the original author of this essay and no longer wish to have it published on the SpeedyPaper website, please click below to request its removal: