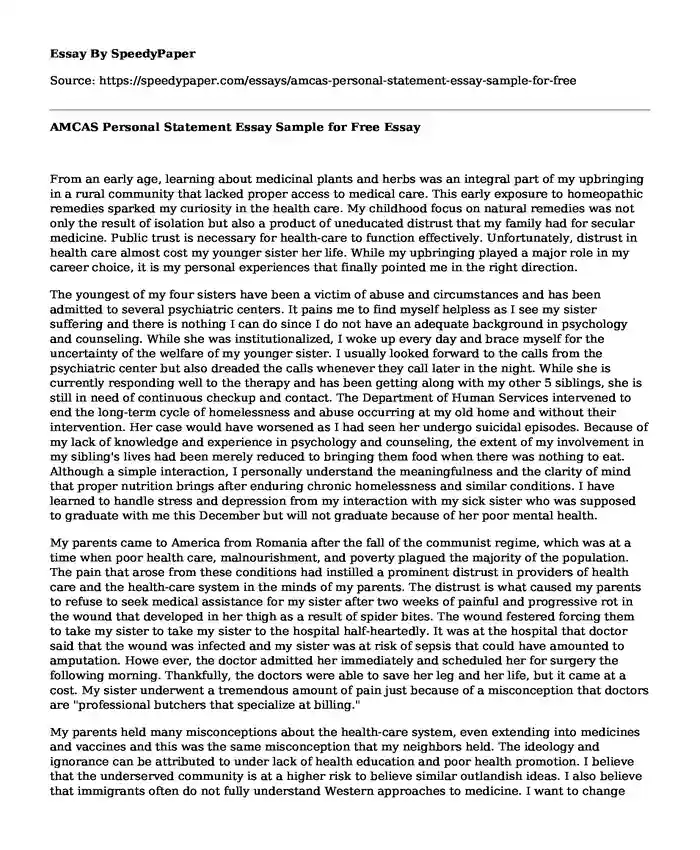 From an early age, learning about medicinal plants and herbs was an integral part of my upbringing in a rural community that lacked proper access to medical care. This early exposure to homeopathic remedies sparked my curiosity in the health care. My childhood focus on natural remedies was not only the result of isolation but also a product of uneducated distrust that my family had for secular medicine. Public trust is necessary for health-care to function effectively. Unfortunately, distrust in health care almost cost my younger sister her life. While my upbringing played a major role in my career choice, it is my personal experiences that finally pointed me in the right direction.
The youngest of my four sisters have been a victim of abuse and circumstances and has been admitted to several psychiatric centers. It pains me to find myself helpless as I see my sister suffering and there is nothing I can do since I do not have an adequate background in psychology and counseling. While she was institutionalized, I woke up every day and brace myself for the uncertainty of the welfare of my younger sister. I usually looked forward to the calls from the psychiatric center but also dreaded the calls whenever they call later in the night. While she is currently responding well to the therapy and has been getting along with my other 5 siblings, she is still in need of continuous checkup and contact. The Department of Human Services intervened to end the long-term cycle of homelessness and abuse occurring at my old home and without their intervention. Her case would have worsened as I had seen her undergo suicidal episodes. Because of my lack of knowledge and experience in psychology and counseling, the extent of my involvement in my sibling's lives had been merely reduced to bringing them food when there was nothing to eat. Although a simple interaction, I personally understand the meaningfulness and the clarity of mind that proper nutrition brings after enduring chronic homelessness and similar conditions. I have learned to handle stress and depression from my interaction with my sick sister who was supposed to graduate with me this December but will not graduate because of her poor mental health.
My parents came to America from Romania after the fall of the communist regime, which was at a time when poor health care, malnourishment, and poverty plagued the majority of the population. The pain that arose from these conditions had instilled a prominent distrust in providers of health care and the health-care system in the minds of my parents. The distrust is what caused my parents to refuse to seek medical assistance for my sister after two weeks of painful and progressive rot in the wound that developed in her thigh as a result of spider bites. The wound festered forcing them to take my sister to take my sister to the hospital half-heartedly. It was at the hospital that doctor said that the wound was infected and my sister was at risk of sepsis that could have amounted to amputation. Howe ever, the doctor admitted her immediately and scheduled her for surgery the following morning. Thankfully, the doctors were able to save her leg and her life, but it came at a cost. My sister underwent a tremendous amount of pain just because of a misconception that doctors are "professional butchers that specialize at billing."
My parents held many misconceptions about the health-care system, even extending into medicines and vaccines and this was the same misconception that my neighbors held. The ideology and ignorance can be attributed to under lack of health education and poor health promotion. I believe that the underserved community is at a higher risk to believe similar outlandish ideas. I also believe that immigrants often do not fully understand Western approaches to medicine. I want to change this by taking steps towards educating the general public, especially immigrants and the underserved so that the ignorance that almost cost my sister her life doesn't cost another person his or her life.
My goal is to end the misconceptions about modern medicine and reach the homeless. Growing up, I experienced chronic homelessness first-hand, which allowed me to understand the harsh conditions brought on by poverty. Opioid addiction has also become an epidemic in Arkansas because, in 2016 alone, there were over 169 opioid-related overdose deaths in Arkansas (5.9 deaths per 100,000 persons). I have personally witnessed these problems while working as a pharmacy technician where addict tried to refill their narcotics at multiple pharmacies in an attempt to cheat the system. Instances like these emphasize the importance of proper oversight to ensure that patients do not become addicted and that the public is aware of the dangers associated with narcotics. Pursuing medicine will allow me to fulfill my goals of helping others by working with, organizations, clinics, and hospitals to improve programs aimed to treat drug addictions and chronic pain.
While taking into consideration these current problems, my immediate goals are to graduate summa cum laude in December of 2018 with a bachelor's degree in biology and a minor in chemistry. Afterward, my plan is to begin a master's in public health program before starting medical school in the fall of 2019. A degree in medicine and public health will allow me to have a comprehensive background that will be vital when addressing health disparities in underserved communities. I will develop a better understanding of preventative medicine, medical literature, and have the ability to customize my medical approach on an individual basis so each patient receives the best quality of care. In time, I would like to work as a primary care physician, focusing on people who lack access to adequate nutrition, health care, and pain management services. It will allow me to bring what I have learned back to my community and implement strategies that not only improve local management practices but improve the overall quality of life for patients.
I look forward to the day that I get to play an active role in providing quality health care that will, in turn, improve the quality of life for patients. Nothing will prevent me from reaching that goal.
Cite this page
AMCAS Personal Statement Essay Sample for Free. (2022, Aug 18). Retrieved from https://speedypaper.com/essays/amcas-personal-statement-essay-sample-for-free
Request Removal
If you are the original author of this essay and no longer wish to have it published on the SpeedyPaper website, please click below to request its removal: