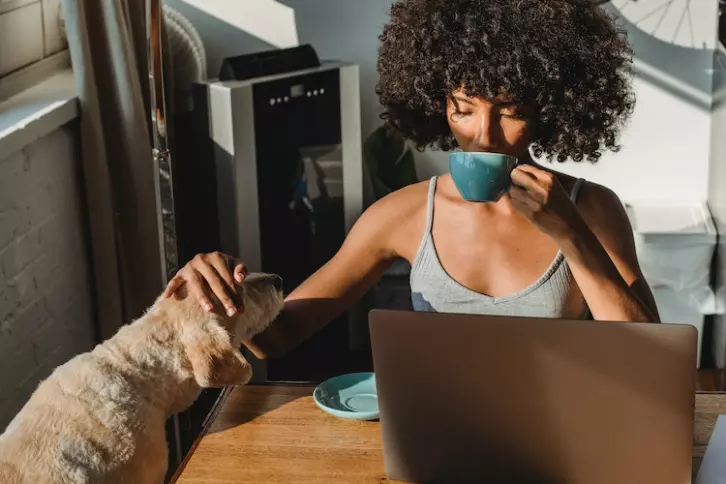 The main pros and secrets of self-education
College teaches you everything you will ever need to know…
I don't believe this, you don't believe this, and neither does Jim Rohn, whose words "Formal education will make you a living; self-education will make you a fortune" are the best endorsement self-learning can ever get. Just remember how many times you personally have used a quick essay writing service to get certain assignments done. Did you learn anything? Absolutely not, just discovered an easy way to succeed with complicated projects. 
What can self-education give you?
An edge over other job hunters
College should instill both soft and hard skills to prepare you for your future career. But it doesn't. Instead, you have to take useless classes cramming a pile of boring facts you actually need to craft a pile of papers without a knowledgeable essay helper and hope critical thinking and teamwork come bundled with your diploma. Otherwise, you'll have to develop these skills on the go and hope no one gets onto you during an interview.
Self-education develops a variety of sought-after soft skills, such as
Creativity and outside-of-the-box thinking
Tenacity and self-motivation
Critical thinking
Time-management
Communication skills and networking
How can self-education promote these skills, when college doesn't? The answer lies in the way they teach us in college and the way self-learning works. Here's a handy chart by Nat Eliason that shows a striking difference.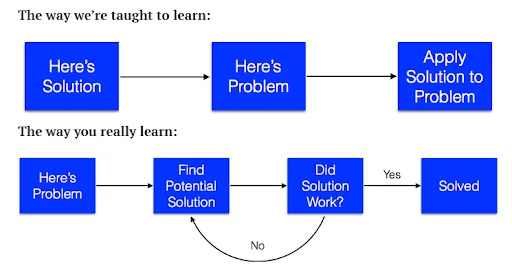 The search for the right solution to a real-life problem is what develops all those life-changing soft skills. We'll talk more on how to set up this self-study process in a minute. For now, let's focus on other self-education benefits.
Money, money, money
As a direct consequence of the previous self-education benefit, special skills and knowledge should make you wealthy. This should happen when
You get a better offer when you apply for a job. You have many options to choose from and select the company that promises the best salary and benefits package.
You get a promotion and a bigger paycheck before your colleagues. Your ongoing self-studies keep you at the forefront of your field and ensure you bring more money for your company.
You turn your side-project into a passive income stream. Learning about marketing and sales helps you establish a not-so-small business that adds to your net capital.
BUT: Knowledge and skills only translate into money and benefits if you apply them to real-life problems. Learning should be the first step from not knowing to doing and succeeding.
Psychological, physical, and emotional health
It's a well-known secret that over 50% of college students struggle with psychological disorders, ranging from anxiety and burnout to full-fledged depression. The stress of high expectations and life-altering grades keeps us on edge, drives us crazy, and makes us feel trapped. Self-education, on the other hand, comes with no grades, and you are the only person you let down when something goes wrong.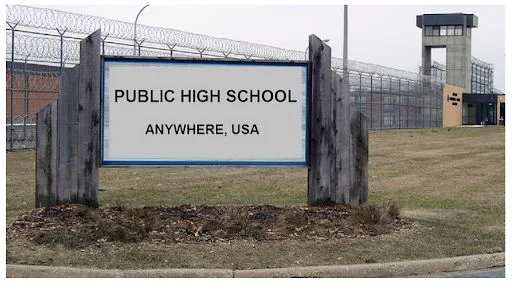 Moreover, self-study improves your self-worth and drives insecurities out. When you can keep up with the smartest people in the room and have head-hunters hounding you long before you graduate, you are bound to feel good about yourself.
Mental disorders are another scary thing self-education can keep away. Studies show that ongoing brain exercise supports our mental health and staves off the onset of Alzheimer's and other disorders that come with age. It is never too early to start taking care of your money-maker brain.
How do you set up self-education?
There's no room for all efficient self-study approaches in this post, so I'll share the one I found recently and have already implemented with great success. It includes four steps and produces quick results.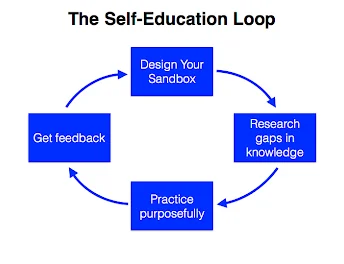 Create a sandbox
Knowledge is a dead weight without practice. So set up your training field and a way to get instant feedback before you pick up a book or start a Coursera specialization. Your Sandbox should be free (or very cheap), quick and easy to set up. For example, if you want to learn photography, all you need is an Instagram or Flickr account. If you dream of software development, GitHub and StackExchange are there for you. Medium is a great place to display your writing.
Research and learn
That's where books, online and offline classes, blogs, and forums come into play. All are great ways to gain the knowledge you need in any field. You can also try to reach out to the experts in your niche and get advice from them, or at least read their books, interviews, blogs, and more to learn about their approaches and strategies.
Take copious notes and organize them so that you can browse them and find necessary information with ease. You can either use pen and paper or digital options, such as Evernote or any other cross-platform note-taking app.
Practice
Instead of repeating the steps you know, get out of your comfort zone. Deliberate practice lets you develop new skills when you set goals just outside of your current field of expertise. SMART goals include:
Write a 500-word post without using a single adverb
Bench press additional ten pounds
Use a speed reading app to increase your rate by 50 words per minute
Cook your favorite meal with a new spice combination
Talk to a stranger in a foreign language you study for 5 minutes
Get feedback
Professors grade your homework to show your mistakes and help you become better. You need feedback to get quick progress in your self-studies. Comment sections on social media are one option, online communities are another. You can also use apps or online tools to assess your progress in some fields. For example, Coursera courses come with peer-reviewed homework assignments that provide helpful feedback.
Once you master one skill, repeat the self-study loop. Decide what you want to learn next, build or alter your Sandbox, research, practice, and get feedback.
Is self-education better than college?
Only you know the answer to this question.
Consider this:
Self-study requires a burning drive to go on and master a skill.
Self-education doesn't come with a degree that is a requirement for most jobs.
Learning at home will not help you network or teach you the value of teamwork.
The curriculum you design cannot compete with what your college class encompasses.
MOOC instructors will never provide the same level of feedback as your college professors.
I found that combining college courses with deliberate self-education was the best option for me. I hope there will never come a time I lose my curiosity and drive to know more. 
Our custom writing service offers assistance with completing all kinds of academic assignments, even the most challenging ones. We have been helping thousands of students when pursuing their degrees. Feel free to get in touch with our support team anytime to
order essay paper
. Our experts will start writing your paper as soon as you provide all the initial instructions. Your assignment will be completed by the deadline! Getting high grades is plain sailing with our professional assistance!
Why Get Professional Paper Help?
Irrespective of all the advantages that come with self-education, there might be times when you will need professional help, advice, and assistance. Surfing the web, you will definitely come across the multitude of critical thinking paper writing services that claim to provide students with the most different types of assignments. Unfortunately, with the growing number of trustworthy services, the quantity of fake ones has also increased, making it challenging to single out the best ones. Thus, taking advantage of a time-tested, reputable, and reliable paper help platform like Speedy Paper is always a good idea.
Have you ever browsed the web trying to figure out the best solution for your "write my thesis" request? Speedy Paper is a company that has years of experience in the market, so its professionals know how to satisfy the needs and requirements of the most demanding students. What else makes the service worth attention and appreciation?
Individual approach to every customer
Top-quality papers
Competitive costs
100% anonymity
Helpful customer support
Moreover, the team of experts knows
how to recover from exams
, and they are always ready to share their knowledge and skills with inexperienced students.